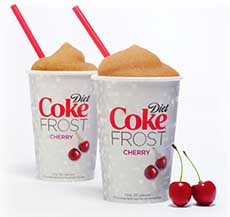 Diet Coke Chills Out
The Coca-Cola Co
. has extended
Diet Coke
, the No. 2 selling beverage in the United States, into the frozen treat arena with its launch of
Diet Coke FROST
. The new product, which has natural cherry flavor, debuted as a
Slurpee
at 7-Eleven stores nationwide in February and will roll out at other locations throughout the spring. Each 20-oz serving has 30 calories and 12 g of carbs.
"Diet Coke FROST is a great-tasting, refreshing uplift for any time of day, "said Stuart Kronauge, General Manager, Sparkling Beverages, Coca-Cola North America. "Providing fans with yet another way to enjoy their favorite beverage demonstrates why Diet Coke continues to be the No. 2 beverage in the U.S. Exclusively partnering with 7-Eleven for the debut of Diet Coke FROST brings this innovation to people nationwide in a setting famous for delivering frozen perfection."
---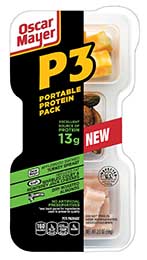 High Protein Snacking
Kraft Foods' Oscar Mayer brand has introduced P3 Portable Protein Pack, which contains meat, cheese, and nuts. With 13 g of protein per serving, the new product joins the growing $19 billion protein-snacking category, which has been driven by consumer desires for proteinrich snacks such as Greek yogurt or protein bars. "Consumers snack three times a day on average, and 75% of adults are looking to add more protein to their diets, "said Joe Fragnito, Oscar Mayer Vice President of Marketing. "The protein snacking category has a 7% growth rate, but meat is too often an afterthought with all the yogurt, smoothies, bars, and powders on the market. P3 Portable Protein Pack is the ideal product to address this gap in the marketplace. " The on-the-go snack leverages three iconic brands: Oscar Mayer Selects Meats, Kraft Natural Cheeses, and Planters Nuts. A single, 2-oz pack retails at $1.79 and a triple, 6-oz pack retails at $4.99.
---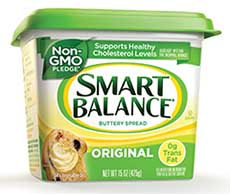 Some Brands Move to Non-GMO
Generals Mills caused a stir in January when it announced that its iconic Cheerios brand no longer included genetically modified ingredients. And last month, Boulder Brands, a maker of heart-healthy spreads, announced that it was transitioning its flagship line of Smart Balance buttery spreads to non- GMO. A full retail conversion to non-GMO Smart Balance spreads is expected by early summer.
Non-GMO Smart Balance is made from expeller-pressed oils from non-GMO seeds. In addition, manufacturing facilities and production processes have been enhanced to reduce risk of contact with GMO-containing ingredients. The new product will bear a prominent "non-GMO" label and pledge, pointing consumers to additional product facts and information at www.SmartBalance.com/nonGMO. Key to the conversion is the pledge that 100% of the ingredients sourced for Smart Balance buttery spreads are non-GMO. Smart Balance produces millions of tubs of spread each year and the move to non-GMO ingredients will result in the conversion of more than 20 million lbs of oils to non-GMO.