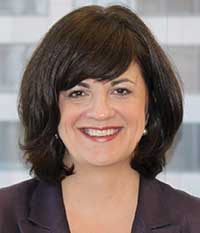 IFT is pleased to announce that its Search Committee has selected Christie A. Tarantino, FASAE, CAE, as its Executive Vice President. She will assume her new role on April 21, 2014; Mark Barenie will continue as Interim Executive Vice President until that date.
"Food scientists and technologists play such a critical role in ensuring that we have safe and healthy food today, and their role will become even more important in the future," said Tarantino. "I am truly looking forward to the opportunity to work closely with IFT leaders, the staff, and the entire membership to develop a strong collaborative partnership that builds on the many successes of IFT."
Tarantino was most recently President and CEO of Association Forum of Chicagoland, which oversees 3,700 members from more than 1,600 associations throughout the Chicago area. She joins IFT with more than 17 years in association management, including noteworthy experience leading two major membership associations.
"Christie Tarantino brings impressive credentials in association management and strategy to IFT, and her experience will be critical in advancing programs for our members and the food science and technology professions," said IFT President Janet E. Collins, Ph.D., R.D., CFS. "She joins IFT at a very exciting time as we approach our 75th anniversary in June, and we know that with her excellent qualifications she will ensure the ongoing success of our organization for years to come.
"Finally," said Collins, "I would like to express my sincere appreciation to all the members of the Executive Vice President Search Committee chaired by IFT Immediate Past President John Ruff."
Previously, Tarantino served as Executive Director of the Academy of General Dentistry, which has 35,000 members and 62 chapters; Associate Vice President of Member Relations at the Professional Convention Management Association, where she gained significant experience in conventions; and Membership Services Director with the Alabama State Bar Association.
A native of Montgomery, Ala., Tarantino earned her bachelor's degree in political science and her master's of public administration from Auburn University at Montgomery. She currently serves on the board of Partnership to Educate and Advance Kids, a nonprofit organization that provides scholarships and mentorship opportunities for at-risk high school students in Chicago.
Chromeless Video Player branded for IFT
IFT election results
Congratulations to the following individuals who won the 2014 IFT Leadership Election: Colin Dennis, President-Elect; Ernest Ndi Embola, Dawn Merrill, Sharrann Simmons, and R. Paul Singh, Board of Directors; and Cory M. Bryant, Rachel Cheatham, and P. Michael Davidson, Nominations and Elections Committee members. They will take office on Sept. 1, 2014. For full biographies, visit www.ift.org/election.
The election was held from Feb. 11 to March 13, 2014. IFT appreciates all of the candidates' involvement in this election and extends a special thank you to all members who voted.
--- PAGE BREAK ---
IFT recognizes 50-year members
The following individuals are celebrating their 50th anniversary as members of IFT: Allen Bednarczyk, J. Ralph Blanchfield, David H. Brown, K.A. Buckle, Robert G. Cassens, George J. Flick Jr., Edward Gogel, Gottfried Haase, W. James Harper, Clayton S. Huber, Rudolph J. Krukar, Archie Rae McFarland, Frank T. Orthoefer, James Ansel Pendleton, Robert H. Ray, Nicholas D. Ross, Jack L. Rossen, David E. Schafer, Terry C. Titus, Romeo T. Toledo, and Ralph S. Wirebaugh.
IFT thanks these members for their support.
Early registration open for IUFoST Congress
Early-bird registration is now open for the International Union of Food Science and Technology (IUFoST) World Congress of Food Science and Technology. Discounted admission to the event, which will be held in Montreal, Quebec, Canada, Aug. 17–21, 2014, is available until May 15. Visit http://iufost2014.org/index.php/registration-and-accommodation for details.
Fight hunger with a day of service
According to Feeding America, one in six Americans struggles to find enough to eat. To call attention to their plight, Feeding America has declared September to be Hunger Action Month and urges individuals all over the country to take action in their communities.
The IFT Student Association is encouraging members of student chapters to work together to set up a day of service, perhaps at a local food bank. Volunteering together is a great way to network and meet fellow IFT Members while giving back—especially while working toward a cause that's particularly meaningful.
Although September may seem a long way off, Feeding America recommends allowing about six months to arrange a volunteer opportunity, making April the perfect time to get started. IFT has put together some helpful guidelines for setting up a day of service. For more information, including a comprehensive toolkit, visit www.ift.org/community/students/day-of-service/set-up-a-day-of-service.aspx.
IUFoST announces new class of Fellows
The International Union of Food Science and Technology (IUFoST) has announced the ninth class of Fellows to be elected to its International Academy of Food Science and Technology (IAFoST). The class of 30 food scientists and technologists will be inducted at IUFoST's 17th World Congress of Food Science and Technology, which will be held August 17–21, 2014, in Montreal, Quebec, Canada.
The Fellows were nominated by IUFoST Adhering Bodies and IAFoST Fellows for their outstanding work in international food science and technology. This roster of Fellows will join their peers in providing expert advice on scientific matters to IUFoST while promoting high ethical standards in scientific endeavours.
IFT congratulates the following Members and Professional Members on their election to IAFoST: Sam Chang, Antonio Delgado, Thomas Gill, Maria Beatriz Gloria, Richard Holley, Yen-Con Hung, Yao-Wen Huang, Lekh Juneja, Ulrich Kulozik, Monique Lacroix, Sangsuk Oh, Hosahalli Ramaswamy, Shridhar Sathe, Makoto Shimizu, Nigel Sunley, and Pamela Tom.
---
Section & Division meetings
Central New Jersey and New York
May 12: Golf outing. West Windsor, N.J. Contact Gerri Cristantiello at 201-905-0090 or [email protected], or visit www.ift.org/sections/nyift.
Lake Erie
May 20: Suppliers' Night. Solon, Ohio. Contact Ariana Frangos at 216-386-6638 or [email protected], or visit www.ift.org/sections/lakeerie/index.html.
Northeast
May 14: Food Industry Expo. Worcester, Mass. Contact Shirley Barber at 207-839-3064 or [email protected], or visit www.eventswithattitude.com/Northeast/Pages/NEHome.htm.
May 15: Golf outing. Charlton, Mass. Visit www.eventswithattitude.com/Northeast/Pages/NEGolfHome.html.
Northern California
May 5–6: Golf & Suppliers' Night. Pleasanton, Calif. Contact Imelda Vasquez at 650-802-0888 or [email protected], or visit www.ncift.org/suppliers-night.php.
---
In Memoriam
Carol L. Christison
, an IFT Member and the longtime President of the International Dairy-Deli-Bakery Association (IDDBA), passed away on March 4, 2014. Christison became IDDBA's President in 1982. Over the next 31 years, Christison oversaw the organization's expansion and helped change its structure to keep up with new industry demands and opportunities. Under her leadership, the association grew from 100 to 1,500 corporate members and increased its Annual Seminar & Expo attendance from 1,000 to nearly 9,000 attendees. Prior to her position with IDDBA, Christison served in an executive role at The American College of Sports Medicine and on voluntary industry committees that included Random-Weight UPC and Traceability.