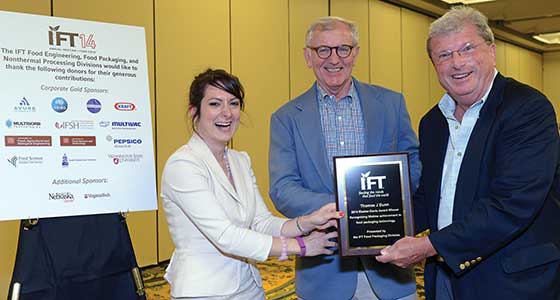 Several food packaging technologies and professionals, including article co-author Tom Dunn, were prominently featured at the 2014 IFT Annual Meeting & Food Expo.
The Riester-Davis Award
Thomas Dunn, the recipient of the prestigious 2014 Riester-Davis Award for lifetime achievement in food packaging, is the latest in a long line of super professionals who dedicated their careers to enhancing food protection and safety while offering consumer convenience at economic prices. The award is named for two founders of IFT's Food Packaging Division: Don Riester, who was a pioneer in aseptic packaging, and Rees Davis, who was a leader in retort pouch packaging. Dunn earned the award because of his many highly productive years as technical director for Flexible Packaging Association and as a product development manager at flexible package materials converter Printpack. Throughout his long career, Dunn was a highly sought-after manager of technical activities for a host of professional and trade organizations. Most recently, he collaborated with IFT's 2014 Nicolas Appert Award winner, C. Patrick Dunne, formerly of U.S. Army Natick Soldier RD&E Center, in implementing microwave pasteurization and sterilization, a low-heat means of extending shelf life. Congratulations, Tom Dunn, now Managing Director, of Flexpacknology LLC (www.flexpacknology.com), for decades of integrating packaging into the food science and technology community.
Smart Packaging
This year's singular conference session from the Food Packaging Division focused on active and intelligent packaging. Kay Cooksey, Professor, Clemson University, provided a comprehensive overview of the session "Smart Packaging: Active and Intelligent" on Sunday, June 22. She enumerated and described contemporary packaging solutions. Among the active packaging technologies she discussed were purge absorbers, moisture controllers, oxygen controllers, carbon dioxide controllers, odor controllers, and antimicrobials. Included in the intelligent packaging category are anti-theft devices, radio frequency identification, time-temperature integrators, and quality and spoilage sensors. Cooksey also highlighted O2 Block® by NanoBioMatters (www.nanobiomatters.com), which is an oxygen scavenger based on surface-modified phyllosilicate clay functionalized with active iron dispersed as organoclay platelets in a plastic matrix.
Antimicrobial Packaging
Also included in Cooksey's discussion were enzymes such as lysozyme and peroxidase, chitosan, bacteriocins, organic acids, spices, essential oils, isothiocyanates, silver ions, and oxidizers such as ozone and chlorine dioxide. She also discussed delivery systems, including coatings, volatiles, and non-volatiles, each of which has its advantages and limitations such as adverse secondary sensory effects.
In addition to Cooksey's presentation, Maxine Roman, a graduate research assistant at the University of Massachusetts Amherst, gave a presentation on bioactive packaging. Bioactive food packaging refers to packaging that intentionally interacts with the packaged food to improve its quality and/or safety. Roman discussed in-package functional enhancement via immobilized or entrapped enzymes, inhibition of oxidative degradation reactions by scavenging initiators, and antimicrobial materials used to prevent food spoilage or contamination by pathogenic organisms. Within active packaging, the active agent can be either entrapped in the body of the film or immobilized onto a food's surface by covalent or non-covalent interactions. There are significant benefits to using covalent surface modification techniques, both in terms of regulatory and thermo-mechanical material properties' concerns.
Intelligent Packaging
Dunn also gave a presentation during the session "Smart Packaging: Active and Intelligent," explaining that intelligent food packaging encompasses a variety of sensing and signaling technologies. Both Dunn and Cooksey pointed out that supply chain control is an aspect of food preservation that could benefit from the ability to monitor and validate the timetemperature integral of the channel environment. Several electronic technology companies offer chip-free radiofrequency circuits or sensitive bar codes with outputs that chain managers can read and act accordingly.
--- PAGE BREAK ---
Food Expo Standouts
During the Food Expo, Multisorb Technologies (www.multisorb.com) demonstrated MAPLOX®, which is a low-oxygen packaging program for case-ready meats. MAPLOX extends shelf life by significantly reducing oxygen within a master bag and primary tray. The program includes FreshPax® CR oxygen absorbing packets, which are customized for the specific species and cut of meat in the primary package as well as the quantity of meat in the master bag to ensure optimum performance and cost effectiveness.
Contract processor and packager Ameriqual (www.ameriqual.com) presented its application of a new flexible barrier material from Berry Plastics (www.berryplastics.com). Instead of all-barrier semi-rigid plastic lidding for retort trays, the Berry Plastics film NuSeal™ Barricade® may displace the main body section by insert injection molding, thus significantly reducing mass.
Scelta Mushrooms (www.sceltamushrooms.com), a mushroom grower and exporter, showcased a newly patentedtechnology to preserve its product for prolonged periods. By vacuum treatment,the air is removed from the mushrooms but without replacing that space with liquid. A barrier flexible pouch is sealed under vacuum. Thermal conductivity is enhanced because no longer is there an insulating layer between the mushroom and a heat source as no air is present around the mushrooms. No indication of how the physical integrity of mushrooms is maintained under differential pressure was offered.
After hermetic sealing, the pouch is heat-treated to cook the mushrooms. Thermalization can be performed at relatively low temperature so that the contents are pasteurized or at high temperature so that the contents are commercially sterilized. The company claims that this sous vide technology extends refrigerated shelf life to up to one year. Technologies to preserve the microbiological and sensory properties of sensitive mushrooms have been sought for decades with no good solutions until now. Is this a viable answer?
HP Hood LLC (www.hphoodllc.com), a New England dairy dating to the mid-19th century, is one of the largestand most experienced aseptic and extended shelf life (ESL) chilled distributionfood processors and packagers in the United States. The company has fourlocations capable of low-acid fluid food processing and packaging into polyester and high-density polyethylene (HDPE) bottles for ESL products since HDPE does not have desired oxygen barrier for long-term ambient temperature shelf stability. HP Hood has at least one Shibuya aseptic packaging system with considerable available time for marketers of shelf-stable liquids. The Japanese machine is a recognized low-acid aseptic system with high output capacity.
A Future for IFT Food Packaging
Food packaging is an indispensable component of food delivery. For decades, the integration of packaging with food products, processing, and distribution has been a prime objective of industry, consumers, and scientists. Since the 1970s, IFT's Food Packaging Division has been among the major drivers of linking the elements. The Food Packaging Division's presence at the 2014 annual meeting is an encouraging sign that food professionals recognize the critical role that packaging plays in food preservation and reducing food waste. Hopefully, a reinvigorated IFT Food Packaging Division will motivate food packaging professionals to lead in development and communication of information for years to come.

Aaron L. Brody, Ph.D., CFS, Contributing Editor, is President and CEO, Packaging/Brody Inc., Duluth, Ga., and Adjunct Professor, University of Georgia ([email protected]).

Thomas Dunn is Managing Director, Flexpacknology LLC ([email protected]).