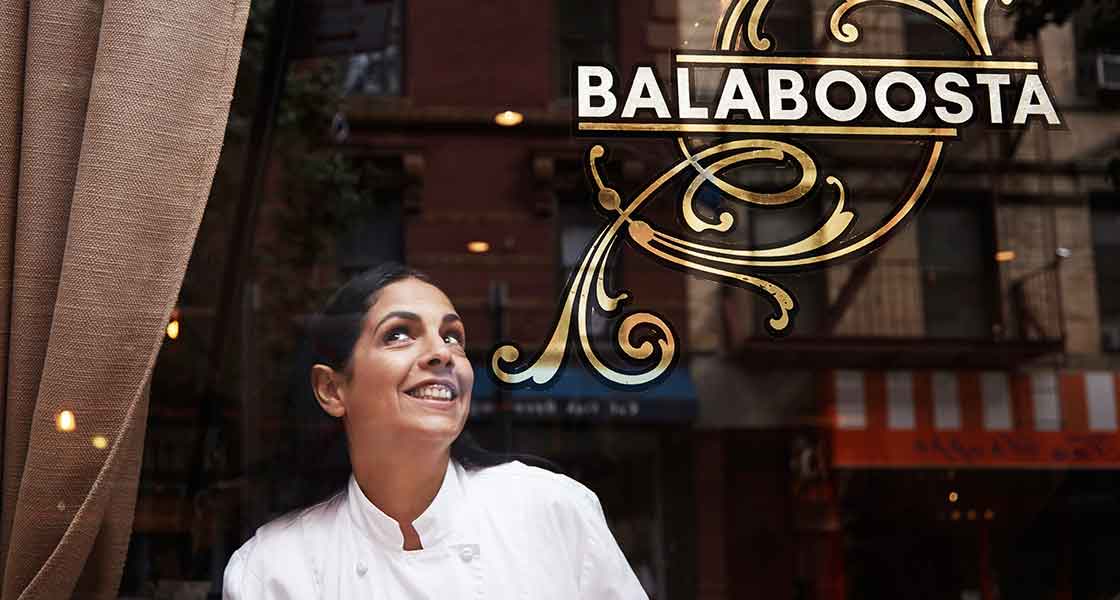 Photo ©Ania Gruca
Einat Admony's Shakshuka recipe
Known to many as the "Queen of Falafel," Isreal-born Chef Einat Admony opened her first New York City restaurant—Taïm—in 2007 elevating the simple street food item. Since then, she and her husband have opened two other restaurants—Balaboosta in 2011 and most recently Bar Bolonat in March 2014. While the food served at Balaboosta evokes Mediterranean and Middle Eastern cuisine, Bar Bolonat offers a modern take on traditional Israeli food. At a time when Americans are clamoring for new ethnic dishes, Chef Admony helps diners explore the range of influences and flavors that shape Israeli cooking.
Kelly Hensel: Your mother is from Iran and you father is from Yemen. How did their respective cultures impact your culinary experience?
Einat Admony: I don't know about Yemen because they don't have a lot of rich foods. They're very poor, so most of the food is based on a lot of dough. But Iranian cuisine is a very, very rich one. They say they have 365 different kinds of rice for every day. They use a lot of fruit in the food and quince and pomegranate and a lot of saffron; a lot of rich and interesting ingredients. And all of my family—not just my parents, but my neighbors, my aunts, everybody—was all about food. My parents are religious Jews, and so my mom would prepare the Friday night dinner every week. It's a big deal to get ready for Shabbat. And so food was always a big, big part of our life.
Hensel: And do you still observe Shabbat now?
Admony: Yes. Mostly at my place, but for example, tonight I'm going to my cousins in Long Island [N.Y.]. We both have kids, and I think it's very important to carry on this tradition. My husband is not Jewish, but for me, regardless of religion, it's important to keep one day that is for the family. For me Friday's work the best.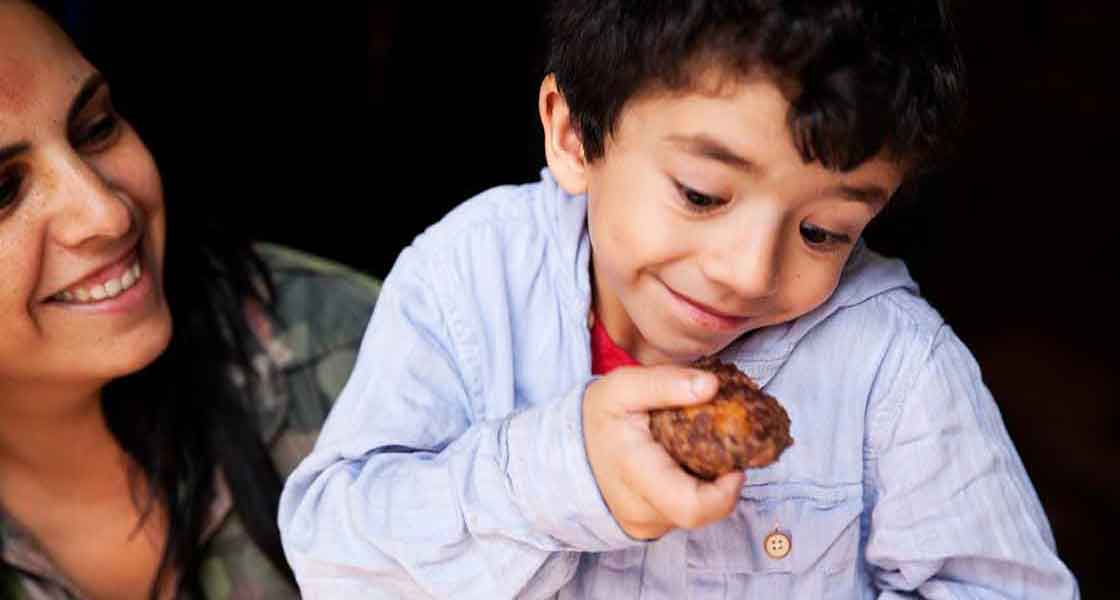 Photo ©Quentin Bacon
Hensel: You also lived in Germany and Amsterdam. What were your first food impressions of both? What did you bring with you that you still use today?
Admony: Germany has specific things that they still make, but the flavor is very different from what I grew up with. However, I think they have the best bread in the world, even better than France. They have the best bread, and some of the pastries are outstanding over there. I like the food in Germany. I know they do not have a rich cuisine or very interesting one, but what they do, they do it really nice.
As for Amsterdam, the Dutch don't have a type of cuisine really. They're just now exploring the cuisine like everybody else. Food has become very essential now in Israel and a lot of places are starting to go back to their roots, take the originality from the country, and are starting to make it more. But I don't think the Dutch have a lot of interesting cuisine.
Hensel:
You've said that Taïm was supposed to be temporary. Nine years later you have two locations and a food truck. Have you changed your original view of the restaurant?
Admony: Yes, sometimes things don't happen the way I plan, but I believe that everything always happens for a reason and everything happens in the right time. And actually, it ended up perfect. And that business is doing amazing now.
Hensel: I'd venture to guess most Americans would be challenged to identify Israeli cuisine beyond falafel and hummus. For you, what defines Israeli cuisine?
Admony: That is the million dollar question. I think it was just a melting pot of so many different cultures that came to Israel and now they need to work with the ingredients that they have. There are not as many ingredients in Israel as there are here [United States], for example, but the stuff we have is really great. We use a lot of eggplant—it's the best eggplant in the world—and tomato. And we have a lot of other ingredients and bold flavors that we're very well known for.
So many different kinds of Jews came from all around the world to one country, and so Israeli cuisine is an integration of all of those cultures. What's going on now in Israel, which is also what I do in my restaurant Bar Bolonat, is a combination of all these influences. Taking an Eastern European dish, like gefilte fish for example, and making it more Iraqi style.
Also, Israel is a very new country [it was officially formed in 1948]. We don't have a culinary tradition like the Italians have had for hundreds of years. Especially in Italian cuisine, I think, it's very much about tradition. And for us, there isn't that much tradition. It's new and exciting, and it gives us some room to play around and actually find ourselves.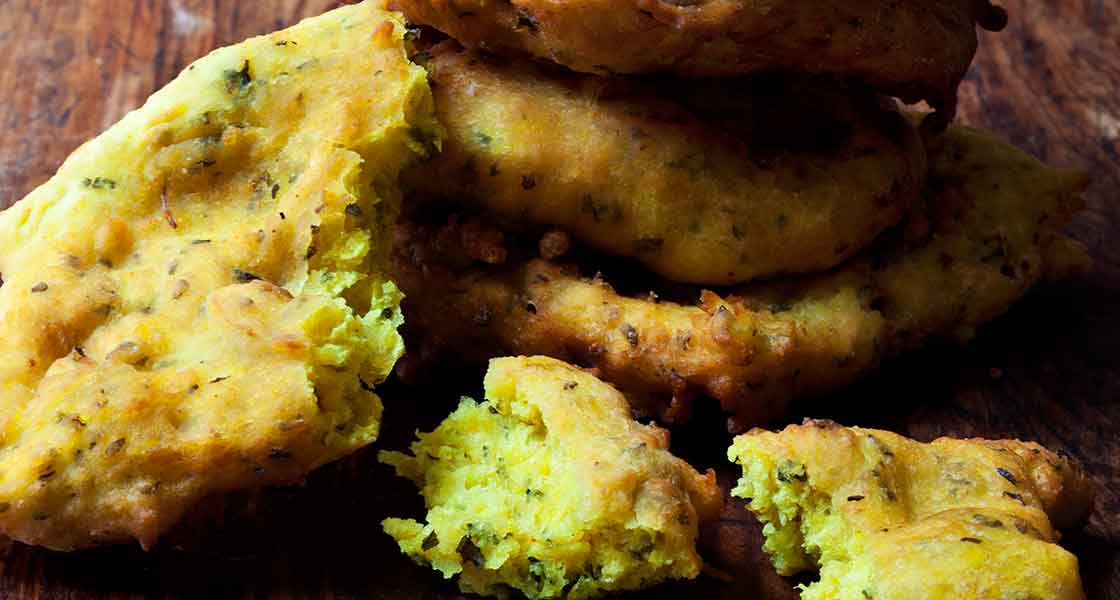 Photo ©Quentin Bacon
Hensel: You just recently opened your third restaurant—Bar Bolonat, but Balaboosta has been open for 3+ years. How does the cuisine differ at each?
Admony: Balaboosta means the perfect housewife in Yiddish, and so that restaurant is about celebrating women. The cuisine is a little bit more feminine. It's also more Mediterranean cuisine than just Israeli or Arabic. There are a lot of Israeli ingredients that I use, since both my chef and I are Israeli, but we also use a lot of Spanish flavors and Italian ingredients, like fresh pasta. Bar Bolonat, meanwhile, is all about modern Israeli cuisine and what it means to me. And since people aren't familiar with Israeli cuisine, I am able to take traditional items and kind of play with them. So for example, I have a dish called Everyday Cauliflower, which is served with peanut tahini and Bamba, which is a very common snack in Israel. It's a peanut puff made out of peanuts and rice. And I cover the cauliflower with rice butter so it ends up being very crispy. It's a fun dish that people love.
You know, when I opened Balaboosta, I was a little bit scared to do only Israeli cuisine. I was actually even scared to do Mediterranean because I travel so much and can cook so many different cuisines that limiting myself to one was a little hard. Now, I have embraced it. For me, it's kind of a mission to show what Israeli cuisine is all about. Everybody thinks it's hummus and baba ghanoush, which is not even Israeli—it's Arabic cuisine. So for me it was a challenge to showcase what Israeli cuisine is about and also to play with it.
Hensel: You run 4 successful restaurants (Taïm has 2 locations). Where and how do you balance you time between them? Are there differences in your role at each?
Admony: And I have two kids at home as well. My husband runs the front of the house and business aspects of all the restaurants and I'm cooking. Basically, my last six months were focused on Bolonat non-stop. At most I came to Balaboosta every morning just to check that everything was okay. I brought my best friend, who's a chef, to Balaboosta, so he's running the kitchen over there, which makes my life much, much easier. And soon I'll have a new chef as well at Bar Bolonat. For Taïm, I'm just checking the food. It's a really well-oiled machine there, so they don't really need me. However, I am still very focused on the food at all of the restaurants.
Hensel: You travel back to Israel every so often. How has the food scene changed from what you remember growing up?
Admony: Well, the people are going out now. They're not cooking at home as they used to, for one. We never ate out when I was growing up. Now, there is a restaurant scene and not everything is kosher anymore. There is a lot of talent in the culinary scene there now and they are opening beautiful restaurants featuring really delicious food.
Hensel: Out of all the places you've lived, what is the dish you can't live without?
Admony: In Tel Aviv there's this guy called Dr. Shakshuka. Everyone knows him. He has a restaurant called Dr. Shakshuka. He's making real couscous—the same I do now in Bolonat—from scratch. And it's served with a North African dish called mafroum, which are potatoes stuffed with meat and a spicy red sauce. It's very nice and that's one of my favorite dishes in Israel.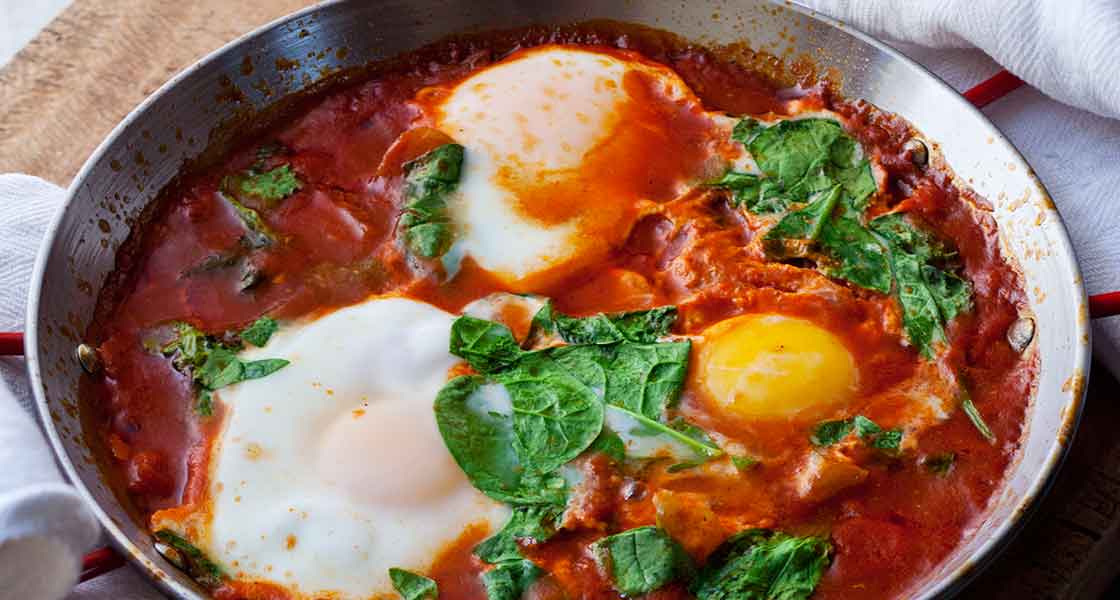 Photo ©Quentin Bacon
Shakshuka
Excerpted from Balaboosta by Einat Admony (Artisan Books). © 2013. Photographs by Quentin Bacon.
Serves 4 to 6
In Israel the word shak-shuka is synonymous with breakfast. It's best with a slice or two of challah bread to sop up the juices. This is a version of my dad's recipe, except that he used to mix the eggs together, because my older sister refused to eat the egg whites. Here is the recipe I prefer.
3 tablespoons canola oil
2 medium yellow onions, chopped
1 large green bell pepper, cored, seeded, and chopped
1 large jalapeño chile, cored, seeded, and chopped
7 garlic cloves, finely chopped
1⁄4 cup tomato paste
One 28-oz can whole peeled tomatoes, crushed by hand
1 bay leaf
2 1⁄2 tablespoons sugar
1 1⁄2 tablespoons kosher salt
1 tablespoon sweet Hungarian paprika
1 tablespoon ground cumin
1 1⁄2 teaspoons freshly ground black pepper
1 teaspoon ground caraway
1⁄2 bunch Swiss chard, stemmed and chopped, or spinach
8 to 12 large eggs
Heat the oil in a large skillet. Add the onions and sauté over medium heat until translucent, 5 to 10 minutes. Add the bell peppers and jalapeño and cook just until softened, 3 to 5 minutes. Stir in the garlic and tomato paste and sauté for another 2 minutes.
Slowly pour in the tomatoes. Stir in the bay leaf, sugar, salt, paprika, cumin, pepper, and caraway and let the mixture simmer for 20 minutes. Layer the Swiss chard leaves on top.
Crack the eggs into the tomato mixture. Cover and simmer for approximately 10 minutes or until the whites of the eggs are no longer translucent.