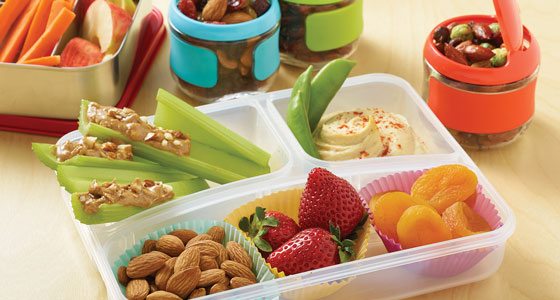 Snack products are evolving. It used to be that they would satisfy a craving for something sweet, salty, or crunchy. Today's snacks still satisfy those cravings, but they also have to do more, such as offer nutritional benefits, provide satiety in between meals, aid in exercise recovery, or act as a meal replacer.
According to The NPD Group, U.S. consumers are eating traditional snack foods, particularly snacks with a perceived health benefit, in between and at meals, and this behavior will drive the growth of snack foods eaten at main meals over the next five years (The NPD Group, 2014).
Consumers are demanding more nutrition out of snack products, and this opens the door to a number of healthy ingredients being added to snack foods. Here is a look at some of these ingredients that make snacking a healthier eating occasion.
Almonds
As an ingredient or simply a whole food snack, almonds provide a powerful nutrient package that includes hunger-fighting protein, filling dietary fiber, monounsaturated fats, and important vitamins and minerals such as vitamin E, magnesium, and potassium, according to the Almond Board of California, Modesto, Calif. (www.AlmondBoard.com).
Research presented at Experimental Biology 2014 shared insights about almonds as a snack (Almond Board of California, 2014). Richard Mattes, professor in the Dept. of Food Science and Nutrition at Purdue University, examined the effects of snacking on nutrient-rich almonds in 137 adult participants at risk for type II diabetes. Consuming 1.5 oz of dry-roasted, lightly salted almonds daily helped curb the subjects' appetites and moderate blood glucose concentrations while significantly improving vitamin E and monounsaturated fat intake.
Penny Kris-Etherton, Distinguished Professor of Nutrition at Pennsylvania State University, shared the results from a study examining the effects of consuming 1.5 oz of almonds vs a calorie-matched, high-carbohydrate snack on body weight in 52 adult subjects with elevated LDL cholesterol. Total body weight of the subjects did not differ between the two treatments, but the almond diet reduced overall abdominal mass, abdominal fat mass, and waist circumference compared to the high-carbohydrate snack.
Sprouted Grains
Sprouted grains are gaining popularity and showing up in chips and bars. In 2014, Way Better Snacks, a division of Live Better Brands LLC, Minneapolis, Minn. (www.gowaybetter.com), introduced Simply Sprouted Pita-ahh Chips featuring sprouted ingredients. Simply Spicy Sriracha contains sprouted kale seeds and Simply Tangy Mustard & Onion is made with sprouted mustard seeds.
According to the company, when seeds, beans, and grains are sprouted or germinated, their natural outer layer is unlocked, making nutrients more readily available for the body to absorb. The benefits of sprouting include increased vitamins and minerals, increased antioxidants, increased digestibility, and increased nutrient absorption.
--- PAGE BREAK ---
Probiotics
"In recent consumer research with moms, commissioned by DuPont, we found that healthy snacks for kids was a clear opportunity in the marketplace, and that moms expressed high interest in foods delivering the benefits of probiotics for their children," says Jean Heggie, strategic marketing lead at DuPont Nutrition & Health, St. Louis, Mo. (www.dupont.com). "We also see great potential for our HOWARU ® probiotics, clinically documented probiotic strains supporting digestive and immune health in snack applications. While formulation is key to probiotic survivability, we have observed excellent stability of our range in a variety of nutrition bar, confection, and snack formulations."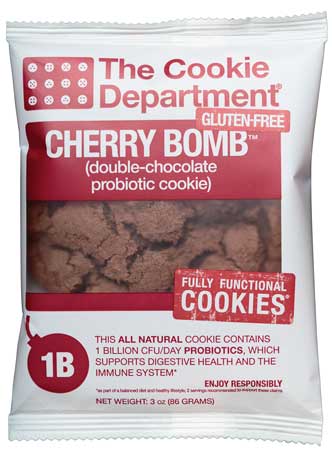 "I think consumers are looking for snacks that fit into their lifestyle, not necessarily looking for a whole new category of snacks that they have to get used to," observes Mike Bush, vice president of business development at Ganeden Biotech Inc., Mayfield Heights, Ohio (www.ganedenbiotech.com). For example, Cherry Bomb™ probiotic cookies from The Cookie Department, Berkeley, Calif. (www.thecookiedepartment.com), is an innovative snack that features GanedenBC30 ® (Bacillus coagulans GBI-30, 6086), a patented, U.S. Food and Drug Administration GRAS, highly stable probiotic ingredient. The efficacy of GanedenBC30 is backed by 19 published studies showing digestive and immune support. The most recent study demonstrated that there are benefits to taking GanedenBC30 and prebiotics together vs prebiotics alone (Ganeden Biotech, 2014).
Protein
Protein is one of the top ingredients that consumers look for in snacks ranging from bars to chips. For example, ProTings chips from ProFormance Foods LLC, Brooklyn, N.Y. (www.protings.com), have 15 g of protein per serving. The product is promoted as an alternative to protein bars and shakes that are commonly used for a post-workout recovery snack and is made with pea protein, flaxseed, and sunflower oil. Bounce Foods USA LLC, Tualatin, Ore. (www.bouncelifestyle.com), offers an energy snack in ball form that provides 8–13 g of protein in each ball. One of the products, Cacao Mint Protein Bomb, contains whey protein isolate, whey protein concentrate, whey protein crisps, and pea protein. In addition to new snack applications for protein, ingredient innovations are making it easier for formulators to use different protein sources. "Prosante ® textured soy flour and Wilbur ® cocoa confectionery protein drops and coatings can increase the protein content in snacks such as granolas and bars," says Teresa Penn, senior food technologist at Cargill, Minneapolis, Minn. (www.cargill.com). "By incorporating Prosante textured soy flour, as well as Wilbur cocoa confectionery protein drops, we are able to help our customers increase the protein content of their granolas while keeping a great crunch and indulgent chocolaty flavor."
DuPont Nutrition & Health offers soy protein ingredients, in either an extruded crisp or powder format, which are quite versatile across a variety of snack formats. "We have seen high interest in these offerings to boost the protein content of snacks," observes Heggie. "DuPont's recent research with moms documented demand for healthier snacks for kids and interest in including protein, fiber, and probiotics in those snacks." As a full-line protein ingredient supplier, Glanbia Nutritionals, Fitchburg, Wis. (www.glanbianutritionals.com), produces a number of dairy and vegan proteins for use in snacks. The BarPro™ range, for example, allows greater versatility in formulation and an extended shelf life for bar applications. "We also have a line of dairy and vegan blends, including soy, pea, and flaxseed protein under our barGAIN ® portfolio for use in baked snack applications," says Marilyn Stieve, business development manager at Glanbia Nutritionals. "Responding to the consumer demand for reduced-sugar options, Glanbia also produces a number of milk protein concentrate ingredients that facilitate a sugar reduction of up to 50% for chewy granola bars, baked bars, snack bars, and cereal cluster applications." Thanks to their binding properties, protein ingredients in the OptiSol ® range have been designed to improve texture in low-sugar formulations.
Whole Grains
Whole grains and whole grain flours are also healthy snack ingredients. Cargill's MaizeWise® whole grain corn flour can be used in baked foods such as crackers, as well as extruded snacks, to make healthier, whole-grain snacks while keeping great taste and texture, says Penn. At the 2014 IFT Food Expo, Cargill featured a Southwestern-Style Chicken Bite prototype that featured MaizeWise whole grain corn flour, Clear Valley ® 65 high oleic canola oil, Prosante® textured soy flour, and Flake Select ® 50/50 (salt and potassium chloride) for sodium reduction. Another whole grain flour ingredient, Sustagrain, from Ardent Mills, Denver, Colo. (www.ardentmills.com), can be used to deliver a host of whole grain and fiber benefits in extruded snacks. Sustagrain has more than three times the dietary fiber of oats and corn flour and at least 10 times the fiber of brown rice. This proprietary variety of barley has a balanced blend of insoluble and soluble fibers. Ardent Mills also offers Ultragrain High Performance whole wheat flour with exceptional performance enhancements that will reduce ingredient costs for any baking operation that adds vital wheat gluten to product formulations.
--- PAGE BREAK ---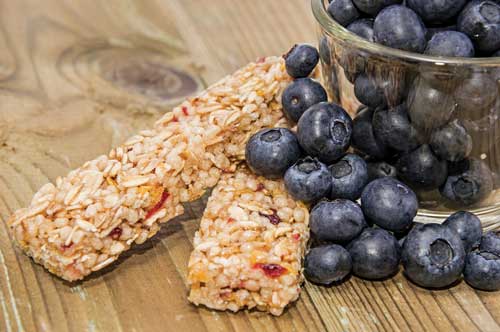 Fiber
Fiber content is important in today's healthy snacks, offering satiety, weight management, and digestive benefits. Litesse® Polydextrose from DuPont Nutrition & Health is backed by clinical documentation demonstrating excellent tolerance and satiety benefits. "As 61% of consumers say that they choose snacks to 'tide me over between meals,' Litesse Polydextrose is an excellent choice for healthy snacks," remarks Heggie. "We see potential opportunity in many areas, from meat snacks to nutrition bars, to extruded, clustered, or baked snacks." At the 2014 SupplySide West event, the company showcased a healthy snack concept, Superfruit Crisp Bites, crispy bite-sized snacks with a vanilla drizzle that contained fiber, fruits, protein, and probiotics. The concept featured Litesse Polydextrose for fiber, SUPRO® soy protein nuggets for protein, and HOWARU Bifido for digestive health. Glanbia Nutritionals developed the Probiotic Greek Yogurt Chia Bar for the 2014 IFT Food Expo. The product concept featured the functional protein ingredient OptiSol 2000 that acts as a binding system to reduce sugar in cereal bars, and OptiSol 1061 Greek yogurt powder that allows the coating of the bar to be fortified with protein. The bar also delivered the nutritional benefits of chia through the inclusion of SelectChia™ Cracked White MP, a heat-treated cracked chia that optimizes shelf life and delivers a good source of ALA omega-3.
"The importance of integrating fiber in the daily diet has firmly taken hold in consumers' understanding of a healthy and balanced lifestyle," says Stieve. "Seeds such as chia and flaxseed represent some of the best natural sources of fiber, with respective amounts of 20% and 38%. Our OptiSol 5000 and OptiSol 5300 flaxseed ingredients offer fiber fortification with optimized moisture control in baked goods such as muffins."
Maltodextrin and chicory root fiber also help add fiber to today's snacks. "Oliggo-Fiber ® chicory root fiber [from Cargill] is a prebiotic fiber that stimulates the normal, beneficial bacteria in the digestive tract," says Penn. "This type of fiber can be added to snacks such as bars, snack puffs, and fruit snacks to increase their fiber contents."
Fibersol ® maltodextrin from ADM/Matsutani LLC, Decatur, Ill. (www.fibersol.com), is a soluble fiber that has been added to crackers, cookies, chips, and candy. In addition to adding dietary fiber, Fibersol can help reduce sugar and calories in snack formulations. Fibersol can also add crispness to baked snacks and delay staling to extend shelf life.
Fruits
Like almonds, fruits are an ideal healthy stand-alone snack or an ingredient in snack food products. The versatile forms of whole pieces, purees, concentrates, juices, freeze-dried, dried, and more make it easy to use them in a variety of snack foods.
Consumer interest in fruits like cherries and blueberries is growing. Tart cherries have been shown to help with inflammation, heart health, and exercise recovery. According to The Cherry Marketing Institute, Dewitt, Mich. (www.choosecherries.com), tart cherries are abundant in anthocyanins, which help contribute to the potential health-promoting properties. Most recently, tart cherry juice was shown to potentially help improve the quality and duration of sleep.
Blueberries are nutritionally dense, contain no cholesterol, are a source of fiber, and contain vitamins, minerals, and antioxidants. "Consumer blueberry research conducted in four areas of the USA, found a willingness to pay more for products containing real blueberries," says Tom Payne, industry specialist at the U.S. Highbush Blueberry Council, Folsom, Calif. (www.blueberry.org). "In key-person interviews, 88.8% of consumers are willing to pay $0.50 or more for products with real blueberries. Focus group respondents would pay 15% to 25% more for products containing real blueberries.
"Blueberries provide an acidic note that adds the perfect accent to rich treats—chocolate and otherwise. Blueberry concentrate can be used to sweeten and color granola bars, bagels, and cookies. Puree, a blend of berries in a concentrated form up to 45° Brix, is used to formulate custom pastes. Dried blueberries are perfect for granola and trail mixes. Dehydrated blueberry powder works well in rice cakes and other low-moisture applications, whereas IQF blueberries are popular additions to waffles and pancakes."
---
www.ift.org
Members Only: Read more online about these ingredients used to formulate snack foods at www.ift.org. Type the keywords into the search box at the upper right side of the home page.

Linda Milo Ohr,
Contributing Editor,
Denver, Colo.
[email protected]