The U.S. Dept. of Agriculture recently approved genetically engineered potatoes (trademarked Innate) from J.R. Simplot Co. that are designed to reduce acrylamide levels from frying and other cooking methods due to lower levels of asparagine and sugars. The new potatoes, which contain genes from wild and cultivated potatoes, are also less prone to black spot bruising (40% less than conventional potatoes) that can occur during harvest, handling and storage. The reduced bruising is expected to reduce annual potato waste by about 400 million lbs in both foodservice and retail when the Innate potatoes attain full market penetration. J.R. Simplot plans to license the new potatoes to select partners for test markets in 2015.
Shortly after the ruling announcement, McDonald's, who buys potatoes from J.R. Simplot, sought to distance themselves from the GM potatoes by stating that "McDonald's USA does not source GMO potatoes, nor do we have current plans to change our sourcing practices."
New pulsed electric field (PEF) technology from Dutch-based Pulsemaster BV improves potato processing of French fries. An alternative for preheaters, PEF technology induces poration of potato cells, leading to cell disintegration. The PEF treatment improves cut quality and significantly reduces French fry breakage. Water and energy consumption in potato processing are reduced while blanching,drying and prebaking times are shortened. Leaching of sugars is enhanced, which avoids premature browning. The treatment can also reduce frying oil absorption and fat content up to 50%.
The industrial scale equipment has treatment capacities from 1,000 kg/hr to 50,000 kg/hr (110,000 lbs/hr) for cell disintegration of potatoes. Treatment costs are about 5.6 cents per lb. Other food applications of PEF include drying (e.g., sweet peppers and grapes), cutting and peeling (e.g., tomatoes) and pressing (e.g., olives). In the meat industry, PEF treatment reduces tumbling times.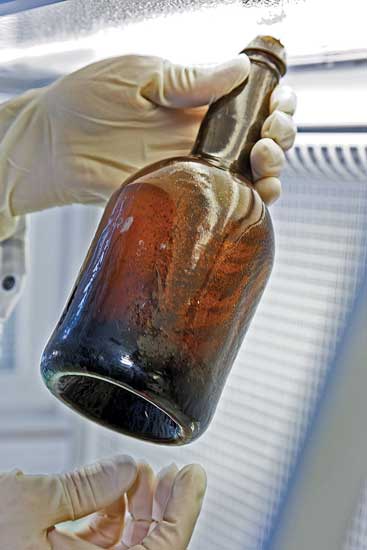 Scientists recreate 170-year-old beer
Scientists at the VTT Technical Research Centre of Finland are working with Finnish-based brewer Stallhagen to produce beer from the 1840s that was discovered in a shipwreck in 2010 off the Aland Islands in the Baltic Sea between Finland and Sweden. VTT examined glass bottles of beer salvaged by divers from the wreck of a ship that sank an estimated 170 years ago.
"Our analysis focused on the physico-chemical elements of the beer. We isolated and identified the microbes that are common in beers. The beer had been partly destroyed on the seabed, so it was a nice surprise to find living lactic acid bacteria in it. This type of bacteria was of beers in that time period, and now the bacteria have been utilized in the new-born Stallhagen beer," said Annika Wilhelmson, Customer Manager at VTT.
The research results showed that the old bottles contained two different types of beers. Experts from the Belgian university KU Leuven participated in the difficult work in reconstructing the beer. The fermentation method was both innovative and unique.
"The VTT results gave knowledge of alcohol content, color, and bitterness of the beer. The living cells still present in the bottle helped us to determine the type of yeasts and bacteria used to produce this beer. For this beer, we combined history and tradition with innovative brewing knowledge. The symbiosis between the organisms and the malt flavors results in the very special overall flavor of this beer," explained Professor Gert De Rouck at KU Leuven University.
The result is the launching ofan authentic replica of the shipwreck beer that carries the name Stallhagen Historic beer 1843.
"With today's launch [October 2, 2014] we've reached a milestone in the exciting four-year project. Stallhagen 1843 is a sophisticated beer with refined and subtle character that gives a notion how a luxury beer tasted in early 1800s," said Jan Wennstrom, CEO, Stallhagen.
For the lactic acid bacteria isolated from the salvaged beer, scientists want to know how the bacteria differ from "modern" organisms of the same kind and how they survived in such extreme conditions. VTT and the University of Saskatchewan are studying the DNA of the bacteria to find some answers to these questions. Bacterial strains isolated from the bottles could prove useful to the food and drink industry in the future.
If you are working on or know of some cutting edge technology that you would like to be featured in this column, please send an email to [email protected].