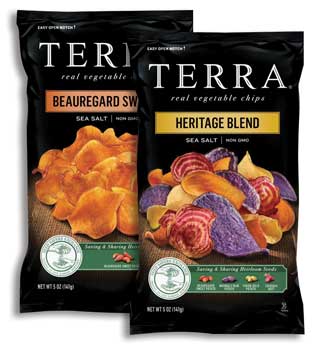 TERRA Chips, a brand of The Hain Celestial Group Inc., recently released two varieties of TERRA Real Vegetable Chips to celebrate its partnership with the nonprofit group Seed Savers Exchange, an organization dedicated to sharing and saving heirloom seeds and raising awareness for crop diversity.
"TERRA Chips is committed to the preservation of vegetable diversity, so partnering with the Seed Savers Exchange was naturally aligned with their mission of saving and sharing heirloom seeds," said Sam Garfinkel, senior brand manager – snacks at The Hain Celestial Group.
The two flavors feature heirloom vegetables whose seeds are part of the Seed Savers Exchange. Beauregard Sweets stars the Beauregard sweet potato, and the Heritage Blend combines the same sweet potato variety with Chioggia beets, Naturally Blue potatoes, and Yukon Gold potatoes. The chips come in 5 oz bags and are available exclusively at Whole Foods for a suggested retail price of $3.89.
---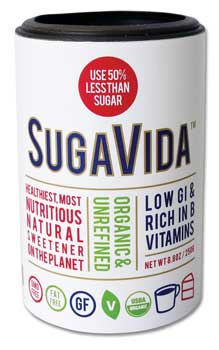 Superfood sugar substitute
UK-based Conscious Foods has brought its plant-based, organic sweetener SugaVida to U.S. stores in a distribution deal with Nature's Best Powered by KeHE. The FDA-approved sugar substitute is derived from the Indian Palmyra Jaggery tree and, according to the company, it has been promoted in Ayurvedic medicine as "sugar for diabetics." It is also a plant-based source of B-12, with one tablespoon providing 36% of the vitamin's recommended daily allowance.
The sweetener contains 5 calories and 0.5 g of carbs per each ½ teaspoon serving, with a low glycemic index of 40. It can be used in cold and hot drinks as well as in baking, and SugaVida replaces sugar in recipes at a ratio of 1:2. SugaVida will be available in retail stores throughout the Central, Southern, and Western U.S., as well as Alaska and Hawaii at a suggested retail price of $13.95 for 8.8 oz.
---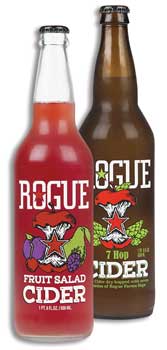 Farm-to-bottle ciders
Rogue Ales & Spirits launched two new craft ciders inspired by and made with ingredients from its Oregon farms.
The Fruit Salad Cider is made with cherries and plums grown on Rogue's Tygh Valley, Ore., farm, as well as apples, pears, marion-berries, peaches, and apricots from elsewhere in the state.
The 7 Hop Cider, meanwhile, contains all seven varieties of aroma hops grown at the company's Independence, Ore., farm, which are used to dry-hop Rogue's blend of heirloom and Newtown Pippin apple juice to create a dry, crisp cider.
The ciders are available in 22 oz bottles at all Rogue Ales Public Houses and on the brewery's website for a suggested retail price of $8.95. They are also available in bottles and on draft in select markets nationwide.