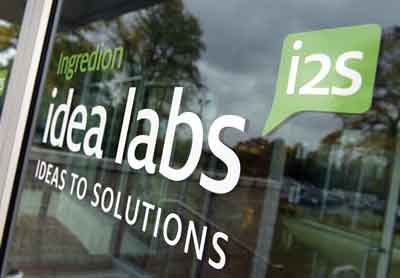 The key to winning in the future is to collect and connect more dots—individuals or groups with expertise—and tap their knowledge to find solutions and create new opportunities, declared Hitendra Patel, Managing Director, IXL Center, during his keynote presentation on "Innovation: Starting Right and Executing Differently to Implement Ideas" at Ingredion's recent global center innovation event.
About 75 customers attended the event at Ingredion's flagship R&D center in Bridgewater, N.J., where the food ingredient marketer unveiled its 'Idea Labs' concept—a global network of 24 Ingredion innovation centers designed to collaborate with customers to assist them in finding science-based solutions to their product development and marketplace challenges. "Our scientific capabilities are central to our company," declared Ilene Gordon, Chairman and CEO.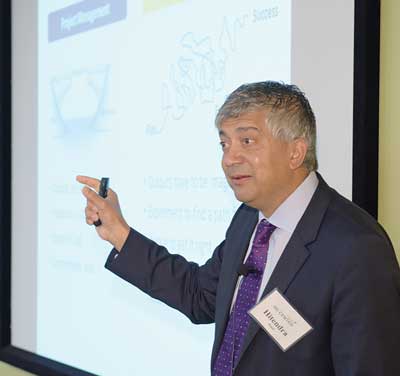 Patel predicts a rapid rate of change in the future. "Being fast and nimble will win the game," noted Patel. He also described four macro trends that are changing the future. They are green/sustainability, connectivity and social media, food and health, and high-tech robotics and automation such as 3-D printing. People are living longer and new market segments such as organic and gluten-free are growing, observed Patel. He also mentioned that social media and digital communications are putting tremendous power in the hands of everyday consumers. "Follow blogs for insights on what's next," stated Patel.
Many big ideas end up being small because of the "de-risking" that takes place along the way. "When you reduce the risk, you also reduce the reward and may end up with plain vanilla," remarked Patel. For big ideas and innovation to succeed, Patel highlighted five key areas: a robust concept; the case for change that must be linked to the business goals; a team to make it happen; upper management's attention and support; and time and space to accomplish the objectives.
Teams are critical to the success of the project. You can do more and go faster by having team members with networks of assets, noted Patel. Smart people with 100 smart friends can help you find answers more quickly. The smart friends or contacts in your phone are like dots of resources, similar to the global network of Ingredion's Idea Labs. Utilize them to improve your business, declared Patel.
Serving more than 100 countries, the labs are located in the United States, Canada, Mexico, Colombia, Brazil, Argentina, UK, Germany, Russia, United Arab Emirates, South Africa, India, China, Japan, South Korea, Thailand, Vietnam, Malaysia, Singapore, Indonesia, and the Philippines. The Idea Labs provide four areas of expertise: consumer insights, applied research, applications knowhow, and process technology. Within those knowledge bases are sensory, sweetness, texture, clean label, nutrition, emulsification, encapsulation, materials science, cost optimization, sustainability and sustainable ingredient sourcing, culinology (i.e., culinary and food science), and pilot plant proficiencies.
Communication and knowledge sharing among the labs as well as open innovation with partners and academic researchers expand the depth and scale of technical services available to customers. To meet local country or regional needs, some of the labs have specialized capabilities such as noodles, sauces, and beverages in China, oligosaccharides in South Korea, brewing and animal nutrition in Brazil, balancing texture and sweetness in the U.S., and formulating clean label products with starches and flours in Europe.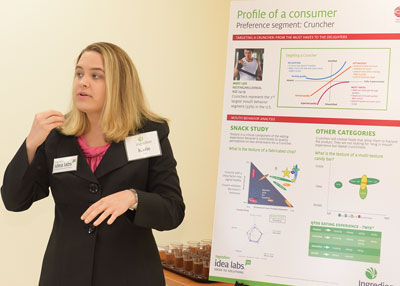 During the event, customers learned about Ingredion's work in sensory science, including sensory language for texture and sweeteners, and a new tool called "mouth behavior" for determining product "liking" and the drivers of texture preference. Consumers can be categorized into one of five mouth behaviors: hard chewers (fullness, moisture—not dry), soft chewers (shorter chews), smooshers (soft and spreadable), crunchers (high sound, fast mouth clearing), and suckers (flavor release, dissolve in the mouth). About 98% of consumers develop a preference for one of these mouth behaviors by age 5.
In addition to sensory, customers heard demonstrations and presentations on sustainable packaging through bio-plastics, nutrition, digestive health and weight management, sweetness technology and beverage market insights, pilot plant capabilities, and crop breeding and structure-function relationships.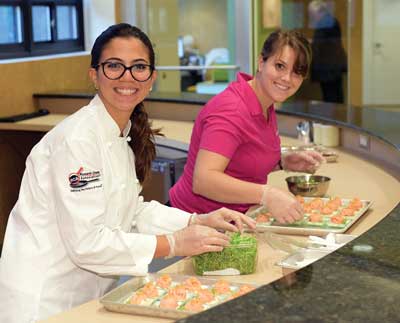 At the lab's Culinology center, customers sampled various on-trend ethnic cuisines, which were inspired by Ingredion's nine culinologists working in its labs around the globe. For example, the North American dishes of Char Sui BBQ Beef filled Chickpea Pita topped with Cilantro Chips & Hominy; Margarita Granita; and Tomato Basil Sorbet with Basil Powder, Pignoli Crumble, and Basil represented millennial fusion, texture and flavor mashups, and gluten free. The use of Novation Endura 0100 starch (functional native starch) maintains the classic texture of the BBQ sauce through UHT processing, provides cling and shine, and helps to keep the braised meat filling moist.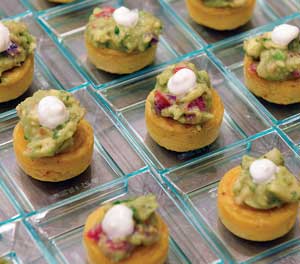 The South American cuisine of Causas Limena (Peruvian Aji Pepper Yellow Potato Cakes), Avocado Salsa and Crema; Escondidinho (Brazilian "Shepherd's Pie") with Açai Sauce; and Brigadeiro (Traditional Brazilian Candy/Caramel) embodied comfort food, tradition, Peru, and indigenous ingredients. Novation 1900 starch (potato starch) and Homecraft Create 860 flour (rice flour) were used in the causas to deliver the traditional texture of this classic dish from Peru, and to provide freeze/thaw stability and enable the cakes to be slightly crispy on the outside and creamy on the inside when heated for serving.
The Asian dishes of Vegetarian Coconut Curry with Tofu & Avocado; Jasmine Rice; and Tang Yuan: Black Sesame Glutinous Rice Balls (Traditional Chinese Dessert) exemplified curries, tradition, food safety and ethical sourcing, and globalization of food flavors. The dessert product was formulated with Eliane Gel 100 (waxy potato starch), Eliane VE 540 (potato starch), Enliten Reb A stevia (natural high-potency sweetener), and N-Dulge C2 (co-texturizer). The potato starches allow the gelled black sesame filling to become slightly fluid when warmed in the reduced-sugar syrup, while the N-Dulge C2 adds back the viscosity and clingy texture to the reduced-sugar syrup.

Bob Swientek,
Editor-in-Chief
[email protected]