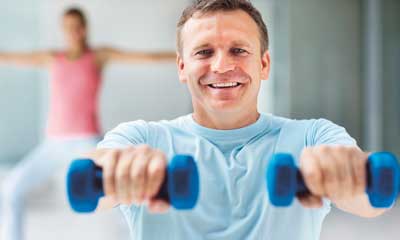 Blood pressure, cholesterol, and circulation can affect overall heart health, which is still one of the top health concerns. Heart disease is the number one cause of death in the United States, killing almost 380,000 Americans a year, according to the American Heart Association's Heart Disease and Stroke Statistical Update 2014.
More specifically, about 43% of Americans have total cholesterol of 200 or more, and about 33% of U.S. adults have high blood pressure. Hypertension is projected to increase about 8% from 2013 to 2030.
At the 2014 SupplySide West Show, heart health was represented in foods and beverages and dietary supplements. What follows are highlights from the show as well as some new ingredient offerings and research.
Phytosterols
Plant sterols have been shown to help lower total blood and low density lipoprotein (LDL) cholesterol levels by inhibiting the intestinal absorption of cholesterol. At SupplySide West, ADM, Decatur, Ill. (www.adm.com), highlighted its CardioAid™-FSP in an orange juice beverage. Cargill, Wayzata, Minn. (www.cargill.com), showed CoroWise® plant sterols in Cholestra™ Heart Healthy Chews. BASF, Florham Park, N.J. (www.basf.com), showcased its Vegapure®Plant Sterols in "Young at Heart" Gummies.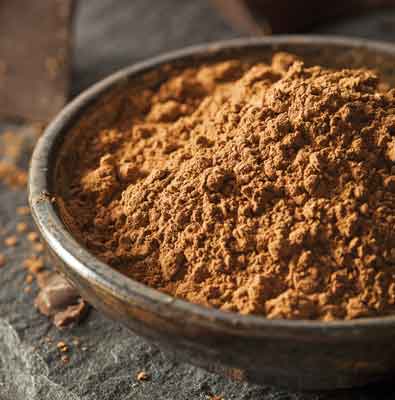 Cocoa Flavanols
The EU Commission in September approved the health claim submission on cocoa flavanols from Barry Callebaut, Zurich, Switzerland (www.barry-callebaut.com). The company received the right to use the health claim that "cocoa flavanols help maintain the elasticity of blood vessels, which contributes to normal blood flow" (Barry Callebaut, 2014).
Barry Callebaut was able to provide evidence that daily intake of 200 mg of cocoa flavanols provided by 2.5 g of ACTICOA® cocoa powder or 10 g of ACTICOA® dark chocolate supports healthy blood circulation by helping to maintain the elasticity of the blood vessels. Barry Callebaut now has the proprietary right to use the claim within EU countries. The claim can be used for cocoa beverages made with cocoa powder or for dark chocolate providing at least 200 mg of cocoa flavanols per day. The company will be able to use the claim for its ACTICOA® cocoa and chocolate ingredients, which retain most of the cocoa flavanols naturally present in the cocoa bean.
--- PAGE BREAK ---
Omega-3 Fatty Acids
Omega-3 fatty acids are promoted for heart health because they have been shown to decrease the risk of arrhythmias, decrease triglyceride levels, and potentially help lower blood pressure. According to Cargill's Fatitudes™ research, at least 98% of consumers have heard of omega-3 oils (Cargill, 2014). An increasing number are more likely to purchase products containing alpha-linolenic acid (ALA), eicosapentaenoic acid (EPA), or docosahexaenoic acid (DHA) omega-3 oils. The study's look at how consumers view omega-3 oils, in particular, could help food and beverage manufacturers develop products with messaging that is meaningful to grocery shoppers. Specifically, DHA has the most impact on purchase intent (23%) followed by EPA (16%) and ALA (11%).
In June, Cargill introduced IngreVita™, a combination of high oleic canola oil, fish oil, and proprietary antioxidants, which contains EPA and DHA. The oil is easy to use, offers good shelf stability, and does not introduce off-flavors.
DSM Nutritional Products, Parsippany, N.J. (www.dsm.com), offers life'sOMEGA 60™, life'sDHA™, and MEG-3 ®. MEG-3 fish oil is a source of EPA/ DHA omega-3 from fish oil without the fishy taste or smell. It is purified for safety, concentrated for potency, and sustainably sourced from omega-3-rich ocean fish. life'sOMEGA is a vegetarian source of EPA/DHA from algae. It comes from a non-genetically modified algal source and is produced using the same methods as life'sDHA, a vegetarian source of DHA from algae and an ingredient that is used in more than 99% of infant formulas in the U.S.
At SupplySide West, BASF featured Omega "Cardio-Pack" flavored stick packs that contained BASF Dry n-3 12 microencapsulated omega EPA and DHA powder. Each Omega "Cardio-Pack" serving contained a minimum of 150 mg of EPA and DHA. The company's PronovaPure® 500/200 TG and Omevital ® 1812 Gold ingredients were showcased in an Omega-3 "Vitality Swirl," which contained 1,600 mg of EPA and DHA per serving.
Stepan Lipid Nutrition, Maywood, N.J. (www.stepan.com), showcased Marinol C-38 200 mg EPA and DHA in an Omega Cocoa Crunch Bar and Omega High Protein Bar.
Hydroxytyrosol
Hydroxytyrosol is an antioxidant that protects blood lipids from oxidative damage. In 2012, the European Food Safety Authority approved a heart health claim for olive oil based on its content of hydroxytyrosol.
PLT Health Solutions Inc., Morristown, N.J. (www.plthealth.com), offers Hytolive® Olive Fruit Polyphenol. The patented ingredient is an extract of olive polyphenols from the by-product water of olive oil production produced through a solvent-free extraction process. The extract maintains consistent hydroxytyrosol content, which is standardized to a minimum of 10% or 25%. For food and beverage formulations, Hytolive is considered GRAS and can appear on labels as "olive fruit" or "olive fruit polyphenols."
Wacker Chemical Corp., Adrian, Mich. (www.wacker.com), introduced its nature-identical hydroxytyrosol for applications in the food and cosmetic industry. HTEssence® features markedly higher purity with a defined amount of active ingredient.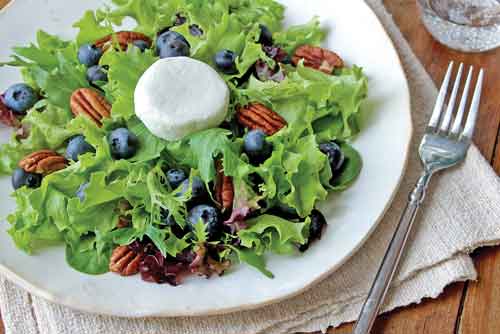 Blueberries
Johnson et al. (2014) indicated that regular consumption of blueberries benefits vascular health. The researchers randomly assigned 40 postmenopausal women to receive either 22 g of freeze-dried highbush blueberry powder (the equivalent to one cup of fresh blueberries) or 22 g of a placebo powder daily for eight weeks. The results showed that systolic and diastolic blood pressure were significantly lower than baseline levels (U.S. Highbush Blueberry Council, 2014).
--- PAGE BREAK ---
Oat Beta-Glucan
Whitehead et al. (2014) confirmed the role of viscosity in achieving greater cholesterol-lowering benefits from oat beta-glucan. The meta-analysis showed that daily consumption of at least 3 g of oat beta-glucan reduces cholesterol levels. This effect was observed in lean, overweight, and obese male and female adults, with and without type 2 diabetes, across 28 randomized controlled trials (DSM, 2014).
The cholesterol-lowering effect of oat beta-glucan depends on its viscosity in the small intestine, and therefore its molecular weight. A high molecular weight means it can be released from the food matrix during digestion and form a viscous gel inside the small intestine.
"We now know more about the importance of the physico-chemical properties of oat beta-glucan in determining its ability to reduce cholesterol and blood glucose in humans," explain the researchers. "Our meta-analysis is the first to take this information into account by only including studies using high molecular weight oat beta-glucan."
DSM offers OatWell ® oat beta-glucan. Clinical studies have substantiated the health benefits of OatWell in human nutrition. According to DSM, a recent study published in the British Journal of Nutrition looked more closely at the functional properties of oat beta-glucan. The authors reviewed a number of studies that showed that high viscosity oat beta-glucan can reduce cholesterol and the rise of blood sugar levels after eating. To consume the recommended 3 g of oat beta-glucan per day, only 11 g of OatWell is required to achieve the same effect as three portions (up to 90 g) of oats.
Grape Seed Extract
Polyphenolics, Madera, Calif. (www.polyphenolics.com), debuted a new beverage at SupplySide West called Health Transformance, which was created with Maven Management. It contains Polyphenolics' MegaNatural-BP and MegaNatural-Red Wine Grape Extract with trans-resveratrol. MegaNatural-BP grape seed extract is the subject of four U.S. patents and has been shown to support blood pressure within a normal range.
Vitamin K
Vitamin K-2 helps to keep excess calcium out of blood vessel walls. PLT Health Solutions offers MenaQ7™, a natural vitamin K-2 (menaquinone-7) as a fermentation extract. The ingredient is manufactured using Bacillus licheniformis and had patents granted for cardiovascular health in the European Union, U.S., and Japan.
DuPont Nutrition & Health, Madison, Wis. (www.dupont.com), offers ActivK ™ for healthier blood circulation. ActivK N is soybased fermented and purified vitamin K-2 using bacteria occurring naturally in natto, a traditional Japanese food product. ActivK S is a pure vitamin K-2 made by organic synthesis.
Dairy
Soedamah-Muthu (2014) demonstrated that milk and low-fat dairy may play a beneficial role in cardiovascular disease risk. The meta-analysis of nine studies with 57,256 subjects and 15,367 cases of hypertension revealed that as total dairy, low-fat dairy, and milk (just over two cups a day) consumption increased, the risk for high blood pressure decreased. Milk intake was not statistically significantly associated with risk of coronary heart disease, stroke, and total mortality.
"These meta-analyses indicate that there is a link between increasing the number of glasses of milk a day and a lower incidence of hypertension," explains Sabita S. Soedamah-Muthu, assistant professor in the Division of Human Nutrition at Wageningen University.
These findings are further supported by a clinical trial by Machin et al. (2014) that showed the addition of four servings of nonfat dairy per day to a routine diet lowered blood pressure in middle-aged and older adults.
--- PAGE BREAK ---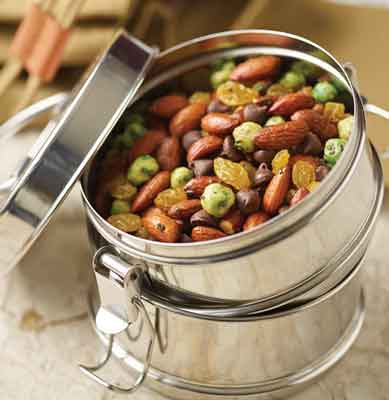 Almonds
Nishi et al. (2014) showed that eating almonds improved serum fatty acid profiles. Also, the researchers estimated that for every 30 g increase (approximately 1 oz) of almonds consumed daily during the study, the subjects' estimated 10-year coronary heart disease risk score was reduced by 3.5% (Almond Board of California, 2014).
The randomized, controlled clinical study included 27 adult subjects (mean age of 64 years) with elevated LDL cholesterol. One group received 50–100 g of almonds, another received 100–200 g of muffins, and the third received 25–50 g of almonds and 50–100 g of muffins every day for four weeks. Each subject completed all three dietary treatments, so the total length of the study was 12 weeks. The muffins were formulated to provide the same number of calories and the same amount of saturated fat, polyunsaturated fat, protein, and fiber as the almonds. The primary difference between the almond composition and the muffin composition was that the almonds had significantly more monounsaturated fat (50% versus 8% of calories), whereas the muffins had significantly more carbohydrates (53% versus 15% of calories).
Walnuts
Like almonds, walnuts are known to be heart healthy, thanks in part to their ALA content. Wu et al. (2014) showed that daily consumption of 43 g of walnuts for 8 weeks significantly reduced non-high-density lipoprotein (non-HDL) cholesterol and apolipoprotein B.
Forty subjects were included in a controlled, cross-over study and randomized to receive a walnut-enriched (43 g/day) diet and then a Western-type (control) diet or vice-versa, with each lasting 8 weeks and separated by a 2-week washout. The walnut diet significantly reduced non-HDL cholesterol. Total cholesterol showed a trend toward reduction.
---
Members Only: Read more about these heart-healthy ingredients online at www.ift.org. Type the keywords into the search box at the upper right side of the home page.

Linda Milo Ohr,
Contributing Editor, Denver, Colo.
[email protected]

References
Almond Board of California. 2014. New study supports daily almonds as part of a heart-healthy diet. Press release, Aug. 21.
Barry Callebaut. 2014. EU Commission approves Barry Callebaut's health claim: cocoa flavanols support a healthy blood circulation. Press release, Sept. 4.
Cargill. 2014. Study shows consumers want more omega-3. Press release, Oct. 6.
DSM. 2014. New research on oat beta-glucan confirms role of viscosity in achieving greater cholesterol lowering benefits. Press release, Oct. 20.
Johnson, S., Figueroa, A., Navaei, N., Wong, A., Kalfon, R., Feresin, R., Elam, M., Payton, M., and Arjmandi, B. 2014. Blueberries exert antihypertensive and vascular-protective effects in postmenopausal women with pre- and stage 1-hypertension. FASEB J. 28(1): Supplement 117.6.
Machin, D.R., Park, W., Alkatan, M., Mouton, M., and Tanaka, H. 2014. Hypotensive effects of solitary addition of conventional nonfat dairy products to the routine diet: a randomized controlled trial. Am. J. Clin. Nutr. doi: 10.3945/?ajcn.114.085761.
Nishi, S., Kendall, C.W.C., Gascoyne, A.-M., Bazinet, R.P., Bashyam, B., Lapsley, K.G., Augustin, L.S.A., Sievenpiper, J.L., and Jenkins, D.J.A. 2014. Effect of almond consumption on the serum fatty acid profile: a dose–response study. Brit. J. Nutr. 112(7): 1137-1146.
Soedamah-Muthu, S.S. 2014. Milk intake and risk of cardiovascular diseases and mortality: new conclusions from meta-analyses. Abstract presented at 12th Euro Fed Lipid Congress. September.
U.S. Highbush Blueberry Council. 2014. Preliminary research on the effects of blueberries on blood pressure, arterial stiffness in postmenopausal women. Press release, April 25.
Whitehead, A., Beck, E.J., Tosh, S., and Wolever, T. 2014. Cholesterol-lowering effects of oat b-glucan: a meta-analysis of randomized controlled trials. Am. J. Clin. Nutr. doi: 10.3945/?ajcn.114.086108.
Wu, L., Piotrowski, K., Rau, T., Waldmann, E., Broedl, U.C., Demmelmair, H., Koletzko, B., Stark, R.G., Nagel, J.M., Mantzoros, C.S., and Parhofer, K.G. 2014. Walnut-enriched diet reduces fasting non-HDL-cholesterol and apolipoprotein B in healthy Caucasian subjects: a randomized controlled crossover clinical trial. Metab., Clin. Exp. 63(3): 382-391.