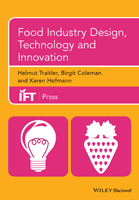 One recently published IFT Press book is available from Wiley-Blackwell. Food Industry Design, Technology and Innovation by Helmut Traitler, Birgit Coleman, and Karen Hofmann (ISBN: 978-1-118-73326-4) discusses the evolution of food product design and champions the conscious consideration of design throughout all stages of food production. Although food has always been designed, in the past, when design has been part of the production process, it has mainly meant considerations of packaging, logos, fonts, and colors. In this title, the authors argue that design should and must play a more substantial role in food production.
They describe the role of design in relation to technology of every kind, such as materials, mechanics, ingredients, conversion, and transformation, and analyze complex concepts through real-world examples. Additionally, they explore the ways that innovation and design must go hand in hand to drive both small and large food companies forward and propose that food designers should play an active and decisive role at the executive board level.
Helmut Traitler has a PhD in organic chemistry from the University of Vienna, Austria. In 2010, after decades of experience with Nestlé in various roles around the world, Traitler co-founded Life2Years Inc., a startup company producing healthy beverages for the over-fifties. Birgit Coleman holds an MA in Business from the University of Applied Sciences, Vienna. She is a strategic thinker and connections explorer in her current role at Swissnex San Francisco. Karen Hofmann holds a BS in product design from Art Center College of Design and a BA in psychology from California State University, Northridge. She is chair of the Product Design Department at the Art Center College of Design in Pasadena, Calif.
IFT Press books, developed in partnership with Wiley-Blackwell and crafted through rigorous peer review and meticulous research, serve as leading-edge handbooks for industrial application and reference and as essential texts for academic programs. Topics of future books in the series include nanoscience and nanotechnology, sustainability, nutraceuticals, dairy ingredient separation, fermented foods, medical foods, bitterness, food carotenoids, and food packaging. IFT members receive a 35% discount on all Wiley-Blackwell books. The member coupon code is available at www.ift.org. Be sure to log in and check out the Knowledge Center/Read IFT Publications/IFT Press Books links for information on how to order this book and other books in the IFT Press book series. For more information, call 877-762-2974, or visit www.wiley.com/go/ift. Manuscript proposals may be sent to David McDade, Executive Editor, at [email protected] (+44-1865-47-6546).
---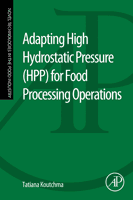 Adapting High Hydrostatic Pressure (HPP) for Food Processing Operations
by Tatiana Koutchma, Academic Press, http://store.elsevier.com, ISBN: 978-0-124-20091-3
This small volume from Elsevier's series on novel technologies in the food industry is especially notable for providing specific information on suppliers and cost of equipment for high-pressure processing. Much has been written about HPP, often with an academic and research focus, and frequently as part of a more diverse discussion of nonthermal preservation processes. Here, by contrast, in a modest little book, is a collection of exactly the data sought by an engineer: kinetic parameters for inactivation of microbes by high pressure, sources of equipment, regulatory status, and an economic model. It should be valuable to anyone using or evaluating HPP.

—J. Peter Clark, PhD, CFS,
Contributing Editor, Consultant to the Process
Industries, Oak Park, Ill. ([email protected])