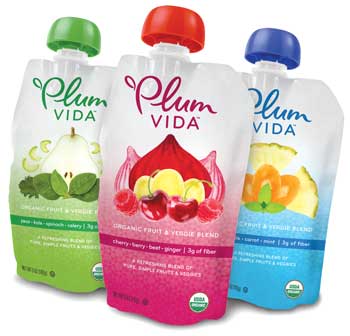 Fruit pouches for grown-ups
Inspired by its employees' tendency to snack on the company's line of baby food blends, Plum Organics created Plum Vida, its first foray into the adult snack food arena. Incorporating sophisticated, flavorful ingredients, the fruit-and-vegetable pouches are available in three varieties: Cherry Berry Beet Ginger, Pear Kale Spinach Celery, and Pineapple Carrot Mint.
"At Plum, we have always been our own core consumer," said Neil Grimmer, co-founder and CEO of Plum Organics. "We were founded by parents, and for the past seven years we've been dedicated to designing great-tasting organic products for our own kids. Now with Plum Vida, we're incredibly excited to bring to market products we're designing for ourselves."
Plum Vida is available exclusively through Target's Made to Matter program for a suggested retail price of $1.99 per pouch or $6.99 for a four-pack.
---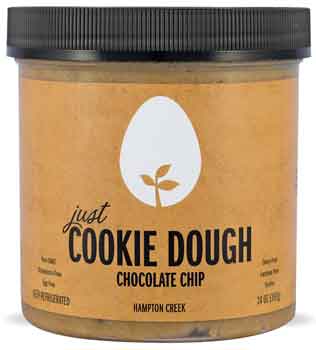 Growing guilt-free cookies
Claiming that "a cookie can change the world," Hampton Creek is marketing its new Just Cookie Dough as sustainable—and it even includes an impact calculator on its website for customers to measure the water, land, and carbon emissions they helped save by eating cookies made from plant-based ingredients instead of their animal-based counterparts.
"Our goal continues to be to make it easier for regular people to make better food choices, starting off with mayo and cookies, and now cookie dough," said Josh Tetrick, founder and CEO of Hampton Creek, which launched its egg-free mayonnaise Just Mayo in 2013.
Just Cookie Dough is non-GMO, kosher, and free from cholesterol, dairy, and egg, as well as artificial colors and flavors. It is available at Whole Foods locations in a 14 oz tub at a suggested retail price of $5.49 and at Costco in a 32 oz container that costs $6.59.
---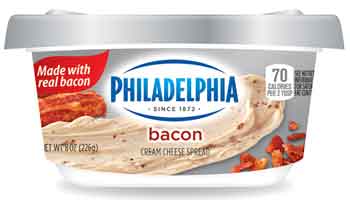 Bacon spreads into cream cheese
Over the past few years, bacon has found its way into and atop some unexpected foods, from donuts and cupcakes to mayonnaise and salt blends. The latest product type to join the trend arrived with the release of Kraft Foods' Philadelphia Bacon Cream Cheese Spread, which blends bits of Oscar Mayer bacon into a spread made with fresh milk and cream.
"At Kraft, we are building on our brands' strengths to offer relevant products that deliver on key trends and consumer interests," the company said. "And as the purveyors of Oscar Mayer Bacon and consistently one of the top bacon distributors in the U.S., Kraft knows a thing or two about what brings bacon lovers together."
Though it is marketed as a breakfast item, the spread might also add pizzazz to sandwiches or double as a dip for chips and pretzels. It is available at retailers nationwide at a suggested retail price of $2.79 per 8 oz container.