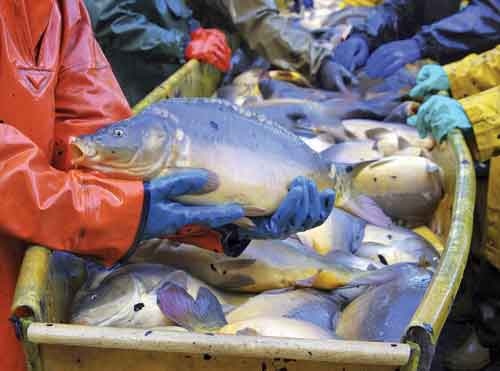 Tracking Listeria in seafood products
As more and more people recognize the value of consuming seafood, food safety concerns associated with eating fish are increasingly important to consider. In an article that appeared in the September issue of Comprehensive Reviews in Food Science and Food Safety, authors review data accumulated since the 1990s to discuss the incidence, epidemiological importance, and contamination routes of Listeria monocytogenes in various aquatic ecosystems, seafood products, and processing environments.
L. monocytogenes, the cause of nearly all human cases of listeriosis, is particularly concerning because of its high mortality rate (20%–30%) in immunocompromised individuals and the severity of the disease. The bacteria are tolerant of high and medium levels of sodium chloride, can grow and multiply during refrigeration, and can survive at relatively low water activity. It is found in refrigerated foods with a long shelf life, and according to the authors, seafood is first among these high-risk ready-to-eat products.
The authors specify the strains most commonly associated with listeriosis outbreaks and explore potential sources of contamination. "Whereas raw seafood entering processing facilities can be contaminated with L. monocytogenes to varying degrees," the authors write, "the subsequent processing environment is the major source of contamination." They advise that processing plants focus on creating effective strategies to clean and sanitize processing sites, particularly floors near processing equipment and areas that use water.
Blueberry leaves extend fruit's shelf life
A team of researchers in China has discovered a way to extend the shelf life of blueberries by using a substance found in their leaves. The researchers—who included Yanyun Zhao, a researcher and food science and technology professor at Oregon State University and a professional member of IFT— found that an edible coating containing leaf extracts helped the fruit retain water and delay decay.
The coatings were created by mixing the leaves' antimicrobial antioxidant phenolics with chitosan from crustacean shells. Although the coating would add to blueberries' cost, the discovery could potentially increase profits for farmers, as the berries are usually sold by weight. The coating could also allow retailers to wash blueberries for use as readyto-eat products; most blueberries are unwashed to retain the natural waxy coating that preserves the fruit.
"Normally, blueberry leaves fall to the ground as waste," said Zhao in a news release. "We've discovered a use that can change how the berries are stored, sold, as well as increasing their nutritional value."
Researchers develop system to fight Ebola
Researchers at the U.S. Army Natick Soldier Center invented a disinfectant system that can kill the deadly Ebola virus on surfaces. The chemical system developed and patented by a team that included IFT professional members Christopher Doona and Florence Feeherry is being used to sterilize medical equipment and electronic items used in treating Ebola patients in West Africa.
The portable, "no power required" system allows users to convert dry powder chemicals into chlorine dioxide (CIO2), a biocide that can be used to decontaminate anything from benign microbes to food pathogens to Category A bioterror agents. Unlike with other ways of preparing CIO2, this system can be activated without electricity, caustic acids, or clean water, making it ideal for use in remote locations.
CIO2 can be used in varying strengths and quantities for a wealth of purposes, from cleaning medical equipment to use in hygiene products. "Americans hear in the news about outbreaks of E. coli, Listeria, and Salmonella from fresh fruits and vegetables," said Doona, the lead inventor. "ClO2 holds promise for the food industry but also, on a smaller scale, as a home sanitizer for rinsing fresh produce or appliances."
--- PAGE BREAK ---
Nutrient balance key to corn yields
Corn must absorb nitrogen, phosphorus, and potassium at specific ratios in order to increase global yields of the crop, according to a study by Purdue University and Kansas State University that appeared in Agronomy Journal.
The study reviewed data accumulated across 150 studies and found that high corn yields were associated with production systems in which the plants took up nitrogen and phosphorus at a ratio of 5-to-1 and potassium at a ratio of 1-to-1. As long as these ratios were met, it did not matter where the corn was grown.
"The agricultural community has put a lot of emphasis on nitrogen as a means of increasing yields, but this study highlights the greater importance of nutrient balance," said Tony Vyn, Purdue professor of agronomy. "We will not be able to continually boost global corn yields and achieve food security without providing adequate and balanced nutrients."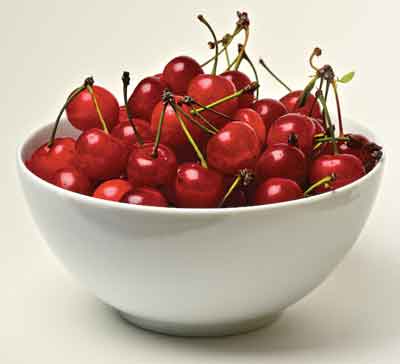 Cherry concentrate may reduce inflammation
Two studies sponsored by the Cherry Marketing Institute linked daily consumption of Montmorency tart cherry concentrate with reductions in inflammatory markers. In a study published in the Journal of Functional Foods, researchers found that daily supplementation with the concentrate at dose levels of 30 and 60 mL decreased blood levels of uric acid, which, when crystallized in the toes, can create intense pain. By lowering uric acid, therefore, cherry concentrate may show potential in helping manage gout and other types of inflammatory conditions.
Another study, which appeared in the journal Nutrients, suggested that two daily doses of 30 mL of the cherry concentrate may reduce inflammation and oxidative stress after back-to-back high-intensity exercise. Results of the study, which tracked 16 cyclists, showed that LOOH—a marker of oxidative stress—was nearly 30% lower in the group taking the cherry supplement.
---
What's new with food companies
• Ajinomoto North America Inc. agreed to acquire Windsor Quality Holdings L.P., which makes Asian/ethnic frozen foods.
• The Almond Board of California released a comprehensive set of Honey Bee Best Management Practices for California's almond industry to promote bee health.
• Archer Daniels Midland Co. will purchase Specialty Commodities Inc., which originates, processes, and distributes nuts, fruits, seeds, legumes, and ancient grains.
• Arla Foods Ingredients and German dairy cooperative Deutsches Milchkontor began production at a new whey and lactose production facility that is a joint venture between the companies. Arla will also build a new factory in Videbæk, Denmark, to manufacture whey protein hydrolysates.
• Biological materials resource and standards organization ATCC and bioMérieux announced their collaboration to expand and solidify the bioMérieux VITEK MS microbial identification database for the industrial market.
• BASF changed its logo from "The Chemical Company" to "We create chemistry" to reflect its focus on providing customer-centric solutions.
• Cargill Inc. announced that it has acquired the global chocolate business of Archer Daniels Midland Co.
• Diamond Foods Inc. announced it is building a 7,000 sq ft innovation center in Salem, Ore.
• DuPont Nutrition & Health is expanding its manufacturing facility in Madison, Wis.
• Evolva Holding SA and Cargill Inc. announced the publication of a patent to efficiently and sustainably produce nextgeneration sweeteners via fermentation, including Rebaudioside M.
• Ganeden Biotech's GanedenBC30 is now approved for use in Mexico, Japan, India, Taiwan, and the Philippines.
• Golden State Foods acquired Snap Fresh Foods, a New Zealand–based provider of salad greens, vegetable mixes, baby-peeled carrots, fresh sprouts, dressings, and condiments.
• Ingredion Inc. entered into a definitive agreement to acquire Penford Corp. It also announced plans to invest approximately $100 million to increase its manufacturing capacity for specialty ingredients.
• Land O'Lakes Inc. is working to provide feed and forage training, nutrition services, and laboratory services at Nestlé's newly inaugurated Dairy Farming Institute training center in Northeast China.
• Michigan State University launched Foodchannel.msu.edu, an educational portal offering open-access courses and resources to students worldwide.
• Mondelēz International Inc. announced plans to build a $90 million biscuit plant in Bahrain, which is estimated to open in 2016.
• Nestlé opened a new coffee capsule factory in Schwerin, Germany.
• Pabst Beverage Co. was acquired by Russian company Oasis Beverages.
• Perdue Foods announced that it has removed all antibiotics from its chicken hatcheries.
• Purdue University received a $2 million federal grant to lead research on breeding new varieties of organic tomatoes that resist foliar diseases while maintaining taste quality.
• Robertet opened its new divisional headquarters in Mount Olive, N.J.
• Symrise opened an extraction facility for vanilla in Madagascar.
• Tate & Lyle opened a new polydextrose dietary fiber manufacturing facility in Nantong, Jiangsu Province, China.
• The Coca-Cola Company, Dr Pepper Snapple Group, and PepsiCo announced their commitment to cutting the calories in soft drinks nationwide by 20% by 2025.
• The Hershey Co. acquired an 80% stake in Shanghai Golden Monkey Food Joint Stock Co. Ltd., a privately held confectionery company based in Shanghai, China.
• Unilever and IOI Loders Croklaan have signed a global partnership focused on oil, particularly accelerating sustainable market transformation for palm oil.
• WhiteWave Foods Co. acquired the So Delicious Dairy Free brand from private equity and investment firm Wasserstein & Co.

Melanie Zanoza Bartelme,
Associate Editor
[email protected]