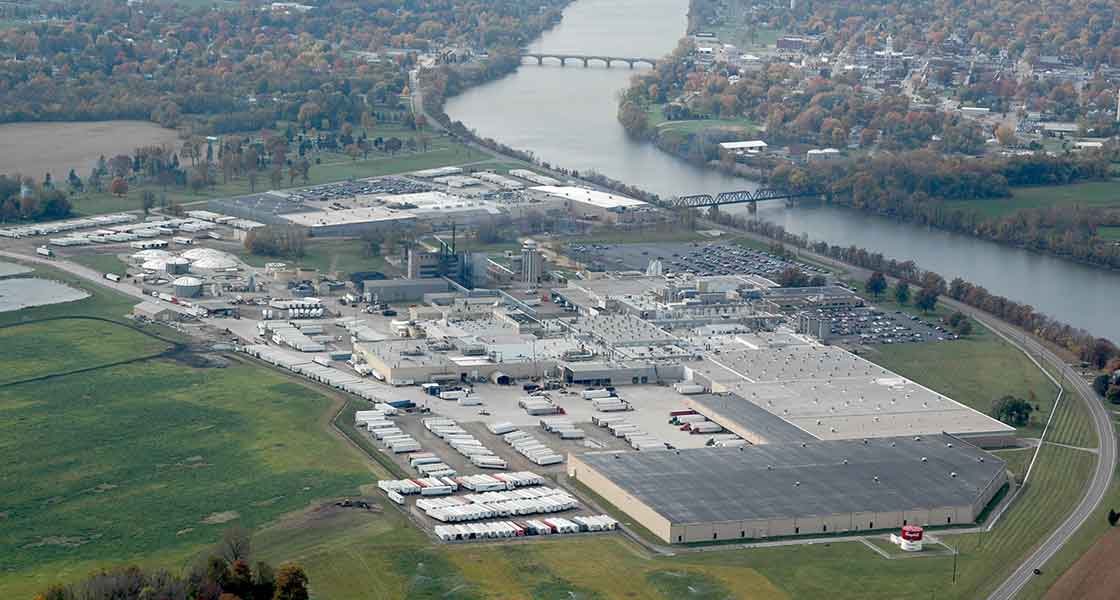 Northwest Ohio is home to roughly 250 food manufacturers and ingredient supply companies. The area is centrally located, easily reachable through a comprehensive transportation network, and offers a wealth of natural resources, such as plentiful water sources and predictable weather. Some companies are taking advantage of the benefits the location provides to source local crops and draw on renewable energy sources, all while focusing on innovation and fostering their own growth.
Campbell Soup Co. (www.campbellsoupcompany.com) acquired its Napoleon manufacturing facility—and the V8 brand—in 1948, and it began producing soup here in 1957. The site, which sits on 949 acres and boasts a perimeter of 3.1 miles, is considered the largest thermal processing plant in the U.S. by volume produced. When it comes time to process the seven vegetables (minus the tomato juice, which is added later) that appear in V8, Campbell's sources the produce by the truckload from Ohio, Michigan, and Indiana and concentrates them onsite, where they are bottled after the addition of the tomato juice.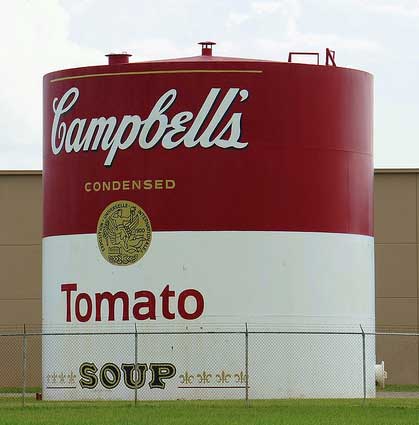 The company continues this focus on local resources with its water supply: the Maumee River. An onsite water treatment plant—large enough to serve a city of 200,000 people—returns water to the river that is even cleaner than what came out. The treatment system involves a spray irrigating fields of reed canary grass that Campbell's then uses in another of its natural-sourced energy sources. With its new biodigester that went online this summer, the company turns organic matter, including the grass, pomace, and crop waste from nearby farmers, into energy. It has already disposed of 56,000 tons of organic waste. When run in conjunction with the site's 60-acre solar field—the largest solar field supplying a single entity in the U.S.—it is estimated that together these will provide 30% of the facility's energy needs.
Additionally, the Napoleon facility presently has a 95% recycling rate, and through onsite third-party contractors, it produces its cans and PET bottles in the building. These strides have brought the site very close to already meeting its 2020 sustainability goals and prompted an industry publication to recognize it as green plant of the year.
At nearby Hirzel Canning Co. and Farms (www.deifratelli.com) in Toledo, the focus is on local flavor. Here and at the company's other two plants, the tomatoes processed come from fields an average of just 20 miles away. Founded in 1923 and managed today by third- and fourth-generation family members, Hirzel counts itself as one of the few remaining Ohio tomato producers. The company grows its own tomato crops through a small network of local farmers, choosing plants that are naturally resistant to local insects and disease and selecting varieties that produce maximum flavor. Because Northwest Ohio's soil, latitude, and climate are similar to those of some tomato-producing regions in Italy, Hirzel can process and pack Italian-style tomatoes right in the Midwest.
Hirzel supplies tomato products to food manufacturers, including Campbell's, as well as within the retail sector under the name Dei Fratelli. Unlike some other brands, Dei Fratelli never "remanufactures" its consumer products from tomato paste, instead storing diced and crushed tomatoes using a bulk aseptic storage system that retains product quality over time. The brand has recently launched its Truly Tomatoes line of chopped, petite cut, and "rustic cut" tomatoes packed in tomato puree. These products are gently processed to retain fresh tomato flavor and packed in FSC-certified cartons made from 75% paperboard, a renewable resource. Their square, lightweight shape allows for more efficient transportation—as well as shelf space at retail.
Cooper Farms (www.cooperfarms.com) creates pork, turkey, and chicken products from animals it raises itself. Cooper Farms' four locations—a hatchery in Oakwood, a feed and animal production facility in Fort Recovery, a processing plant in St. Henry, and a cooked meats production center in Van Wert—are all located near each other in Northwest Ohio. About 15 million turkey poults are hatched annually, which grow to produce more than 210 million pounds of turkey that are processed each year at Cooper Farms' plants. The company operates under what it calls a Certified Animal Raising and Environmental System, which it says is "about taking action in order to raise the highest quality, healthy animals and being good stewards to the environment." It employs a strong biosecurity program to minimize the risk of disease in its animals and relies on an on-staff veterinarian to ensure high-quality animal care.
Within its facilities, Cooper Farms focuses on making sustainability a way of life. The company uses local ingredients including feed grain, recycles its frying oil, reuses its compost as fertilizer, and washes and reuses its deli molds up to 10 times. It also uses package designs and methods that eliminate unnecessary material use and are recyclable, such as cooking and selling meat within the same bag. Additionally, the company maintains 507 acres of wooded timberland in its natural state and 150 acres of conservation reserves. Taking advantage of its location within a wind belt—as well as state tax credits—Cooper Farms' Van Wert cooked meats facility installed three wind turbines that produce 75% of its energy.
These companies represent just a small segment of the food manufacturers that call Northwest Ohio home. To help spread the word about the benefits the region can provide, the Regional Growth Partnership (RGP), a privately held economic growth group, focuses on meeting the site-selection needs of corporate clients. It works with groups tied to economic development, such as port authorities, real estate professionals, utility companies, and universities, and can provide financial assistance to companies interested in investing in Northwest Ohio and Southeast Michigan. To learn more about RGP and its services, visit www.rgp.org.

Melanie Zanoza Bartelme is Associate Editor of Food Technology magazine ([email protected]).