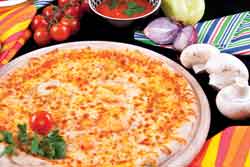 Evaluating properties of pizza cheeses
Mozzarella is the go-to cheese for pizza makers because of its unique browning and blistering properties, but that doesn't mean there isn't room for the inclusion of other cheeses in gourmet pies. In a study recently published in the Journal of Food Science, researchers evaluated the pizza-baking performance of different cheeses in conjunction with a new quantifiable evaluation technique to see how their composition and functional differences affected browning and blistering.
To determine their results, the researchers eschewed human sensory evaluation, instead relying on a machine vision technique that combined imaging with quantified image analysis to help quantify a description that can be used by pizza manufacturers to make an appealing product for consumers. The study found that the elasticity, free oil, moisture and water activity, and transition temperature all influence the color uniformity of cheeses. Blisters were not formed for Cheddar, Colby, and Edam cheeses because of their small elasticity. A sufficient amount of free oil prevents moisture evaporation, and thus less intensive browning on Gruyere and Provolone, and hardly at all with Emmental. These cheeses can be combined with Mozzarella to temper the burnt appearance in gourmet pizzas.
The study, "Quantification of Pizza Baking Properties of Different Cheeses, and Their Correlation with Cheese Functionality," appeared in
Journal of Food Science
, doi: 10.1111/1750-3841.12540.
FDA seeks ideas for fighting Salmonella
The U.S. Food and Drug Administration (FDA) announced its 2014 Food Safety Challenge, which seeks breakthrough ideas for finding disease-causing organisms in food. Food safety experts are encouraged to submit concepts that must specifically address the detection of Salmonella in minimally processed produce.
"We're focusing on produce first because it has a major impact on public health," said David G. White, chief science officer and research director for the FDA's Office of Food and Veterinary Medicine. "According to the CDC, contaminated produce causes 46% of foodborne illness and 23% of foodborne illness-related deaths. But detecting low levels of Salmonella in produce can be like finding a needle in a haystack: difficult expensive, and time-consuming."
Up to five submitters will be selected as finalists and will be awarded $20,000 and the opportunity to be coached by FDA subject matter experts before presenting their final concepts to the judges. To learn more about, and sign up for, the Food Safety Challenge, visit www.foodsafetychallenge.com. Submissionsare due by Nov. 9, 2014.
GFSI releases food fraud position paper
The Global Food Safety Initiative (GFSI) released a paper detailing its position on food fraud mitigation. Led by the GFSI Guidance Document Working Group with the Food Fraud Think Tank, the work details additional steps the organization will require in the next full revision of the GFSI Guidance Document 7th Edition, which will be released in 2016.
According to the paper, food fraud—the deception of consumers using food products, ingredients, and packaging for economic gain—can be particularly dangerous to consumers because the contaminants can be unconventional and because the fraudsters often don't realize how harmful they might be.
GFSI will recommend that the food industry add the following two steps to its protocols: first, companies will need to perform a food fraud vulnerability assessment, and second, have a control plan in place. During a food safety certification audit, an auditor will review documentation related to the vulnerability assessment and confirm that a plan has been devised and implemented. Because performing these steps will take time, GFSI will not ask companies to meet these requirements until the full revision is released.
Cargill expands Food Innovation Center
Cargill Inc., Minneapolis, Minn., recently opened a newly expanded and remodeled Food Innovation Center in Plymouth, Minn., to collaborate with its customers in food and beverage manufacturing and food service and help them meet their product development goals.
This investment in innovation represents a commitment to Cargill's customers' success by allowing them to draw on the expertise of the company's food scientists in a state-of-the-art facility. Highlights of the 40,000 sq ft Food Innovation Center include a frying applications area for measuring the performance of frying oils under controlled conditions, an oil ingredient development space, a bakery applications center with commercial and specialized baking equipment, and a snacks, cereal, and baking mix pilot area to scale up bench concepts. The center also features a sensory facility complete with descriptive analysis panels and consumer/panelist testing booths and a fully equipped commercial kitchen.
The Food Innovation Center enhances the ability of Cargill's food scientists to partner and innovate with customers even more than they had in the past, said Janet Bones, oils and shortenings R&D lead for Cargill. The facility will also give Cargill's customers access to emerging technologies and help them reduce time to market. Most importantly, customers will be able to develop products that will differentiate their companies in the marketplace, remarked Scott Portnoy, corporate vice president, food ingredients & systems for Cargill.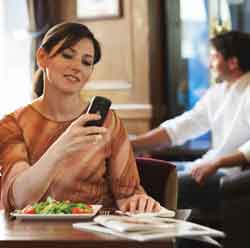 Weekly text can raise calorie-count awareness
Just one text message per week can raise consumer awareness of recommended daily calorie counts, according to a study conducted by the Johns Hopkins Bloomberg School of Public Health that appeared online in Health Promotion Practice.
In the study, researchers surveyed diners in the Johns Hopkins Hospital cafeteria about their knowledge of the 2,000-calorie benchmark recommended by the U.S. Food and Drug Administration. At that time, 58% of participants could not provide the calorie count. Over the course of four weeks, diners then received a weekly reminder of the count via e-mail or text or no reminder at all. At the end of the study, those who received the text were twice as likely to be able to identify the 2,000-calorie recommendation as those who received the e-mail or no reminder.
According to the researchers, even though many restaurants post calorie counts for menu items, this practice may not help consumers make good decisions if they cannot place their individual meal and snack choices into the context of how many calories they should ideally be eating per day.
---
What's new with food companies
• American Custom Drying Co. successfully completed SQF Edition 7.1 Level 2 Food Safety Certification for its Burlington, N.J., manufacturing facility.
• Archer Daniels Midland Co. opened its global headquarters and customer center in Chicago, Ill.
• Barry Callebaut opened its first chocolate factory in Chile, its seventh overall in Latin America.
• Blue Diamond Growers recently launched its new Global Ingredients Division website, www.BDIngredients.com.
• ConAgra Foods Inc. announced that it will source 100% sustainably produced palm oil by December 2015.
• Diamond Crystal Brands announced a partnership with Wholesome Sweeteners that will bring the company's organic, fairtrade, and non-GMO products—including agave, honey, and stevia—into foodservice.
• DSM entered into a licensing deal with Taiyo Kagaku Co. Ltd. that will transfer the entirety of the Teavigo® brand EGCG business to Taiyo. It also formed a partnership with Merck to bring Metafolin® folate to market.
• DuPont unveiled plans for a new soybean research facility at its Stine Haskell Research Center in Newark, Del., where it will focus on developing Pioneer soybean products, and it also opened an innovation center in Shanghai, China.
• General Mills Inc. agreed to acquire organic and natural foods producer Annie's Homegrown Inc.
• Golden Peanut Company LLC acquired the assets of SA Groundnut Marketing (PTY) Ltd., which will become part of Golden Peanut and Tree Nut S.A.
• Mars Inc. announced a 2040 target to eliminate all fossil fuel energy use and greenhouse gas emissions from its direct operations.
• Nestlé committed to using sustainable cocoa in all of its products in the United Kingdom and Ireland by 2016. It also signed a partnership agreement with the NGO World Animal Protection and pledged to improve the welfare of the farm animals in its supply chain.
• Newly Weds Foods Inc. acquired Continental Seasoning Inc., an industrial seasoning manufacturer in Teaneck, N.J.
• Pilgrim's Pride Corp. agreed to acquire the totality of the poultry businesses of Tyson Foods Inc. in Mexico.
• Post Holdings Inc. agreed to buy American Blanching Co., a peanut processor and maker of peanut butter based in Fitzgerald, Ga.
• Purdue University announced plans to create a soybean research center to advance the production and use of soybeans.
• The Coca-Cola Co. and Monster Beverage Corp. have entered into definitive agreements for a long-term strategic partnership.
• The J.M. Smucker Co. agreed to acquire Seattle-based Sahale Snack Inc., which makes nut and fruit mixes.
• The Kellogg Co. made a number of commitments in its recent sustainability report, such as reducing greenhouse gas emissions, increasing the number of plants sending zero waste to landfills, and ensuring that all of its timber-based packaging is sourced from recycled or certified sustainable sources.
• Wixon Inc. announced its new campaign for the Wixon Foodservice Group, which includes a revised website and a new logo and tagline, "Fresh from the Beginning."

Melanie Zanoza Bartelme,
Associate Editor