Chef Jorge Collazo's recipe: Roasted Cauliflower Chop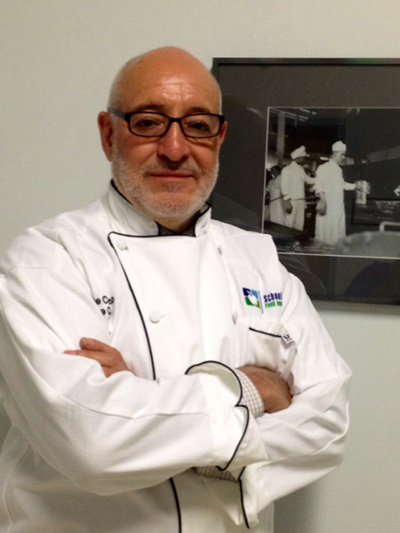 As Executive Chef for the New York City public school system, Jorge Collazo is on the front lines of the school food revolution. He is regarded as one of the leaders in the movement to provide healthier menus for school children. Chef Collazo is involved in training, developing culinary concepts, writing standards, reformulating recipes, and collaborating with manufacturers to offer superior nutritional choices to the city's more than 1,700 schools that serve 850,000 meals a day—the largest such operation in the country.
Kelly Hensel: You enrolled at the CIA at the age of 29. What made you decide to go back to school for a culinary degree?
Jorge Collazo: While I was studying journalism at Temple University, I was also working part time at a restaurant in a hotel. I still enjoy writing, but I was captivated by the whole mystery of the food world. I left Temple, and moved back to New Jersey. I learned that you have to work in the industry for a year before you can enroll at the Culinary Institute of America. I did that, and then I enrolled in 1979.
Hensel: Then you did you stay in hotel restaurants?
Collazo: Yes. I went to work for Leona Helmsley at The Helmsley Palace in various capacities and some other restaurants and so forth. And then I found the corporate dining world, whose schedule was wonderful—Monday through Friday. It was great. I eventually transitioned and became Executive Chef at a large law firm, so we had a very nice budget to make food for the partners and the clients. It was quite an experience.
Then, my wife and I moved to Vermont, looking for another type of lifestyle. My first job in Vermont was as the Foodservice Director at a large private high school. That was the first time I ever saw a meal ticket. We still had them then—free and reduced meal tickets. That was my first exposure to that whole world. I did that for approximately four years. I turned it [the program] all around. It was sort of vanilla when I got there and I started bringing in international foods.
After I left the high school, I went into teaching and taught at the New England Culinary Institute. After 10 years of living in Vermont, I thought I had pretty much done all there was to do—I was ready to move back to New York City. And I am fortunate and honored to say that I've been with the New York City Board of the Department of Education for 10 years in May.
Hensel: What changes have you helped implement during the past decade and how has that impacted the city's kids?
Collazo: I think as an organization SchoolFood has done an amazing job. It takes a lot of hands to get these things done. We are a support to every child in their educational careers in the Department of Education. Food was recognized back in 2004, when Mayor Bloomberg created the Children First Initiative and realized that a well-fed, nourished kid is going to have a much better learning experience than one who isn't eating breakfast. He instituted that breakfast is free for all children.
The salad bar always leaps to mind as a paradigm example of the kind of changes that SchoolFood initiated. I think when I joined the organization, there were 250 salad bars, and now, except for some rare occasions, there is a salad bar in every school in New York City. When you think about a healthy intervention, that's really a boots on the ground example of the kind of intervention that really helps kids on a daily basis. I have seen consumption of vegetables rise.
Also, we took a hard look at our ingredients. What do we want, and what don't we want anymore? We make sure our products don't contain artificial ingredients or colors, and that we are in line with sodium restrictions from the USDA.
We're also looking at things that would appeal to children. We have great food, but it's also about the way we communicate with students. I think the current leadership is looking hard at that and how we merchandise to students. We're looking for ways we can entice them.
Our goal is first and foremost for students not to be hungry, and then we want them to be nourished. There's an obesity epidemic. It has been proven that people can be overfed and undernourished. We look to nourish and feed properly with whole grains. We have a great Eat Your Colors program on our menu. It has to do with exposing the students to a number of different vegetables—your oranges, reds, dark greens—and we also have beans and things like that.
The SchoolFood organization provides service to nearly 1 million kids a day—the five boroughs. That's kindergarten to 12th grade.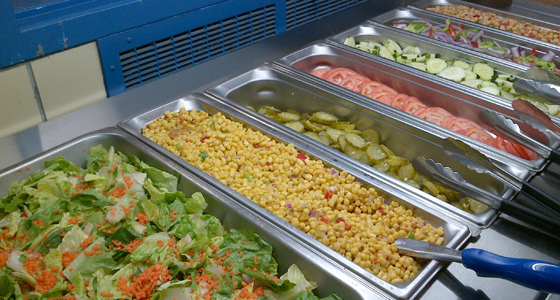 Hensel: Let's talk about the new nutrition standards that came out of the 2010 Healthy, Hunger-Free Kids Act. What impact have the standards had on your work? Were you already implementing a lot of the mandates (for more veggies, less sodium, etc.)?
Collazo: I think we are fortunate, because unlike many other school districts that have a long way to go in order to meet the new standards, we were pretty much on that track anyway. Not to get too technical, but New York City has always followed a [whole] food-based menu, which is one of the big changes in the standards. Formerly, you might have a corporate entity that runs the foodservice for a district. They would be talking micronutrients, which used to be acceptable. That's where you get that whole mythology that ketchup is a vegetable. People were counting the nutrient content of every little ingredient in the recipe. Now you have to measure by volume, such as a cup of whole grains or a cup of vegetables. You can't hide behind a chemical analysis.
So, we didn't have far to go to meet the new standards. I think they [the USDA] got it right and SchoolFood stands behind those standards. Some districts have struggled. I can Understand that. At the same time, it's very new—it has only been three years.
Hensel: How do you balance the need for healthier food with cost constraints?
Collazo: There's another team that takes care of the majority of that, but I know that it definitely has cost more money. We started out giving the maximum amount of grains and the maximum amount of vegetables because we wanted to be 150% sure we were compliant in order to get that extra 6 cent bump. We backed off on that a little bit. As long as you're offering the full cup in certain instances, you can offer kids half a cup in other dishes.
Also, it's important to look at your menu mix and trying to be creative. That's one way of going about it. I think the food industry has started to catch up by developing and offering products that are composed of more than one component, such as combination items that allow us to offer the grain and the protein at the same time. I think their costs will reduce too over time. In the beginning, it was a big shock because everybody had to follow the same standards. Manufacturers were running out of inventory. It was really hard.
Compliance became much stricter so that every school had to follow the exact menu without any deviation. Whereas before, you could be compliant and offer the kid a healthy meal, but you had a little bit more leeway. Even though you couldn't use white rice, you could still mix and match different things. If they didn't like this kind of chicken, you could offer them that kind of chicken, as long as it was chicken. But the way things are now, you must be on menu in order for our nutrient compliance to be verifiable. Because they do audits. They want to make sure that the student is getting what's advertised. That's our mission. SchoolFood does a lot of training of employees.
Hensel: There's some worry that by offering healthier food, kids will stop eating the school lunches. I read that you and your staff tests all new recipes with kids before moving forward. How does that process work and what have you learned about what kids like?
Collazo: We redesigned some of the space at our headquarters and created a training/food testing area. This past spring we had busloads of kids brought up and they tested five of the meals and we talked to them. We get their feedback right there on the spot. We're asking them questions and letting them give us feedback.
Also, there are managers at the school who are watching in the kitchen, on the service line, what's happening and what's being said. That's more anecdotal, whereas the other method is quantifiable.
I remember one testing we conducted recently and I asked the room, "Who would like this item to be a little spicier?" All the hands shot up. I think more than one of us was surprised because they were younger students. The majority of the students asked for more spicy heat in that item. I remember that distinctly. You see that trend in the food industry, and on television where there are commercials for jalapeno this and spicy that. Even Subway has launched some spicier things. I think it's a trend that's definitely taking hold.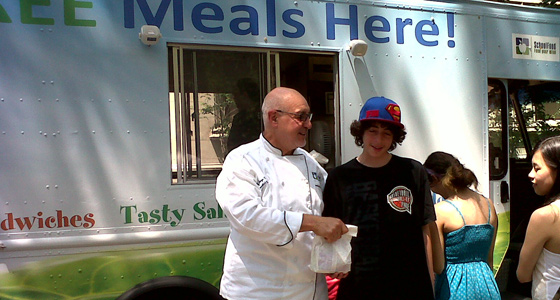 Hensel: There are certainly some growing pains with the adoption of the new standards. What do you foresee the landscape looking like in 5 years time?
Collazo: Well, we are there. Before they [the new standards] officially started two years ago, we were very close. It was just a matter of retraining our staff for quantities. We were already on whole grains. We were already low sodium.
A couple of things have changed this year. Previously, you had to have a certain percentage of whole grains. Now you have to be all whole grain, so a couple of the former grains we had—like rices—they have to be dropped. Right now, we're looking at different products, like more brown rice and another one which is a mixture of darker grains.
That is one thing that is challenging when you talk about the new standards. When you have to go to 100% grain, invariably you're going to a darker ingredient. Visually, you're not looking at white rice anymore. So, gradually they are getting a little darker and kids don't automatically identify with that.
After the standards take hold a little bit longer, I think that school districts are going to really have to look at how they're presenting the food to students. It's something that's extremely important to us right now and something we're working hard at. We've got a pilot program working now that will be in two high schools where it looks much more like a retail environment. Students can come in and help themselves—there are no service lines. A student could come in and get different items to bundle it to make a meal. Kind of like if you were to go to Pret A Manger—it's a meal that's already packaged, hot, and they can just walk away with the milk and the fruit.
I don't know what the environment will be like in Congress, but school districts really need to be better funded. It's one thing to ask school districts to do all these things, but sincerely, it's not enough money. It's very difficult. We don't get any reimbursement for the salad bars that we have.
We have created the Urban School Food Alliance with the Los Angeles Unified School District, Chicago Public Schools, Dallas Independent School District, Miami-Dade County Public Schools, and Orange County Public Schools in Orlando, Florida, to help leverage purchasing power from food providers to secure lower costs. We've already cooperated on switching over to a round compostable plate. By working together, we have driven the price down of that product—we've knocked off pennies and pennies, which is huge. Very soon—probably in the early fall of next year—there will be no more Styrofoam trays in New York City schools. So, I think composting and sustainability are things that people are going to have to be looking at.
As far as the standards, we'll see. Some of the sodium requirements are, I think, unrealistic. Generally speaking, I would say the USDA got it right with the new standards. I've not always been a fan, but I definitely think they got it right, except their sodium issue is a little bit too aggressive. What's more damaging is the sugar. We don't allow any added sugar in our foods.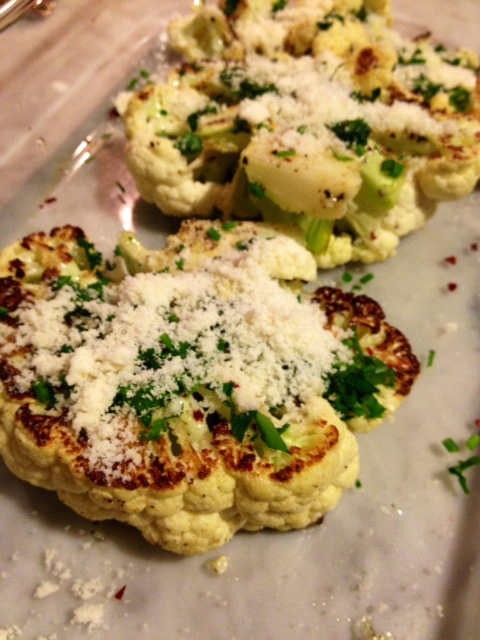 Roasted Cauliflower Chop
For 4 to 6
1 medium sized head of cauliflower (preferably organic)
extra virgin olive oil
flat leaf parsley
fresh oregano
sea salt
freshly ground black pepper
1 cup freshly grated Parmigiano Reggiano
Wash and core the cauliflower keeping the head intact.
Cut head in four even sections.
Cut into 6 - 1.5" thick chops. Reserve any loose pieces.
Pre-heat oven to 350° F
Season each chop and loose pieces with olive oil, sea salt, black pepper, herbs.
Sear chops in a non-stick pan until caramelized on one side.
Place chops on baking pan lined with pan liner paper. Top each chop with any loose pieces.
Sprinkle with half the cheese and roast. Check after 20 minutes. Cauliflower should be soft but not mushy.
Remove from oven to a serving platter and sprinkle with more Parmigiano, parsley, and black pepper.
For an optional enhancement add capers to seasoning for the chops prior to roasting.