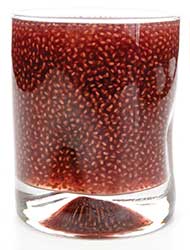 The food industry is truly global. Food products, ingredients, and commodities know no borders, and as a result, people are exposed to foods and flavors from around the world. Even consumer trends and preferences are exported and can quickly affect consumers in different regions. Innova Market Insights helped product developers discern some of the ingredient trends steering global product formulation at its Taste the Trend pavilion during the 2014 IFT Food Expo. Here is a look at some of the trends Innova identified.
• A growing demand for whey protein in Asia and its increasing popularity as an ingredient in better-for-you foods is driving sales, reports Innova. But this is also affecting the price of whey protein, with demand leading to the doubling of the price of whey protein concentrate. The popularity of whey protein is evident in the different types of products that manufacturers have developed for markets around the world. Of the whey-containing products launched in 2013, the top sub-categories tracked by Innova were baby formula/milk in Western Europe, Asia, Eastern Europe, and Australia, chocolate in the Middle East, sweet biscuits/cookies in Africa, ice cream in South America, and nutritional powders and drinks in North America.
• Recently, researchers at the University College London found that people who ate at least seven servings of fruits and vegetables a day had a reduced risk of death compared with those who ate less than one serving a day. Many people do not consume even the current recommendation of five servings per day, so food manufacturers are developing what Innova calls "alternative modes of delivery" for vegetables like Green Giant's Veggie Blend-Ins 100% Vegetable Puree that can be added to soups, sauces, and other foods; Delhaize Bio's Veggie Spread, which contains carrots and tomatoes; and Healthy Life Brands' Veggie Fries made with broccoli and potatoes.
• Some food manufacturers have reformulated products with less sodium in response to health officials urging consumers to reduce their sodium intake. The call for front-of-pack sodium labels differs region to region with 46% of American consumers saying that they want the messaging compared to only 9% of Chinese consumers. Innova's research found that breakfast cereals were the largest market category globally for low-sodium claims in 2013 at 7%, followed by seasonings/herbs at 5%, vegetables at 4%, cereal bars at 4%, cooking sauces at 3%, and juice drinks at 3%.
• Research into the potential health benefits of omega-3 fatty acids continues to generate interest in the nutrient. Consumers in Europe, particularly Eastern Europe, have a strong preference for products that contain omega-3 fatty acids; the number of new products formulated with omega-3s was up 75.8% in Eastern Europe and 40.5% in Western Europe in 2013 vs 2012. Globally, the leading markets for product launches with an omega-3 positioning are baby food, meat/fish/eggs, pet food, sauces and seasonings, and dairy. Some of the health claims of omega-3 fatty acids have moved away from cholesterol maintenance and heart health, notes Innova, to more generalized healthy living positionings.
• Nuts are frequently consumed on their own as snacks or as inclusions in baked goods and bars. Thanks to some creative product development efforts, consumers will also find nuts in such products as Coco Libre Protein Coconut Water, Peanut Hottie Peanut Butter Flavored Hot Drink made with peanuts, and Parmela Parmesan Style Aged Nut Cheese.
• Product developers are turning to an "old" ingredient for their new products. Ancient grains are found in a range of products from bakery and cereal to beverages and baby food. Innova has noted the growth in global product launches that contain specific ancient grains, with the number of launches containing quinoa rising about 40%, chia growing 52%, and hemp increasing 115% between 2012 and 2013.

Karen Nachay,
Senior Associate Editor
[email protected]