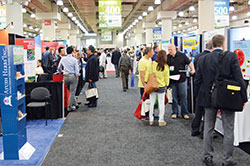 Now in its seventeenth year, SupplySide West is set to provide its 13,000 expected attendees with a wealth of educational opportunities, special events, and exhibitors. The annual show, which is geared toward professionals in the animal nutrition, beverage, cosmetics, dietary supplement, and food industries, will be held October 6–10 at Mandalay Bay in Las Vegas, Nev.
The SupplySide West expo—with the largest show floor in the expo's history—will feature more than 1,700 ingredient suppliers offering more than 10,000 ingredients and services. The Taste of SupplySide sample program will help attendees locate exhibitors that are offering food and beverage samples. SupplySide Central will offer a variety of interactive, quick-paced programs designed to delve into some of the hot topics facing the industry, and at the KSM-66® Rejuvenation and Stress-Relief Center, attendees can take a break from the busy show floor and enjoy massage chairs, refreshments, and books on stress relief as well as relaxing, meditative audio CDs and stress-relief games.
Dietary Supplements Track
On Tuesday, October 7, attendees will be able to choose between two educational tracks. The Natural Products Insider Track will focus on important issues in the dietary supplements industry. Programs in this track include "Partnership as a Guiding Light to Investment in the Nutrition Industry," "Identifying Gaps in Your QMS to Maintain GMP Compliance," "FDA Compliance in the 'Real' World: Cutting Through the Noise to What Really Matters," "The Hottest Trends in Health and Wellness: Not One Size Fits All," "The Dawn of Nutrigenomics: Using Nutrition to Maximize Genetic Potential," "Trends in the Health Care Practitioner Channel," "Ensuring Food Safety: Industry Challenges to Implementation of New Rules Resulting from FSMA," and "The Three Macular Carotenoids: Complementary Functions of Lutein, RR-Zeaxanthin and Meso-Zeaxanthin."
Food and Beverage Track
The other track, the Food Product Design Track, focuses on important issues in the food and beverage industry. The sessions in this track include "Texture Techniques in Developing Healthier Beverages for Kids," "Formulating Gluten-Free: The Science and Art of Substitution," "Sensual Nutrition: How to 'Sell' Healthful Food with Taste and Appearance," "Reduce Sugar Naturally and Simply," "The 'Free-From' Food Allergy Market as it Pertains to Children," "Leveraging the Power of Plant Proteins in Product Design and Marketing," "Three Steps to a Successful Social Media Strategy for Nutrition-Focused Brands," and "Sustainability as a Competitive Advantage: Key Trends and Opportunities."
Several panel discussions will also be held. On the Natural Products Insider Track, discussions include "Hot International Markets" on Wednesday, October 8, and "Current Issues Regarding New Dietary Ingredient (NDI) Notifications" and "All Patents Are Not Created Equal: How the Dietary Supplement, Food, Beverage, Nutrition, and Personal Care Industries Can Benefit from IP" on Thursday, October 9. For the Food Product Design Track, the discussions include "Innovative Ingredients That Work in Beverage Formulation" and "Caffeine, Energy Drinks, and Ingredients: Are You Prepared for FDA Action?" on Wednesday, October 8, and "Challenges to Present GRAS Practices: Are Changes Coming?" on Thursday, October 9.
Additionally, this year's event will feature a series of summits and roundtables around various topics. On Tuesday, October 7, the "Animal Nutrition Insights Summit" will discuss the challenges and opportunities of creating products for the animal nutrition market, and the "Omega-3 Insights Summit" will explore key aspects of creating omega-3 products. On Friday, October 10, the "Agricultural Hemp Summit: CBD and the Hemp Revolution" will look at agricultural and regulatory considerations within the hemp industry. Four workshops are scheduled; these will cover alternative delivery systems, probiotics, sports nutrition, and ingredients sourced from China.
Several pre- and post-conference events, which have separate registration fees, are also planned. For more information, go to http://west.supplysideshow.com.
---
Trade Show Floor Hours
Oct. 8 10 a.m.–5:30 p.m.
Oct. 9 10 a.m.–5:00 p.m.