With snacking accounting for half of all eating occasions, according to The Hartman Group, snacks represent a high-growth, high-potential product category at retail. Recently, however, supermarkets have begun to get some additional competition in this area—and not just from drug, convenience, and dollar stores.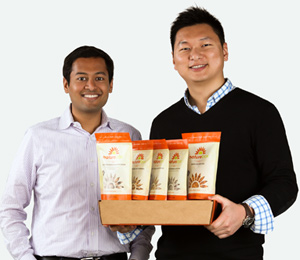 Subscription snack services—a new concept in which subscribers receive an assortment of snacks in the mail once a month—are gaining a foothold. Among the most successful is a purveyor of healthful snack packages called NatureBox. The company, launched in 2012 by college friends Gautam Gupta and Ken Chen, was named one of the 20 fastest-growing web merchants in the United States in Internet Retailer's 2014 Top 500 Guide.
Think of it as something akin to the Netflix of snacking. Subscribers sign up to receive a package of five, 10, or 20 mutiple-serving snack bags in the mail once a month. Customers have the option of choosing their own snacks or receiving a surprise assortment tailored specifically to their taste preferences. Or they can opt for a combination approach, choosing some of their own snacks and letting NatureBox fill in the rest of the assortment.
Snacks—which are sold under the NatureBox label—include offerings like Praline Pumpkin Seeds, Salted Caramel Pretzel Pops, and French Toast Granola, all made without artificial flavors, colors, sweeteners, or high fructose corn syrup. Many of the offerings are vegan and/or free of genetically modified ingredients. An in-house product development team that includes nutritionists and food scientists comes up with the concepts. Production is outsourced to a network of contract manufacturers. "We're constantly testing new products," says Gupta, who is CEO. The company currently has a roster of about 120 snacks. It introduces about 25 new items monthly, rotating others out of the mix.
Gupta says he was motivated to start the company as a result of his own childhood struggles with obesity. "I learned about nutrition and really changed my eating habits and was able to lose 70 pounds in six months. I know just how difficult it can be to find those [healthy] options."
He and Chen were convinced that the market was ripe for a direct-to-consumer approach to selling snacks. "As much as we're a food company, we're also a technology company," says Gupta, noting that much of NatureBox's success has been driven by its ability to collect and interpret product rating data that subscribers provide. "We use that data to help us forecast what customers are going to order," Gupta notes. "We both came from a tech background," he continues, "but we're passionate foodies at the core."
Experts acknowledge the potential for online retailers like NatureBox to carve out a share of packaged food sales. "There are some [market] disruptive companies—entrepreneurs that could take certain business categories away from brick-and-mortar grocery chains because they're better at technology," says Tom Johnson, a principal in the retail and consumer practice of consulting firm PricewaterhouseCoopers.
NatureBox is in growth mode. The company shipped 50,000 boxes in 2012 and one million last year, and it is on track to do three times that this year, says Gupta. Based in California, NatureBox is expanding its infrastructure with the addition of a new 40,000 sq ft facility in Indiana to service the East Coast market. NatureBox has customers in all 50 states, and this spring it announced it will begin supplying snack lovers in Canada.
Gupta believes direct-to-consumer food retailing has plenty of potential. "What's driving it is customers becoming much more comfortable with shopping online and starting to look for different types of products," he notes.

Mary Ellen Kuhn is Executive Editor of Food Technology ([email protected]).