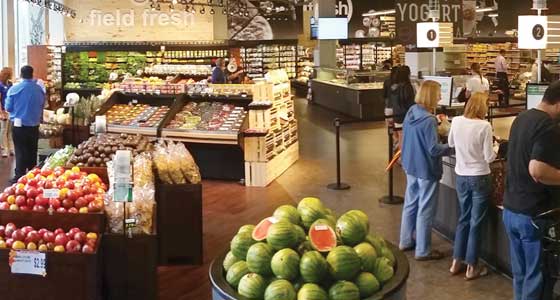 For today's grocery shopper, a middle-of-the road, one-size-fits-all retail experience just doesn't cut it. 2014 research from the Food Marketing Institute (FMI) finds that while 85% of shoppers go to the supermarket regularly, they are less loyal to a primary store and frequently shop for food in channels like drug stores and dollar stores. Shoppers say that they use 2.5 different channels for food shopping on average, and 9% maintain that they have no primary store—up from the 2% who made that claim in 2011 (FMI, 2014a).
Industry pundits call it channel blurring or channel migration, but however it is labeled, the statistics paint a clear picture: Grocery retailers must reposition themselves for success in an environment in which shoppers no longer routinely hop in the car and head to the supermarket when they need a quick fix for tonight's dinner. Sales of groceries in alternative channels are outpacing supermarket sales growth, reports Mintel. The research firm forecasts a 13.8% increase in grocery sales in drug stores between 2013 and 2018 vs 8% sales growth for supermarkets, for example (Mintel, 2014).
More than three-quarters (77%) of consumers polled in fall 2013 by King Retail Solutions said that they had purchased groceries from a non-grocer within the past year, and 96% said they expected to do so in the next 12 months (King Retail Solutions, 2013). FMI data show that in 2005, 67% of shoppers categorized a supermarket as their primary store, but by 2014, that total had dropped to 54%.
Convenience is still a priority for shoppers, but their definition of it has evolved, says Laurie Demeritt, CEO of The Hartman Group, which partnered with FMI on the 2014 grocery shopper trends research. "Convenience isn't just about getting in and out of the store quickly or going to the store nearest to you," she says. "It's about going to the store that is going to best meet your needs for an occasion. Convenience to consumers might mean giving me a shortcut to my meal this evening, giving me a sense of discovery."
The Influential Millennial Market
Millennials, with their $1.3 trillion in current consumer spending, will bypass Baby Boomers as a force in the marketplace in the near future, and their openness to exploration affects the way they approach shopping, says Demeritt (Hartman, 2014). "What we hear more of now [from Millennnial consumers] is, 'Wow, there are a lot of different choices out there, and I'm going to different places for different things,'" she notes.
It's not just Millennials, of course. Consumers of all ages and demographic characteristics are contributing to the need for grocery retailers to reinvent themselves, according to a report released by consulting company PricewaterhouseCoopers (PwC) at the 2014 FMI Connect show in Chicago this spring (PwC, 2014). Based on its research, including an online survey of 1,000 shoppers, PwC came up with four consumer prototypes who will be important to retailers and food manufacturers and who hint at the complexity of the marketplace. There's Traditional Tim, an aging Baby Boomer who is mostly concerned about value. Gourmet Gordon has a high household income and is willing to spend it freely to satisfy his desire for food that is organic, locally sourced, and sustainable. Metropolitan Marsha also is affluent, but she is driven by convenience. PwC's final consumer prototype, Millennial Mel, shops with her smartphone in hand and doesn't think much about prices—perhaps because Mom and Dad are funding her purchases. Among the overarching trends these prototypes illustrate are the pursuit of value; strong interest in fresh, natural, and gourmet foods, including prepared meals; concern about health and wellness; and rapid adoption of new technologies.
In this environment, mainstream grocery retailers with a mid-market positioning aren't performing at the level of either value-oriented retailers or those with a premium/gourmet positioning, the FMI 2014 research shows. An analysis of revenue growth between 2009 and 2012 found that the top performers are concentrated in these two categories at the opposite ends of the retailing spectrum (FMI, 2014a). "Where the growth is coming from is from those [retailers] who have become very specialized either at the high end or the low end," says Demeritt.
It's not surprising that many shoppers are price-driven. Middle- and low-income shoppers account for 70% of U.S. grocery sales, according to equity analysts at Jefferies LLC (Jefferies, 2013). FMI 2014 data indicate that consumers remain cautious about spending. About half of 2014 FMI survey respondents (49%) said they are spending the same amount on groceries this year as in 2013, and 20% are spending less (FMI, 2014a).
--- PAGE BREAK ---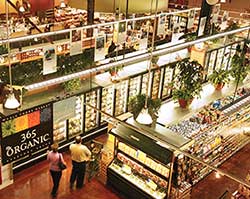 Even consumers living without major financial constraints tend to be frugal and open to shopping in a variety of channels. "The Great Recession has made value-seeking the new normal," writes Jefferies analyst Mark Wiltamuth. Retail food industry consultant Michael Sansolo agrees. "The economy has largely recovered, the unemployment rate is down, and the Dow Jones [has been] at levels it's never been at, but there seems to be some lingering pessimism and concern, so people continue to look for ways to economize," says Sansolo.
At the same time, the market is driven by consumer interest in healthy living and fresh foods. Retailers have an advantage over foodservice here; 92% of U.S. adults believe that eating at home is healthier than eating out (FMI, 2014). It's no wonder that upscale/ gourmet retailers like Whole Foods and Fresh Market, a fast-growing chain with a heavy focus on perishables, are winning praise from analysts like Wiltamuth (Jefferies, 2013).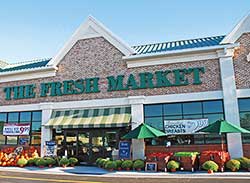 Fresh Market is a good example of a retailer that is attracting shoppers with a limited assortment and a small footprint—from 18,000 sq ft to 23,000 sq ft typically. "We don't need to be all things to all people because that would be to swim against the tide on a consumer trend," Jeff Ackerman, executive vice president and CFO of Fresh Market, said in a recent presentation at the Oppenheimer Consumer Conference (2014).
Smaller-format grocery stores are on track for rapid growth, according to Jefferies (2013). Supermarket store size has been trending downward. The median size in 2013 was 46,500 sq ft compared with 48,750 sq ft in 2006, according to FMI statistics. That trend is expected to continue as better data analysis allows retailers to refine their assortments based on neighborhood purchasing patterns and— farther out—as more consumers turn to online replenishment for pantry staples. Walmart's 42,000 sq ft Neighborhood Markets are outperforming its supercenter stores, and the chain is experimenting with even-smaller Walmart Express stores (Springer, 2014). Last month, a 21,000 sq ft Fresh City Market opened its doors on the campus of Purdue University in Indiana. The new urban grocery store is a fresh food–focused partnership between co-owner Jeff Maurer and retailer/ distributor SpartanNash and a follow-up to a similar venture on the University of Wisconsin–Madison campus.
Making It Work in the Middle
Despite feeling the squeeze of a mid-market positioning, conventional retailers aren't necessarily in a dire situation. "The challenge for every retailer is to find a point of distinction," says Sansolo. "What do you do that causes people to choose you over all the other choices?"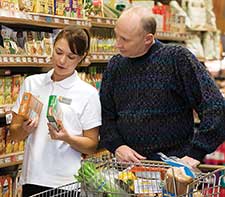 Take Wegmans, for example. A mid-size chain with stores in the Mid-Atlantic and Northeast, Wegmans is often perceived as an upscale retailer, but it also does a good job of delivering value, Sansolo says. "They are managing to serve a lot of consumer needs all in one store and to do it well," he notes. "In the midst of the beautiful prepared foods, they also have $6 specials for dinner." Many of the mainstream, pantry-filler items are competitively priced, and the chain also offers a strong private-label line, he adds.
Kroger scores points with analyst Wiltamuth, who describes it as a "best-in-class conventional grocery" and observes that "by systematically cutting prices over the last 10 years, the company has narrowed its price gap with Walmart to 9%–12%" and has grown sales and margins (Jefferies 2013). In a recent Jefferies' consumer survey, shoppers rated it highly for its performance with prepared foods, snacks, and gourmet products (Jefferies, 2014).
Just what should be on supermarkets' list of priorities? Here's a look at several key areas on which savvy retailers and the manufacturers that supply them will need to focus. They include fresh prepared foods, wellness products and services, and technology adoption.
--- PAGE BREAK ---
New Solutions to a Daily Dilemma
Consumers crave an easy answer to the daily question of "what's for dinner?" and for smart retailers, this represents a significant opportunity to set themselves apart in the competitive landscape by expanding fresh prepared foods offerings.
Demographic trends support the retail foodservice opportunity. More than half of total households in the United States are composed of one or two persons, and they may have less incentive to cook a full meal from scratch than those with large families to feed (U.S. Census Bureau, 2012).
"We still assemble our meals, but we're outsourcing a lot of the actual cooking," says Demeritt (FMI, 2014b). "Consumers are looking to retailers to be almost like a sous chef (i.e., slicing, dicing, and marinating). The consumer just wants to take that [prepared product] and put the final touches on it.
"Certainly that prepared meal is solving a substantial problem for consumers," Demeritt continues. "And the good news is that they are seeing it as being part of their repertoire now. It's a solution to that dilemma of what's for dinner tonight." And, she adds, because consumers view fresh prepared foods as a healthy choice, their price sensitivity is lower than it might be for products in other areas of the supermarket. By analyst Wiltamuth's estimate, supermarket fresh prepared foods carry gross margins of 40% to 50% (Jefferies, 2013).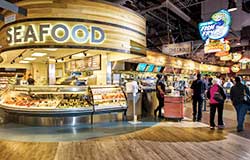 Many retailers already are playing effectively in the prepared foods space, putting their own distinctive stamp on high-quality fare that reflects trendy culinary influences. The Price Chopper chain recently unveiled Bistro Boulevard, complete with more than a dozen foodservice stations serving everything from burgers to burritos and Starbucks coffee to sushi in its Latham, N.Y., flagship store. Mariano's supermarkets in Chicago offer customers an array of 75 chef-prepared entrées, salads, side dishes, and snacks. A World Eats hot bar boasts authentic ethnic fare, and for those seeking a sweet treat after the meal, there's a reasonably priced gelato scoop shop in-store. Full-service Market Grille restaurants in Iowa-based Hy-Vee supermarkets even offer a Sunday brunch with a station for creating do-it-yourself eggs Benedict or omelets; mimosas made with fresh-squeezed orange juice are available for $5. Whole Foods designates some of its healthiest salad and hot bar offerings with a Health Starts Here® label.
In addition to in-store restaurants and top-quality prepared foods, there is a related opportunity for supermarkets to address shoppers' desire for meal solutions by bundling together and promoting the components of meals that are easy to prepare and delicious. Fresh Market features "Little Effort, Big Savings" meal promotions on Thursdays, offering shoppers all the ingredients to make a meal for a family of four for just $20.
The Jefferies consumer survey showed that fresh prepared foods and ready-to-assemble meal components resonate especially well with Millennial consumers; more than 60% of Millennials Jefferies surveyed had purchased ready-to-eat meals in a supermarket within the past month, and more than 55% had purchased meal components (Jefferies, 2014).
Wellness in Aisle Five
From Baby Boomers with condition-specific concerns to healthaware Millennials, consumers are thinking differently about health, wellness, and self-care, and those changing perspectives are creating opportunities for retailers to better position themselves as important lifestyle destinations.

"Consumers have made a connection between ideas of health and wellness as it relates to fresh, and certainly retailers are picking up on that," says Sue Borra, FMI senior vice president of communications (FMI, 2014b). So much so that 81% of retailers FMI surveyed report that they are emphasizing consumer health and wellness as a competitive strategy, and fresh was the No. 1 area in which they are planning to invest.
FMI research shows that shoppers believe that their supermarkets are important health allies; 43% of those FMI polled say that their primary food store is working to help them stay healthy. Among those who rate their store highly overall, those marks are even higher—56% percent say their supermarket is contributing to their health (FMI, 2014a).
A numbers of retailers have embraced programs like those from Guiding Stars and NuVal that score foods on their nutritional value and help shoppers identify healthful choices with point-of-purchase labeling and signage, and many are expanding their portfolio of health and wellness services. Mariano's recently announced a partnership with Doctor on Demand, a service that uses video-chat technology similar to Skype and FaceTime to bring physician and patient together online. At Mariano's, dietitians also work to educate consumers about making better food choices and partner with store pharmacists to assist patients in managing health conditions. "These … involve adherence programs, immunization programs, individualized medication delivery, nutritional counseling, and store tours designed to acquaint the patient with aisles to linger in and some to avoid," says George Kowalski, Mariano's vice president, pharmacy.
--- PAGE BREAK ---
Transformational Technologies
From new digital mobile apps to online shopping innovations, technology is playing an ever-greater role at retail.
• In-store mobile commerce. The ubiquitous smartphone is already having a big impact on grocery shopping, and that impact will increase exponentially in the near future. Susan Sentell, president and CEO of Gladson, a provider of digital product information, images, and services for the packaged goods industry, cites a recent Deloitte study, which found that digital technologies influence 36% of in-store retail sales, with that expected to increase to 50% by year's end.
According to digital media company Catalina Marketing, there are more than 1,000 shopping apps for the iPhone, but few of them offer an integrated array of features. For consumers to embrace a grocery retailer's mobile app, it needs to save them time and money, says John Bastone, Catalina's executive director, retail product marketing. "Shoppers want an integrated app that makes them smarter, more-effective shoppers—not complicating or extending the shopping trip," says Bastone.
"Consumers expect retailers to leverage the wealth of information they have in order to deliver on a personalized experience, whether it is offers, customized store maps, or alerts of discounts on the brands they buy most often," Bastone continues.
Ultimately, shoppers may be using their smartphones to skip supermarket checkout lines altogether. Catalina's SCAN IT! Mobile is a grocery app that lets shoppers use their mobile devices to scan groceries, see a running total of what they've scanned on the smartphone screen, and save time with mobile checkout and self-bagging. The "scan and bag" app is already in use in about 400 supermarkets.
Does shopping with a smartphone change the way consumers approach the task? Catalina says that it does. According to recent company research, savvy mobile shoppers spend 43% more per trip and shop 41% more often than their less technologically sophisticated counterparts.
Sentell says that large numbers of consumers still regularly check out supermarket ads and inserts in their local newspapers, but she notes that it's important to digitize grocery circulars for easy viewing on smartphones, computers, and tablets as well. "By enabling consumers to view product promotions on the medium that is most convenient to them, retailers will drive sales and form deeper connections with shoppers," she says.
• Online Options. Experts agree that eventually consumers will be turning to online ordering to meet their basic replenishment needs, that is, to stock up on detergent, paper towels, and canned goods. But for now, it's not playing a major role in shoppers' lives despite the emergence of ventures like Amazon Prime Pantry and Google Shopping Express. A mere 1% of those surveyed by PwC (2014) said that online shopping is their primary way of getting groceries, and only 5% said they expected it to be among their top three grocery shopping choices in the future.
Door to Door Organics, a natural and organic products online grocer, delivers fresh products in nine states and plans to service three additional markets by the end of 2014 (Door to Door Organics, 2014). Walmart reportedly has plans in place for a 15,000 sq ft facility with drive-up lanes, where customers will be able to pick up groceries ordered on the Internet (Springer, 2014). According to one industry watcher, supermarkets have an opportunity to cost-effectively handle online order fulfillment using their own store personnel to fill orders. Items can be picked from store shelves and delivered by the retailer's delivery fleet, eliminating the need for a separate warehouse for online order fulfillment (Jennings, 2014).
Because grocery shopping is such a sensory experience, it will probably never be a totally online process, predicts Tom Johnson, principal with PwC's retail and consumer practice. The model in which shoppers order online and pick up their orders at a retail site will be the most frequent approach in the short term, according to Johnson. "I think click-and-collect [grocery] replenishment is on the way," he observes. "It's happening in other categories." He also anticipates an uptick in hybrid shopping experiences in which a consumer places an order online, but then stops into the store to personally pick up some additional items.
Instacart grocery delivery service, which operates in several markets and is not affiliated with any one retail chain, uses personal shoppers to pick up merchandise at local retailers and deliver it—usually within two hours. Mintel analyst Alison Lipson says the service is expanding and predicts that it will increase consumers' comfort level with online grocery shopping.
--- PAGE BREAK ---
Staying Relevant at Retail
Online order fulfillment will be just one of many forces shaping the future grocery shopping environment. Tré Musco, president of Tesser, a brand strategy and design firm that worked with FMI to create a Retail Experience of the Future display at the FMI Connect conference in Chicago, says he expects grocery shopping to remain very experiential. He envisions shoppers visiting "hyper-showrooms" where they can sample products—either the real thing or an in-store simulation, choose what they want to purchase, and have the order assembled in the back of the store and delivered to their car or home.
"The way I see it," says Musco, "is that as more of the store [will be] devoted to the 'experience,' less space will be used as a warehouse. Instead, stores will build up their back-of-house space in order to facilitate both in-store and online purchases."
Musco also sees the physical supermarket facility becoming much more fluid. The front of the store may have walls that can be rolled back so it can be converted into a farmers market on the weekend or a food court during the dinner hour, for example.
Some things won't change, however. "In 20 years, we can pretty much guarantee that people aren't going to miraculously have more time or money or that value won't matter to them no matter what their socioeconomic class," says Musco (FMI, 2014c). "We can count on value and convenience being key drivers." With those as constants, the successful retailers will be those that manage to adapt to all the things that are changing: consumer product preferences, technology, and lifestyle needs.
---
Supermarket Shopping Statistics Worth Checking Out
This roundup of noteworthy numbers from FMI's 2014 shopper study sheds light on some of the important information the organization's research has identified.
1 % of shoppers who ordered groceries online for pickup at their local store within the past 12 months
12 % of meals sourced outside the home that come from supermarkets
24 % of consumers who buy fresh prepared meals from the grocery store instead of eating out in order to save money
25 % of all meals consumed by twenty-something consumers that include items purchased that same day
43 % of primary grocery shoppers who are male
61 % of women who say they have all or most of the responsibility for preparing dinner
71 % of consumers who rate the fresh food deli as an important factor when selecting a primary retailer
75 % of weekly grocery spending that takes place in a shopper's primary store
77 % of shoppers who make a list before going shopping
88 % of list makers who write grocery lists on paper
93 % of shoppers who typically drive to the grocery store
96 % of shoppers who say they notice the nutrition facts panel
--- PAGE BREAK ---
---
The Changing Supermarket Front End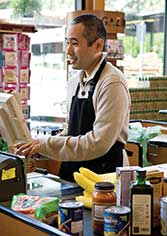 For supermarket operators, the front end of the store has always been important retail real estate thanks to the incremental sales of soda, gum, and candy generated by the captive audience of shoppers standing in line waiting to pay for their groceries.
Advances in smartphone and RFID technology may mean that someday shoppers will be skipping the front-of-store checkout altogether, and the surge in self-checkout is already changing front-end sales dynamics. Frank Jimenez, a retail futurist with the Hershey Co., says that retailers and manufacturers have lost hundreds of millions of dollars over the past five years because self-checkout users are far less likely to make an impulse purchase than those who are checked out by a cashier.
According to data from NCR, a supplier of consumer transaction software, hardware, and services, when a retailer offers self-checkout, 38% of all front-end transactions take place in those lanes. The average supermarket now has 6.2 self-checkout stations, up from 4.4 in 2010. Not surprisingly, Millennial consumers are the biggest fans of self-checkout, says Jimenez, so adoption rates can be expected to increase in the years ahead. "In general" says Mike Inderrieden, director, human factors, self-service for NCR, "the younger the consumer, the more likely [it is that] they will use self-checkout. However, roughly 85% of all consumers have used self-checkout and will use self-checkout based on their shopping trip."
New technologies are reducing time spent in line in cashier-manned checkouts as well. These include 360-degree, high-speed scanners that are three to five times faster than traditional scanners because they can detect the bar code at any angle. Such scanners are now being tested by several retailers, according to Jimenez.
Another new technology on display at the FMI show this spring was Digimarc® digital watermarking— an alternative to the traditional bar code. With Digimarc, a unique pattern can be incorporated multiple times in a single package, which means that the product can be scanned more quickly, thus speeding up the checkout process by 33% on average, according to the company.
With changes like these underway, retailers and manufacturers need to work together to create "experiential zones" that will inspire consumers to buy on impulse at other points within the store, says Jimenez. "The way that we merchandise is going to have to change," he emphasizes.

Mary Ellen Kuhn is Executive Editor of Food Technology ([email protected]).