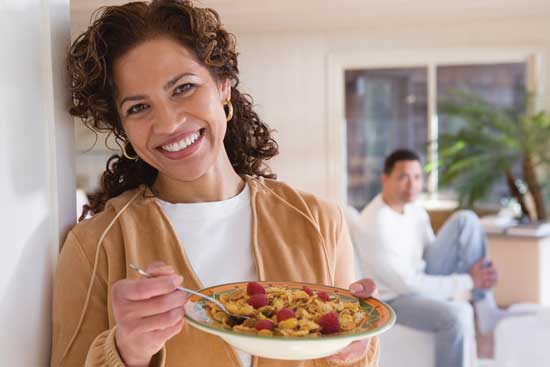 Bone strength, weight management, heart health, cancer, healthy pregnancy, menopause, and skin health are just some of the health issues affecting women that diet can play a role in. Here is a look at some of the nutritional ingredients that have been shown to benefit women in these areas.
Protein
Protein is one of today's hottest food trends and most sought after ingredients. For women, lean protein is a necessary nutrient for several reasons, including muscle maintenance and weight management. Soy protein and whey protein are two of the more popular protein ingredients used in food processing.
"Several studies have demonstrated the efficacy of soy protein for promoting fat loss, including abdominal fat, while preserving muscle mass," says Michelle Braun, research scientist at DuPont Nutrition & Health, St. Louis, Mo. (dupont.com). "Soy protein and animal-based proteins both support weight loss and weight maintenance equally as part of energy-restricted diet; however, soy protein offers additional cardiometabolic advantages."
Braun explains that a recent randomized controlled crossover study found that both high-meat-protein and high-soy-protein diets lowered body weight and improved body composition of postmenopausal women, yet partly replacing meat with soy protein further improved blood lipid levels and insulin sensitivity independent of changes in body weight. In addition, clinical studies have shown that 25 g of soy protein/day as part of a diet low in saturated fat and cholesterol can decrease LDL-C levels, which may reduce risk for cardiovascular disease. "Soy may have other effects on heart health, including support of blood vessel health. That area of research is still emerging, and the beneficial effects that have been observed may be due to isoflavones or protein or a combination of both," says Braun.
DuPont recently introduced SUPRO XT 221D, a soy protein that is a high-quality protein that disperses in water in just nine seconds to deliver better flavor and mouthfeel for consumers. This product was developed to address consumer complaints about lumpy mouthfeel and difficulty stirring, which is often seen within dry-blended beverages.
At a recent trade show, Arla Foods Ingredients, Basking Ridge, N.J. (arlafoodsingredients.com), showcased a wide range of whey protein concepts that demonstrated how manufacturers can create healthy products women will want to buy for themselves and their families. Low-calorie solutions for yogurt and cheese and highly nutritious protein bars for pregnant women were just a few examples.
According to Arla, many female consumers mistakenly believe that eating and drinking high-protein products could make them fat or cause them to develop excessive muscle mass. Some consumers—predominantly female—still avoid high-protein products because they perceive them to be high in calories, and therefore fattening, or they associate them with body builders and fear they will develop a muscular and unfeminine body shape.
Arla explains that gram for gram, protein actually contains fewer than half the calories in fat and the same amount as in carbohydrate. In addition, a recent study revealed that whey protein keeps people feeling full, helping them to lose weight. The researchers found that, over a period of five months, consuming whey protein daily led to a significant reduction in total body weight, waist size, and fat mass. As part of a regular diet, whey protein can help the body to produce lean muscle while discouraging fat storage.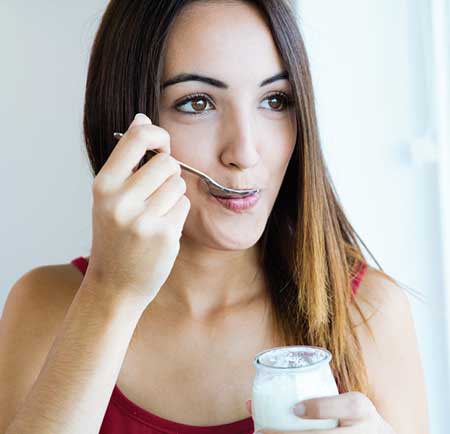 Vitamins and Minerals
Calcium is an important mineral for women's health. "Although the decline of bone mass is a natural process and affects both genders, women start with lower bone density than men and lose bone mass more quickly as they age, which increases the risk of osteoporosis," says Hans Schinck, market manager at Corbion Purac, Amsterdam, the Netherlands (corbion.com). "It is estimated that women can lose up to 20% of their bone density within five to seven years after menopause due to the decrease of estrogen in their body."
Corbion Purac's portfolio of mineral lactates and gluconates is known for its taste, solubility, and processing benefits in beverages. "Calcium fortification has historically been difficult due to calcium's bitter taste profile," explains Schinck. "Although insoluble solutions such as calcium carbonate and calcium phosphate are known to be less bitter than most other calcium salts, they can also have a chalky flavor and sandy mouthfeel. Our calcium lactates and gluconates have a more neutral taste profile, and do not require masking agents or stabilizers to maintain the palpability of a product."
Corbion Purac uses natural processes such as advanced fermentation technologies to produce its calcium and mineral salts, meaning they can be positioned as completely natural. "Calcium's bioavailability is possibly one of the most important aspects to consider as it determines how well the body is able to absorb the mineral into the blood," says Schinck. "On average, an adult human body is able to absorb only about 30% of the calcium consumed, while the rest is discharged, unused. A dose of PURACAL PP can increase the amount of calcium in the final product application. Thanks to its high solubility, calcium levels can be boosted as high as 50% of the RDI in a single-serve beverage." PURACAL XPro and XPerform were specially developed for application in challenging formulations that require extremely high solubility, including syrups and in-line blending.
"Magnesium is another important mineral for building healthy bones as it converts vitamin D into its active form so it can aid calcium absorption," notes Schinck. "Scientific research has shown that calcium's effectiveness and benefits with respect to bone health and the prevention of osteoporosis are greatly impaired in the absence of adequate levels of magnesium in the body. Magnesium plays a major role in the bone's mineral homeostasis and can also directly affect bone cell function."
Two vitamins play roles in bone and heart health. Vitamin D has been shown to affect calcium absorption, making it important for bone health in women. It has also been associated with neuromuscular and immune function and heart health. Pessini (2015) noted that vitamin D had also been shown to affect depression. Women are more likely than men to experience an anxiety or mood disorder. Vitamin K2 is associated with bone and heart health. Knapen et al. (2015) showed that long-term use of vitamin K2 (menaquinone-7) supplements improved arterial stiffness in healthy postmenopausal women, especially in women having a high arterial stiffness. The researchers investigated the long-term effects of MK-7 vitamin K2 (180 μg of MenaQ7/day) in a double-blind, placebo-controlled trial. PLT Health, Morristown, N.J. (plthealth.com), supplies MenaQ7.
Other minerals like iron and folic acid are important. Low iron intakes can lead to problems such as iron-deficiency anemia, the most common nutrient deficiency for women. To prevent anemia and fatigue, a minimum of 15 mg of iron/day is recommended. Women of childbearing age needs 400 μg of folic acid every day to reduce the risk of neural tube birth defects. Folic acid can also boost immune function.
Attention is being given to the health benefits of consuming adequate amounts of choline. "Choline was declared an essential nutrient by the Institute of Medicine (IOM) in 1998 and cannot be replaced completely by folic acid or other methyl donors," explains Catherine Adams Hutt, advisor to the Choline Information Council, Escondido, Calif. (cholinecouncil.com). It is an important nutrient, particularly for pregnant women. "Choline plays a critical role in the development of the fetal eye and brain, especially the memory center of the brain," she adds. "It lowers circulating levels of fetal cortisol, reducing stress, with potentially lifelong beneficial effects. Choline also protects the pregnant woman by helping prevent some causes of eclampsia in pregnancy and acts like folate in preventing neural tube defects in fetal development." The IOM set the Adequate Intake recommendations at 425 mg/day for women, 450 mg/day for pregnant women, and 550 mg/day for lactating women.
Collagen Peptides
Beauty from within continues to grow as a food and beverage category among women, especially for skin health. Collagen peptides are one of the top ingredients used in beauty foods. According to Innova Market Insights, there has been a 51% growth in new U.S. supplements containing collagen as an ingredient (2014 vs. 2013).
Collagen is the major structural component of skin, comprising about 80% of skin's dry mass, according to information from GELITA, Sergeant Bluff, Iowa (gelita.com). The skin's epidermis is affected by both dermal layer structure and environmental factors, including aging, ultraviolet radiation, hormones, and nutrition. GELITA offers VERISOL, which can help slow these skin metabolism–impairing processes responsible for the loss of collagenous extracellular matrix. VERISOL contains optimized collagen peptides that increase the skin's moisture and slow the formation of wrinkles.
Proksch et al. (2014) demonstrated that skin elasticity significantly improved with collagen hydrolysate (CH) usage. The study involved 69 women aged 35–55 who were randomized to receive 2.5 g or 5.0 g of CH or placebo once daily for 8 weeks. At the end of the study, skin elasticity in both CH dosage groups showed a statistically significant improvement in comparison to placebo.
Rousselot, Mukwonago, Wis. (rousselot.com), offers Peptan collagen peptides. Assarin et al. (2015) showed that oral supplementation with Peptan collagen peptides was effective in improving hallmarks of skin aging. Two clinical trials were conducted to assess the effects that a daily oral supplementation with collagen peptides had on skin hydration. Peptan significantly increased the density of collagen in the dermis after 4 weeks of intake. Skin hydration increased, counteracting the appearance of the dry skin that typically occurs through aging.
A 100% marine-based collagen supplement, Collactive Collagen Complex, from PLT Health, is composed of collagen and elastin peptides formulated in the same ratio found naturally in skin. A study on the ingredient showed a synergistic anti-wrinkle action, stimulating skin to lift and tone sagging areas and minimize lines and wrinkles, while increasing skin moisture retention. Collactive is a sustainably produced ingredient provided by CTPP-Copalis, representing a cooperative of fisheries in Boulogne-sur-Mer, France, Europe's leading port for fish processing.
Botanicals and Extracts
Helios Corp., Santa Fe, N.M. (helioscorp.net), offers EstroG-100, an herbal formula that is a blend of hot water–extracted herbs from Phlomis umbrosa, Cynanchum wilfordii, and Angelica gigas Nakai. The patented, all-natural blend was developed for the purpose of providing relief from the symptoms of menopause, including decreasing severity and frequency of hot flashes. A 12-month human clinical study showed five times greater relief of symptoms of menopause such as hot flashes, vaginal dryness, night sweats, and low energy.
Genistein is a phytoestrogen often derived from soy that is believed to have positive effects on hot flashes. DSM Nutritional Products, Parsippany, N.J. (dsm.com), offers a synthetic form of genistein, geniVida. It is nature-identical and has the same chemical structure as genistein derived from soy. It offers documented short-term relief of menopause symptoms, including reduction of hot flashes, and long-term benefits to bone health.
For heart health, Polyphenolics, Madera, Calif.(polyphenolics.com), offers MegaNatural-BP, a grape seed extract. After age 55, women are more likely than men to develop high blood pressure. MegaNatural-BP has been shown to support blood pressure within a normal range.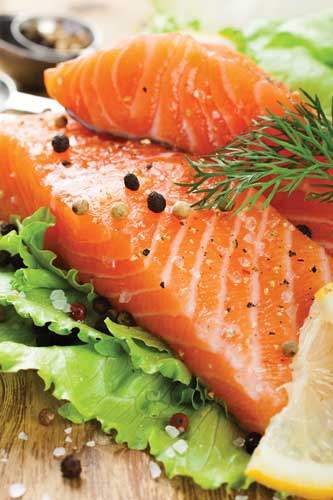 Omega-3 Fatty Acids
Omega-3 long-chain polyunsaturated fatty acids are important for women during pregnancy and to support heart health. During pregnancy, docosahexaenoic acid and arachidonic acid are important for brain development of the fetus. Omega-3 fatty acids are believed to benefit the heart by improving heart rate, heart rhythm, and blood lipids.
Next month's Nutraceuticals section will showcase ingredients involved in weight management.

Linda Milo Ohr,
Contributing Editor
Denver, Colo.
[email protected]