Americans eat more than 300 million sandwiches per day, according to the History Channel. One may wonder what it is about a savory filling placed between two slices of bread that can incite such levels of devotion and consumption. The answer is that sandwiches are portable, compact, convenient, and customizable. In addition, few dining occasions exist at which sandwiches cannot or should not be served.
Meaty Sandwich Fundamentals
On a daily basis, 49% of U.S. adults eat at least one sandwich, and on average, 3.6 sandwiches are consumed a week. Although more sandwiches are prepared at home than purchased away from home—54% vs 46%—and sandwich consumption away from home is down by 3%, sandwiches are still a significant component of restaurant dining choices and the most prevalent entrée on restaurant menus (Technomic Inc., 2014). Seventy-five percent of quick-service restaurants, 74% of fast casual restaurants, 68% of midscale restaurants, 71% of casual restaurants, and 62% of fine dining restaurants have sandwiches on their menus (Datassential, 2014). And thanks to the ingenuity of culinary professionals as well as home cooks, sandwich recipes have varied widely over the years. Nonetheless, the most predominant filling in most sandwiches is some type of meat. Variations of beef, pork, turkey, and chicken dominate the most commonly consumed sandwiches in America. In fact, market research indicates that the most popular sandwiches prepared at home are turkey and ham sandwiches, and the most popular sandwiches purchased from foodservice outlets are burgers, deli and sub sandwiches, and chicken sandwiches (Datassential, 2014; Technomic Inc., 2014).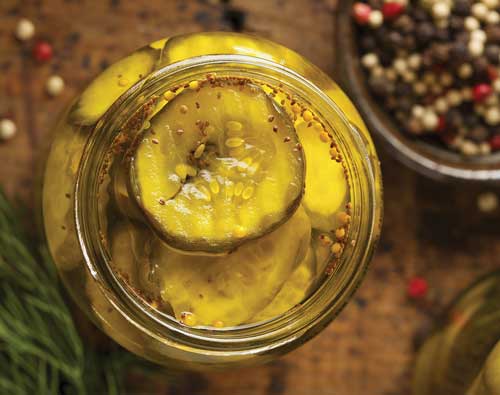 Trends: Burgers
Consumers purchased 9 billion servings of burgers at U.S. restaurants and other foodservice outlets last year. Hence, shipments of bulk ground beef to quick-service restaurants increased by 3% (4% for those that exclusively serve burgers) last year and by 1% to full-service restaurants. In addition, while traffic and sandwich servings at foodservice outlets decreased, burger servings increased overall (NPD Group, 2015). Moreover, numerous articles on best burgers are published annually, and consumers pay homage to their favorite burgers and burger joints by posting dozens of online reviews every week. That makes the burger not only the most consumed sandwich away from home but also perhaps the most publicized sandwich. Foodservice trends that distinguish best burgers from ordinary ones are in-house ground meat, special proprietary meat blends, and burgers topped with a fried egg and/or house-made pickles.
The Green Chile Cheeseburger at Santa Fe Bite in Santa Fe, N.M. (www.santafebite.com), consists of a special-blend, in-house ground patty made with boneless chuck and sirloin, green chiles, and white American cheese on a lightly toasted ciabatta bun. Husk in Charleston, S.C. (www.huskrestaurant.com), also grinds its own meat; its cheeseburger contains two griddle-seared patties made from chuck ground and blended with hickory-smoked Benton's bacon, three slices of melted American cheese, shaved white onions, and pickles on a house-made bun slathered with a special house-made sauce. And the Single Cheeseburger at Au Cheval in Chicago, Ill. (www.auchevalchicago.com), consists of two griddled pre-formed prime beef patties topped with cheddar cheese, Dijonnaise (a blend of Dijon mustard and mayonnaise), house-made bread-and-butter pickles, and a (optional) sunny-side-up fried egg on a toasted soft bun. "We're committed to leaving a permanent impression on people," says Brendan Sodikoff, owner, Au Cheval. "Our choices are based on taste and delivering a quality product. [Plus,] almost everything tastes great with an egg on it." The cheeseburger at Au Cheval has consistently been included on best-burger lists since the restaurant opened in 2012.
--- PAGE BREAK ---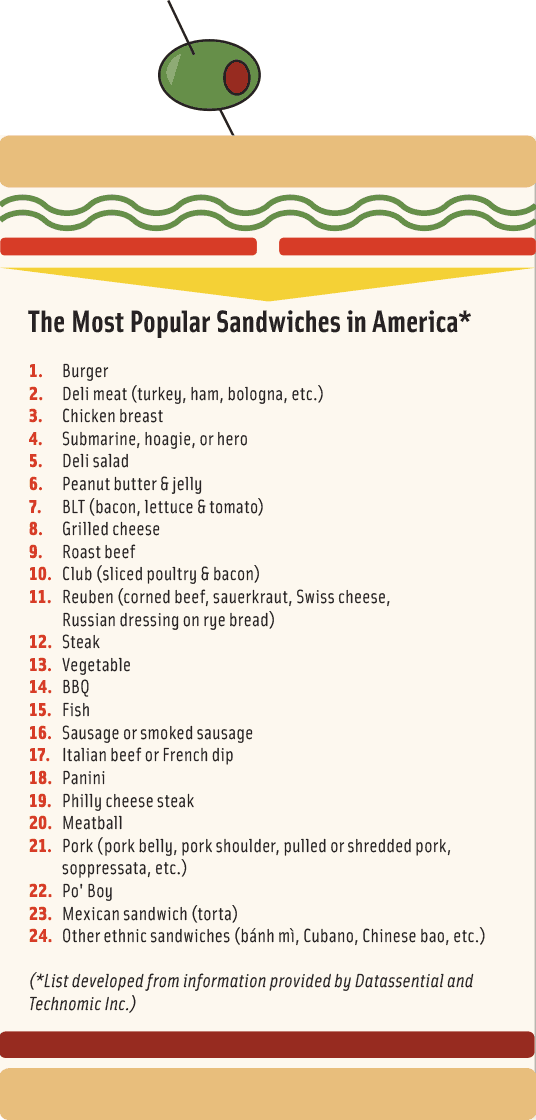 Freshness and customizability are also dominant factors for burger consumers, and the best indication of their importance is the rise and expansion of fast casual upscale burger chains. While McDonald's, Oak Brook, Ill. (www.mcdonalds.com), reported a loss in revenue of more than $660 million for 2014, business is booming at fast casual gourmet burger chains (PR Newswire, 2015). Market analysts attribute the decline in sales and traffic at McDonald's to the burger chain's considerable menu expansion (100 items have been added to the McDonald's menu in the past 10 years), slower service times, changes in consumer preferences (e.g., a growing demand for fresh and wholesome as opposed to fast and convenient), and most importantly, too much emphasis on "the sideshow": foods other than burgers such as coffee drinks, chicken wings, and salads (despite these issues, McDonald's is still the leader in sales among all quick-service restaurants).
At fast casual burger chains, the menu headliners are better burgers that cost more but consist of higher quality ingredients and are customizable. In this market segment, the industry leader is Five Guys Burgers and Fries, Lorton, Va. (www.fiveguys.com). Founded in the late 1980s, Five Guys offers numerous creative toppings which, when combined with other burger options, allow the chain to provide up to 250,000 unique burger combinations. In addition, Five Guys focuses almost exclusively on fresh burgers and fresh-cut fries: no frozen meat, no chicken, no veggie burgers (but there is a veggie sandwich), no salads, and no specialty beverages. Clearly, its limited-menu formula for customized burgers is paying off: "When it comes to better burgers, Five Guys is a standout," says Elizabeth Friend, senior consumer foodservice analyst, Euromonitor International. "They are by far the largest better burger chain in the [United States] and the one with the broadest national presence, and they're also one of the fastest-growing chains in the world in terms of annual value growth." Five Guys has more than 1,100 U.S. locations, plans to develop another 1,500 locations, and boasts $1.1 billion in annual sales (Bylund, 2014).
Customization is also fundamental to The Counter, Culver City, Calif. (www.thecounterburger.com), which claims to offer more than 500,000 different burger combinations. Started in Santa Monica, Calif., in 2003, the chain prides itself on rarely making the same burger twice in one day and offers locally sourced ingredients and burger proteins such as organic bison, ahi tuna, and ground turkey. In addition, diners can choose from more than 40 conventional as well as high-end cheeses and toppings such as Brie, Gruyère, and manchego cheeses; kale; and smoked jalapeños. Those luxurious burger toppings come at a steep price, though, as the average customer tab is $15–$16 (Gray, 2014). Still, sales for the company are said to be more than $70 million a year (Hudson, 2014).
And from its humble beginning in 2001 as a hot dog and burger stand in New York City, Shake Shack, New York, N.Y. (www.shakeshack.com), has grown to include more than 30 U.S. locations and four international outposts and become a cult favorite in the process. Patrons often stand in line for up to an hour to get their hands on the chain's ShackBurgers®, shakes, and crinkle-cut fries. Shake Shack customizes some of its menu offerings to its geographic location, ensuring that locals can order food items that pay homage to the cities and neighborhoods in which they reside. All of this has paid off nicely for Shake Shack as the chain had more than $84 million in revenue last year and is going public with a market valuation of more than $1 billion (Bylund, 2014; Maze, 2015). Other prominent players in the better burger market are Smashburger, Denver, Colo. (www.smashburger.com); In-N-Out, Irvine, Calif. (www.in-n-out.com); and The Habit Burger Grill, Irvine, Calif. (www.habitburger.com).
The outlook for burgers is bullish despite the fact that the price of beef is projected to continue rising. The escalation in cost is not expected to adversely impact consumer demand for burgers as revenues at fast casual burger chains are projected to reach $29.8 billion by 2019 (Gray, 2014). Darren Tristano, executive vice president, Technomic Inc. believes the increasing demand for gourmet or better burgers will have two impacts on the industry: "First, the proliferation of fast casual better burgers will draw share away from fast-food (quick-service) burger brands like McDonald's and Burger King. Brands like Wendy's that improve and promote quality will retain share with better quality on the menu," he says. "Second, other fast casuals will be in direct competition with burger [brands], including Mexican grill, chicken, sandwich, and Asian fast casual players that compete aggressively at lunch." Furthermore, Friend stresses that better burgers challenge more than just quick-service and fast casual restaurants: "It's a common misconception that better burgers are only taking share from fast food. The truth is that this movement is drawing share from all categories, including casual dining. Burger demand is cross-category, and consumers are looking to fast casual burgers to fulfill a broad range of occasions," she says.
--- PAGE BREAK ---
Trends: Deli and Sub Sandwiches
Even though most turkey, ham, and other deli meat sandwiches are prepared at home, deli and sub sandwiches still rank high among the top sandwiches purchased at foodservice outlets. In these sectors, consumers look for fresh quality ingredients at reasonable prices. It is Americans' willingness to still purchase deli sandwiches at foodservice outlets that likely has driven expansion of deli and sub sandwich chains such as Subway, Milford, Conn. (www.subway.com), and Jimmy John's Gourmet Sandwiches, Champaign, Ill. (www.jimmyjohns.com).
With nearly 35,000 franchises and more than 60% of the market share, the undisputed leader in the deli and sub sandwich category is Subway. The sandwich chain began marketing its sandwiches as a healthier alternative to fast food in the year 2000 and maintains its domination of the sandwich market with its clever use of the tagline "eat fresh" and with five-dollar foot-long sandwiches. Despite the negative publicity it received for using azodicarbonamide—the so-called yoga-mat ingredient—in its fresh-baked breads (the chain introduced azodicarbonamide-free bread in 2013), Subway has persevered and remains the top deli and sub sandwich chain and, with more than $12.7 billion in sales, is the second-largest quick-service restaurant chain in America. The closest deli and sub sandwich competitor is Jimmy John's Gourmet Sandwiches. The company, a favorite among millennials, has experienced 74% growth in revenue in the past three years, propelling it to more than $1.4 billion in sales—enough to place it at no. 24 among top quick-service restaurant chains (Russell, 2014). Like Subway, Jimmy John's prides itself on fresh ingredients and bakes its bread in house daily but unlike Subway provides "freaky fast delivery" of all its sandwiches, which are made with meats and veggies that are sliced onsite daily.
Meats and cheeses are also sliced in house at Jersey Mike's Subs, Manasquan, N.J. (www.jerseymikes.com), which has been making made-to-order deli and sub sandwiches since 1956. The chain uses only top-quality premium brands, bakes its bread daily on the premises, and prepares sandwiches Mike's Way® with lettuce, onions, tomatoes, oil, vinegar, and spices. Jersey Mike's Subs experienced 21.2% in sales growth in the past year and has sales totaling $406 million. By serving up classic fillings such as turkey, ham, meatballs, and tuna salad in warm toasted sandwiches along with hand-dipped milkshakes, Potbelly Sandwich Works, Chicago, Ill. (www.potbelly.com), has expanded from a single sandwich shop in Chicago's Lincoln Park to a 305-unit regional chain with more than $305 million in sales. The sandwich company went public on the NASDAQ in October 2013.
Also firing up interest in deli and sub sandwiches with hot toasted sandwiches is Firehouse Subs, founded by two firefighter siblings in Jacksonville, Fla (www.firehousesubs.com). The chain's distinguishing twist on classic sandwiches and fillings are the firehouse-themed names of some of its best-sellers: Hook & Ladder® (smoked turkey breast, Virginia honey ham, and Monterey Jack cheese), Firehouse Meatball® (Italian meatballs, melted provolone, marinara sauce, and Italian seasonings), Engineer® (smoked turkey breast, sautéed mushrooms, and melted Swiss cheese), and the New York Steamer® (corned beef brisket, pastrami, melted provolone cheese, mustard, mayonnaise, and Italian dressing). The chain experienced a 14.8% increase in sales last year (Friedman, 2014). "In terms of brand shares, Jimmy John's and Firehouse Subs have both been growing at a much faster rate than their competitors," Friend points out.
Although growth in the deli and sub sandwich market is slowing as it nears the point of saturation and as consumers prepare more deli sandwiches at home, analysts believe certain factors may keep revenues from declining. Swift service and portability will continue to be important aspects for this segment of the sandwich market. In addition, high-quality fresh ingredients will continue to play a significant role in maintaining customer loyalty. Including healthier sandwich fillings and sides among those fresh ingredients could entice patrons to leave their homes to purchase sandwiches. And consumers are increasingly enjoying sandwiches as a snack, so offering a variety of mini-sandwiches could boost sales and revenue (Technomic Inc., 2014). Other trend specialists emphasize the rising popularity of specific proteins, driven largely by the movement to use the whole animal. Thus, sandwiches made with soppressata, pork belly, eggs (fried or boiled), pork shoulder, sausage, and pulled meats (e.g., pulled pork, shredded chicken, etc.) are trending upward (Datassential, 2014).
Trends: Chicken Sandwiches
Consumption of chicken sandwiches has been on a slow decline since the debut of better burgers and upscale burger chains. Last year, restaurant servings of grilled chicken sandwiches declined by 9%—a loss of 129 million servings (NPD Group, 2015). In contrast, fried or crispy chicken sandwiches seem to be gaining ground, particularly the southern-style chicken sandwich (i.e., a crisp fried chicken breast and pickles on a bun or biscuit). Honey Butter Fried Chicken, Chicago, Ill. (www.honeybutter.com), serves several fried chicken sandwiches—all made with antibiotic-free Amish chicken that is brined, coated in a smoky paprika-infused batter, and fried in trans fat-free canola oil. Its sandwich options range from the simplistic Original Fried Chicken Sandwich (fried chicken, candied jalapeno mayonnaise, and crunchy slaw on a buttery bun) to its progressive version of a Reuben, the Reuben Melt (fried chicken, cheddar cheese, sauerkraut, caramelized onions, and Thousand Island dressing on a pumpernickel bun). Pine State Biscuits in Portland, Ore. (www.pinestatebiscuits.com), also has a variety of chicken sandwiches from which to choose—all of which are served on big, flaky buttermilk biscuits: The restaurant's version of a southern-style chicken sandwich, the McIsley, contains fried chicken, pickles, mustard, and honey while its Chicken Club includes fried chicken, bacon, iceberg lettuce, tomato, and blue cheese. The fried chicken sandwiches at Pine State Biscuits are so well-liked that the restaurant has three locations in Portland.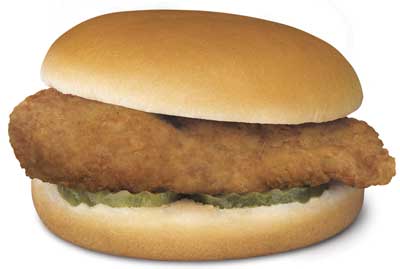 However, no restaurant illustrates the widespread appeal of fried or crispy chicken sandwiches better than family-owned Chick-fil-A Inc., Atlanta, Ga. (www.chick-fil-a.com). Touted as the home of the original southern-style chicken sandwich, Chick-fil-A is now the ninth top-performing quick-service restaurant chain with more than $5 billion in sales. Truett Cathy founded Chick-fil-A Inc. in the 1960s with a few locations in the South and the company has grown to be the largest quick-service chicken restaurant chain in the United States: 1,850 locations in 41 states. Chick-fil-A's menu contains not only crispy chicken sandwiches but also sandwiches made with grilled chicken and chicken salad as well as chicken nuggets, a chicken wrap, chicken salads, and sides (waffle fries, coleslaw, etc.).
As further testament to the popularity of fried or crispy chicken sandwiches, these sandwiches take up sizeable real estate on the menus of several quick-service burger chains. Nine out of 13 chicken sandwiches at McDonald's are made with fried or crispy chicken, including the McChicken and the Southern Style Crispy Chicken Sandwich. Burger King, Miami Dade County, Fla. (www.bk.com), offers the TenderCrisp® Chicken sandwich and four other crispy chicken sandwiches but only one grilled chicken sandwich. Wendy's, Dublin, Ohio (www.wendys.com), has a crispy-chicken to grilled-chicken sandwich ratio of four to one that includes the Spicy Chicken Sandwich, and Arby's™, Atlanta, Ga. (www.arbys.com), offers three chicken sandwiches with crispy chicken, such as its Chicken Bacon Swiss Sandwich, but none with grilled chicken.
--- PAGE BREAK ---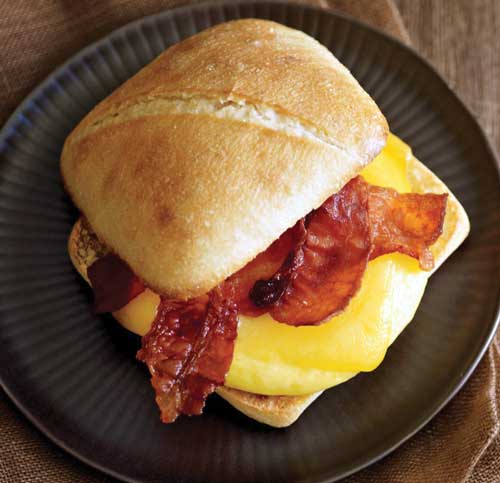 On the Horizon: Breakfast Sandwiches
Burgers, deli and sub sandwiches, and chicken sandwiches may be the most prevalent in the foodservice industry, but there are two categories of sandwiches with potential for segment growth: breakfast sandwiches and ethnic sandwiches. Breakfast sandwiches have displaced bacon on the list of top 10 most popular breakfast items. In addition, most breakfast sandwiches are purchased at restaurants, not made at home, so by the end of 2012, nearly half of the breakfasts consumers ordered at restaurants included a sandwich (NPD Group, 2013). Analysts suspect the rise in consumption of breakfast sandwiches may be linked to the fall in cereal consumption as consumers seek taste, freshness, and better quality in a convenient, portable morning meal. "Generally, breakfast is one part of U.S. foodservice that still seems to be growing in terms of transactions, so it's a highly coveted day-part," Friend says. Restaurants across America are capitalizing on this insight by creating a diverse array of visionary breakfast sandwiches.
At Rosebud in Atlanta, Ga. (www.rosebudatlanta.com), the weekend brunch menu contains two nonstandard breakfast sandwiches: The Nasty McAlister and the Nasty Royale. The Nasty McAlister consists of buttermilk fried chicken, smoked bacon, scrambled egg, and Tillamook® cheddar cheese on a soft bun. Its equally wicked sibling, The Nasty Royale, contains Berkshire ham, truffle scrambled egg, Brie cheese, and truffle honey mustard on a French baguette. A distant "nasty" culinary cousin takes up residence at Hominy Grill, Charleston, S.C. (www.hominygrill.com): the Charleston Nasty Biscuit is made with a buttery biscuit, fried chicken breast, cheddar cheese, and sausage gravy. And the menu at Big Bad Breakfast in Oxford, Miss. (www.citygroceryonline.com/restaurant), has several southern-themed breakfast sandwiches to choose from. Served all day, the sandwiches range from the modest Cathead (a house-made buttermilk biscuit topped with cheddar cheese and choice of bacon, sausage, ham, or fried chicken) to the full-bodied Southern Belly (grilled pimento cheese, house-cured bacon, tomato, a signature house-made slaw, and pickles on white or wheat bread).
The South is not the only place to find a virtuous breakfast sandwich. At Meat Cheese Bread, Portland, Ore. (www.meatcheesebread.com), the Maple has shaved fennel, a sausage patty, and melted chipotle-cheddar cheese between two pieces of maple-currant bread pudding. Serious Pie and Biscuit, Seattle, Wash. (www.seriouspieseattle.com), serves several breakfast sandwiches made with house-made buttermilk biscuits, including one topped with egg, fried green tomato, bacon, and remoulade and another topped with house-made peanut butter, banana, and honey. The Egg Sandwich at Jam in Chicago, Ill. (www.jamrestaurant.com), receives much fanfare; the sandwich is pulled pork shoulder, two eggs over-easy, ricotta salata, and plum preserves heaped onto a toasted bolo roll. And a simple egg sandwich receives fancy treatment at Dominique Ansel Bakery, New York, N.Y. (www.dominiqueansel.com): the Perfect Little Egg Sandwich is made with fluffy Japanese-style steamed eggs, herbs, and melted Gruyère cheese on a house-made brioche bun.
Of course, a variety of less-fancy and lower-cost breakfast sandwiches can be had at McDonald's, Subway, and other quick-service restaurant chains, where menus have been expanded to accommodate more breakfast sandwiches. McDonald's now offers 15 breakfast sandwiches, including its signature sandwich, the Egg McMuffin, five biscuit sandwiches, and three McGriddles sandwiches. Subway began serving breakfast in 2010, and its breakfast menu consists entirely of breakfast sandwiches made with toasted flat-breads and various fillings (egg, bacon, ham, etc.). With the recent addition of the Bacon & Gouda Breakfast Sandwich to its menu, Starbucks, Seattle, Wash. (starbucks.com), offers seven breakfast sandwiches. And Chick-fil-A recently added Chick-n-Minis™ to its breakfast menu, raising the number of its breakfast sandwiches to six.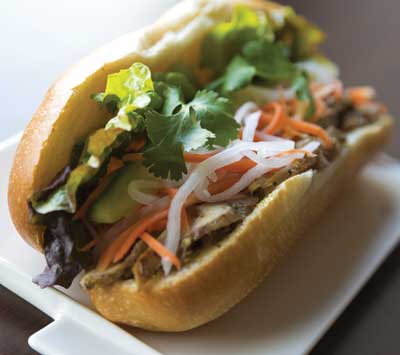 Also on the Horizon: Ethnic Sandwiches
Though still at the bottom of the list of America's most popular sandwiches, analysts predict that more Americans will seek out ethnic sandwiches like the bánh mì (Datassential, 2014; Technomic Inc., 2014). Conceived in the late 1800s in Vietnam when the country was being colonized by the French, the bánh mì is a split French baguette filled with pickled daikon and carrot, cucumber, cilantro, jalapeño, liver pâté, and variations of pork or other meats. Despite its low ranking among other popular sandwiches, the bánh mì has a cultlike following, and bánh mì shops have popped up in major cities such as Chicago, Los Angeles, New York, and San Francisco. With locations in San Jose, Calif., and Chicago, Ill., Ba Le (www.balesandwich.com) offers more than 20 varieties of the Saigon sub, including vegetarian, vegan, and fish versions. Perhaps the biggest indication of the sandwich's market potential is that Yum! Brands Inc., Louisville, Ky. (www.yum.com)—the parent company of Taco Bell, Pizza Hut, and KFC—opened a Vietnamese-inspired fast casual sandwich shop, Bánh Shop (www.banhshop.com), in Dallas, Texas, in September 2014.
Other ethnic sandwiches with growing popularity are Mexican and Cuban sandwiches: specifically, the torta and the Cubano, respectively. A torta usually consists of various meats (carnitas, chorizo, pork shank, ham, or even mortadella) marinated in Mexican spices, black or refried beans, pickled chili peppers, and one or more Mexican cheeses (e.g., Chihuahua, Cotija, queso de Oaxaca, and queso fresco) on a soft white roll (the bolillo) dressed with avocado, sour cream, onions, tomato, and lettuce. To be sure, there are many variations of the torta, but there is only one variation of the Cubano: ham and roasted pork, pickles, and cheese (usually Swiss) on generously buttered Cuban bread pressed and grilled to golden brown perfection. It is the Cuban version of the quintessential ham and cheese sandwich—without mayonnaise, mustard, lettuce, or tomato.
Ethnic sandwiches provide freshness and variety and are usually bursting with flavor, so why are they not more popular? The answer could be narrow conceptualization: "There are quite a few ethnic sandwiches that have relevance in the fast casual space, but all seem to be incorporated into ethnic concepts," says Tristano. "Mexican concepts have introduced tortas" (e.g., Xoco in Chicago, Ill., by chef Rick Bayless), and "Southeast Asian concepts like [Ba Le] have pushed bánh mì. None of these appears to be strong enough to build a concept base to support them, so many will continue to exist [independently]." Friend has a different point of view: "I think there's room to grow. Consumers definitely have an interest in testing out a broader range of new cuisines and flavors profiles. Sandwiches are a particularly familiar and user-friendly way to try out new dining experiences."
America is replete with people who love sandwiches, so it is no wonder that sandwiches are big business. Taste, quality, freshness, customizability, and value are dominant factors in determining which sandwiches consumers purchase. Thus, when contemplating what to serve for breakfast, lunch, or dinner, a fresh, customized, great-tasting sandwich is a wise bet.
Toni Tarver is senior writer/editor of Food Technology magazine ([email protected]).