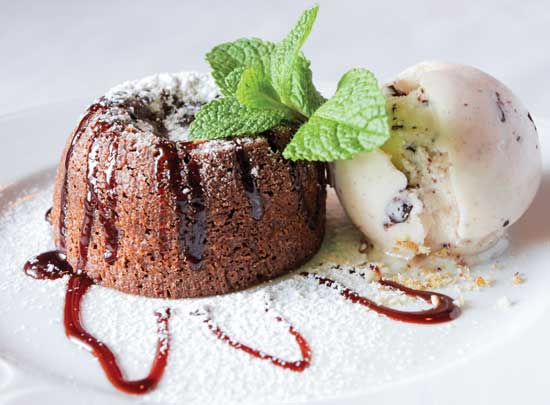 People love chocolate and vanilla. Chocolate confections of all kinds are indulgent treats while vanilla is consistently chosen by consumers as their favorite ice cream flavor. Chocolate and vanilla are natural fits in sweet applications like bakery and confections. There's nothing more decadent than a rich chocolate cake with a dark, fudgy frosting. Chocolate candy bars and truffles pair especially well with a range of ingredients. In their respective chocolate bars, Wild Ophelia, Chicago (wildophelia.com), blends ingredients like beef jerky, barbecue potato chips, and caramelized bananas, and Chuao Chocolatier, Carlsbad, Calif. (chuaochocolatier.com), incorporates cinnamon toast cereal, salty toasted bread crumbs, and chipotle pepper and popping candy bits. Endangered Species Chocolate, Indianapolis, Ind. (chocolatebar.com), uses poppy seeds, dried sage, and crushed roasted coffee beans. And what better applications than ice cream or pudding to let the creamy, floral flavors of vanilla shine? But why limit the use of vanilla and chocolate ingredients to just sweet applications? They are definitely worth considering in savory applications, too, where they can transform savory foods with surprising layers of flavor.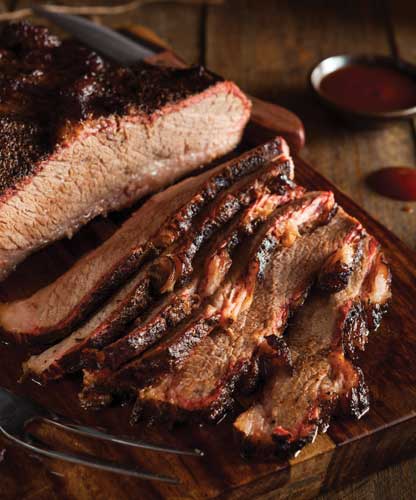 Product developers and chefs are using chocolate and vanilla in unexpected applications like savory seasoning blends (spice rubs with cocoa powder), sauces for meat applications (mole made with dark chocolate), and alcoholic beverages (spirits like rum or vodka made with vanilla). Others, such as savory pesto made with chocolate, vanilla-steeped sauce for poaching fish, vinaigrette made with vanilla bean scrapings, or tomato and bittersweet chocolate soup, demonstrate interesting and novel ways to use flavors, extracts, or pure chocolate and vanilla ingredients. There's even a recipe for chili that includes a surprising ingredient—dark chocolate ice cream—on foodandwine.com courtesy of cookbook author and founder of Jeni's ice cream brand, Jeni Britton Bauer. Manufacturers of chocolate and vanilla ingredients are doing their part to demonstrate how these ingredients can add delicious flavors and aromas to both sweet and savory foods. As part of its 70th anniversary celebration at the IFT16 food expo, Prova, Montreuil Cedex, France (prova.fr), a leading manufacturer of vanilla and cocoa flavors and extracts, distributed a cookbook with plenty of recipes that incorporate chocolate and vanilla ingredients in applications such as pastries and other desserts as well as in meat and seafood dishes like beef, duck, pork, foie gras, and monkfish, and in fruits and vegetable purees and salad dressings.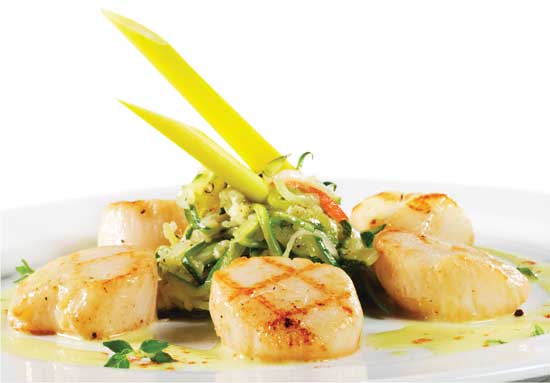 Chocolate and vanilla ingredients are available in a variety of forms, many of which are featured in this article. The ingredients have specific functions. In addition to its line of vanilla and chocolate extracts, Prova produces cocoa and vanilla flavors that are designed to capture specific flavors and aromas of the ingredients that food and beverage manufacturers desire in their finished products. They can also use the ingredients to enhance chocolate or vanilla flavors or extend the flavors, especially in formulations where they have to cut back the usage of cocoa or vanilla ingredients for cost or supply reasons. Puratos, Cherry Hill, N.J. (puratos.us), produces Carat Coverlux SH compound coatings in milk, dark, and white chocolate versions and showcases them in its Barks Around the World product concepts. The chocolate barks blend the Carat Coverlux SH chocolate ingredients with globally inspired ingredients like crushed fortune cookies and black sesame seeds or chopped candied ginger and chopped wasabi peas. Other chocolate bark product concepts include using mini marsh-mallows and graham crackers for a s'mores version and Biscoff cookies for a take on speculoos. Still others include a nod to Columbia, with ground coffee and whole coffee beans, and to the Philippines, with salted peanuts and crisp rice.
Vanilla: Plain No More
"The great thing about vanilla is its versatility," says Dan Fox, director of sales at Nielsen-Massey Vanillas, Waukegan, Ill. (nielsenmassey.com). "We all know vanilla ice cream is the world's favorite ice cream flavor, but it is vanilla's functionality in so many different products that makes it so distinct. It is a flavor enhancer and a masking agent all wrapped in one very special bean."
Fox goes on to explain that vanilla ingredients bring flavor enhancement and masking functions to a range of applications. "It can intensify fruit flavors and bring out the ripe sweet notes we all crave in fresh fruit, thus its presence in most fruit preps. Its masking agent effects help reduce 'off' flavor notes in everything from snack bars to highly acidic products. In fact, one of the unexpected applications we see is its inclusion in barbecue sauce, where it helps to mask tomato acidity and round out the sweet-smoky intended nature of the sauce."
Today, vanilla is produced in Madagascar, Indonesia, Mexico, Tahiti, Uganda, and Papua New Guinea, according to Nielsen-Massey, which has been in the vanilla business since 1907. It is not so much the region where the vanilla orchid is grown as much as it is the varietal of the orchid and the growing and curing method that affect the flavor and aroma of vanilla, explains Fox. Vanilla planifolia Andrews, which accounts for more than 90% of all vanilla, and Vanilla tahitensis Moore are two major orchid varietals. "From its roots in Mexico to its rebirth in vanilla's major growing region of Madagascar, it is the care of the orchid and the curing method that defines its nuanced difference from others grown elsewhere," he says. "In Indonesia, for example, Vanilla planifolia vanilla is often harvested early, cured quickly with artificial heat, and is defined by its smoky nature. In Madagascar, that same bean is individually picked, blanched, and then sun-cured for months before going to market, thus its deep flavor characteristics. Vanilla tahitensis is, as you might expect, unique to Tahiti and offers its signature fruity, floral notes." He adds that hybrids of the two varietals do exist but their flavor notes and quality fluctuate too much to be considered for applications that need consistent flavor.
For its industrial customers, Nielsen-Massey offers vanilla sugar, ground vanilla beans, and vanilla powder along with a comprehensive portfolio of vanilla extracts, including some that are organic and fair trade–certified, from many of the vanilla-producing regions. So how does a product developer choose the best one for a given food or beverage product? "Nielsen-Massey's unique region-specific approach to vanilla helps to refine application-specific answers to pure vanilla questions," says Fox. He explains that for some, but not all applications, Indonesian vanilla, with its strong, smoky notes, is sometimes best for use in strong chocolate applications or high-heat baking applications. Mexican vanilla, with its heavier spice note, works well in some savory applications, he says, while the fruity, floral notes of Tahitian vanilla intensify the essential flavor of fruit preps. "Then there is Madagascar bourbon vanilla. It is one of the answers to every vanilla question. Its creamy, smooth brown notes are what separates great vanilla ice cream from the average. It is the quintessential flavor."
--- PAGE BREAK ---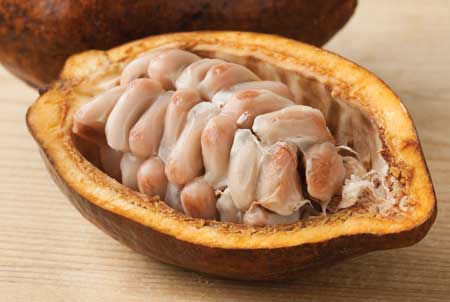 Chocolate: From Seed to Sweet Indulgence
Like vanilla, chocolate is not a one-size-fits-all ingredient. The qualities of chocolate that make it such an interesting ingredient to work with are the differences in flavors, tastes, and aromas that the varieties of cocoa beans have and how processing can affect them. Flavors include fruity, floral, citrusy, sour, or acidic, and it is the fermentation process, and to some extent the drying process, that helps enhance and bring out the chocolate and aroma characteristics that are in the beans, says Gary Guittard, president and CEO of Guittard Chocolate Co., Burlingame, Calif.(guittard.com).
Through careful work with family famers in cacao-growing regions, including maintaining the health of the trees, determining the best harvesting techniques, and managing the fermentation and drying processes, to following time-tested chocolate-making techniques, Guittard Chocolate is able to develop chocolate ingredients that help enhance the products that industrial manufacturers, pastry chefs, and chocolatiers are producing. Some of the most flavorful chocolate comes from heirloom cacao varietals, which, according to the Heirloom Cacao Preservation Fund(hcpcacao.org), have flavor traits linked to specific genetic characteristics.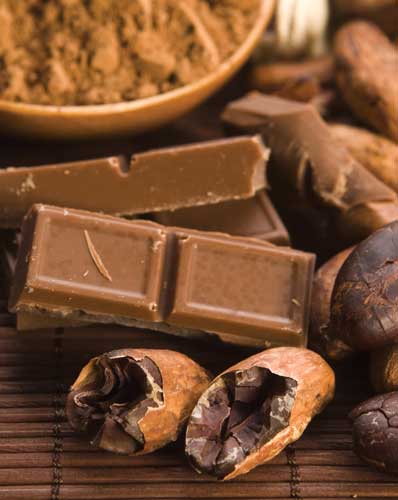 The understanding of the connection between flavor and genetics of the heirloom cacao varietals helps Guittard Chocolate choose beans that will help to produce chocolate ingredients with specific flavor and aroma profiles for their customers. "We really try to give them a palette of flavors," says Guittard.
The company's product range includes bars and wafers for professional use in applications such as enrobing, ganache, sauces and glazes, ice cream, baking, confectionery, beverages, and mousse. The newest additions include four Etienne Maker's Reserve chocolate bars for professional pastry chefs and confectioners. Each bar has distinct flavors. Soleil d'Automne 45% Cacao Milk Chocolate has crème fraiche dairy notes and caramel apple top notes while L'Harmonie 64% Cacao has tart fruit and cherry top notes with floral aromatics giving the chocolate a lingering astringency and chocolatey endnotes. The dark chocolate additions to the line include Épique 70% Cacao with a complex blend of deep chocolate flavor, red fruit and cherry notes, and peaky endnotes, and Minuit 100% Cacao, which has fruit and spice flavors, bitterness, and subtle floral sweetness.
As a world leader in the manufacturing of chocolate and cocoa ingredients, including white, milk, dark, extra dark, cocoa powder, chocolate decorations, and chocolate inclusions, Barry Callebaut, Zurich, Switzerland (barry-callebaut.com), draws on its experience to identify some of the chocolate ingredient trends and consumer trends driving product development.
Laura Bergan, director of innovation and market development, offers insights to what the notable trends in the chocolate industry are, pointing out several that can differ per market segment. "Overall the trend of dark chocolate is still prevalent and growing within most market segments. Dark chocolate has been the growth engine within the entire chocolate category due to its premium perception and because of the health properties that dark chocolate offers consumers. We also see a rise in higher cacao chocolates that signifies premium, and also organic, chocolates due to their 'cleaner' ingredient deck."
Across market segments, there is a greater use of chocolate as a premium ingredients or offering, adds Bergan. "This 'premium-ness' can mean providing a chocolate experience through a premium flavored chocolate, such as Belgian chocolate or through chocolate decorations," she says. Another trend she notes is unique pairings and textures that give consumers a variety of sensorial experiences.
If you are a product developer looking to set your product apart or appeal to consumers wanting something different, try moving beyond using chocolate in sweet applications. "We believe that when chocolate is paired with savory applications it is least expected, but becoming more common," says Bergan. "As an example, there have been launches of chocolate-covered potato chips." Something else she says to consider is using chocolate in products geared to specific eating occasions. "You also don't always see chocolate paired with healthier options or eating dayparts such as breakfast. However, there are more new product introductions that include chocolate to provide a premium perception and encourage consumers to eat a chocolate cereal beyond the breakfast time period."
Barry Callebaut also produces a line of colored and flavored compound coatings and inclusions that add visual, taste, and texture appeal to products, something that Bergan says consumers want. The coatings and inclusions are available in cappuccino, coconut, strawberry, marshmallow, blueberry, mint, lemon, butterscotch, mocha, caramel, and peanut butter flavors. "Our colored and flavored offerings offer our customers the opportunity to easily introduce seasonal or LTOs (limited-time offerings) for consumers, which helps keep a product category interesting and exciting with consistently new offerings," says Bergan.
Need a specific cocoa powder to add a rich, decadent flavor to ice cream or a certain type of chocolate to create that perfect chocolate coating for truffles, nuts, or cake? With a number of chocolate ingredients sold across several brands, Cargill, Minneapolis, Minn.(cargill.com), has the ingredient solution for these and many more applications.
One area that Cargill is seeing growth in is the natural products market and demands for clean label ingredients. "The demand for simpler ingredients crosses all food and drink categories," says Kalina Newmark, communications specialist at Cargill Cocoa and Chocolate. "Chocolate ingredients are certainly not immune to this trend. For example, in the inclusions space, we're seeing a great deal of interest in using real chocolate, with a physical size that makes the inclusion apparent." There's also an interest in natural flavors such as vanilla, as well as naturally derived, nonsynthetic colors, she adds. "Many factors are driving these changes, including the international scope of the marketplace, company size, pressure to reduce the number of SKUs, social media, and awareness of health concerns by consumers."
The Cargill cocoa and chocolate line consists of four distinct brands. Wilbur chocolates offers chocolate coatings, drops, and chunks, confectionery coatings, compound drops, ice cream coatings, and sugar-free coatings. Gerkens features a line of Dutch and natural cocoa powders, each with distinct colors and flavors. Peter's Chocolate draws upon its distinctive heritage (Daniel Peter of Vevey, Switzerland, in 1875 created a way to produce milk chocolate) and original processes of combining proprietary milk crumb base with chocolate liquor to produce chocolate ingredients. Finally, the chocolates offered by Veliche are flavored with vanilla and nonalkalized liquors that produce complex flavor and aroma notes.
--- PAGE BREAK ---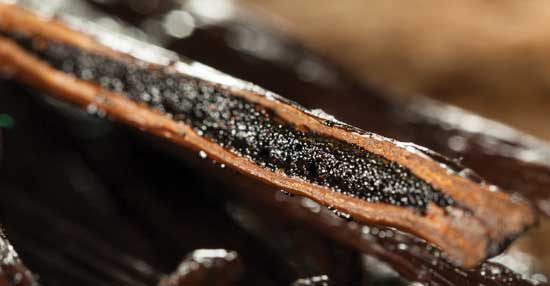 Extracts for Clean Label Formulas
Earlier this year, Virginia Dare, Brooklyn, N.Y. (virginiadare.com), which produces vanilla, cocoa, and other extracts, launched a new brand identity that includes a modern logo and update to its broader capabilities in helping companies improve the taste of food and beverage products with its various ingredients.
Part of the brand identity features a new Taste Foundations platform which encompasses the company's extract ingredients and the work it does with farmers and suppliers in sourcing the highest-quality ingredients.
"The extracts from our Taste Foundations platform, including vanilla and cocoa, are simple, natural ingredients with clean labels and short ingredient statements," says Chris Smith, vice president, vanilla products. "Additionally, all of our extracts are derived from the named source, allowing our customers to identify the extract by name rather than merely identifying it as 'natural flavor.' Our Taste Foundations provide functional benefits by supporting clean labels and improved transparency."
Smith also offers insight into applications where cocoa and vanilla extracts are used, citing consumer demand for more healthful products made with recognizable ingredients as a big influencer. "With health and clean labeling a key trend driving consumer decisions on all levels, we see simple, natural extracts as key to many on-trend products. Key segments like frozen desserts, functional beverages, and premium snacks are all seeing a widespread push to simple ingredient statements and classic flavors like chocolate and vanilla."
Manufacturers of chocolate and vanilla ingredients have set in place sustainability standards to ensure farmers receive a fair price, improve farming practices and farm development, and ensure fair labor practices, among other things.
Virginia Dare has set strict sustainability standards, especially in regard to its vanilla bean supply. Known as "a leader in the flavor industry on sustainability and responsibility," says Smith, the company has established partnerships with vanilla farmers in the Sava region of Madagascar to make sure that every step in the growing and processing of vanilla is sustainable. "In chocolate, we hold our suppliers to similar high standards," he adds.
Next month's Ingredients section will review new developments in colors and flavors.
---


A Sweet Makeover for Savory Snacks
Snack foods offer plenty of opportunities for product developers to have fun with flavor and ingredient combinations. For example, traditional savory snacks—nuts, seeds, popcorn, chips, extruded snacks, and pretzels—are getting a flavor makeover with the inclusion of chocolate and vanilla. The use of chocolate and vanilla ingredients and flavorings in these products has ticked up in recent years as the two accompanying charts show. The rich sweet flavor of milk chocolate and roasted, slightly bitter notes of dark chocolate pair well with the saltiness of pretzels and chips and the nutty flavors of tree nuts, peanuts, and seeds. The different species of vanilla bean have their own specific flavor profiles like floral and fruity or smoky and sweet that give savory snacks additional layers of flavor when formulated into seasoning blends or coatings.
Tom Vierhile, innovation insights director at Canadean (canadean.com), offers up his take on why product developers are formulating savory snack foods with chocolate or vanilla ingredients. One is that in today's food landscape, there is a blurring of the confectionery and snack categories. "Some companies have found success straddling the categories. An example is the product called BarkThins (now owned by Hershey), which is a chocolate 'snack' that uses inclusions like nuts and seeds to make chocolate more snack-like and drive the number of potential usage occasions up," he says. Another possible reason he suggests is the health halo around dark chocolate. "Dark chocolate is increasingly seen as a 'good for you' type of chocolate, and because of this relatively recent image makeover, dark chocolate now seems more compatible with 'better for you' snacks like popcorn, pretzels, etc."
Speaking of popcorn, Canadean expects that the popcorn category will see a compound annual growth rate (CAGR) of 5.9% for the period from 2014–2019. "This is the second-fastest growth rate of any savory snack category (meat snacks are actually growing faster)," says Vierhile. "Popcorn is a great flavor carrier and can easily be turned into a more indulgent product with the addition of flavors like chocolate and vanilla. I believe that the popularity of popcorn has more than a little to do with the expansion of sweet flavors into savory snacks."
Trail mixes are growing in popularity, as product developers reimagine this staple food for hikers and campers. "Trail mixes used to mean dried fruit, nuts, and seeds, but as time has gone on, companies have added candy-inspired ingredients like chocolate to make trail mixes more indulgent and satisfying," says Vierhile. The s'more has moved from campfire treat to applications like cupcakes, confections, and cookies (the Girls Scouts of the USA will expand its 2017 lineup of cookies to include a s'mores cookie version). The s'mores flavor is also finding its way into a range of products, including snacks. "The s'mores flavor has emerged as a top flavor over the past few years, and this blend of flavors with an emphasis on sweet flavors like chocolate and marshmallow is impacting flavor innovation in snack products," says Vierhile. "S'mores is a nostalgic, 'comfort' type of flavor that can be easily extended across a number of food categories."
--- PAGE BREAK ---
---
Producing Vanillin Through Synthetic Biology
Vanilla is a complex spice that contains hundreds of flavor and aroma compounds. The major flavor and aroma component of vanilla is 4-hydroxy-3-methoxybenzaldehyde (C8H8O3), better known as vanillin. Vanillin glucoside is stored in the vanilla pod, and when the pod is cured, the glucoside is converted to vanillin. The thing is, producing vanillin from the vanilla pod is time-consuming and very expensive, so the vast majority of vanillin is produced chemically from petrochemicals, wood pulp, or eugenol, a compound in clove oil. This synthetic vanillin is an affordable flavoring additive alternative to natural vanilla and is used in the same applications as natural vanilla ingredients. Most vanilla-flavored products are made with synthetic vanillin.
Recently, some manufacturers have turned to using a form of synthetic biology to produce vanillin, claiming that the method yields a more sustainable and competitively priced vanillin than chemically produced vanillin. Solvay, Brussels, Belgium (solvay.com), makes Rhovanil Natural vanillin by using a naturally occurring yeast to ferment ferulic acids extracted from rice bran. The company reports that the ingredient has a typical vanillin profile with a soft, sweet, powdery note. Another company, Evolva, Reinach, Switzerland (evolva.com), uses a yeast strain it developed through biotech methods to produce vanillin. Less than 1% of the yeast genes are tweaked, and the yeast is removed during the production process, according to the company.
---
Ingredient Roundup
For additional chocolate and vanilla ingredients, consider the following options to bring two of the most preferred flavors to foods and beverages.
• Walk through Chicago's River West neighborhood and you are bound to smell chocolate. Blommer Chocolate Co., Chicago (blommer.com), has produced chocolate ingredients for food and beverage manufacturers and pastry chefs around the world since 1939. There is an extensive range of dark, milk, and white chocolate; cocoa powders (more than one dozen); chocolate drops and chunks with tastes from mild to creamy and sweet to bitter; and coatings for ice cream and confections. The company also manufactures chocolate liquor and cocoa butter.
• Firmenich, Meyrin, Switzerland, (firmenich.com), sources vanilla from Madagascar, India, Uganda, and Papua New Guinea to produce its vanilla ingredients. The company claims that by working with local cooperatives and suppliers, it can ensure 100% traceability.
• Flavorchem, Downers Grove, Ill. (flavorchem.com), produces a range of vanilla, from single-fold (retail strength) to 20-fold vanilla in both liquid and powder forms. The particular extraction process that the company uses helps preserve the aromatic notes of the vanilla. Some of the flavor notes these ingredients have are sweet, creamy, phenolic, smoky, woody, spicy, resinous, and balsamic.
• Whether you are making chocolate or cooking and baking with it, ifiGOURMET, Gurnee, Ill. (ifigourmet.com), and its brand partners have a chocolate ingredient for the job. Chips and couvertures made from cacao sourced from specific regions can be incorporated into cake batter or used for enrobing, dipping, molding, ganache, and mousses. Chocolate batons are the perfect length—at 3 inches—for baking into croissants, Danishes, and other puff pastry. The selection of dragées—cocoa nibs and nib clusters, espresso beans, and instant coffee covered in chocolate—are ideal for topping desserts, cakes, ice cream, chocolate bars, and truffles. Other chocolate ingredients include cocoa beans, cocoa bean nibs, and cocoa powder. For a no-mess, no-clean-up experience, there are chocolate cups ready to be filled with pudding, caramel, mousse, whipped cream, or fruit preparations. The small, bite-sized pieces are available in round and square shapes, fluted or straight-sided. There's even one shaped like a coffee cup, perfect for coffee-flavored fillings. Add whimsy with toppings like rolled chocolate sticks, chocolate curls, shavings, paillettes, and microchips, and mini chocolate stars and hearts.
• JB Cocoa, New York, N.Y. (jbcocoa.com), supplies the chocolate manufacturing industry with a full range of cocoa powders, cocoa butter, and cocoa liquors. Its cocoa powder is available in natural and alkalized versions, with the natural version having a brown color and the alkalized versions coming in brown, reddish brown, dark red, and dark brown colors. It offers natural cocoa butter and deodorized cocoa butter, which does not contribute flavor or aroma to finished products.
• For 70 years, Natra, Madrid, Spain (natra.com), has been a leading manufacturer of cocoa derivatives, chocolates, and fillings. In addition to such ingredients as dark, milk, and white chocolate, cocoa butter, cocoa mass, and cocoa powder, Natra also offers fillings and spreads in hazelnut, dark cocoa, praline, strawberry, cappuccino, and coconut varieties and organic cocoa ingredients.
• Alkalized cocoa powder has been treated with an alkaline solution in a process called alkalization, or Dutching, to neutralize some of the natural acids, produce a less bitter cocoa, and reduce the intensity of chocolate flavor. The resulting cocoa powder is a deeper, darker brown compared to nonalkalized cocoa powder, which is lighter brown in color and slightly more bitter in taste and has more chocolate flavor. TRUEDARK cocoa powder from Olam Americas, Fresno, Calif. (olamgroup.com), is a nonalkalized dark cocoa powder that has the same color and flavor intensity as medium alkalized powder. It can replace alkalized cocoa powders in ice cream, bakery, biscuit, and dessert applications. For manufacturers looking to satisfy clean label demands, TRUEDARK can be labeled simply as "cocoa," whereas alkalized, or Dutch-processed, cocoa powder is labeled as "cocoa powder (processed with alkali)."
• Symrise, Holzminden, Germany (symrise.com), in August launched a dedicated website, vanilla.symrise.com, that takes you from Madagascar, where 80% of the world's vanilla crop is grown, to the laboratories of Symrise, where flavor chemists and food technologists develop vanilla flavors and scents.

Karen Nachay,
Senior Associate Editor
[email protected]