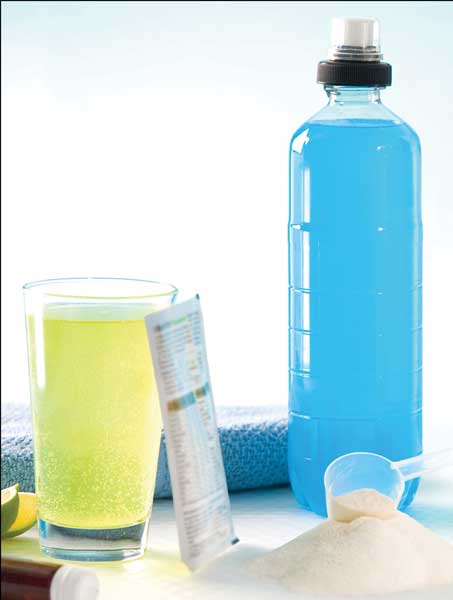 Like protein, energy ingredients have moved out of the sports nutrition arena and have turned into ingredients that are sought not only by athletes, but also weekend warriors, casual gym users, stay-at-home moms, workers needing afternoon pick-me-ups, college students, and others. In fact, the Global New Products Database report, Energy Drinks 2016, from market research firm Mintel, Chicago (mintel.com), revealed that parents are emerging as a valuable audience for energy drinks. In the United States, on average, 12% of adult consumers consume energy drinks, and this rises to more than one-quarter (26%) of those with children aged five and younger and 32% of those with children aged 6–11.
According to the report, sales of energy drinks across key global markets in 2015 enjoyed the strongest annual rise since 2012. More energy drinks were launched globally in 2015 than in any year since 2008, with the number of energy products launched growing 29% between 2010 and 2015.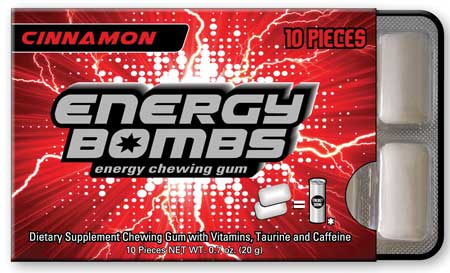 In addition to beverages, energy ingredients are finding their way into novel applications. For example, Energy Bombs, West Palm Beach, Fla. (energy-bombs.com), launched Energy Bombs Chewing Gum for consumers who want a new and convenient alternative to energy shots and drinks. Each piece of the caffeinated chewing gum contains 40 mg of caffeine, the same amount of caffeine in half of an 8 oz energy drink. The gum also contains taurine and essential vitamins, including vitamin B12 and vitamin B6.
Here is a look at some of today's energy ingredients creating a buzz.
Caffeine, Taurine, B Vitamins, L-Carnitine
Caffeine, taurine, and B vitamins are commonly present in energy drinks and energy shots. Research suggests that caffeine has important effects on exercise capacity, muscle performance, and alertness (Arnold 2015). Christensen et al. (2014) showed that caffeine ingestion improved performance in 12 elite rowers. In a study that examined 10 highly trained male cross-country skiers, Stadheim et al. (2013) demonstrated that caffeine intake enhanced endurance performance and allowed the subjects to exercise with a higher heart rate and work intensity.
B vitamins, particularly B12, are used in many energy supplements as they play a role in cell metabolism and energy production. B vitamins include thiamin, riboflavin, niacin, folate, and cobalamin. Each is important in the metabolic cycles in the body that generate ATP, cell division, and protein synthesis.
Taurine is an amino acid that may have an effect on exercise and muscle performance. It is often found in combination with caffeine in energy supplements.
L-carnitine is essential for energy metabolism and is responsible for transporting long-chain fatty acids across the mitochondrial membrane for fat breakdown and energy generation. Lonza, Allendale, N.J. (lonza.com), offers Carnipure L-carnitine. The ingredient has been shown to have favorable effects for athletes and active people with regard to optimizing performance, delaying the onset of fatigue, and improving the recovery process.
Botanical Extracts
Mintel research indicates that energy drink introductions bearing an organic claim have reached a record high. Some 7% of energy drinks launched globally in 2015 carried an organic claim, up from 4% in 2011. Mintel noted that the rise in organic launches comes as consumers show strong interest in more natural energy drinks. One in four U.S. consumers (26%) say they would be more comfortable drinking energy drinks or shots made with all-natural ingredients. This opens the door to botanically sourced energy ingredients such as green tea extract, coffee fruit, and peat and apple extract.
Earlier this year, Applied Food Sciences, Austin, Texas (appliedfoods.com), introduced PurTea, a green tea extract for energy beverages. This organic ingredient is standardized for caffeine and catechins and is designed as a novel natural source of energy for beverages. PurTea was developed to provide a pure, healthy source of energy and antioxidants. The catechins, when combined with the naturally occurring caffeine, can result in an enhanced energy source that is much more desirable to formulate within beverages.
According to the company, research suggests that using green tea as a natural source of energy might enhance the stimulating effects of caffeine while mitigating negative effects associated with increased oxidation and cardiovascular instability. By decreasing the oxidation reactions taking place during increased energy expenditure, green tea extracts can provide an ideal energy source to replace synthetic caffeine.
FutureCeuticals, Momence, Ill. (futureceuticals.com), offers Coffeeberry Energy, a proprietary combination of organic whole coffee fruit caffeine and the native chlorogenic acids found within the whole fruit. The caffeine ingredient is made exclusively from carefully selected, hand-picked premium Arabica whole coffee cherries. It delivers standardized levels of 100% natural coffee caffeine and provides healthy, naturally occurring chlorogenic acids, organic acids, and trigonelline.
In addition to Coffeeberry Energy, FutureCeuticals also offers elevATP, a proprietary, clinically researched combination of a water extract of "ancient peat" (fossilized plants) and apple extract that works with the body's natural energy-producing mechanisms to stimulate production of ATP. It has been approved as a medicinal ingredient by Health Canada with a set of claims related to healthy energy and sports performance. There are a number of approved claims for elevATP, including the following: "helps to increase energy production (ATP) at the cellular level"; "helps improve strength and power in repetitive bouts of brief, highly intense physical activity"; "may help increase muscle size when used in conjunction with a resistance training regimen"; and "source of antioxidant(s)/provides antioxidant(s)" (FutureCeuticals 2016).
Joy et al. (2016) demonstrated that supplementing with the ancient peat and apple extract while participating in resistance training may enhance athletic performance adaptations. Twenty-five healthy, resistance-trained, male subjects received supplements once daily with either 1 serving (150 mg) of the proprietary blend of ancient peat and apple extract or an equal-volume, visually identical placebo. Improvements were observed in strength, peak power, and peak velocity measurements in the group receiving the supplement.
--- PAGE BREAK ---
Ribose
Ribose is a simple, 5-carbon carbohydrate. The body uses ribose to regulate the synthesis of ATP, the primary energy molecule of the cell. ATP is critical for maintaining normal energy-related functions. Ribose also provides the structural backbone of DNA and RNA, certain vitamins, and other important cellular compounds, according to Bioenergy Life Science, Ham Lake, Minn. (bioenergyribose.com). No other compound can replace ribose in the job of regulating the metabolic processes involved in synthesizing purines and pyrimidines. Without these vital structural components, our bodies would quickly run out of energy and could not make proteins, and our cells would lose the ability to replicate. Energy recovery and tissue repair are slower in heart and muscle cells, especially after overwork or exercise. Ribose drives the process that replenishes ATP and other energy components in these cells.
The company's Bioenergy Ribose ingredient is a 5-carbon carbohydrate that can be used as a standalone ingredient or added to a variety of functional foods, beverages, and nutraceuticals. The ingredient is a natural, functional ingredient that delivers a unique way to restore and sustain energy. The patented and clinically proven ingredient also reduces muscle pain and stiffness.
Many clinical studies have shown that providing supplemental Bioenergy Ribose can significantly improve endurance during strenuous exercise, shorten recovery time, reduce cramping and soreness, and reduce fatigue in people suffering from energy depletion. A randomized, placebo-controlled company study looked at 20 adults aged 50–65 years who complained of persistent fatigue, but had no known cardiovascular, pulmonary, or metabolic disease (Bioenergy 2012). The study showed that two weeks of Bioenergy Ribose supplementation reinvigorated the subjects and gave them new energy and greater exercise tolerance. In the two-week-long study, the subjects were given 6 g/day (in 3 g doses twice per day) of either Bioenergy Ribose or dextrose mixed in 8 oz of water. The results were objectively evaluated using well-established, submaximal cardiopulmonary exercise tests given at baseline, and at 1 and 2 weeks. The subjects who took the ribose ingredient improved in three major measures of fitness and exercise tolerance, which is key to overcoming fatigue.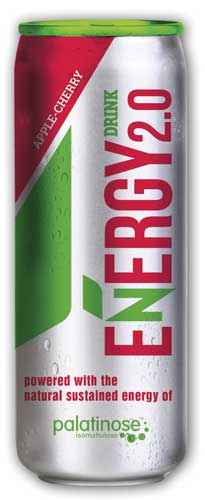 Slowly Digested Carbohydrates
Carbohydrates provide sources of energy as they are digested and broken down into glucose. Slowly digested carbohydrates take longer to break down and release glucose at a slower rate than others, providing a sustained source of energy.
Isomaltulose is a slowly yet fully digested carbohydrate. It is a low glycemic carbohydrate marketed under the brand name Palatinose (isomaltulose) by BENEO, Morris Plains, N.J. (beneo.com). It is a naturally sourced sugar that provides full carbohydrate energy (4 kcal/g) in a more balanced way, resulting in a low glycemic effect. Palatinose has also been shown to help improve fat oxidation during physical activity, leading to a prolonged energy supply. It is also a noncariogenic sugar, making it kind to teeth (an FDA-approved health claim).
Isomaltulose is purely based on sucrose from sugar beet. It is 100% vegan, kosher, halal, and made from sources that are not genetically modified. Palatinose is commercially produced by enzymatic rearrangement of the glycosidic bond between glucose and fructose from an alpha-1.2 linkage of sucrose to an alpha-1.6-glycosidic bond. The resulting new molecular linkage is much more stable compared to that of sucrose. Thanks to its unique glucose-fructose binding, the energy is released more slowly and not all at once. Its breakdown and uptake occurs along the entire small intestine.
The slow and sustained digestion process is reflected by gut hormone patterns and concentrations. The corresponding slow and sustained glucose release from Palatinose is reflected in its blood glucose response: the blood glucose peak is lower, and the blood glucose curve is stretched. As result of this, the body is supplied with more balanced and sustained energy, according to information from BENEO.
Palatinose and its low glycemic and low insulinemic response offers several benefits. Unlike most sugars and starches, Palatinose supports fat burning. High fat burning rates are desired in body weight management, and they can also be of interest in physical endurance activity where an optimum use of limited carbohydrate sources might be considered advantageous.
Next month's Nutraceuticals section will discuss ingredients that play a role in joint health.

Linda Milo Ohr,
Contributing Editor
Denver, Colo.
[email protected]