IFT recognizes section volunteers
Congratulations to the 2016 outstanding sections and section volunteers. These individuals were recognized for their exceptional efforts to ensure sections run smoothly and effectively as well as their willingness to go above and beyond to help the sections grow and become better.
"Sections are a vital part of IFT and serve as the local connection for our members. The Section Outstanding Volunteer Award is an important recognition that allows IFT and sections to shine a spotlight on some of the exceptional efforts that we see each year in volunteerism at the section level," says Mike McCarthy, associate director, section administration, for IFT. "IFT and section leaders work together to achieve the organization's mission of advancing the science of food and its application across the global food system, and so recognizing these exceptional efforts is extremely important."
"I love being a member of our board and fostering connections and collaborations within our section," says Ohio Valley Section volunteer Natalie McElwee. "My absolute favorite part of volunteering is building relationships and influencing students and professionals to grow their relationships. Volunteering also expands your current network of capabilities and simply feels so rewarding to make a difference, no matter the scale."
"Helping to set up New Professionals events and speakers for monthly meetings gets me out and speaking with a number of people in the food and beverage industry that I might not have already connected with," explains Justin Laabs, an Oregon Section volunteer. "This not only develops my network, but these industry experts are able to share unique perspectives in their field that help to broaden my knowledge."
The 2015–2016 Sections of Excellence, Sections of Merit, and individual Outstanding Section Volunteers can be found here. IFT thanks the honorees for their time and contributions to their sections and IFT.
Nominate for IFT Achievement Awards
Recognize your colleagues' remarkable contributions in research, applications, and service by nominating them for a 2017 IFT Achievement Award. Given annually, these Achievement Awards honor outstanding individuals, teams, and organizations for their contributions to the profession of food science and technology.
The deadline to submit nominations is Dec. 13. IFT will honor the winners with a ceremony held during IFT17 in Las Vegas. Visit bit.ly/achievement_awards to nominate for an Achievement Award. Email Kate Dockins ([email protected]) with any questions.
Davidson wins Freezing Research Award
P. Michael Davidson, professor at the University of Tennessee Institute of Agriculture (UTIA), received the seventh annual Frozen Food Foundation Freezing Research Award, which recognizes individuals or organizations whose research contributes to the enhancement of food quality and safety through freezing. Davidson was selected for his research in food safety and intervention technologies relevant to the frozen food industry, including thermal resistance of microorganisms and the applicability of antimicrobials in food.
"The Frozen Food Foundation is pleased to recognize the achievements of Dr. Davidson through the presentation of the Freezing Research Award," says Foundation president Alison Bodor, who also serves as president and CEO of the American Frozen Food Institute. "Dr. Davidson's contributions to the field of food safety have aided the scientific community and consumers alike by developing science-based solutions that have increased product quality, safety, and shelf life."
Davidson, an IFT professional member and Certified Food Scientist, has worked extensively on the application of natural antimicrobials to specific food products to control pathogenic bacteria and spoilage microorganisms in food. His research has led to the development of antimicrobials that are appropriate for certain types of foods, including frozen. He is a professor and former department head in the department of food science and technology at UTIA, where he recently became the first to hold the title of institute professor, which recognizes a record of consistent outstanding performance in teaching, research, and extension. Davidson holds an MS in food science and nutrition from the University of Minnesota and PhD in food science and technology from Washington State University.
IFSCC appoints new chairs, commissioners
IFT recently announced the appointment of Brenda Knapp-Polzin (Cargill) as chair and Norma Dawkins (Tuskegee University) as vice-chair of the International Food Science Certification Commission (IFSCC). IFSCC oversees the governance and policy making of the Certified Food Scientist (CFS) program. Additionally, new commissioners Sanjay Gummalla (American Frozen Food Institute), Deirdre Schlunegger (STOP Foodborne Illness), and Moira McGrath (OPUS International) were appointed to serve three-year terms on IFSCC.
"The launch of the Certified Food Scientist program marked an important milestone for the profession by helping both professionals and their organizations raise the visibility of food science," says Knapp-Polzin. "As IFSCC chair, it's an absolute joy and privilege to see how the program is growing and the importance CFS certification brings to a professional's career."
IFT extends special thanks to outgoing chair Ivette Bassa (Mondelēz International) and fellow outgoing commissioners Jim Mathews (JEM Innovations) and Alex Oliveira (BluWrap) for their leadership and service on the commission. Click here to learn more about IFSCC.
Candidates sought for 2017 Macy Award
The Minnesota Section of IFT is accepting nominations for candidates from all IFT sections for the 2017 Harold Macy Food Science and Technology Award.
The award, established in 1981, is given annually to recognize an outstanding example of food technology transfer or cooperation between scientists or technologists in any two of the following settings: academic, government, and private industry. The purpose of the award is to advance the profession and practice of food technology and to honor Harold Macy, former dean emeritus of the University of Minnesota and a founding member of IFT. The awardee will receive a plaque, $2,500 honorarium, and travel expenses to address the Minnesota Section at the annual Macy Award meeting to be held in Minneapolis–St. Paul.
Click here for nomination forms. Submit completed forms to Mary K. Schmidl at [email protected] by Jan. 1, 2017.
--- PAGE BREAK ---
Lund receives service award
The University of Wisconsin–Madison College of Agricultural and Life Sciences (CALS) recognized IFT Past President Daryl Lund with its Distinguished Service Award. Lund, an IFT Fellow and emeritus professional member of IFT, earned his MS and PhD in food science with a minor in chemical engineering at the University of Wisconsin–Madison, where he taught for 20 years and eventually became chair of the department. In the late '80s, he led the pioneering effort to renovate the food science building through the use of private sector donations, which has become standard practice.
Following his time at Madison, he taught at Rutgers and Cornell, where he was a professor, chair, and dean, before returning to Madison to serve as executive director of the North Central Regional Association of State Agricultural Experiment Station Directors until his retirement in 2007. Lund is also the recipient of the Nicolas Appert, Carl R. Fellers, and Bor S. Luh International Awards.
FONA announces hires, promotions
FONA International recently promoted several IFT members and hired another. Bobbi Bock joined the company as senior scientist in Confections, Healthcare, and Desserts; she brings more than 20 years of dairy product development experience to the role. Julie Talkington was promoted to senior scientist in the Grain division, where she will continue to foster strong partnerships and technical advances. Kristin Frankowski became analytical chemist, and in this role she will use computational chemistry to analyze and report data. Shondra Cook was named scientist in the Beverage division, where she will lead key project activities.
Joseph receives division award
Poulson Joseph, lead scientist and team leader at Kalsec, was the recipient of a newly created award given by the Muscle Foods Division. The Muscle Foods Member-of-the-Year award recognizes outstanding volunteer efforts around division activities and events, such as reviewing session proposals, conducting webinars, and planning, promoting, and attending division events during the annual meeting.
Joseph "clearly was head and shoulders above everyone else in the division for involvement and productivity," says division chair Mark Seyfert, who explained that much of this award's criteria was inspired by Joseph's contributions.
Order of Canada inducts Eskin
Michael Eskin, professor in the Dept. of Human Nutritional Sciences at the University of Manitoba, will be inducted into the Order of Canada for pioneering research that has contributed to the success of Canada's canola oil industry. The Order of Canada is the highest civilian honor awarded by the Government of Canada to a Canadian citizen. A professional member of IFT, Eskin is also an IFT Fellow as well as a recipient of the Stephen S. Chang Award. His book Biochemistry of Foods is in its third edition and was just translated into Portuguese for sale in Brazil.
AAK taps Jones
James S. Jones joined AAK USA's innovation team as vice-president. In this role, he will have responsibility for leading all customer innovation activities across AAK USA and Canada. A professional member of IFT, Jones brings 30 years of technical experience to the position, including more than 25 years of product, package, and process development for frozen, refrigerated, and shelf-stable foods.
"We are thrilled to add an individual of such high caliber as Dr. James S. Jones to our leadership team," says Terry Thomas, president of AAK USA. "This team will drive our codevelopment process and help us continue to deliver value-adding solutions for any of the toughest customer formulation challenges."
Previously, Jones led the research and development team at Rich Products, working on consumer brands and foodservice. Jones holds a BS in food science and nutrition from the University of Arizona and a PhD in food science from Purdue University.
Davis joins Berner
Berner Food and Beverage announced Alan Davis as its new senior vice-president of contract manufacturing sales. In this role, he will develop multiyear strategic business development and sales and marketing plans, implement strategies to expand the company's customer base, and develop new platform strategies to further expand Berner's overall manufacturing capabilities. Davis, an IFT member, has experience in manufacturing, maintenance, operations, engineering, business development, and contract manufacturing sales in the food and beverage industry.
---
Getting to Know Quinn Zweigle
Each month, we meet one of IFT's valued volunteers.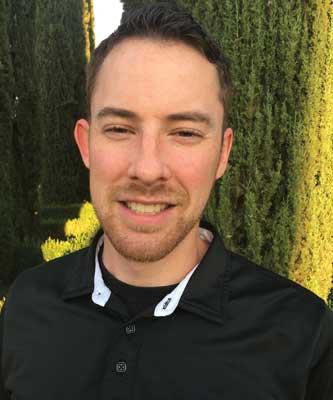 Although Quinn Zweigle says he was sort of "roped into" his first volunteer position with IFT, he's run full speed ahead with his subsequent endeavors. He stepped up when the San Joaquin subsection needed a member at large and later, a chair, and when the subsection decided to form its own entity, he helped lead the charge. "After over a year worth of arduous work, we were successful in creating a nonprofit business organization in the state of California, no simple task to volunteer for," he recalls. Zweigle agreed to serve as president elect for the inaugural year and spent the following three overseeing the new full section. "It has not been easy as there is sacrifice in volunteerism, but 'the juice is worth the squeeze' with the network, connections, and opportunities I have gained with IFT," he says.
As a result of these section leadership roles, Zweigle was asked to become a Leadership Summit Program Ambassador, a platform he used to share the formula behind his section's New Professionals program. While he says that every section must determine the specifics of what will work for its members, one thing he values about the San Joaquin Section's (SJIFT) approach is the time its board members spend together having a "family meal" before their meetings. "I personally enjoy the chance to get to know my fellow 'family' board members, share experiences, and grow together through this mutual opportunity we volunteered or were recruited to do," he reflects.
While Zweigle enjoys the time he spends volunteering, that doesn't mean he hasn't been concerned at times about the commitment it entails. To achieve work life balance, he relies on the strength of the IFT volunteer community. "My time is tested regularly, but this is why I have always appreciated the SJIFT board of directors. Everyone serving on a committee to a board position has the same life struggles. At the end of the day, we all work together, back each other up, and cover responsibilities when needed to ensure the work gets done," he says.
Despite the struggles he has occasionally faced while volunteering, Zweigle says that taking challenging situations step by step has helped him follow through with his commitments and ask for more. "My greatest successes were situations that internally scared me," he says. "A good example was my first chair leadership role for SJIFT. I was scared, sick to my stomach, and a nervous wreck in my initial thoughts of taking this job on. But I knew if I could learn and master the job that it would be personal and professional growth."
---
Section Meetings
Philadelphia
Nov. 1: Suppliers' expo. Cinnaminson, N.J. Click here for more information.
Dogwood
Nov. 2: Food industry expo. Concord, N.C. Click here for more information.
Chicago
Nov. 9: Suppliers' night. Rosemont, Ill. Click here for more information.
---
In Memoriam
David S. Reid
passed away Aug. 15. An IFT Fellow and emeritus professional member of IFT, Reid joined the faculty of the Dept. of Food Science and Technology at the University of California, Davis, in 1981 to research the freezing process. He served on scientific advisory committees for the American Frozen Food Institute and Global Cold Chain Alliance and became editor-in-chief of the
Journal of the Science of Food and Agriculture
in 1999. He was a Fellow of the International Academy of Food Science and Technology and received the 2012 Frozen Food Foundation Freezing Research Award. Reid held BSc and PhD degrees in chemistry from the University of Glasgow.
Joachim "Joe" Staackmann passed away July 31. An emeritus member of IFT, Staackmann worked for Armour Research and Corn Products and retired from Kraft Foods in 1993. He attended Valparaiso University and earned a degree in chemistry.
IFT also notes the passing of the following members: Tracy Przybylowski and Pieter Van Twisk
Have some news to share about yourself or another IFT member? Email [email protected].