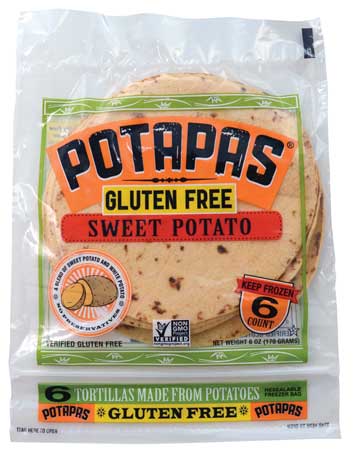 Sweet potato tortillas
Potillas recently introduced its sweet- and white potato–based Potatapas, Non-GMO Project Verified gluten-free tortillas designed to address consumers' desire for free-from foods. The product development process took more than two years, including more than 100 benchtop formulations, according to Potillas president and IFT professional member Jim Broussalian.
"I had to evaluate numerous potato, garbanzo bean flour, starch, and gum ingredients to achieve the best dough for sheeting, baking, and freezing," explainsBroussalian. "The combination of potato and starches hold significantly more water than traditional corn or flour tortillas. The pliability and soft texture of the tortilla when reheated using a hot pan or microwave results from this high moisture retention and the combined functionality of the starch components and gum stabilizers."
The tortillas can be found in Sprouts Markets and other select locations for an SRP of $4.99–$5.59 per six-count bag.
---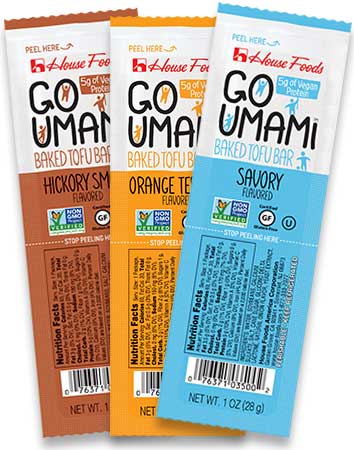 Protein-packed tofu snacks
House Foods launched what it is calling the first-ever tofu snack available in the U.S. market. With its easy-peel packaging, Go Umami, a baked tofu bar, is akin to string cheese or beef jerky and delivers5 grams of protein, 10% of the daily recommended value.
Available in three flavors—Savory, Orange Teriyaki, and Hickory Smoke—the non-GM and kosher snack eschews preservatives while providing a host of nutritional benefits. It is a good source of calcium and a complete protein containing all nine essential amino acids, and it is low in saturated fat and cholesterol-free. The no- or low-sugar bars will be available for a suggested retail price (SRP) of $1.59.
---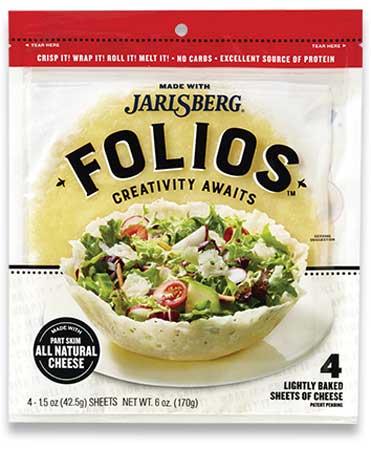 Multipurpose cheese sheets
Lotito Foods released its new Folios product, lightly baked sheets of 100% part skim milk cheese made from Parmesan, cheddar, or Jarlsberg cheese. These naturally gluten-, lactose-, and carb-free sheets can be used to create wraps and rollups or melted over omelets, microwaved into crisps, and molded into taco shells or salad bowls.
"Folios are perfectly portioned and come on easy to use parchment paper," says Chris Lotito, president of Lotito Foods, noting that the product provides home cooks and chefs with "a totally new way to enjoy cheese."
Each sheet contains 170–180 calories, 12–13 grams of fat, and 12–14 grams of protein. Five-count packs are available at an SRP of $5.99.