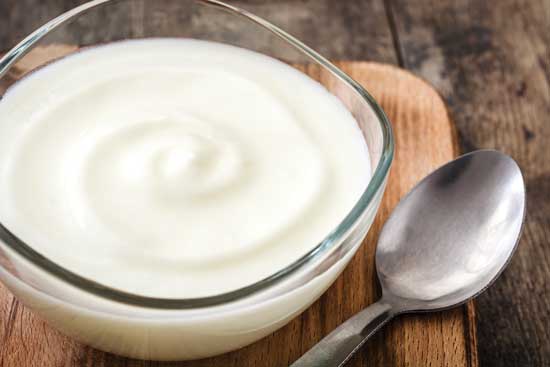 Probiotics can affect yogurt flavor
Many consumers are concerned with gut health, and boosting already-beneficial yogurt with added probiotics is one way companies are seeking to respond to demand for gut-friendly fare. According to a Journal of Food Science study, though, the type of probiotic chosen can affect the overall flavor profile of the product.
In the study, researchers cofermented yogurt using traditional starters and four probiotics: Lactobacillus acidophilus, Lactobacillus plantarum, Lactobacillus rhamnosus, and Lactobacillus casei. Probiotic strains with a low growth rate did not significantly affect the bacterial population dynamics, acidity, or organic acid content during fermentation and storage, but those with a high growth rate enhanced postacidification, which was particularly seen with L. casei.
Using headspace solid-phase microextraction followed by gas chromatography mass spectrometry, researchers identified 45 volatile compounds, including ketones and aldehydes. L. rhamnosus and L. plantarum did not significantly affect the major volatile compounds, while L. casei and L. acidophilus contributed to the formation of minor volatile metabolites.
EU rules on plant 'milk'
The Court of Justice of the European Union (EU) ruled that plant-based dairy alternatives can no longer be called "milk," "cream," "butter," "cheese," or "yogurt" because these terms are reserved by EU law for animal products. The ruling was a response to a case between the German company TofuTown, which produces and distributes vegetarian and vegan foods, and Verband Sozialer Wettbewerb, a German association that fights unfair competition.
In the case, TofuTown argued that the way that consumers understand these designations has evolved over time, noting too that it only refers to these terms alongside qualifying terms, such as "tofu butter" and "rice spray cream." The court ruled, however, that relevant legislation reserves the term "milk" solely for milk of animal origin. It also reserves terms like "butter," "cheese," and "yogurt" for animal milk or products derived from milk. In addition, the court explained that the addition of descriptive or clarifying terms indicating the plant origin, such as those used by TofuTown, has no bearing on the matter.
Food waste ripe with nutrients
Up to one third of all food is lost before it is consumed by people, according to the Food and Agriculture Organization of the United Nations—and so are the nutrients contained in it.
A new study in the Journal of the Academy of Nutrition and Dietetics found that discarded food contains large amounts of key nutrients like vitamin D, fiber, and potassium that could instead be used to help consumers meet their daily recommended intake. According to the study, which was conducted at the Johns Hopkins Center for a Livable Future, nutrient-dense foods like fruits, vegetables, seafood, and dairy products are wasted at disproportionately high rates.
"This study offers us new ways of appreciating the value of wasted food," says Roni Neff, an assistant professor at the university's Bloomberg School's Dept. of Environmental Health and Engineering, who oversaw the study. "While not all food that is wasted could or should be recovered, it reminds us that we are dumping a great deal of high quality, nutritious food that people could be enjoying."
Sodium down in packaged foods
Sodium acquired by U.S. households from packaged food purchases decreased significantly between 2000 and 2014, according to a longitudinal study of the Nielsen Homescan Consumer Panel published in JAMA Internal Medicine. More than 98% of households, however, had packaged food purchases with sodium density exceeding optimal levels.
In a nationwide sample of 172,042 U.S. households, the amount of sodium that households acquired from packaged food and beverage purchases decreased significantly, by 396 milligrams a day per capita; the sodium content of households' packaged food purchases decreased significantly too during this period, by 49 milligrams per 100 grams.
In all years, however, less than 2% of U.S. households had packaged food and beverage purchases with sodium density of 1.1 milligrams per kilocalorie or less. While the researchers acknowledge that there has been significant progress toward sodium reduction in packaged foods, they say continued efforts are needed to prevent excess sodium intake.
Consumers treat selves with snacks
Half of consumers snack to treat themselves, and more than a quarter (28%) say a snack's taste is more important than its health benefits, according to research from Mintel.
According to the research, consumers are turning to snacks to make them feel good—as a way to practice self-care, explains Mintel. Thirty-seven percent of consumers snack to give themselves a break and 24% do so to relieve stress.
Of course, health is still a key consideration, too. Thirty-two percent of respondents say the majority of their snacks are heathy, and 28% say their snack choices in 2017 have been healthier than those they made in 2016. Snacks with health-related claims are among the fastest-growing claims; products that feature low/no/reduced allergen claims account for 46% of new product launches in 2017.
"The importance of snacking in America is undeniable and it is creating more and more opportunity for companies and brands as snacking frequency increases, particularly among younger consumers," says Beth Bloom, associate director of U.S. food and drink reports at Mintel. "While health is a factor for consideration in food and drink decisions, the majority of snackers do so for a treat, meaning even health-focused snacks should appeal with messages about enjoyment and indulgence. In recent years, brands have focused product innovation largely on cleaner formulations, highlighting an opportunity for innovative products with health attributes that appeal to health-conscious consumers."
---
News Bites
• Abby Snyder joined The Ohio State University Food Science and Technology Dept. as an assistant professor.
• Algatech opened a New York City–based subsidiary to serve its customers in the North American market.
• Amazon announced it plans to acquire Whole Foods for approximately $13.7 billion.
• American Almond celebrated the grand opening of its new facility in Pennsauken, N.J.
• Archer Daniels Midland Co. will construct a flour mill in Mendota, Ill., and build three feed storage and distribution facilities near New Plymouth, New Zealand.
• Arjuna Natural Extracts opened a new sales office in Dallas to better serve its North American customers.
• Barry Callebaut celebrated the grand opening of its remodeled Chocolate Academy Mexico.
• Blommer announced several capacity additions and the launch of a new line of premium chocolate created for confectioners and chocolatiers.
• Blue California announced the successful commercialization of gamma-decalactone.
• Campbell Soup Co. will acquire Pacific Foods.
• ChemPoint, a subsidiary of Univar, expanded its strategic marketing relationship with the Stepan Lipid Nutrition unit of Stepan Co.
• Crown Holdings opened a new beverage can manufacturing plant in Nichols, N.Y.
• Danone will sell Stonyfield to Lactalis.
• Diageo will acquire Casamigos—the premium tequila brand founded by actor George Clooney—for $1 billion.
• ESHA Research and TraceGains announced a strategic partnership for a more streamlined process for gathering and updating supplier ingredient data.
• Fuchs North America opened its new headquarters in Hampstead, Md.
• Golden Peanut and Tree Nuts announced that it has expanded its Blakely, Ga., production facility.
• Gordon Food Service will acquire Red Diamond Foodservice, a division of Red Diamond.
• J. M. Smucker Co. agreed to acquire the Wesson oil brand from Conagra Brands.
• Kraft Food Ingredients rebranded itself as Kraft Heinz Ingredients.
• Mei-Ling Shotts was named The Ohio State University's 2016–2017 FST Outstanding Teaching Assistant.
• Package Concepts and Materials is adding 30,000 square feet to its Greenville, S.C., facility.
• Phenomenex opened a manufacturing and development facility dedicated to the company's gas chromatography columns in El Dorado Hills, Calif.
• Renaissance BioScience Corp. will receive a multiyear contribution of up to CDN$500,000 from the National Research Council of Canada Industrial Research Assistance Program.
• Steviva Ingredients opened a manufacturing and distribution center in Salinas, Spain, and a new headquarters in Portland, Ore.
• University of California, Davis, assistant professor Christopher Simmons received a $3.16 million grant from the California Energy Commission.

Melanie Zanoza Bartelme, Associate Editor
[email protected]