AIBMR Life Sciences (aibmr.com) described its scientific and regulatory consulting services, including toxicology studies, generally recognized as safe (GRAS) self-determinations, GRAS notifications, new dietary ingredient (NDI) notifications, label reviews, claims substantiation, U.S. Food and Drug Administration (FDA) and U.S. Federal Trade Commission compliance, toxicology studies, and other services.
Alegre Science Inc. (alegrescience.com) described its advanced magnetic resonance imaging (MRI) instruments from Niumag Corp. to measure samples without sample preparation or adulteration. Applications include fat content, sodium content, water characterization in meat, and foreign particle detection. The MRI products range from the tabletop miniEDU-MR for teaching to the full-featured NM-G1 system and the newly introduced Macro-MR12 open MRI. The company also exhibited its low-field nuclear magnetic resonance (NMR) instruments for such applications as determination of moisture and oil content in seeds and solid fat content and total fat content in chocolate and snack foods.
Alpha MOS America Inc. (alpha-mos.com) exhibited sensory analysis instruments that digitize the human senses, measuring the organoleptic features (taste, color, and shape) of food and beverage products. The instruments include the Enose electronic nose, the ETongue electronic tongue, and the EEye visual analyzer.
AMETEK Petrolab Co. (petrolab.com) exhibited automated instrumentation for analysis of ash point, vapor pressure, and color.
ANKOM Technology (ankom.com) exhibited analytical instruments for food and feed testing, using the company's filter bag technology.
Anresco Laboratories (anresco.com) described its analytical, microbiological, and food technology services, including determination of nutrient content, pesticide residues, minerals and vitamins, sugars and sugar alcohols, fats and oils, protein, proximates, aflatoxin, trans fatty acids, shelf life, extraneous matter, microscopy, and pathogens.
Arizona Instrument LLC (azic.com) exhibited the Computrac moisture analyzers for testing ingredients and end-products from food oils to baked goods, freeze-dried products, and more. The Computrac Vapor Pro XL, the newest addition to the line, is a chemical-free alternative to Karl Fischer titration. It can perform tests at up to 300°C, features a touch screen and intuitive user interface, can handle multiple sizes of sample vials, and is equipped with stepped temperature testing capabilities for enhanced method development. The company also exhibited the MAX 4000XL loss-on-drying instrument and the MAX 5000XL, which has the higher temperature capabilities of a muffle furnace, allowing for repeatable moisture, solids, and ash testing from a single sample.
BatchMaster Software Inc. (batchmaster.com) described its software for product development, production, quality, compliance, traceability, costing, planning, scheduling, and mobile warehousing. The company also offered its enterprise resource planning guide, available onsite and in the cloud.
Bellingham + Stanley, a Xylem brand (bellinghamandstanley.com), exhibited the ADP400 Peltier-controlled polarimeter, which measures blend ratios and purity of sugars and specific rotation of flavors, and the OPTi digital handheld and RFM340 laboratory refractometers for measuring the Brix of beverages, sugars, edible oils, and flavors.
Bia Diagnostics (biadiagnostics.com) described its testing services and test kits for detection of allergens such as peanut, milk, casein, whey protein, egg, celery, sesame, shellfish, mustard, histamine, and others. The company also discussed its method development and validation services.
BINDER Inc. (binder-world.com/us) exhibited its CO2 and refrigerated incubators, ovens, and humidity test chambers for simulation of biological, chemical, and environmental conditions.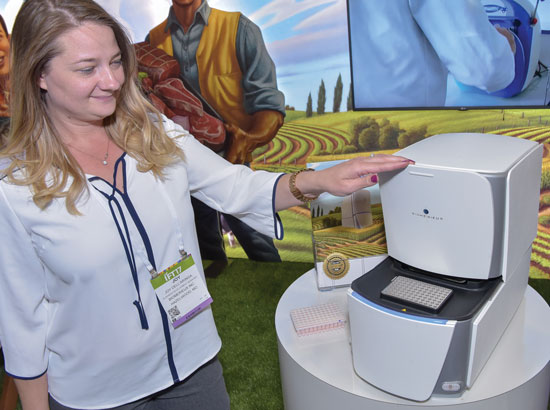 bioMérieux Inc. (biomerieux-usa.com) described the TEMPO, VIDAS, and GENE-UP pathogen detection instruments and the suite of LEAN approaches to laboratory efficiency, including culture media preparation, sample preparation, and training.
Bio-Rad Laboratories (bio-rad.com) exhibited its equipment for quality-control and quality-assurance laboratory and production facilities, including microbiological incubators, temperature control incubators, vacuum ovens, and stability and shelf-life chambers.
Brimrose Corp. of America (brimrose.com) displayed its acousto-optic tunable filters near-infrared (NIR) spectrometers for the food industry, including the Luminar 4030 and Luminar 5030 units, which provide real-time evaluations of sugar, crackers, and other products.
Brookfield AMETEK (brookfieldengineering.com) exhibited the CT3 Texture Analyzer, whose compression and tensile testing modes provide flexibility in solving rheological and texture measurement problems, and the PFT Powder Flow Tester, which provides quick and easy analysis of powder flow behavior.
Burdock Group (burdockgroup.com) described the scientific and regulatory services for the food and beverage industry that its team of toxicologists, scientists, and project managers provide, including preparation of food and color additive petitions, GRAS evaluations, label reviews, claims substantiation, and risk assessments.
C.W. Brabender Instruments Inc. (cwbrabender.com) exhibited the new Farinograph-TS, which features a modular footprint with easy-to-use touch screen capability for multi-access tracking of results; the new GlutoPeak, which measures gluten aggregation; the MT-CA Moisture Tester, which determines water content in up to 10 samples at a time; and other equipment designed for measuring rheology, viscosity, and other properties of food.
Campden BRI (campden.co.uk) described its services to ensure product safety and quality, process efficiency, and product and process innovation. The services are testing, operational support, research and innovation, and knowledge management.
CEM Corp. (cem.com) exhibited the ORACLE Universal Fat Analyzer, which was one of four winners of this year's IFT Food Expo Innovation Awards. It can accurately determine the fat content of any food product in 30 seconds with no method development, calibration, or sample validation necessary and with accuracy comparable to standard extraction methods. The highly repeatable and simple-to-operate instrument is designed for lab or at-line use. The company also exhibited the SMART 6 Moisture/Solids Analyzer.
Cert ID Solutions (cert-id.com/home.aspx) described its certification and third-party audit services.
Compusense Inc. (compusense.com) described its sensory and consumer research services and software that help food and beverage companies make informed business decisions. The company also described its state-of-the-art sensory lab.
Corning Inc. (corning.com) exhibited its new line of sample preparation equipment and disposable glass labware for food and beverage testing.
Covance Inc. (covance.com/foodsolutions) described the services it provides, ranging from concept to commercialization, including consumer research, product and process development, nutrient and contaminant analysis, food safety consulting and training, sensory evaluation, regulatory and labeling considerations, and commercialization.
EAS Consulting Group LLC (easconsultinggroup.com) discussed its consulting, training, and auditing services to the food, supplement, and other FDA-regulated industries, including label reviews and helping firms comply with the new Nutrition Facts requirements and meet requirements of the Food Safety Modernization Act (FSMA), preparing GRAS and NDI notices, and providing assistance to U.S. firms marketing products to European Union countries and European firms marketing products in the United States. The company also described its new product development and labeling service for medium-to-large firms.
ELISA Technologies Inc. (elisa-tek.com) described its meat speciation kits for food and feed and the EZ Gluten rapid test, which detects gluten across wheat strains and food products; its facility available for third-party testing; and its consulting services regarding meat speciation, allergens, mycotoxins, and veterinary drugs.
EMSL Analytical Inc. (emsl.com), a network of more than 40 laboratories and service centers, described its services, including microbiological analysis, nutrient analysis, chemical analysis, and analysis of allergens and toxins.
Entech Instruments (entechinst.com) introduced two new high-sensitivity headspace techniques for gas chromatography, allowing a more complete characterization of aroma compounds than ever before. The vacuum-assisted sorbent extraction technique makes compositional analysis through headspace extraction more quantitative and sensitive over a wider molecular-weight range, and the large-volume static headspace technique draws a large volume of equilibrated headspace directly onto a multi-capillary column trap to create a true aroma profile.
Erlab Inc. (erlab.com) described its ductless and filtering fume hoods, including the new Captair Smart ductless fume hood that uses Smart-Light Communication to indicate that it is operating safely.
ESHA Research (esha.com) described its formulation and labeling software. The Genesis R&D Food Formulation and Labeling Software allows users to easily convert analytical results for their products into the 2016 Nutrition Facts label format, which puts more focus on calories and makes vitamin D, potassium, and added sugars mandatory; the program's database has been updated to reflect the revised Daily Values for certain nutrients; and foods and ingredients have been populated with added sugar values. The Genesis R&D Supplement Formulation and Labeling software assists users in all aspects of supplement product development, including formulation, ingredient management, formula costing, advanced searching, and allergen declarations.
Eurofins Scientific Inc. (eurofinsus.com) described its laboratory methods for the food, feed, pet food, animal health, dietary supplement, pharmaceutical, and biotechnology industries, ranging from wet chemistry and real-time quantitative PCR to microbiological analyses.
Food Allergy Research and Resource Program (farrp.org), a partnership between the food industry and the University of Nebraska–Lincoln, described its products, services, and efforts in training and educating the food industry about food allergens.
Food Safety Net Services Ltd. (fsns.com) described the services that its network of testing laboratories provides to help companies with their food safety and quality programs, including auditing and certification.
Formulaction (formulaction.com) exhibited the Rheolaser Micro Rheology system, which uses wave spectroscopy to measure the viscoelastic properties of a sample at rest, and the Turbiscan Stability Analyzer, which measures creaming, sedimentation, flocculation, and particle size in high-concentration solutions without dilution, enabling prediction of stability.
Freeman Technology Inc. (freemantech.co.uk) exhibited the FT4 Powder Rheometer, which uses automated shear cells and a series of bulk property tests to quantify powder flow, and the new Uniaxial Powder Tester, which measures the uniaxial unconfined yield strength of a powder. The company also distributed "An Introduction to Powders," an educational guide that discusses the nature of powders and how they affect powder processing and characterization.
Genetic ID (genetic-id.com) described its food safety and verification testing services, including PCR-based analysis of DNA for GMO detection and quantification and testing for microorganisms, gluten, and animal species.
GERSTEL Inc. (gerstelus.com) exhibited its sample-preparation workstations and integrated analytical solutions for liquid chromatography (LC), gas chromatography (GC), GC/mass spectrometry (GC/MS), and LC/MS. The automated systems provide ultra-low detection levels in complex matrices while dramatically increasing sample throughput of a wide range of sample types.
Glycemic Index Laboratories (gilabs.com) described its clinical research facility for testing metabolic responses to foods and ingredients and the services the company offers, including acute testing (satiety assessment, markers of metabolism analysis, glycemic index determination, continuous blood glucose monitoring) and long-term trials (weight loss, cardiovascular disease risk factors).
Hamilton Grant Software Ltd. (hamilton-grant.com) described its formulation software that streamlines food product development; helps companies manage supplier and ingredient specifications, formulate recipes, and create labels; and allows companies to see the impact of changes in ingredients on cost, nutritional value, and ingredient lists.
Hanna Instruments Inc. (hannainst.com) displayed its pH meters, titrators, probes, buffers, solutions, and related laboratory equipment.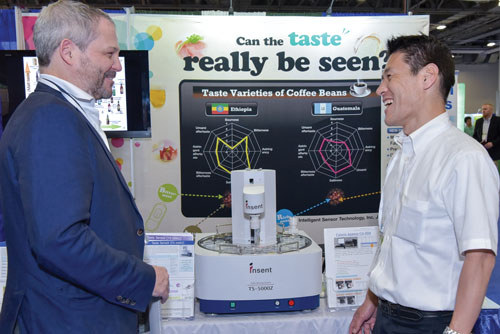 Higuchi Inc./Intelligent Sensor Technology (insent.co.jp/en) exhibited the intelligent Taste Sensing System TS-5000Z, which uses lipid membrane sensors to simulate the human tongue. It provides repeatable objective analysis of sweetness, bitterness, sourness, saltiness, umami, and astringency to aid in food formulation.
Horiba Instruments Inc. (horibalab.com) described its particle technologies for the food industry, including laser diffraction, dynamic light scattering, and dynamic image analysis.
Hygiena (hygiena.net) exhibited the EnSURE handheld monitoring system, which collects, analyzes, and reports data on multiple quality indicators, including ATP, coliform, E. coli, Enterobacteriaceae, total viable counts, and others.
IDBS (idbs.com) discussed how its scientific cloud technology software, the E-WorkBook Cloud, enables better recipe and ingredient management and data collaboration across new product development, analytical testing, and sensory evaluation. By combining the functionality of lab-based informatics solutions, the platform complements industry standard systems, addresses data management challenges, and leads to faster innovation and increased quality by leveraging historical insights and formulation data for future projects.
Institute for Food Safety and Health (iit.edu/ifsh) described its whole-genome sequencing programs, the Food Safety Preventive Controls Alliance, and the joint symposium on the microbiomes and how onsite scientists from the FDA work with industry members and graduate students to research innovative approaches to food safety challenges.
Indoor Biotechnologies Inc. (inbio.com), which specializes in allergens and immunoassay products and testing services, described its comprehensive portfolio of antibodies for the detection of environmental and food allergens; the antibodies are key components in ELISA kits and MARIA technology for allergen detection.
Integra Biosciences (integra-biosciences.com) exhibited the VIAFLO 96/384 electronic pipette, which has a servo-assisted steering mechanism that allows fast, precise, and stress-free multichannel pipetting without the need for position programming. The user moves the pipetting head to the desired pipetting position, and the pipette transfers 96 or 384 samples in a single step. The company also exhibited the MEDIACLAVE media preparator, which gently prepares the medium in a single container and monitors temperature, time, and pressure throughout the sterilization process, and the MEDIAJET automatic Petri dish filler.
Islamic Food and Nutrition Council (ifanca.org) described its halal certification and educational services regarding a set of dietary guidelines for Muslims following Islamic law. The organization certifies meat and poultry, gelatin, dairy, processed foods, ingredients, flavors, lubricants, sanitation chemicals, and other products.
Islamic Services of America (isaiowa.org) described its halal certification of products ranging from meat/poultry, flavors, vegetables/fruits, and dairy to oils, sauces, vitamins, and nonconsumable items.
Interscience Laboratories Inc. (interscience.fr) exhibited its equipment for microbiological analyses, such as the Diluflow dilutor, BagMixer lab blender, FlexiPump dispenser, easySpiral Dilute serial dilutor and plater, and Scan colony counter.
Invisible Sentinel Inc. (invisiblesentinel.com) exhibited its line of molecular flow–based test kits for detecting foodborne pathogens, which are the Veriflow STEC for Shiga toxin–producing E. coli, Veriflow LS for Listeria, Veriflow LM for Listeria monocytogenes, Veriflow SS for Salmonella species, Veriflow O157:H7 for E. coli O157:H7, and Veriflow CA for Campylobacter.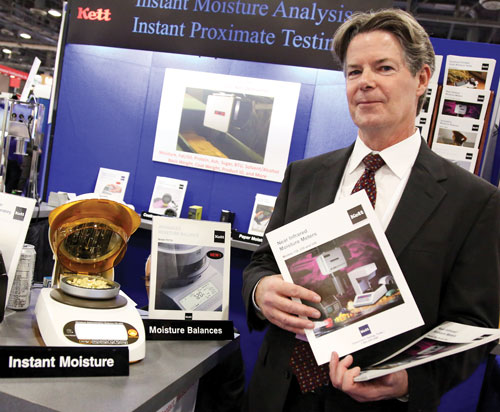 Kett US (kett.com) exhibited its line of moisture meters and distributed its educational moisture report on eliminating problems regarding instrument recalibration.
LECO Corp. (leco.com) described its analytical instruments such as mass spectrometers, chromatographs, and optical equipment, which can determine nitrogen/protein, moisture, and ash content, and thermogravimetric equipment that can provide multiple analyses such as total moisture and ash content from one sample and simultaneous analysis of up to 19 samples.
Log10 LLC (log10.com) described its consulting, research, testing, and training services for biocontrol and bioremediation of environments and finished food products. Services include onsite statistical process control, microbiological testing of food products and the environment, food safety consultation services, and cleaning and sanitation process reviews. The company also described its microbiological testing facilities and client-customized Pre-Liminate probiotic products that eliminate Salmonella, Listeria, and Clostridium from food and environmental surfaces.
Malvern Instruments (malvern.com) described its materials characterization technology for understanding and controlling the properties of dispersed systems. The instruments measure particle size, zeta potential, molecular weight, and rheological properties to help companies ensure consistency of incoming ingredients, rapidly test new formulations, accelerate innovation and product development, predict shelf life, streamline quality control, and increase productivity and yields.
Marathon Products Inc. (marathonproducts.com) exhibited the EDL-BT04 temperature and relative humidity data logger. It has a temperature range of –40°C to 125°C and a transmission range of 25 meters and features Bluetooth 4.0 technology. An Android phone app allows the user to instantly interrogate the data logger, create a PDF file of the recorded temperatures, and email the file anywhere in the world.
Maxxam Analytics (maxxam.ca) described its analytical services and solutions for the food, energy, environmental, and DNA industries. The company offers identification and quantification of pesticides, veterinary drugs, and trace heavy metals in a wide array of food products as well as nutritional, microbiological, and shelf-life testing.
Medallion Labs (medlabs.com) described its services, including chemical analysis, dietary fiber testing, microbiological analysis, shelf-life studies, product quality measurements, and process variability studies. The company also described the In Vitro Protein Digestibility Corrected Amino Acid Score service that safely measures the protein quality of alternative proteins in finished products and eliminates the need to use animal feeding studies.
Mercury Scientific (mercuryscientific.com) exhibited instruments for measuring powder flow, fluidization, granulation, caking, electrical charge, packing, and stability during handling and storage. The Revolution Powder Analyzer is a dynamic flow tester, the Evolution is a standalone uniaxial strength tester, and the Volution is a shear tester and ion charge analyzer.
Mérieux Nutrisciences (merieuxnutrisciences.com) described its food safety and quality testing services, including microbiological analysis, nutrient analysis, sensory evaluation, training, and consulting services regarding regulatory issues.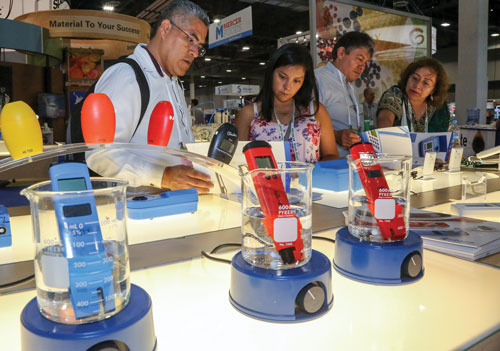 METER (aqualab.com) demonstrated the Demo Skala data management system for food quality assurance laboratories. The user connects instruments to the system's device-agnostic hub, and the system delivers data directly to a permanent, verified digital logbook, eliminating the need for transcribing, scanning, or filing. The company also exhibited AquaLab water activity meters, vapor sorption analyzers, and other instruments.
Mettler Toledo Inc. (mt.com/lab) showcased its analytical instruments, including balances, titrators, moisture analyzers, density meters, refractometers, pH meters, sensors, and thermal analyzers.
Midwest Laboratories Inc. (midwestlabs.com) described its new state-of-the-art microbiology laboratory dedicated to the analysis of foods, ingredients, and beverages. The facility handles testing in all areas of food production, including allergens, nutrition labeling, water quality, shelf life, Salmonella, and E. coli. The company also discussed recent enhancements to its food safety testing capabilities and answered questions regarding the new FSMA requirements.
NDC Technologies (ndc.com) exhibited the InfraLab e-Series at-line NIR food analyzer that measures the moisture, fat, protein, and collagen content of beef, poultry, pork, and lamb in less than 10 sec, independently of product and ambient conditions and with minimum sample preparation.
Neogen Corp. (neogen.com) exhibited its rapid test kits for food allergens, including peanut, milk, egg, almond, gliadin (gluten), soy, mustard, hazelnut, and the newest one, the Veratox for Sesame Allergen test, which provides results in just 30 minutes after extraction and has been validated for use in testing such food products as spices and bakery products and clean-in-place rinses. The company also described the new NeoSeek genomic services that utilize next-generation sequencing to determine all bacteria in a sample without introducing biases from culture media and without the need to generate a bacterial isolate for each possible microbe in a sample. The company also offers Reveal 3-D lateral-flow tests for allergens.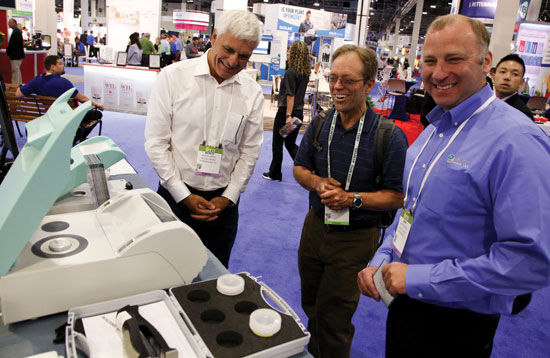 Neutec Group (neutecgroup.com) introduced the new LabMaster Neo Water Activity Meter being launched with the company's partner, Novasina Swiss, and described its other water activity meters.
NIZO (nizo.com) described how its flavor and texture, fermentation, protein technology, and processing expertise can help companies speed up recipe development, implement clean label processes, and quantify the true consumer acceptance of their products.
NP Analytical Laboratories (npal.com) described its product and ingredient testing services, including developing a nutrition label, monitoring ingredient quality, evaluating new product concepts, and verifying product safety. The company offers tests for basic food and ingredient composition, nutrient analysis, pesticide and toxin analysis, microbiological tests, and others.
NSI Lab Solutions (nsilabsolutions.com) exhibited Microbe Cocktails for Indicators and Microbe Cocktails for Pathogens, which simplify quality assurance testing in the microbiology laboratory. The company also described its allergen reference materials for gluten, peanut, soy, milk, egg, and crustaceans and reference materials for proximates in foods.
Ohio State University (fst.osu.edu) described how its Food Industries Center provides support for research, sensory, new product development, and short courses for industry. Other centers include the Food Innovation Center, Center for Advanced Functional Food Research and Entrepreneurship, Center for Advanced Processing and Packaging Studies, and Flavor Research and Education Center.
Paul Gardner Co. (gardco.com) exhibited the Lovibond EComparator Series instruments, which provide accurate electronic measurement of color. The instruments feature an intuitive interface with on-screen color and numerical displays and a touch screen that facilitates easy programmability with immediate accurate results.
PerkinElmer (perkinelmer.com/lab-solutions) exhibited the QSight Pesticides Analyzer, which combines a flow-based triple-quadrupole mass spectrometer and a high-performance liquid chromatograph into one system that provides efficient sample desolvation and ionization and the flexibility of analyzing a different class of compounds without the need to switch ion probes.
Perten Instruments Inc., a PerkinElmer company (perten.com), exhibited its NIR laboratory, at-line, and process analyzers that test for moisture, protein, oil/fat, fiber, and other content in foods and ingredients; the RVA and other rheology instruments; and food safety diagnostic kits using lateral-flow and ELISA technologies.
Pilot Lite Ventures USA (pilotliteventures.com) described its venture management services that help clients identify, validate, and launch intellectual property and new ventures.
Process Sensors Corp. (processsensors.com) showcased the MCT466-QuikCheck at-line NIR tester that measures moisture, oil/fat, and seasoning content and product temperature.
Product Safety Labs (productsafetylabs.com) described its safety, efficacy, and bioavailability studies and toxicology, pharmacology, and analytical services.
PSC Group LLC (psc-formularecipe.com) described the Aras Formula and Recipe Management PLM software that allows companies to eliminate spreadsheets and documents saved on a shared drive and instead obtain a centralized version. It tracks raw materials and formulas and the entire packaging hierarchy from ideation to launch.
Q Laboratories Inc. (qlaboratories.com) described its microbiology, analytical chemistry, and research and development laboratory services. The company provides pathogen detection, microbial identification via matrix-assisted time-of-flight ionization, nutrient analysis, allergen screening, food chemistry analysis, challenge studies, shelf-life studies, matrix extension/method verification studies, and environmental monitoring.
R&F Laboratories Inc. (rf-labs.com) described its customized research, shelf-life and challenge studies, microbiological testing, and onsite consulting regarding HACCP and sanitation issues.
Randox Food Diagnostics (randoxfood.com) described its tools for screening antimicrobials, growth-promoting hormones, and drugs of abuse in animals and produce as well as mycotoxin detection. Its capabilities include 38 ELISAs and 16 multiplex screening platforms.
Rega Biotechnology Inc. (regabio.com) exhibited Agitest Food Allergen rapid test kits for almond, buckwheat, casein (milk), egg, fish, gluten, peanut, shellfish, and soy.
Roka Bioscience (rokabio.com) described the Atlas System, which combines target capture, transcription-mediated amplification, and hybridization to detect Listeria, Salmonella, E. coli, and other organisms. The fully automated system targets ribosomal RNA (an optimal target for molecular technology in food pathogen detection applications) and delivers rapid, accurate, and reliable test results for food pathogens regardless of sample type. It can process more than 300 samples in an eight-hour shift.
RQA Inc. (rqa-inc.com) described the services of its product dynamics division, which provides product design and development, sensory evaluation, consumer insight, retail quality audits, counterfeit investigation, consumer complaint retrieval, and product retrieval and recall services. The company also offers crisis planning and management, food forensics contaminant investigation, and quality assurance and risk management services.
rtech Laboratories (rtechlabs.com) described its food safety and technology research facility and services for the food industry, which include microbiology and chemistry testing, nutrition labeling, sensory evaluation, consumer research, pilot-plant, and information research services.
Shimadzu Scientific Instruments (ssi.shimadzu.com) exhibited its analytical instruments and their applications in analyzing for pesticides, mycotoxins, toxic metals, additives, texture, and other targets.
Sympatec Inc. (sympatec.com) exhibited modular instruments for particle size and shape analysis of dry powders, granules, fibers, suspensions, emulsions, gels, sprays and inhalants ranging in size from 0.5 nm to 34,000 μm.
TEWS of America Corp. (tews-of-america.com) exhibited the MW 4300 microwave moisture and density measurement instrument, which provides results within seconds regardless of the density, flow, size, color, or temperature of the product and without requiring sample preparation. It can be used in the laboratory or at line. The company also displayed the MW 1150 microwave moisture instrument for laboratory or at-line use and described the MW 4260/70 instrument, which is designed for online moisture analysis.
Thermo Fisher Scientific (thermofisher.com) exhibited its Gallery and Gallery Plus automated photometric analyzers that provide colorimetric, enzymatic, and electrochemical measurements in a compact tabletop design. The photometric and electrochemical measurements can be run in parallel, provide simultaneous determination of several analytes from a single sample, and run up to 200 tests per hour.
ToxStrategies (toxstrategies.com) described its services for the animal food, feed, and pet food industries regarding ingredient and formulation safety, GRAS determinations, food additive petitions, microbiological safety, issue management, product and ingredient claims, and regulatory/scientific affairs.
Unity Scientific (unityscientific.com) introduced the Unity Food Analyzer, which is based on the SpectraStar XT NIR analyzer. The instrument determines the moisture, protein, fat, and other constituent content of such foods as snack foods, cereals, bakery mixes, and potato products in the laboratory or at line in 30 seconds. It comes with all the calibrations and accessories needed to analyze the specified products. The company also displayed its automated wet chemistry analyzers and composition analyzers.
Velp Scientific Inc. (velp.com) displayed analytical instruments, including instruments for nitrogen/protein determination, solvent extraction, fiber analysis, and other determinations of food, feed, and beverages.
VUV Analytics (vuvanalytics.com) displayed its vacuum ultraviolet (VUV) absorption spectroscopy instruments. Since everything absorbs strongly in the VUV spectrum, compounds can be easily identified and quantitated without the need for chromatographic baseline resolution, including co-eluting isomers. The VGA-100 mass-sensitive gas chromatography detector provides both qualitative and quantitative data; the VGA-101 detector features an expanded wavelength spectrum and a higher allowable maximum operating temperature; and the SVGA-100 Analyzer, the first streaming gas detector using VUV spectroscopy, provides real-time bulk and specialty gas monitoring.
Weber Scientific (weberscientific.com) exhibited its laboratory supplies for raw and finished-product testing and for overall processing and facility quality assurance, including its four-hour foodproof yeast and mold quantification PCR LyoKit for dairy products and its Peel Plate simplified culture methods for detecting microorganisms.
Neil H. Mermelstein, a Fellow of IFT, is editor emeritus of Food Technology ([email protected]).