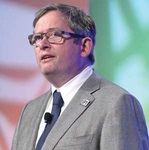 The IFT17 annual event in Las Vegas last month was framed around the theme "Go With Purpose". IFT President John Coupland reminded attendees of the importance of that theme at the Awards Celebration that officially kicked off IFT17, which took place Sunday to Wednesday, June 25–28. Coupland urged those on hand for the Awards Celebration to "take a moment and reflect on your purpose here."
Most would agree that IFT17 was a purpose-driven event for the 19,000-plus attendees from 84 countries who arrived in Las Vegas seeking to learn more about the latest science in educational sessions, discover ingredient and equipment innovations at the food expo, and network with food industry colleagues and friends. IFT17 also boasted a special highlight in the form of IFTNEXT programs and events designed to foster creative thinking. "IFTNEXT is about challenging us all to think big and bold … push boundaries through a thoughtful transdisciplinary approach that welcomes new, provocative, and future-forward ideas to inspire and propel innovative solutions to global food challenges," said Coupland. IFTNEXT programs at IFT17 included presentations, panel discussions, and more as well as a Start-Up Alley of dedicated exhibit space for cutting-edge entrepreneurs.
IFTNEXT is made possible through the generous support of Ingredion, IFT's Platinum Innovation Sponsor.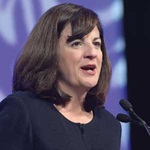 But now back to the Awards Celebration. Speaking there, IFT CEO Christie Tarantino-Deanreflected on some of the association's recent achievements, including the advent of a revitalized membership model designed to more directly address member needs. She also thanked Coupland for his service and commitment, including his particular dedication to raising the profile of the science of food.
Several members of the IFT leadership team joined Coupland on stage to receive a bit of recognition of their own and then to assist in presenting awards. Coupland singled out IFT Immediate Past President Colin Dennis, citing his contributions to IFT's robust new strategic planning process and the development of the IFT promises of develop, network, innovate, and advocate.
Coupland also welcomed IFT President-Elect Cindy Stewartto the stage, where she was later joined by President-Elect Designate Michele Perchonok.
The highest honor of the evening, the 2017 Nicolas Appert Award, went to Purdue University professor Jozef L. Kokini. Kokini has held prominent positions at the University of Illinois and Rutgers University in addition to Purdue. His research focuses on rheology, extrusion, materials science, and engineering properties of food materials.

Additional Achievement Awards recognizing singular achievements in research, applications, and service to the profession were presented. The 2017 Achievement Award winners, from left, in are Eric Decker, University of Massachusetts; S. Suzanne Nielsen, Purdue University; Gustavo V. Barbosa-Cánovas, Washington State University; V. M. "Bala" Balasubramaniam, The Ohio State University; Francis F. Busta, University of Minnesota (emeritus); P. Michael Davidson, University of Tennessee (emeritus); Christopher Doona, U.S. Army Natick Soldier Research, Development, and Engineering Center; Emmanuel Hatzakis, The Ohio State University; Manjeet Chinnan, University of Georgia (emeritus); Michael O'Mahony, University of California, Davis (emeritus); Soo-Yeun Lee, University of Illinois at Urbana-Champaign; Jozef L. Kokini, Purdue University; Louise Wicker, Louisiana State University; and Joseph Jen, California Polytechnic State University (emeritus). Not pictured is Guy H. Johnson, Johnson Nutrition Solutions.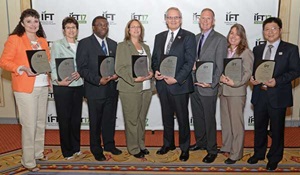 Members of the 2017 Class of IFT Fellows, who were celebrated for their extraordinary qualifications and contributions to the profession, are pictured in. They are, from left, MaryAnne Drake, North Carolina State University; Beverly Tepper, Rutgers University; Rotimi Emmanuel Aluko, University of Manitoba; Claire Koelsch Sand, Packaging Technology and Research; Geoffrey Smithers, GWS Food Industry Consulting Services; Gordon Smith, Kansas State University; Tara McHugh, U.S. Dept. of Agriculture, Agricultural Research Service; and Bo Jiang, Jiangnan University.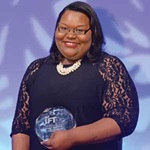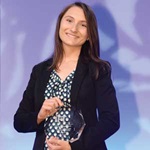 Shantrell Willis, a graduate student at Alabama A&M University and an active volunteer in both IFT and IFTSA, was the recipient of the Excellence in Leadership Graduate Award. Another dedicated volunteer, Laura Borovilos, a student at California Polytechnic State University San Luis Obispo, was presented with the Excellence in Leadership Undergraduate Award.
Amadeus Driando Ahnan, a PhD candidate at the University of Massachusetts Amherst, was honored for his first-place win in the Journal of Food Science Education's annual Food Science in Action video competition, which asked students to investigate a food science mystery.
Awards Celebration recognition also included the IFT Media Award for Excellence in Consumer Journalism presented to freelance health and wellness writer Marygrace Taylor.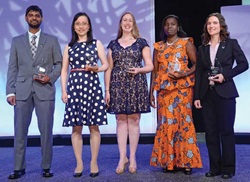 Five young professionals from around the world were honored with the Emerging Leaders Network Award. Presented for the first time this year, the award acknowledges emerging leaders in the science of food who have demonstrated high potential for success in leadership roles and a strong commitment to the profession. The 2017 honorees are, from left, Akshay Kumar Anugu, Ingredion; Bicheng Wu, Ingredion; Diane M. Schmitt, Wegmans Food Market; Jean Pankuku, Universal Industries; and Roasalee Helberg, Chapman University.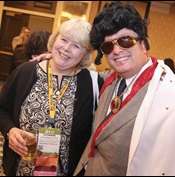 Immediately after the Awards Celebration, the festivities continued at the Welcome Reception. The reception is always a fun time, but this year's event had a special feature. In a nod to the Las Vegas destination, Elvis (AKA IFT President John Coupland) made a surprise appearance to mix and mingle with the crowd; here he poses with Catherine Cutter of Pennsylvania State University.
Also recognized at the Awards Celebration were the volunteers who make up the IFT Board of Directors. Members of the board met just prior to the start of IFT17 and during the course of that meeting took time out for an official photograph. Pictured in, front row, from left, are Sarah Kirkmeyer, Carolyn Fisher, IFTSA President-Elect Morgan Von Staden, IFT President-Elect Designate Michele Perchonok, IFT President-Elect Cindy Stewart, IFT President John Coupland, IFT Immediate Past President Colin Dennis, IFT CEO Christie Tarantino-Dean, IFTSA President-Elect Designate Elizabeth Clark, IFT Treasurer Robert Gravani, and Chris Findlay. Back row, from left, are Jonathan Gray, Chris Downs, Scott Lineback, Roger Lawrence, Dawn Merrill, IFTSA Immediate Past President Amy DeJong, Lauren Shimek, Sharrann Simmons, Soo-Yeun Lee, Vickie Kloeris, Pam Coleman, R. Paul Singh, Feeding Tomorrow Chair Noel Anderson, IFTSA President Matt Teegarden, Robert McGorrin, and Bryson Bolton.
Many volunteers celebrated the Elvis/Vegas connection during IFT17, posing with pop-up Elvis figures that turned up at various locations throughout the event. Posing with The King in are, from left, IFT President-Elect Cindy Stewart, Feeding Tomorrow Chair Noel Anderson, and IFT Past President Robert Gravani.
Thinking Big at IFT17

Sharing ideas is at the core of every annual event, and featured sessions at IFT17 were dedicated to delivering on that, starting with a Monday morning panel discussion titled "Processed Foods: The Good, the Bad, and the Science" moderated by award-winning journalist Tamar Haspel. Participating panelists included obesity expert and medical doctor Yoni Freedhoff, Cargill R&D vice-president Chris Mallett, historian Rachel Laudan, and consultant Richard Black.

Tuesday morning's featured session was a true crowd pleaser—a screening of the IFT-commissioned documentary film Food Evolution, a powerful exploration of the polarizing debate about the safety of genetically modified organisms (GMOs) designed to promote a rational dialogue about the use of sound science. Audience members responded enthusiastically to the documentary, delivering a standing ovation when two key scientific sources featured in the film, Alison Van Eenennaam, a University of California, Davis, animal genomics and biotechnology specialist, and Emma Naluyima, a veterinarian and award-winning small farmer in Uganda, took the stage for a discussion after its conclusion along with Food Evolution director Scott Hamilton Kennedyand writer/producer Trace Sheehan.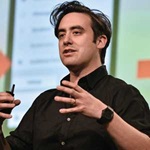 On Monday afternoon, TED Senior Fellow and scientist, professor, and entrepreneur Andrew Pellingpresented a featured session titled "A Conversation With Andrew Pelling" that explored his unique approach to research, which celebrates the value of scientific curiosity unhindered by the requirement that it address a particular application.
Pelling's talk was presented under the IFTNEXT banner, as were a series of other thought-provoking talks and panel discussions that took place on the IFTNEXT stage located in the space outside the exhibit hall.
In participants in a session titled "Design Thinking for Food" take a hands-on approach to a rapid prototyping exercise. In participants in a panel discussion on "Ideal Food Material Specification" invite questions from the audience. And in audience members in an interactive discussion on GMOs give the topic some serious consideration.
So Much to Learn at IFT17
Scientists and other industry experts from around the globe participated in IFT scientific and applied sessions that addressed topics ranging from pathogen prevention to plant-based diets.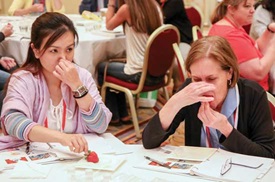 The IFT17 learning started early with a series of nine pre-event short courses, including the always popular and often interactive Food Science for the Non-Food Scientist. A two-day Certified Food Scientist (CFS) Prep Course attracted a large group of participants. In CFS prep course instructor Eric Greenberg explains concepts covered on the CFS exam to attendees.
And speaking of early learning, several 7:45 a.m. primer sessions brought early risers up to speed on topics ranging from food allergies to food labels. In Kevin Keener of Iowa State University explores the topic of cold plasma in food processing.
A series of four carefully curated Hot Topic sessions addressed high-impact trends and topics. In Jill Brigham of the Sustainable Wine & Food Processing Center at the University of California, Davis, takes part in a session on the future of water and its impact on the world. In Hannah Holscher of the University of Illinois at Urbana-Champaign delves into the topic of gut health.
To help IFT17 attendees efficiently plan their educational agendas, scientific and applied sessions were organized within a framework of 12 tracks, including one dedicated to teaching and learning. A highlight of the program's teaching-oriented programming was the Fennema Lectureship & Workshop, which this year featured presenter Julie Schell, a leading expert in pedagogy and learning innovation in higher education.
Printed poster presentations are a venerable tradition at the annual event, and this year there were nearly 700 poster presenters as well as 30 ePoster sessions.
Although the IFT17 sessions are over, it's still possible to tap into the information and ideas shared at the annual event. All full-paid IFT17 registrants have complimentary access to the IFT17 session catalog, which includes audio recordings and PDF slides of 70-plus sessions, video recordings and slides of featured presentations, and more. Others may purchase access to the catalog by visiting the "Learn" section of the IFT17 website (ift.org/ift17).
Experiencing the Expo Energy

For those seeking to get a feel for the pulse of the food industry, it would be hard to find a better place to experience it than the IFT food expo, which may explain why the energy was so consistently high on the show floor in the Venetian Sands Expo Center. A total of 1,154 exhibitors showcased ingredients, equipment, and services during the three days of the expo.
Innova Pavilion. Clean and clear has become the new global industry standard, which is why "Clean Supreme," was No. 1 on Innova Market Insights' list of Top 10 Trends at the Taste the Trend Pavilion on the show floor. "Disruptive Green" was No. 2 on this year's trend list, a reflection of the momentum that meatless eating has gained. A total of 30 eye-catching infographics were highlighted in the Innova pavilion, as well as displays of products and packaging from around the globe. Along with all of that, Innova Market Insights experts offered daily presentations on the themes of "Active Nutrition" and "Plant-Powered Growth," as well as the "Top 10 Trends of 2017."
Mintel Pavilion. Attendees looking to stay abreast of important market trends frequently made their way to the Mintel Intelligence Zone on the show floor, where food and beverage analysts from the research and consultancy firm Mintel International shared their insights, providing real market examples and offering future forecasts. Eight live main stage talks were presented daily on topics including "In Living Color," "The Relaxation Revolution," and "Winners and Losers in Food and Drink." Those stopping by the Intelligence Zone also had the opportunity to check out a variety of innovative new product offerings identified as noteworthy by the Mintel team.
On the Move at the Expo. The Pedometer Challenge sponsored by Wellmune, a Kerry brand, encouraged IFT17 attendees to stay focused on fitness and take advantage of the 900,000-plus square feet of walkable floor space onsite. Participants picked up a pedometer and recorded their steps to compete for daily prizes as well as a grand prize.
More IFT17 Highlights
Emerging Leaders Network. The four pillars of leadership—leading change, leading people, leading collaboratively, and leading strategically—were focal points for the Emerging Leaders Network event held prior to the start of IFT17. The event brought together 42 talented young professionals from around the globe along with six peer mentors. In addition to a full schedule of seminar activities, participants had the opportunity to interact with members of IFT's leadership team at a networking reception. Appli-cations for the IFT18 Emerging Leaders Network leadership seminar will be available this fall.
Section Leadership Event. Seventy section leaders representing 39 IFT sections participated in this year's Section Leadership Forum. At the event, facilitator Steve Swafford led the group through exercises aimed at creating high-performing section teams and motivating and recognizing section volunteers.
Reviewers' Reception. Scholarly expertise was in the spotlight at the Reviewers' Reception, an event held to acknowledge the contributions of the many volunteer peer reviewers who lend their expertise to evaluate the thousands of manuscripts submitted to IFT's journals. In Amanda Ferguson, associate director, IFT scientific journals, and E. Allen Foegeding (right), editor in chief of IFT scientific journals, present the Manfred Kroger Outstanding Reviewer Award to Joe Regenstein of Cornell University.
Division Networking Reception. The atmosphere was definitely festive at this annual reception featuring refreshments, prizes, and the chance to interact with members of IFT's 24 divisions—with a little selfie-taking thrown into the mix.
Past President's Dinner. Many of IFT's past presidents mingled with current leadership at the annual Past President's Dinner. Pictured in, front row, from left, are IFT President John Coupland, Roger Clemens, Mary Schmidl, Ted Labuza, John Litchfield, Mary Ellen Camire, and Robert Gravani. Back row, from left, are IFT CEO Christie Tarantino-Dean, IFT President-Elect Cindy Stewart, Frank Busta, Janet Collins, John Ruff, Dennis Heldman, Daryl Lund, IFT Immediate Past President Colin Dennis, and President-Elect Designate Michele Perchonok.
Career Center Live. Hundreds of job seekers and recruiters from more than two dozen companies enjoyed an afternoon of informal networking on the first full day of IFT17. The open networking event was followed by two days of formal interviewing.
An International Celebration. The International Partners Reception was a unique opportunity for IFT partners from around the globe to meet with IFT's Office of the President and also with leaders at peer organizations. Association leaders from Nigeria, the United Kingdom, Canada, Brazil, Australia, Costa Rica, South Africa, and many others were present to network and share experiences in this once-a-year global networking event.
CFS Networking Breakfast. IFT President John Coupland addressed fellow Certified Food Scientists at the annual CFS Networking Breakfast during IFT17. New Certified Food Scientists were recognized, and those in attendance received the latest updates on the CFS program.
Fun + Fitness. Feeding Tomorrow, IFT's foundation, introduced a virtual fitness fundraiser this year that allowed participants to register online and log their fitness activity between May 1 and June 30, with the registration fee supporting scholarships for food science students. An early morning yoga session at IFT17let fitness fans get their day off to healthy start followed by a breakfast afterparty. A casual run and walk were scheduled but were canceled in light of an unexpected extreme heat wave in Las Vegas.
Sharing Session for K-12 Educators. Las Vegas–area science educators and guidance counselors were invited to participate in a roundtable discussionon the resources available that encourage students to pursue careers in the science of food, a session sponsored by Feeding Tomorrow, IFT's foundation. A tour of the food expo floor followed, allowing educators to get an up-close look at food science innovations and applications.
On the IFT17 Schedule for Students
Learning with purpose topped the agenda for the many members of IFTSA who capitalized on the IFT17 experience. The IFTSA Student Lounge, sponsored by PepsiCo, provided the ideal spot for exchanging ideas and relaxing throughout the course of IFT17.
The IFTSA Closing Ceremony held on the second-to-last day of the event is always an important gathering place for student members. IFTSA President Matt Teegarden welcomed the crowd and shared highlights of the past year. Here's a look at some of the student-focused highlights at IFT17.
Go With Purpose Global Challenge. In this new event, 12 students from around the globe explored the food expo, scientific sessions, and IFTNEXT programs in order to discover potential solutions to a case study they were presented with at the start of the event. A group of industry mentors provided support.
In, Global Challenge participants are pictured with some of IFT's leadership, with whom they mingled at an International Partners Reception onsite. Front row, from left, are Global Challenge mentor Bertrand Emond, Campden BRI; IFTSA President Matt Teegarden; Global Challenge mentor Katherine Maloney, Novozymes; Ariel Garsow, University of Minnesota; Alice Nield, University of Reading; Cenette Bezuidenhout, Stellenbosch University; IFTSA Program Chair Kelsey Kanyuck; and IFTSA President-Elect Morgan Von Staden.
Back row, from left, are IFTSA Immediate Past President Amy DeJong; IFT Past President Colin Dennis; Millicent Shinkfield, University of Adelaide; IFT President-Elect Designate Michele Perchonok; Michelle Reyes, Pennsylvania State University; IFT President John Coupland; Oliver Meldrum, University of Queensland; Alice Bryant, University of Reading; Kgomotso Dhlangamandhla, University of Pretoria; IFT President-Elect Cindy Stewart; and IFT CEO Christie Tarantino-Dean.
College Bowl. Eight finalist teams from around the country participated in the annual College Bowl competition at IFT17, and the team from Pennsylvania State University emerged victorious. Members of the winning Penn State team are pictured in. From left are competition moderator Mary Carunchia of PepsiCo, Lisa Caprera, Venkata Rohit Charepalli, Xiaoqing Tan, Vijaya Indukuri, Jaye Aster Broder, and Donna Anderson of Nestlé Purina, one of the competition judges. The University of Wisconsin–Madison placed second in the competition, and the University of California, Davis, came in third. The other finalist teams were from Purdue University, the University of Massachusetts Amherst, Chapman University, Louisiana State University, and the University of Georgia. The competition was sponsored by Nestlé Purina.
IFTSA & Mars Product Development Competition. Jak'd Jerky, a vegan jerky packed with the fresh flavor of a summer garden, earned the Cornell University team first place in this prestigious annual competition. Team members pictured in include (front row, from left) Micah Martin, Brandon Yep, and William Borchert and (back row, from left) Isabel Alster, Halle Bershad, Kaitlin Steinleitner, Jessica Kwong, Alexa Capano, and Anna Xu. Not pictured is team member Molly Mandel. Second place in the competition went to Michigan State University, and the University of Wisconsin–Madison placed third. Teams from Pennsylvania State University, Virginia Polytechnic Institute and State University, and Rutgers University received honorable mention recognition. The competition was sponsored by Mars Chocolate North America.
Developing Solutions Competition. Students from the University of Costa Rica claimed victory in this competition in which they created new products and processes to help improve the quality of life in developing countries. Their winning product was Guini, a multifunctional sweet tortilla dry mix. Members of the University of Costa Rica team pictured in are, from left, Tatiana Fuentes, Ana Ligia Vargas, Stephanie Araya, and Mariana Wilson, shown with Sarah Scholl of Tate & Lyle (far right), one of the competition judges. Teams from Bogor Agricultural University placed second and third in the competition. Honorable mentions went to teams from the University of Wisconsin–Madison, Wageningen University, and California Polytechnic State University San Luis Obispo. The competition was sponsored by Tate & Lyle.
Disney–IFTSA Product Development Competition. Asked to concoct a nutritious snack for kids in this product development contest, team members from Pennsylvania State University came up with Snow White's Apple Delights, an apple wafer and fruit leather sandwich that earned them the grand prize. Penn State team members pictured in are (front row, from left) Laurel Vernarelli and Aura (Kuier) Zhao and (back row, from left) Weslie Khoo, Ben Chrisfield, and Mitchell Culler. Other winners in the Disney competition included the University of Guelph, which placed first, and honorable mention recipients California Polytechnic State University San Luis Obispo, Michigan State University, and Virginia Polytechnic Institute and State University. The competition was sponsored by Disney Consumer Products.
Undergraduate Research Competition. An independent research project titled "Delivering flavor: Orange oil nanoemulsion encapsulated in filled soluble hydrogel complex"brought first-place recognition in IFT's annual Undergraduate Research Competition to Anya Kwan of Harvey Mudd College. Kwan is pictured in with IFTSA President Matt Teegarden. Dean Hauser of Cornell University placed second in the competition and Ana Schmenk of The Ohio State University came in third.
Thesis Video Competition. Creating a video highlighting his original research related to a spoilage yeast that affects the quality of red wine earned Washington State University graduate student Zachary Cartwright top honors in the 2017 IFTSA Thesis Video Competition sponsored by Campden BRI. Cartwright won a 10-day trip to the United Kingdom to visit food research organization Campden BRI.
Chapter of the Year. Rutgers University was recognized as the 2017 IFTSA Chapter of the Year. In chapter president Robyn Miranda accepts an honorary plaque from IFTSA President Matt Teegarden. The Rutgers chapter was also acknowledged for its outstanding performance in the area of organizational growth. Other chapters honored include those at Cornell University (public outreach), California Polytechnic State University Pomona (membership experience), and North Carolina State University (national engagement).
Thinking Ahead
Although the summer of 2017 is far from over, next summer's annual event—IFT18: A Matter of Science + Food—will be here before we know it. It will take place July 15–18, 2018, on IFT's home turf of Chicago, and planning is already well underway. It's not too early to start thinking big.
---