There's no denying the profound effects that the internet and social media have had on society.
Everything from brick-and-mortar stores losing customers to the online behemoth Amazon to the political landscape is being reshaped. The food industry is not immune to this either. The internet has given consumers quick and easy access to information (both good and bad) that they never had before, and social media has emboldened people to offer up their opinions on everything (again, both good and bad). While plenty of reputable sources on food issues, products, and ingredients exist on the web, consumers are often swayed by the hyperbole and emotion presented by sources that are less than authoritative. Armed with information from sources of all stripes, many consumers are pressing the food industry to make changes to the ways they do business and the ways that they formulate food and beverage products. For the food industry—like it or not—this is a game-changing moment resulting in food manufacturers reformulating products to position them as minimally processed or to replace synthetic ingredients, everything from flavors and colors to hydrocolloids and preservatives, with naturally derived ones.
Ingredient exhibitors at the IFT17 food expo featured these ingredient solutions and more; some even dedicated their entire booth presence to providing clean label, minimally processed, or naturally derived ingredients. In addition to naturally derived colorings, plant-based proteins, and preservatives made from vinegar or rosemary, ingredient exhibitors offered up fats and oils free from partially hydrogenated oils to meet the upcoming mandate to remove PHOs from the food supply and sweetener options that will help manufacturers reduce the amounts of added sugar in formulations. Read on for a recap of some of the ingredient innovations that help food manufacturers keep up with the shifts in the marketplace, consumer demands, and new regulations.
Organic Rice Vinegar Joins Lineup
Mizkan America Food Ingredients Division, Mount Prospect, Ill. (mizkan.com), recently introduced organic rice vinegar to its organic vinegar line, which includes organic apple cider, white distilled, balsamic, red wine, and white wine vinegars. Mizkan featured some of these organic vinegars in several product concepts. The organic apple cider vinegar was used in Triple Green Chile Crab Cake Eggs Benedict, Red Jalapeño Moroccan Chicken Skewers, and Classic Shrub, while the organic red wine vinegar was used in the vinaigrette for a Farmers Market Vegetable Salad.
In addition to manufacturing a wide variety of vinegars and vinegar ingredients, Mizkan also makes cooking wines, denatured spirits, reductions, and pepper ingredients. Fried Cheese Curds With Spicy Green Chile Ranch and Herb Salad featured diced green chiles, Green Chile Butter Chicken on a Seared Polenta Cake was made with diced green chiles and diced red jalapeños, and Red Jalapeño and Maple Glazed Ham With Green Chile Cornbread had diced green chiles, diced red jalapeños, and pickling vinegar.
Choose Your Own Eating Path
Cheat Day or Clean Eating. Which did you choose at the booth for Synergy Flavors, Wauconda, Ill. (synergytaste.com)? The company organized its booth into two sections and encouraged visitors—with the help of several flavorful products concepts—to choose whether they preferred indulgent or clean eating trends.
Parveen Werner, associate director of marketing, said the company wanted to show how the company's extracts, flavors, and essences could be used to develop foods that appeal to consumers looking for a healthful food product or an indulgent treat while having fun with the interactive booth theme. For those attendees wanting a healthful treat, Synergy prepared a Raspberry Vanilla Oak Tea, Cold Brew Coffee—Nitro, and two flavored nut butters in toffee and coconut. The company manufactures Synergy Pure coffee, tea, and vanilla extracts that give food and beverage manufacturers ingredients that provide true, consistent flavor from batch to batch.
On the other side were indulgent product concepts for attendees allowing themselves a cheat day. Cookie Dough Truffles in Unicorn (Birthday Cake), Chocolate Mint, and Caramel Nut were little bites of layers of flavor, while the S'mores Brownie Bites were portable snacks with a fudgy brownie base topped with fluffy marshmallow cream. A nonalcoholic Gin & Tonic Float featured juniper-flavored ice cream and lime soda.
A Fountain of Colorful Soda
GNT, Tarrytown, N.Y. (gnt-group.com), served up some colorful craft sodas at its booth. Flavor options included Citrus Mint Mojito, containing its EXBERRY Celestial Yellow and Blue MN; Raspberry Black Currant, made with EXBERRY Purple Mist; and Tangerine Pineapple, which featured Celestial Yellow and Mandarin. The company also demonstrated the Mandarin and Celestial Yellow shades in a savory Mac 'n Cheese Waffle With Cheese Sauce, which featured crispy, griddled macaroni and cheese topped with gooey, oozy cheese.
IFT17 News: Label-Friendly Food Preservation
New Ingredients Keep Food Safe and Stable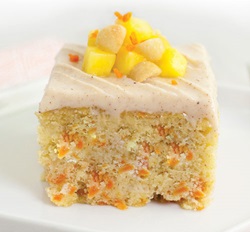 Corbion, Lenexa, Kan. (corbion.com), presented new solutions to help food manufacturers continue to innovate and meet the needs of consumers. The first was the launch of Verdad Opti Powder N70, an antimicrobial effective against Listeria monocytogenes, Clostridium perfringens, Clostridium botulinum, and other pathogens in meat and poultry products. The ingredient, which is labeled as cultured sugar and vinegar, has 35% lower sodium than vinegar powder. The ingredient was formulated into a Chimichurri Chicken Satay product concept. Corbion also focused on the recently launched SweetPro, an emulsifier that aerates, retains moisture, and produces stable emulsions in sweet bakery applications. Other advantages of using the ingredient are that it eliminates the use of partially hydrogenated oils and reduces the amount of saturated fat in the finished product. Carrot Cake featured the SweetPro ingredient.
Another highlight was showing attendees clean label ingredient solutions to help preserve chilled prepared foods and salads. Verdad Powder N6 is based on white distilled vinegar and can replace sorbate and benzoate. Samples of Red Pepper & Chickpea Hummus made with the ingredient were available.
PURAC Powder MA, a coated malic acid powder, gives an instant, sour flavor release to soft, chewy candies. Chewy candies are an application in which a sour flavor is popular—and expected—but Corbion presented the ingredient in a product concept usually thought of as savory or sweet: popcorn. For that product concept, the ingredient gave a clean sour taste.
The other product concepts presented at the booth included ingredients to prevent against microbial spoilage, enhance texture, reduce the speed of staling, and enhance flavor. The samples were Philly Cheesesteak, Honey Cakes, Pigs in a Blanket, and Savory Ham & Turkey Quiche.
Hello to High-Fiber Wheat
Bay State Milling, Quincy, Mass. (baystatemilling.com), discussed some of the company's recent business activities, including acquiring a stake in Saskatoon, Canada–based MGM Seed & Grain. MGM is building a state-of-the-art oat processing facility in Saskatoon, which will help Bay State provide a secure supply chain for gluten-free oats. Representatives also shared information about Bay State's new HealthSense high-fiber wheat flour. HealthSense is derived from wheat high in amylose, which increases the concentration of resistant starch. Resistant starch has been shown to decrease glycemic response to foods, according to the company. The ingredient is said to perform the same as regular flour in grain-based foods.
"HealthSense high-fiber wheat flour is a game-changing food ingredient," said Pete Levangie, Bay State CEO. "With the increasing incidence of diabetes in North America, fiber consumption recommendations on the rise, and the advancements in our understanding of the importance of gut health, HealthSense can have a profound impact on human health in the very near future."
A Taste of Holland
The Holland Food Valley booth brought together an assortment of the companies that represent the agricultural offerings of the Netherlands. The Netherlands is globally the second-largest food exporter in terms of value, according to Maarten Schans, industry specialist, agri and food, for The Netherlands' Ministry of Economic Affairs.
At the show, Food Technology spoke with three Dutch food and technology companies. NIZO, Ede, the Netherlands (nizo.com), is a commercial research institution that works on food industry issues. "IFT is about food and technology—so is NIZO," said René Floris, manager for the flavor and texture division. The 70-year-old company has worked with major food companies in North America and has provided solutions for companies looking to establish health claims. NIZO relies on a multidisciplinary approach to help the food industry respond quickly to trends, including plant protein and clean label.
Scelta, Venlo, the Netherlands (sceltamushrooms.com), sells everything but fresh mushrooms and has built a business around taking advantage of waste streams from mushroom processing. "All the taste literally went down the drain," explained sales manager Rico Lansbergen. The company utilizes water left over from blanching mushrooms and discarded stems in its Waste2Taste extracts, which are available in concentrate and powdered forms. These ingredients are available in North America through a partnership with Camlow, which sells them under the Camlow BP name. They can be used to help reduce sodium while retaining flavor and can be labeled as mushroom powder or natural flavor.
Royal Buisman, Zwartsluis, the Netherlands (royalbuisman.com), has a long history selling caramelized sugars in Europe, according to André den Hartog, product and business development manager. Now the company hopes to strike up relationships with U.S. companies. The 150-year-old company provides light and dark brown caramelized sugars in liquid and powdered forms. These can be used to add flavor to bread, coffees, brownies, soups, and sauces.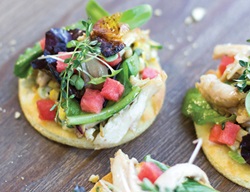 Clean Label Insights
While more than half of consumers surveyed say that they are familiar with the term clean label, only 38% say that they have a strong understanding of what clean label means, according to new research released by Kerry, Beloit, Wis. (kerry.com). Consumers are defining it as everything from all natural, non-GM, or no additives to minimally processed, sustainably produced, and made with real ingredients, the research points out. The researchers at Kerry plan to use the results from this survey and others to be released over the coming months to discover what drives consumers to define clean label as they do to help food manufacturers develop strategies to help their brands better target the specific needs of consumers.
At its booth, Kerry concentrated its efforts on all things clean label, first by having experts on hand to discuss the results of its research study, and second by formulating a series of product concepts with clean label ingredients. A Cherry Hibiscus ImmuniTea contained Fruit Crystals and natural flavors that replaced artificial flavors, while a Sugar-Reduced Chocolate Milk utilized Kerry's TasteSense and texture systems to remove high fructose corn syrup from the formulation and reduce sugar. Plant-based proteins are being used to replace meat, dairy-based proteins, and soy. Kerry offered a Chocolate Raspberry Plant Protein–Based Wellness Drink as well as a Plant Protein-Based Spicy Asian Taco. Because of the use of plant proteins, the company suggested that the taco could be positioned as being made with sustainable and environmentally friendly ingredients. Others included a Southern Fried Chicken Flatbread that utilized Kerry's ProDiem plant protein; Cucumber Mint Mojito Snack Bar with reduced sugar and natural flavors; Clean Label Queso Dip made without sodium phosphates, citrates, sorbic acid, emulsifiers, preservatives, and hydrocolloids; and Cold Brew Coffee Extract that can replace flavors in formulations.
Replacing Vanilla
Prova, Montreuil, France (prova.fr), a maker of sweet brown flavorings, shared some insight into its customers' desires at IFT17.
According to research Prova conducted, companies are looking for ingredients that deliver on a few trending areas, including clean label and allergen-friendly offerings. But with growing concerns about the availability—and rising costs—of natural vanilla, customers are also looking for affordable vanilla solutions, Prova learned.
To answer this challenge, Prova offers vanilla alternatives that can be labeled as "Vanilla With Other Natural Flavors" or "Natural Type Flavor."
"Our vanilla alternatives taste like the real thing, with the added benefit of significant cost savings," explained William Graham, PROVA's vice-president of sales, North America.
Provanil-US7, one such alternative to natural vanilla, can be used at the same or lower levels as vanillin, provides a better flavoring yield, and improves fat solubility. The ingredient was featured in some of the rotating varieties of truffles sampled at the booth each day, including in a Dulce de Leche Brownie–flavored milk chocolate variety. Other truffles included a Honey Bergamot white chocolate and S'Mores dark chocolate. Prova also sampled several flavored beverages, such as a Coconut Almond Milk Chocolate and a Mocha Soy Milk. The company also had a representative on hand to show the performance of its vanilla alternatives in a series of mini vanilla cookies.
A Range of Ingredients
Jungbunzlauer, Newton Centre, Mass. (jungbunzlauer.com), showcased a range of its ingredients intended for convenience foods, meat alternatives, and dairy alternatives. The ingredients in its lactics group can be used for food safety, as its lactate and diacetate blends inhibit microbiological growth, extend shelf life, and reduce food waste. Its lactic acid can be used to adjust the intensity and duration of acid taste in beverages and sauces and can be used as an electrolyte source in sports drinks. Jungbunzlauer used its L(+)-Lactic Acid 90% in a Rosemary Herb Nut & Seed Cluster at the show, along with its ERYLITE Stevia 100, xanthan gum, and sub4salt, the company's mineral salt blend that can replace sodium by up to 50%. Jungbunzlauer also sampled a reduced sugar, mineral-fortified protein bar made with ERYLITE Erythritol.
Brewing Up Tea Solutions
Amelia Bay, Johns Creek, Ga. (ameliabay.com), promoted its brewed tea offerings in a range of samples at IFT17, including in an organic matcha green tea with pineapple and mango and in a lightly sweetened organic black tea. The company's liquid brewed teas offer manufacturers many benefits. They address clean label concerns, as they allow companies to remove citric acid from formulations and add "brewed tea" to labels. The teas also offer time and cost savings for manufacturers that are currently batch brewing their own tea, such as for use in kombucha. John Harper Crandall, vice-president of sales, explained that Amelia Bay's liquid extract also gives companies a more consistent product, especially as companies scale up production—he estimated this product could cut production time by as much as half.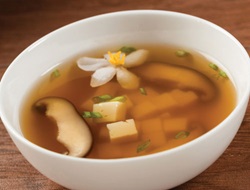 Tackling Top Concerns
Food manufacturers want ingredient solutions to help them develop products with simple ingredient statements, added nutrients, and textures and flavors that appeal to the senses. Ingredion, Westchester, Ill. (ingredion.us), formulated an extensive lineup of product concepts to showcase how its ingredients address product developers' top concerns.
Organized into sections dedicated to three topics—clean and simple, health and nutrition, and sensory experience—the booth was staffed with Ingredion experts ready to share insights with attendees and distribute innovative product concepts. Several noteworthy ones included Baked Masa Chips that featured PRECISA Crisp 930 food starch that helped produce a differentiated texture and harder bite and Roasted Poblano and Sweet Corn Dip made with NOVATION PRIMA 340 functional native waxy corn starch for a creamy mouthfeel and clean label. NOVATION PRIMA 350 functional native corn starch instantly thickened the braising liquid and shortened the cooking time for the sauce in a Braised Jackfruit Guisado product concept. BESTEVIA Reb M stevia leaf sweetener provided sweetness without a bitter off-taste in a clean label No Sugar Added Marion Blackberry Iced Tea. Pulse ingredients were the key to creating several of the product concepts. A combination of HOMECRAFT Pulse 4101 flour and VITESSENCE Pulse CT 3602 protein plus texturizers were used to create Burmese Chickpea "Tofu," while VITESSENCE Pulse CT 3602 faba bean protein was combined with cocoa powder, sugar, and other ingredients to formulate Chocolate Pulse Protein Spread. The faba bean protein, which is part of Ingredion's clean taste pulse protein line, was also used to create two other protein-rich product concepts. A small percentage of the pulse protein in a standard chocolate formulation provided 5 g of protein/40 g serving without affecting the flavor and texture of Pulse Chocolate Chunks. The ingredient was also used to fortify a dairy alternative Vegan Coconut Milk Pulse Yogurt, again without affecting the taste of the finished product.
Sparking Beverage Innovation
Watson, West Haven, Conn. (watson-inc.com), showcased some of its packaging technologies in workout supplement demonstrations. Sol-u-Pak edible film pouches can be used to hold dry products like single-serve protein powders and dissolve within 10 to 20 seconds once liquid is added. During the show, Watson showed how this technology can be paired with its Edible Glitter to create a striking product that transformed from a white powder to a pearlescent blue liquid. The film can be enriched with added nutrients and does not contribute any flavor; it can also create a rounder mouthfeel. The company also displayed its Edible Glitter atop sugar cookies and showcased the potential of its BetaClear, which can add beta-carotene with minimum color contribution.
Technology for Health
At IFT17, representatives from Dow Food Solutions, Midland, Mich. (dowfoodsolutions.com), highlighted some of its newest food-improving technologies in the WELLENCE line and hosted several Tech Talks given by its experts on these ingredients. Noting that consumers are looking for ways for their families to be healthier, Pauel Fokin, regional commercial director, North America, explained that Dow's WELLENCE Smart Fry solution allows customers to provide healthier fried foods by interfering with oil uptake. WELLENCE Smart Fry can provide a 30% reduction in fat and calories in fried batter or coating systems while maintaining crispness and increasing yield by preventing water loss during frying.
According to Dow, more than 70% of Americans consider plant-based proteins to be healthy, and WELLENCE VegE Form can assist in plant-based applications. It is a thermal gel that can be used in meat alternatives to replace the structural functionality of meat and eggs while retaining texture and providing a juicy mouthfeel. The team advised meat companies to consider developing veggie ranges to ensure they are part of today's trends.
WELLENCE Gluten Free, meanwhile, mimics the water-absorbing and structural abilities of gluten in breads, cakes, and other applications. Gluten-free products have seen a 136% increase in sales over the past several years, according to Dow, and they represent a great potential growth engine for companies. Because many consumers are purchasing foods for their whole families, allergen-free households might all consume gluten-free goods, so the Dow team suggested it is also important to please consumers who might not be avoiding allergens by choice.
Sowing New Oats
Richardson International, Winnipeg, Canada (richardson.ca), announced the acquisition of European Oat Millers, based in Bedford, England, which will let the company expand its oat milling business.
"We are excited to build on our success in value-added processing and extend our food manufacturing footprint to a new geography," said Curt Vossen, president and CEO of Richardson International. "As the largest oat miller in North America, we now look forward to building a presence in Europe to enhance our ability to compete in the global marketplace."
Richardson supplies Canadian grains and oilseeds and is a vertically integrated processor and manufacturer of oats and canola-based products.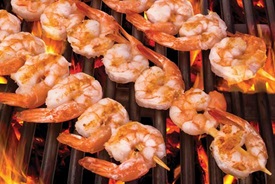 Chinese Innovation Comes to North America
It is often the case that North American companies spread to Asia, but not as common for the opposite, according to Larry Esposito, business vice-president, food and beverage, pharma and nutrition, and infrastructure, for the American arm of Chinese company Xingfa, Schaumburg, Ill. (xingfausa.com). Esposito said Xingfa is the "best-kept secret in the phosphates business," and he intends to grow Xingfa's presence in North America by drawing on the company's emphasis on top-notch robotics at its Chinese manufacturing sites. Xingfa owns all of its own phosphate rock mines, which it harvests through a hydropowered system that lets the company create its own energy. Xingfa's specialty compounds can benefit a range of applications, including seafood, meat, bakery, noodles, and cheese.
Showcasing Dark Cocoa
Olam International, Singapore (olamgroup.com), highlighted the clean label offerings from several of its businesses, including Olam Cocoa, Olam Spices & Vegetable Ingredients (SVI), Olam Edible Nuts, and Olam Coffee. "The broad range of ingredients in our portfolio allows us to assist customers in maximizing the functionality of spices to achieve the best flavors and the cleanest labels," explained Joelle Mosso, director of natural and organic at Olam SVI.
At the show, the group focused on the potential of its cocoa powders, which use deZaan cocoa. These included an Iced Mocha with D23 Cocoa Powder and Olam Coffee and a cookie that contained TrueDark Cocoa Powder, the world's first nonalkalized dark cocoa powder, according to the company. Olam says that TrueDark retains a rich flavor and the same or better color impact as alkalized cocoa powders.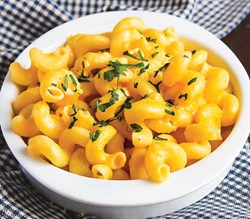 Getting to Know Kokumi
Most U.S. consumers don't know much about the concept of kokumi, a term that is used to describe flavor characteristics found in well-cooked, aged, and fermented products, but that could change if marketers and the R&D team at Ajinomoto North America, Itasca, Ill. (ajifoodsolutions.com), have their way. A team of Ajinomoto researchers in Japan identified compounds in garlic, such as S-allyl-cysteine sulfoxide (alliin) and glutathione, that are responsible for this taste response, and the company has developed two ingredients, Savorboost K and Savorboost K-DY that deliver kokumi characteristics.
Ajinomoto senior director Ihab E. Bishay described it in this way: "Soup that is simmered for hours—[its] richness, fullness—that's kokumi." Consumers have become familiar with the rich and savory taste of umami, which has come to be recognized as one of the five basic tastes, and Bishay sees kokumi going in that same direction. After all, he reflected, "tasting is believing."
Savorboost K is a yeast extract that supplies a complex flavor impact, continuity, and roundness without a distinct yeast flavor and is well-suited to enhancing taste in low-sodium applications. At the food expo, Ajinomoto showcased Savorboost K in macaroni and cheese. "It shows really well in cheese," said Bishay. "You take a simple cheese and make it more complex."
Savorboost K-DY provides the complex flavor impact of kokumi in savory snacks such as the cheddar cheese popcorn Ajinomoto sampled at the show. Because it can be labeled simply as yeast, it has minimal label impact. In addition to snacks, applications for both Savorboost ingredients include sauces and soups.
Ajinomoto also sampled a reduced-sugar, high-protein chocolate milk shake sweetened with its ultra-high-potency sweetener Advantame at the food expo. Noted for its clean, sugar-like taste, Advantame, which is 20,000 times sweeter than sugar, is a product of Ajinomoto's taste research program. It blends well with both caloric and noncaloric sweeteners and effectively enhances flavors and masks off-tastes of functional ingredients such as added proteins, vitamins, and minerals. At the food expo, Ajinomoto's sugar-free caramel popcorn sweetened with Advantame was such a hit that the company ran out of samples, Bishay said. Applications include carbonated and noncarbonated drinks, meal replacement beverages, confections, and syrups.
Building Taste Through Technology
FlavorHealth, North Brunswick, N.J. (flavorhealth.com), focuses on sugar, sodium, and bitter reduction through its proprietary discovery platform that simulates taste receptors similar to those on the human tongue. This Chromovert technology helps the team create flavors for specific applications by looking very closely at how different formulations affect these receptors and create new compounds.
At the show, FlavorHealth representatives presented standard and "test" formulations for an array of prototypes that demonstrated the company's capabilities in sugar, salt, and bitterness reduction. These included an orange drink and gummy candy for sugar reduction, ranch dip and pretzels for sodium reduction, and a nutrition bar for bitterness reduction.
Promoting Almonds' Potential
Chef Rob Corliss created a flavorful array of samples for the Almond Board of California (ABC), Modesto, Calif. (almonds.com). These included Korean barbecue–flavored whole almonds; a Garden Goddess Bar with spirulina, coconut, and dried blueberries; and several almond butter–based truffles: coconut curry, hibiscus citrus, and spiced chocolate. Corliss also created a beet latte made with almond milk, which the Board is now trying to promote more heavily in light of consumers' desire for plant-based milk alternatives, according to Molly Spence, the ABC's regional director for North America. Almond milk sales are expected to surpass $1 billion by 2018, according to Mintel research the ABC provided. She also noted that almonds are continuing to gain traction in snack applications and said that there is a great deal of opportunity for more savory treatments.
Spence also revealed that the almond supply outlook for this year is very positive. The ABC is working to share information about the crops' water use, which is on par with that of other fruit trees. The ABC shared how byproducts from almond production, including shells and hulls, can be repurposed, and Spence said that the organization is looking for even more uses.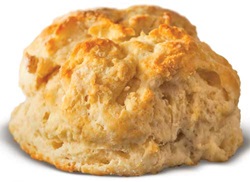 Creating On-Trend Food Products
Both the Kraft and Heinz brand names are behind some of the most iconic food products. Kraft Heinz Co.'s ingredients division, Kraft Heinz Ingredients, Glenview, Ill. (kraftheinzingredients.com), showed food manufacturers how to use some its condiments, sauces, and cheese and dairy ingredients to create their own memorable food products.
The barbecue meatballs featured at IFT17 showcased the versatility of the newest addition to the Kraft Heinz Ingredients portfolio, Heinz Ketchup. Using Heinz Ketchup as a base for the sauce for barbecue meatballs, for instance, is a great way to add layers of flavor. It also brings quality, consistency, and great flavor to broader sauce applications like barbecue, cocktail, chili, and other ketchup/mayo-based sauces, said Andrew Scribner, vice-president and general manager of Kraft Heinz Ingredients.
Scribner mentioned that the company's ingredients provide functional benefits, too. For example, using Kraft Cream Cheese in place of vegetable shortening and buttermilk gives biscuits a flaky texture. "Cream cheese yields a crisp exterior and tender crumb and imparts the rich, tangy flavor consumers expect from buttermilk biscuits," he said. "Cream cheese also has a longer shelf life than fresh buttermilk and is easier to spread than the conventional bakery fats manufacturers use when creating a flaky, multilayered biscuit. It also doesn't carry the social and environmental issues often associated with palm oil, thus removing the need for things like RSPO certifications."
For manufacturers looking to formulate products with clean label ingredients, Scribner said the company offers many naturally derived ingredients. "The products featured in the mac and cheese demonstrate the power of our cleaner label portfolio—composed of both natural and process cheeses," said Scribner. "The Old English with natural colors is a sought-after flavor profile unique to Kraft Heinz; the natural sharp Cheddar Shreds and the Aged Cheddar Club impart a rich and creamy cheddar flavor to the mac and cheese. All three cheeses create the perfect combination to deliver both flavor and functionality for an American staple, a cheesy mac and cheese."
Other manufacturers want to create products with a bit more of an upscale flavor. To that end, Kraft Heinz Ingredients sampled popcorn topped with ParmZing, a blend of aged Parmesan cheese with slightly softened flavor notes. "It's an ideal premium cheese powder option that meets a variety of on-trend consumer preferences," said Scribner.
Sprouted Ingredient Goes Gluten-Free
Briess, Chilton, Wis. (briess.com), discussed the gluten-free version of its InnoSweet ingredient, which the company introduced at IFT16. InnoSweet Sprouted Whole Oat Powder is a 100% whole grain ingredient that provides sweetness with zero added sugars in the formulation. Both the oat and original whole wheat version are ready to eat, non-GM, and made in the United States. At IFT17, Briess showed the whole wheat powder in a Sprouted Wheat and Fruit Breakfast Cookie and a Multigrain Chewy Granola Bar, which also featured BriesSweet Whole Grain Sorghum Extract and Insta Grains Oat Flakes, Pearled Barley Flakes, Rye Flakes, and Malted Wheat Flakes. The company also handed out packets of its malted milk shake mix.
Providing Vanilla Alternatives
At IFT17, Camlin Fine Sciences (CFS), Urbandale, Iowa (camlinfs.com), discussed some of its ingredient lines. CFS recently extended its NaSure line of natural plant-based shelf-life solutions. New offerings include acerola and green tea natural ingredients, and the whole line is available in both liquid and dry solutions. "By adding ingredients to our NaSure brand, customers will have even more options now to fit their exact needs," explained Jennifer Igou, general manager at CFS. The company also promoted its Xtendra food antioxidant formula. Available in both liquid and dry solutions, Xtendra is a traditional shelf-life extension that blends BHA, TBHQ, ascorbyl palmitate, and other traditional antioxidants.
CFS also highlighted its Vanesse pure vanillin and Evanil ethyl vanillin ingredients. Vanesse is produced with catechol, guaiacol, and vanillin, and Evanil is produced with catechol, guethol, and ethyl vanillin. The company's catechol is produced in Ravenna, Italy, using an environmentally friendly, clean method. CFS is also in the process of acquiring a majority stake in the Chinese company Ningbo Wanglong Flavors and Fragrances, a move it says will establish a vertically integrated supply chain for complete transparency and traceability from raw material (catechol) to finished product (vanillin).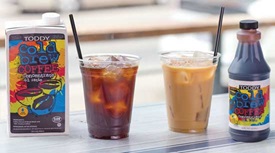 Elevating Coffee and Tea Beverages
Formulate creative foods and beverages like Gingerbread Cookie Coffee Frappe, Blueberry Habeñero Black Tea Latte, and Double Chocolate Toffee Espresso Brownie with coffee and tea extracts and concentrates from S&D Coffee & Tea, Concord, N.C. (sdcoffeetea.com). These product concept samples and others like Spiced Apricot Black Tea Latte, Peanut Butter Cup Coffee Frappe, and Triple Chocolate Espresso Cookies gave food manufacturers ideas of how to take advantage of emerging trends in coffee and tea.
Cold brew coffee is one of those trends. Surveys show that two out of three consumers who drink cold brew coffee have switched out another beverage for cold brew and that six in 10 coffee consumers have tried cold brew coffee at least once or twice, according to material provided by S&D Coffee & Tea. Cold brew coffee is typically produced by steeping coffee grounds in cold water for an extended period of time (close to 24 hours). This produces coffee that is smooth, slightly sweet, and less bitter. S&D Coffee & Tea uses its TODDY cold brew process to produce cold brew coffee extract, which is sold to food operators in an easy-to-use cold brew coffee concentrate. At the IFT food expo, the company served cold brew coffee in three versions (black, with dairy, and with almond milk), French Vanilla Cold Brew, and Cold Brew Coffee Soft Serve Ice Cream.
An Evolution of Sweetness
Domino Specialty Ingredients, West Palm Beach, Fla. (dominospecialtyingredients.com), demonstrated the effectiveness of its third-generation stevia in a 35% reduced-sugar iced tea. The company had been working with blends for the past decade to create a stevia option with reduced bitterness, according to a representative at the booth. Its 6070 Stevia was included at 0.01% to allow for a 35% sugar reduction with no artificial sweeteners or flavors; an 8 oz serving contained just 60 calories.
Trending Dairy Flavors
Land O'Lakes, Arden Hills, Minn. (landolakes.com), introduced several new seasoning blends inspired by trending flavors. These included Honey Butter, Thai Chili Lime, and Fried Pickle Ranch. The company also highlighted its USDA-certified organic white cheddar flavor and asked attendees to take a taste test to determine if they could identify the ingredient's bold flavor on a savory sample.
An Ingredient for Any Application
Roquette, Geneva, Ill. (roquette.com), highlighted its solutions for dairy, bakery, and confections at IFT17. The company demonstrated its NUTRIOSE soluble fiber and NUTRALYS pea proteins in a Creamy Plant-Based Beverage that provided 8 g of protein and 3 g of fiber per 227 g of drink. These ingredients also starred in two baked goods—breakfast biscuits and crackers. The gluten-free crackers provided 5 g of protein and 3 g of fiber, while the biscuits provided 5 g of protein and 5 g of fiber.
The company also highlighted its confectionery solutions. Its LYCASIN 80/55 maltitol syrup, a naturally sweet bulk sweetener, was used in a So Softy Chewing Gum, while its XYLISORB XTAB xylitol lent a strong cooling effect to Extra Cooling Strawberry Mints. NEOSORB XTAB sorbitol, meanwhile, was used in several refreshing mints to provide a clean, cooling effect. Roquette also highlighted its powder solutions for sugar-free tableting.
100 Years of Emulsifiers
Palsgaard, Juelsminde, Denmark (palsgaard.com), is celebrating the 100th anniversary of the invention of its emulsion oil, which was created by founder Einar Viggo Schou. Emulsifiers are what make cake mix possible, explained Mette Dal Steffensen, senior marketing specialist for Palsgaard, and the company highlighted its cake solutions at the show. Emulpals 115 is a clean label emulsifier for cake batter systems that activates instantly when liquid is added; a video Steffensen showed demonstrated the aeration that was possible using activated cake emulsifiers after only 2 minutes of whipping. This ingredient is tolerant to variations in ingredients and baking methods and can help manufacturers create cakes without PHOs or trans fats. Emulpals 116, meanwhile, is intended for scratch baking and foodservice mixes and is designed to withstand intense mechanical treatment in cake factories.
Palsgaard is committed to sustainability, said Steffensen, who noted that the company is more than halfway toward its goal of a fully sustainable production process by 2020. In 2016 Palsgaard was the first industrial company to achieve CO2 neutrality in Mexico.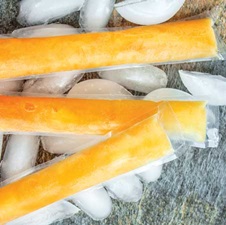 Hydrocolloids Meet Clean Label, FSMA Demands
Two new hydrocolloids from TIC Gums, White Marsh, Md. (ticgums.com), address clean label issues and the new Food Safety Modernization Act (FSMA) compliance regulations. Ticaloid PRO 192 AGD is a clean label hydrocolloid option for use in ready-to-drink dairy beverages. Its functionalities include suppressing age gelation, stabilizing protein, and enhancing texture. In heat-processed beverages, it can emulsify increased oil loads better than lecithin, which means that it is a clean label ingredient for manufacturers. A Buttered Coffee beverage concept featured the ingredient.
The second ingredient, GuarNT USA, a guar gum produced in the United States, gives manufacturers the opportunity to come into compliance with two key rules in the FSMA. First, the FSMA requires that importers must verify that their foreign suppliers meet U.S. food safety standards. Since GuarNT USA is manufactured and warehoused in the United States in a Safe Quality Foods level 3 facility, food producers who use the ingredient will not need to show this type of verification. The second rule involves preventive controls, which are risk-based procedures, processes, and practices that must be in place to significantly minimize or prevent hazards in the production of food. TIC Gums uses its proprietary manufacturing process that has a validated microbiological kill step that ensures preventive controls. This type of microbiological kill step provides documented evidence that a process is capable of eliminating a known hazard, according to the company. The ingredient is also available in a flavorless and odorless version, GuarNT USA Flavor Free 5000. It meets all the same FSMA compliance rules as GuarNT USA. Samples of a Mango Ice Pop were formulated with the flavor-free version.
A Focus on Dairy Flavors
Edlong Dairy Technologies, Elk Grove Village, Ill. (edlong.com), has been focusing on dairy for 102 years, and the company says it has resisted the urge to branch out into other flavor types in order to "stay in the lane of authenticity." The company's CEO, Laurette Rondenet, led a tasting session Monday to demonstrate how Edlong balances the art and science of flavor creation. Tasting began with a flight of marshmallows, a trending sweet treat, to show how sweet dairy flavors can play in indulgent applications; flavors included Praline Crunch, Toasted Coconut, and Campfire S'mores, which featured birch tar oil to add smokiness.
Two prototypes showed how dairy flavors can be used in vegan applications. Vegan Cheesecake Mousse drew on yogurt and goat cheese type flavors to add tart cultured notes to the dish. A Goldrush turmeric-based drink, meanwhile, used Natural Sweet Cream Type Flavor and Natural Sweet Spot Flavor to round out the turmeric and enhance the sugar in the nondairy beverage. Rondenet attributed her company's ability to create authentic global flavors to the diversity of the company's employees, who she said help influence development.
In addition, Edlong held a series of technical seminars on topics that included creating vegan cheeses, working with dairy flavors, and clean label opportunities.
Insight into Gluten-Free Bread
DSM, Delft, the Netherlands (dsm.com/food), shared some research it had conducted on how consumers in the United Kingdom and the United States consume gluten-free products, according to Fokke van den Berg, director of strategy, marketing, and applications. Gluten-free will continue to grow and transition from niche to mainstream, said van den Berg. While the number of consumers diagnosed with celiac disease remains low, more consumers are turning to gluten-free for the health perception they associate with it, particularly bread. DSM's research showed that both UK and U.S. consumers think softness and moisture in gluten-free breads should improve, and DSM offers baking enzymes based off rice flour to tackle these issues. These ingredients could also prove useful in the manufacture of gluten-reduced bread, which DSM's research said two-thirds of consumers would consider purchasing.
IFT17 News: Global Flavors with Kalsec and Woodland
Spicy Foods Still Growing
The consumer desire for spicy foods is still heating up, according to new research from Kalsec, Kalamzoo, Mich. (kalsec.com). Consumers are looking for hotter and more regional peppers in their foods, said Gary Augustine, executive director, market development, and women and younger consumers are embracing spicy at a greater rate than men. Spicy foods like peppers can make consumers feel like they're taking a mini vacation, explained Augustine, and including spicy peppers in low-risk applications like snacks, sauces, and dressings is a good way for companies to introduce this growing demographic to spicy foods.
At the show, Kalsec demonstrated its Herbalox Rosemary Extract in a Straw'Basil Treat that contained crisped rice, red beet powder, and IsoFresh Basil. Mini pretzel sandwiches showed the company's gochujang and garlic ingredients, and Kalsec also provided a craft macaroni and cheese bar that encouraged attendees to experiment with Kalsec's offerings to create their own culinary masterpiece.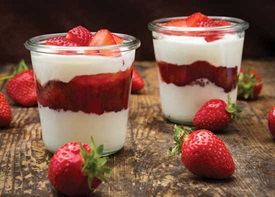 The Power of Tomatoes
Lycored, Aylesford, United Kingdom (lycored.com), invited attendees to taste the impact of its carotenoid ingredients through a series of demonstrations. Its SANTE tomato-based taste enhancer and Clear Tomato Concentrate reduced sodium in a salsa and chicken tortilla soup, while its LycoFibers added mouthfeel to a barbecue sauce while removing added starch. In addition, its Dry Tomato Pulp can be used to provide a consistent color and smooth texture.
During the show, Christiane Lippert, head of marketing, was on hand to walk visitors through some new stability research the company had released comparing the performance of its colors with other natural options over time and during heat processing. In yogurt, Tomat-O-Red and Lyc-O-Beta did not fade or migrate the way paprika and carmine did. In beverages, Tomat-O-Red and Lyc-O-Beta also delivered excellent stability in fruit-flavored sparkling water over a 12-month trial. Lycored also shared some other company news at the show: it recently sold its nutrient premix business to Prinova.
Foods With a Twist
ICL, Tel Aviv, Israel (iclfood.com), showed off a range of prototypes that offered a twist on tradition, according to the company. A Tea Lemon Protein Cooler boosted a lemonade and iced tea slushie beverage with added protein in the form of BEKAPLUS BP 900, a clear whey protein that stands up to high acidity. An Everything Bar delivered 10 g of whey and casein protein in a chewy granola bar with a reduced-sugar binder made with BEKABAKE EF W. A Hatch Chile Cheese Dip featured BEKAPLUS DP 302, a protein stabilizing system that allowed for a smooth and creamy texture in the dip. The Chicken Party Snacker, meanwhile, was a tender and flavorful meatball containing TARI COMBI PP 1, Salona Sea Salt for sodium reduction, and Licrezz FC for oxidation protection. It was served with a Vegan Southwest Sauce that featured ROVITARIS VM 360 for emulsification and stabilization in vegan-based sauces.
Fiber in the Spotlight
At this year's show, Grain Millers, Eden Prairie, Minn. (grainmillers.com), highlighted the company's intrinsic oat fibers, something it always promotes but especially so right now in light of recently proposed changes to what can be considered fiber on labels, said Darren J. Schubert, vice-president of sales and marketing, West Coast Operations. He said the company also continued to push its standard ingredients—wheat, barley, corn, and flax.
Highlighting Almond Butter
Representatives from Blue Diamond Almonds Global Ingredient Division, Sacramento, Calif. (bdingredients.com), spoke at the company's booth about the growing presence of almond butter in food products, especially in the bar sector. It works well as a binder and is an alternative to peanuts for school foods. Plus, it is a simple, one-ingredient product—just ground almonds. At the booth, Chef Nick Muncy, founder of Toothache magazine, provided demos on Florentine Cookies With Almond Flour and Sliced Almonds and Almond Butter Shortbread Cookies With Almond Brittle and Chocolate. Chef Holly Peterson also created artisan chocolates using dark chocolate, a white chocolate ganache, cream, and almond butter.
Tapioca Line Debuts
Grain Processing Corp. (GPC), Muscatine, Iowa (grainprocessing.com), introduced its new MALTRIN T-Series line of tapioca-based maltodextrins and syrup solids and featured the maltodextrins in a watermelon- and a cucumber-flavored beverage. The ingredient builds solids for an enhanced mouthfeel and provides clarity and a neutral flavor. GPC's MALTRIN maltodextrin, meanwhile, was used in a Bananas Foster Flavored Popcorn Snack Mix, where it added solids without contributing excessive sweetness.
GPC's starches appeared in a chicken and waffle prototype; INSCOSITY instant modified starch extends shelf life and maintains quality through freeze/thaw conditions, INSTANT PURE-COTE coating/firming starch provided the waffle with crispiness, and PURE-GEL modified starch controlled moisture in the chicken.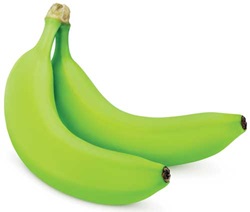 Unpeeling the Benefits of Green Bananas
Green banana flour from International Agriculture Group (IAG), Mooresville, N.C. (iagnubana.com), adds a brand-new tool to product developers' tool kits thanks to its ability to replace starch, sugar, hydrocolloids, and regular flour in food formulations while delivering an array of nutritional benefits. IAG's NuBana green banana flour is naturally low in sugar and rich in resistant starch, potassium, magnesium, and other micronutrients as well as being gluten-free, explained Rhonda Witwer, IAG vice-president of marketing and business development. (As bananas ripen, the starch they contain is converted to sugar, so the nutritional profile of regular bananas is very different from that of green bananas.)
The company offers three green banana flour products, which are smooth, free-flowing powders with a neutral aroma and flavor. NuBana N100 is a native banana starch that offers the processing benefits of a cook-up starch and can effectively replace other thickeners in a variety of applications. Carefully dried via a patent-protected process, NuBana N200 is a native banana starch with very high levels of natural resistant starch (up to 70%), which labels as insoluble dietary fiber on the Nutrition Facts Panel. NuBana P500 Green Banana Flour is a pregelatinized flour that thickens without heat and can replace gums in gluten-free muffins, cookies, and breads. For food formulators, green banana flour offers a variety of textural benefits, including water binding, thickening, anticaking, filling, and adhesion.
At the IFT17 food expo, IAG shared samples of a strawberry fruit roll-up in which NuBana flour replaced 30% of the sugar, resulting in a product that contained 30% more fruit than a conventional fruit roll-up and delivered a strong strawberry flavor without a noticeable reduction in sweetness.
Consumers and product developers still have a great deal to learn about the health benefits of resistant starch, but its potential is great, said Witwer, who noted that the U.S. Food and Drug Administration's recent approval of a qualified health claim that resistant corn starch helps reduce the risk of type 2 diabetes has helped to raise its profile. "Product developers generally know about resistant starch as a type of insoluble dietary fiber but are not generally familiar with its metabolism-boosting or prebiotic health benefits," she noted.
Sweet on Salt
Morton Salt, Chicago (mortonsalt.com), spotlighted some of its extensive salt offerings in a multitude of samples prepared by the team from Charlie Baggs Inc. Vanilla Greek Yogurt With Puffed Quinoa and Coconut featured the new Morton Flour Sea Salt, a very fine, sand-like salt. A Morton representative explained that sea salt has previously not been offered in this form. The ingredient also appeared in the Dulce de Leche drizzle atop Mexican Dark Chocolate Dipped Pretzels.
Morton Top Flake Topping Salt was sprinkled atop Mini Sour Cherry Chocolate Chip Scones, and the coarse version of the ingredient rimmed the glass of a Mango Yuzu Fizz. Savory offerings included a Caribbean Style Chicken Slider, a Beef Barbacoa Slider, Pork Carnitas Tacos, and Chipotle and Diced Jalapeño Dip. This final prototype contained tortilla chips seasoned with Morton Star Flake Dendritic Salt and a dip made with Morton KaliSel Potassium Chloride.
Fat Ingredients for Pastries, Chocolate Confections
IOI Loders Croklaan USA, Channahon, Ill. (ioiloders.com), highlighted specialty fat ingredients for puff pastries and chocolates. The first, SansTrans Roll-Rite Puff, is a pastry shortening that provides lift and expansion properties resulting in a desired flaky texture. The ingredient is designed to maintain consistency throughout the lamination process. It is listed as palm oil in the United States, and it does not contain emulsifiers or additives. Attendees were able to see and taste the results in a puff pastry application distributed at the company's booth.
The other ingredient, Prestine, is a fat that helps to prevent bloom by keeping filling fats from migrating into chocolate coatings. It helps to extend the shelf life of the confections. Another benefit of the ingredient is that it is free from hydrogenated and trans fats.
Flavors Focus on Coffee, Protein Trends
Virginia Dare, Brooklyn, N.Y. (virginiadare.com), focused on two growing trends: cold brew coffee and plant protein–enriched foods. Specifically, the company featured product concepts that highlighted its cold brew coffee ingredients and flavors for plant-based protein bars.
Market research points to the rising popularity of cold brew coffee, and Virginia Dare gave attendees a taste of this trendy beverage with Cold Brew Coffee and Nitro Cold Brew Coffee samples. Two other versions were flavored, one with vanilla flavor and the other with caramel type flavor. The second trend the company addressed was plant protein. Plant protein ingredients are increasingly being formulated into beverages and food products. Some plant proteins, especially when used at higher usage levels, can impart off-tastes to finished products. The company showed how to mask these off-tastes by using flavors and other ingredients in a Toasted Coconut Protein Bar and Chocolate Protein Bar.
Welcome, Tastepoint by IFF
International Flavors & Fragrances (IFF), New York (iff.com), launched Tastepoint by IFF, Philadelphia (tastepoint.com), a new company that will serve middle-market customers in North America. The business represents the merger of David Michael & Co. and Ottens Flavors, both of which IFF acquired in recent years.
IFF unveiled the new company and brand during the first day of IFT17, and it invited attendees to visit the booth to see the mobile innovation van and try several product concepts that highlight the new company's ingredient capabilities. They included a Vanilla Non-Dairy Frozen Dessert and 95/5 Organic Vanilla Almond Cookie. The company also offered Drinking Vinegar Shrubs in Strawberry Fig and Plum Ginger flavors and Moroccan Spice Truffles that captured flavors of North African cuisine. The last product concept served was Chicken Bone Broth With Organic Ingredients.
Solutions for Safer, Fresher Food
Representatives from Kemin, Des Moines, Iowa (kemin.com), were on hand to discuss the company's line of both synthetic and naturally sourced ingredients to improve food safety, food quality, and shelf stability. Its newest ingredient—organic rosemary extract—inhibits lipid oxidation in food products. It comes in both liquid and dry forms.
Other highlights included ingredients in Kemin's portfolio that address two concerns: color and flavor stability and food safety. Kemin's lines of plant extracts and synergistic blends—FORTIUM, NaturFORT, and GT-FORT—help protect the color and flavor of products in a label-friendly way. The company also reports that the ingredients will not negatively affect the sensory attributes of finished products. Synthetic antioxidants that are part of a line called EN-HANCE are specifically used to protect the flavor and color in foods that contain fats and oils, such as baking mixes, sausages, cereals, meat products, potato chips, and cookies.
Producing safe food is a top priority of food manufacturers. Kemin produces two series of organic acids that have antimicrobial properties. BactoCEASE protects against foodborne pathogens and spoilage bacteria to extend the shelf life of ready-to-eat meats, fresh meats, fish, and poultry products. SHIELD liquid mold inhibitors keep bakery and tortilla products fresher longer.
Kemin also distributed handy informational posters. One visualized how its ingredients help improve safety and quality of meat and poultry and another showed how to protect against lipid and auto oxidation.
Viable Alternatives to PHOs
The June 2018 deadline for food manufacturers to remove partially hydrogenated oils (PHOs) from food products is fast approaching, and the soybean oil industry is ready to step up with PHO-free soybean oil solutions that function as well as PHOs in frying and baking applications, says Frank Flider, an oils expert with QUALISOY, Chesterfield, Mo. (qualisoy.com).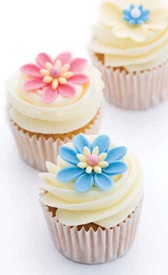 Interesterified high oleic soybean shortening is produced through interesterification, a process in which fatty acids are rearranged within and among triglyceride molecules, and no trans fats are formed. Interesterified high oleic soybean shortenings are produced by putting a fully hardened oil, such as hydrogenated soybean oil, and a liquid oil, such as high oleic soybean oil, together through the interesterification process. Doughnut frying tests conducted on interesterified high oleic soybean shortening showed that the shortening produced products that were most similar to ones fried in PHO shortening in terms of color, taste, and texture. QUALISOY also has additional information on the performance of interesterified high oleic soybean shortening used to prepare many popular fried foods, like french fries, chicken, fish, and sweet potato waffle fries. Another important quality of the shortening, says Flider, is that it reduces the buildup on fryers and other equipment. In turn, foodservice operators and food manufacturers using the shortening can spend less staff time on equipment cleanup and use less caustic cleaners in the process, he adds.
QUALISOY also evaluated the performance of interesterified high oleic soybean shortening against other types of oils and shortenings in bakery applications. One in particular, cupcakes with frosting, showed that interesterified high oleic soybean shortening provided rise and edge-to-edge expansion and soft, moist texture to the cake while giving the frosting a light and fluffy texture. At the booth, attendees were invited to try mini cupcakes decorated with frosting. Despite the extremely dry air in the Sands Convention Center, the cake remained moist and the frosting soft and creamy with no dry edges that can typically occur in frostings made from other types of fat ingredients.
Innovating with Global Sauces and Seasonings
Sauces and seasonings from around the world add excitement to basic foods and a distinct way to attract consumers looking for new tastes and flavors. Dax Schaefer, corporate executive chef at Asenzya, Oak Creek, Wis. (asenzya.com), was on hand to talk about how the company's ingredients produced two on-trend product concepts. First up was a Ginger & Garlic Wonton, which played into the continuing interest in global cuisines, specifically Asian cuisine. This product concept featured two instant sauces, yellow coconut curry and Thai sweet chili. Thai sweet chili is one of those global sauces having a moment right now, said Schaefer. It's savory, slightly sweet, with just a touch of heat, making it an appealing sauce for a wide range of consumers. While on the subject of global sauces, Schaefer added that sriracha and harissa are two others consumers are seeing both in foodservice and as sauces and seasoning in food products.
The second product concept was Cap'N Crunch French Toast. French toast is a staple on breakfast menus. Foodservice operators can take inspiration from Schaefer's creation by encrusting french toast with crushed cereal and topping it with a tart cherry compote and whipped cream. The cherry compote was made from a cherry seasoning powder and water—that's it, explained Schaefer. The company manufactures similar ingredients that give food manufacturers and foodservice operators ease of use and consistency across batches.
Go With the Grain
Grain ingredients are going beyond wheat flour to include other cereal grains, ancient grains, and sprouted grains. How about spelt and triticale flours in baguettes topped with roasted pepper hummus spread, quinoa in tortillas wrapped around beer-braised orange carnitas and eggs, and purple-colored barley infused to make a tea beverage? These are some of the more than a dozen grain-based product concepts that Daniel Marciani, executive development chef, and his culinary team at Ardent Mills, Denver (ardentmills.com), prepared in the company's Mobile Innovation Center onsite on the show floor.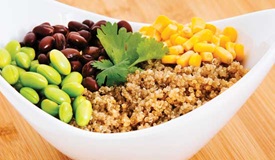 Ardent Mills Great Plains Quinoa and Nature's Color Barley were two of the ingredients that were the main focus in several of the product concepts. The quinoa ingredients include seeds, whole grain flour, flakes, crisps, and custom multigrain blends and are produced from quinoa grown in North America. In addition to the carnitas and egg tacos, Ardent Mills Great Plains Quinoa was featured in hot cereal (flakes, crisps, and seeds); quinoa bowls in plain, ranch chicken, and salsa verde and pico versions; and the coatings of crispy bars, arancini, and chocolate bites.
Barley is a whole grain packed with nutrition. Ardent Mills' Nature's Color Barley line consists of Pure-Purple Barley, Blackjack Barley, True Blue Barley, and Black & Tan Barley Flakes. The Pure-Purple Barley and Blackjack Barley are water soluble and can lend purple or black shades to applications (the Pure-Purple Barley gave a bright purple color to tea and sorbet). Pure-Purple Barley and True Blue Barley were also featured in granola bars.
Finally, Sustagrain was used in granola and in tortillas for mini tacos, and Ultragrain was used in a bun for a fried chicken sandwich and in pasta served two different ways (roasted garlic and potato pasta and sausage leek and gruyere pasta).
Choosing the Right Ingredient Solution
Innophos, Cranbury, N.J. (innophos.com), a leading international producer of specialty ingredient solutions, leverages its expertise in the science and technology of formulating and blending to assist customers in developing tasty, healthy, nutritious, and economical products. The company featured technology-based ingredients for the food, health, and nutrition markets at the food expo. These ingredient solutions included some that addressed healthy lifestyles (holistic nutrition for physical and emotional vitality), protein enrichment (essential performance for protein delivery), and sports nutrition (delivery of optimum power and performance). Others centered on texture enhancement (expertise and technology to achieve perfect texture in all product categories), fortification (better health and nutrition through fortification), sodium reduction (healthy products that maintain taste), and digestive health (vital technology to support digestion and nutrient utilization). Technical experts were available to consult on product development in food, beverage, nutrition, and health market segments and the ways in which Innophos's ingredients provide functional and nutrition benefits.
A Multitude of Ingredient Options
The menu of product concepts at ADM, Chicago (adm.com), was as varied as the company's ingredient portfolio. Beans and pulses, colors, flavors, flours and ancient grains, emulsifiers and stabilizers, starches, fats and oils, and much more give food manufacturers a wide range of choices for their ingredient needs.
Over the course of the three-day food expo, ADM featured on-trend concepts like Moroccan Style Farro & Carrot Salad With Roasted Cashew & Harissa Dressing, Tropical Mango Smoothie, Thai Salad, Bourbon Barrel Coffee Creamer, Orchard Fruit Yogurt, and Toasted Marshmallow Butterscotch Coffee Creamer. Others like Be Well Gummies, Brain Food Gummies, Orange Clementine Antioxidant Water, and Plant Power Frappé targeted the health and wellness market. The company even featured some of its ingredients in two alcoholic beverages, Pink Lemon Tini and Tepache.
A Blood Orange & Bourbon Soda hit on the craft and artisan trend that is quite popular in the food, brewing, and distilling industries. The beverage, which is made with blood orange flavor and American oak barrel–aged bourbon flavor, is a bit more sophisticated than a plain orange-flavored soda. It contains no alcohol; the American oak barrel–aged bourbon flavor provided the bourbon flavor with slight smoky notes. Other uses for the flavor are in beverages, sauces, and glazes, said Mark Rainey, vice-president of global food marketing. He added that various naturally derived ingredients give the soda a clean label positioning, something important to today's consumers and food producers. Another beverage concept was probably unfamiliar to many attendees. Coffee Lemonade—yes, a blend of cold brew coffee, lemonade, and a few other ingredients—is big in Sweden. ADM's version features a cold brew coffee extract in lemonade sweetened with VivaSweet Sucralose. Rainey said the beverage contains trace amounts of caffeine. Finally, an upscale Smoky Sesame and Sunflower Seed Cracker was an interesting blend of flavors and textures. A smoke flavor, smoky honey seasoning, and Sweet 'N Heat Honey Powder give the cracker a smoky-savory and sweet taste while pulse ingredients and sorghum flour provided plant-based nutrition and texture.
Soy Sauce Moves Beyond Asian Cuisine
Clean label soy sauces and other ingredients from Kikkoman Sales USA, San Francisco (kikkomanusa.com/foodmanufacturers), give food producers options to simplify ingredient statements while enhancing the flavors of foods. Its soy sauces come in liquid or dehydrated (granulated) forms and are available in different versions like kosher, preservative-free, less-sodium, Non-GMO Project Verified, gluten-free, and organic. Rich in umami compounds, soy sauce goes beyond its use in traditional Asian cuisines. A small amount is all that's needed to boost flavors in soups, marinades, and sauces. The dehydrated versions are perfect for use on snack foods like chips and popcorn. Other ingredients from Kikkoman, such as Thai Style Chili Sauce and Preservative-Free Sriracha Hot Chili Sauce, give Asian-cuisine twists to everyday foods like peanut butter or ranch dips and dressings. The company featured some of its ingredients in Carrot Coconut Chilled Soup, Yakiniku-Flavored Potato Chips, Teriyaki Pineapple Jerky, and Plant-Based Poke product concepts.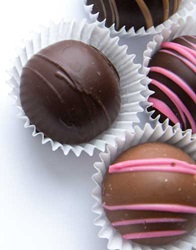 Fats With Multifunctional Benefits
Fats and oils are key ingredients in bakery and many confectionery applications, providing functional benefits such as emulsification, texture, carrying flavor, and more. AAK, Edison, N.J. (aak.com), developed several product concepts to highlight its fat ingredients that are nonhydrogenated, zero trans fat, and low in saturated fats.
Cisao 8116-93-01, an emulsified cake and icing shortening, provided aeration and moisture-binding properties to cake and improved the whippability and shelf life of frosting in a Spiced Mango Cupcake with Vanilla Bean Frosting. Butter was replaced by Cisao 82-85 margarine in Classic Brioche. The ingredient also helped to reduce saturated fats and provide increased tolerance to temperature variations during processing. The third bakery product concept featured was a biscuit available in butter or cinnamon versions. The biscuits were formulated with Cisao shortening flakes in cinnamon flavor and butter flavor. The shortening flakes gave the biscuits a flaky texture and provided an even distribution of fat. Cisao 81-20 pliable shortening gave the dough better machinability and process tolerance. The final bakery product concept was a light and flaky Pain au Chocolat. The flakiness was thanks to Cisao 82-85 margarine, which was used as the lamination fat in place of butter. The ingredient does not have any color or flavor. The croissant also featured Cisao 81-20 votated shortening in the dough for ease of handling and dough machinability.
To showcase fats developed for chocolate confections, AAK offered Szechuan-Cucumber and Blackberry-Sage Filled Pralines. These were made with Illexao 58 Cocoa Butter Equivalents, nonhydrogenated and no-trans coating fats for smooth meltdown, and Confao 55 milk fat replacer that gave a soft, creamy filling to and prevented bloom and fat migration in the pralines.
Cooling Off With Flavorful Ice Cream
For a cool summertime treat, and to beat the 100°F-plus temperatures in Las Vegas, SensoryEffects, Maryland Heights, Mo. (sensoryeffects.com), offered ice cream samples in flavors from its 2018 feature flavors line for ice cream.
The company has named 11 trending ice cream flavors for next year, including Barrel Aged Caramel, a brown sugar and bourbon–flavored ice cream with praline almonds and barrel aged–flavored caramel swirls; Cherry Berry Lemon Blast, a sweet cream ice cream with tart crunchy lemon flakes and ribbons of blue raspberry and cherry sweet and sour swirls; and Cocopolitan, featuring coconut and strawberry ice creams twisted together with a coconut fudge swirl. Matcha green tea and cold brew coffee are two popular flavors both for beverages and food products.
SensoryEffects also developed Matcha-nificent Caramel Latte ice cream and Caramel Cold Brewed Awakening gelato. Other ice cream flavors on the list are decadent twists on desserts like lemon bars, blueberry muffins, fudge, apple pie, and brownies. Pieces of pie crust or brownies, for instance, are mixed into flavored ice cream and accented with swirls of apple butter or brownie batter.
For those who find the autumn time more appealing than the hot summer weather, SensoryEffects developed six autumnal-inspired product concepts made with the company's various inclusions as part of its 2017 fall feature flavors program. These are Cranberry Orange Pound Cake, Smoked Honey Corn Cake, Sweet Potato Roll, Browned Butter Sage Biscuit, S'mores Graham Cracker, and Mayan Chocolate Cookie. The list is meant to encourage product developers to use smoke flavors, warming spices, and dark chocolate in their formulations and recipes, especially seasonal offerings.
A Focus on Function
As a global food company specializing in ingredients across many platforms, Cargill, Minneapolis (cargill.com), offers customers the expertise and ingredient solutions to help them develop on-trend food and beverage products that meet the demands of today's consumers.
The company produces starches, sweeteners, fats and oils, meat ingredients, gums, chocolate ingredients, fiber, salt, and pulse proteins, many of which were formulated into product concepts at the food expo. All of the product concepts were designed to utilize the functionalities of several different Cargill ingredients. This showed how the company's scientists and ingredient experts draw from a vast ingredient portfolio to improve the texture of a dressing application or reduce the sugar while maintaining the flavor of a no-sugar-added beverage, for example.
A Vegan Chinese 5-Spice Salad Dressing featured three Cargill ingredients: Starrier R cornstarch, Puris Pea 870 pea protein, and Non-GMO Soybean Oil. It's becoming more common to see pea protein used in food and beverage products to boost the levels of protein. In the case of this dressing, however, pea protein is used for its texture functions, specifically to provide emulsification and viscosity, said Michelle Kozora, technical service manager of Cargill Texturizing Solutions.
A No-Sugar-Added Orange Juice Drink and 50% Reduced Sugar Candied Popcorn were formulated with ViaTech stevia leaf extract and other Cargill ingredients (citric acid, pectin, and gum arabic in the beverage and corn syrup, erythritol, and salt in the popcorn). ViaTech is Cargill's line of stevia-based sweeteners. Scientists developed the ingredients in the portfolio by studying how the various steviol glycosides work alone and in combination to find the optimal ones for specific formulations. The company also offers Truvia stevia leaf extract (Reb A) and EverSweet, a combination of Reb D and Reb M produced via a fermentation process. These steviol glycosides do not impart bitter notes that other ones do. EverSweet will launch commercially in 2018, said Mandy Kennedy, senior marketing manager.
The other product concepts containing various Cargill ingredients served at the booth were Fully Cooked Egg, Ham, and Sausage Breakfast Scramble (liquid egg, egg crumbles, ham, and sausage crumbles) and Brownie Bite (Non-GMO Chocolate Duet cocoa powder and Non-GMO Soybean Oil). There was also a Non-GMO Vegan Hazelnut Spread (canola lecithin, Oliggo-Fiber chicory root fiber, stevia leaf extract, sunflower oil, and organic cocoa powder) and Reduced Sodium Pesto Flatbread (FlakeSelect potassium chloride and other ingredients like flours and oils). Finally, a Vegan Almond Biscotti featured different sweeteners, chicory root fiber, interesterified soybean oil, flours, and pea protein.
Taking Texture to the Next Level
An interactive "theater"—a touchscreen that featured information about texture, enrichment, and sugar and calorie reduction—gave attendees the chance to receive customized solutions to their unique formulation challenges in these areas. Experts from Tate & Lyle, Hoffman Estates, Ill. (tateandlyle.com), were then available to discuss one on one the functionalities of the specific Tate & Lyle ingredients that could be used to solve the challenges attendees were tackling.
In addition to this resource, the company focused on its efforts to bring the importance of texture to the forefront. Texture can be the underlying barrier to developing successful food and beverage products in the areas of sugar reduction/replacement, calorie reduction, and clean label, said Judy Whaley, Tate & Lyle senior vice president, sweeteners and texturants new product development. The company has recently added a number of different texturizers to its portfolio, and also has several sweetening solutions for sugar and calorie reduction. An apple cranberry dressing served on a beet and carrot salad was formulated with one of the company's newest starches, CLARIA Bliss tapioca-based starch. It is considered a clean label starch (it is labeled as tapioca starch), and it helped suspend the small fruit pieces in the pourable dressing. Experts also gave a preview to the company's upcoming CLARIA Functional Clean-Label Starches and talked about 17 new non-GM starch ingredients. A trendy Thai iced tea made with almond, cashew, and hazelnut milk had a 40% sugar reduction thanks to OPTIMIZER Stevia 2.10 and DOLCIA PRIMA Crystalline Allulose.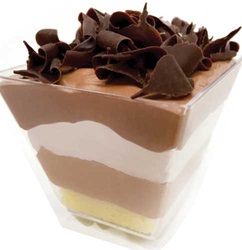 Good News for Eggs
The American Egg Board (AEB), Park Ridge, Ill. (aeb.org), released several new comprehensive reports detailing the effectiveness of eggs across a series of applications, including nougat, angel food cake, frozen custard, frozen waffles, and pie filling. These join reports on yellow cake batter, crème cake, blueberry muffins, and more that were released at IFT16. These reports, which are based on research conducted by independent firm CuliNex, show that food products are negatively affected when eggs are removed, with certain applications even more affected than others, according to expert Shelly McKee, an adviser to the AEB. McKee said that flavor and functionality are the top two qualities that egg replacers can't match.
When it comes to the egg supply, McKee said the outlook is positive—there is currently an oversupply of eggs, and the AEB also worked during the 2015 egg shortage to ensure that import relationships were established, meaning that it should be very unlikely for another crisis to occur even if sickness were to break out. Price volatility will also not be an issue, she said.
At the show, the AEB presented several samples that demonstrated the functionality of eggs in different forms. These included a Chocolate Almond Biscotti, Flourless Chocolate Cake, and Sponge Cake Mousse Trio.
Clean, Colorful, and Carolina Grown
Carolina Sweet clarified sweet potato concentrate from Carolina Innovative Food Ingredients (CIFI) Nashville, N.C. (cifingredients.com), delivers a clean label, non-GM, and vegan alternative to other sweetener options and is also lower in fructose than the fruit juice sweeteners with which it competes, said Paul Verderber, CIFI vice-president, juice sales. Carolina Sweet adds body to sauces, which allows formulators to cut back on the use of thickeners like xanthan gum and modified cornstarch. It can also contribute flavor and color and bolster a product's health appeal because it is vegetable-based. Applications include dressings, marinades, condiments, baked goods, cereals, and craft brewing/distilling.
Carolina Sweet is just one ingredient within an extensive portfolio of clean label ingredients derived from North Carolina's abundant sweet potato crop and brought to market by CIFI. Carolina Original is a cloudy sweet potato juice with caramelized notes, which makes it ideal for applications like caramel coffee drinks and artisan breads. Carolina Craft dehydrated sweet potato granules and flours are non-GM and gluten-free baking ingredients that blend well with traditional flours and dough systems and extend the shelf life of bread an average of three days. As its name indicates, Carolina Purple sweet potato juice delivers natural purple color along with the same functional properties of CIFI's other sweet potato juices plus an added health halo thanks to its high level of anthocyanins and a high concentration of chlorogenic acid derivatives. Other CIFI ingredient options include Carolina Pressed not-from-concentrate sweet potato juice and Carolina Clear clarified sweet potato juice. "You use one of these ingredients and you get multiple benefits," Verderber emphasized.
Tapping Into the Power of Phytochemistry
For botanically based solutions to pathogen control in meat, Naturex, Avignon, France (naturex.com), offers two new patent-pending antimicrobial ingredients, Cleanatis M1 and Cleanatis M2. Five years in development, Cleanatis addresses consumer demand for a natural, clean label approach to preventing microbial food spoilage with no impact on taste, said Catherine Bayard, category manager for food preservation at Naturex. "Many consumers are no longer willing to accept products that contain ingredients that sound like they are from a chemistry set," Bayard noted.
Cleanatis M1 is a blend of rosemary extract and citrus extract that helps inhibit the growth of Listeria in meat while preserving taste and maintaining fresh color throughout shelf life. It's a label-friendly alternative to lactate or other conventional antimicrobials and inhibits bacterial growth by more than 1.5 log compared to control at day nine. Cleanatis M2, a blend of rosemary extract, acerola cherry powder, and buffered vinegar powder, serves to naturally prevent Salmonella growth in meat. Specifically, it inhibits bacterial growth by more than 2 log compared to control at day 9.
In addition to its new antimicrobial ingredients, Naturex highlighted its palette of natural colors at IFT17. The company's new 100% traceable, organic-compliant intense yellow color derived from turmeric was in the spotlight, showcased in a refreshing Energy Yellow Ice Bar that also included guarana. Suitable for applications ranging from snacks to sweets, Naturex's miChroma Turmeric OC LWD contains 10% pigment and is light resistant and neutral in flavor. The company plans to make an organic version of the extract available soon. An Antioxidant Blue Ice Bar featured Naturex's Vegebrite Ice Blue LWS extract derived from spirulina and enriched with acerola, which is noted for its antioxidant properties. Another refreshing option Naturex sampled was a Lemon Rose Green Tea that featured the company's natural strawberry red color and rose extract.
Showcasing Vanillin-Based Solutions
A longtime supplier of vanillin-based ingredient solutions, Solvay, Princeton, N.J. (safevanillin.com), sampled chocolates made with Rhovanil Natural vanillin, a natural GMO-free alternative to vanillin derived from rice bran, at the food expo. In addition, the company offered chocolates made with its Vanifolia range of products—a natural solution developed from Rhovanil Natural to meet the growing demand for more natural, organic, and/or additive flavors.
Already noted for its confectionery applications, Solvay is working to expand its footprint into additional product categories, including beverages, dairy products, and biscuits, said Aparna Parikh, head of marketing, Solvay Aroma Performance, Americas. The company also served up whey-based protein shakes at IFT17; the shakes were formulated with Vanifolia as well as Solvay's Govanil, a taste-enhancing functional vanilla replacement well-suited to masking off-notes in a variety of high-protein product applications.
Solvay, which puts a rigorous emphasis on purity, quality, and safety, operates facilities in France, Louisiana, and China to meet global supply chain needs for vanillin ingredients, Parikh said.
Highlighting a Rare Sugar
The experts at Matsutani Chemical Industry Co., Itami City, Japan (matsutani.co.jp), shared insights into the potential of its rare sugar, Astraea Allulose. This monosaccharide carries 0.2 kcal/g and 70% of the sweetness of sucrose. Astraea was the first allulose to be commercialized and has been used in Japan for some time. It can be used as a 100% granular sugar replacer and in beverages, confections, dairy, bakery, and sweet goods, including the dark chocolate bar the company sampled at the show.
A Bountiful Harvest From the Sea
The time is right for kelp to make a splash in the marketplace, say executives at Ocean's Balance, Portland, Maine (oceansbalance.com); the company debuted its new kelp puree at IFT17. The puree is available in consumer-sized packages as well as in quart and gallon jars for commercial applications.
"Kelp is really moving right now," said Tollef Olson, company president. In Maine, kelp—which is a form of seaweed—is a trendy local ingredient, Olson noted, but he added that it's also been embraced by some high-profile chefs globally, including David Chang and Jamie Oliver.
The glutamates in kelp mean that it delivers umami taste benefits, and it's also low in calories, a source of protein, and naturally gluten-free. Product applications are varied and include broths, soups, stews, sauces, breading, batters, dips, condiments, smoothies, and sweet desserts like fudge, which Ocean's Balance sampled at the show.
"Seaweed is a unique alternative to traditional vegetables and proteins because it needs no fresh water, no arable land, and no fertilizers to grow," said Mitchell Lench, Ocean's Balance CEO. The company touts the fact that its kelp is sourced in pristine Maine ocean waters.
Karen Nachay, a member of IFT, is senior associate editor of Food Technology magazine ([email protected]).
Melanie Zanoza Bartelme is associate editor, Food Technology magazine ([email protected]).
Mary Ellen Kuhn, executive editor, Food Technology magazine ([email protected]), contributed to this article.