Healthfulness, recognizable ingredients, and clean eating are top of mind for today's consumers, according to research presented by experts from the International Food Information Council and Mintel during IFT17.
Healthfulness posted the largest gains in 2017 among the mega factors affecting food purchases, according to an IFTNEXT presentation called "Consumer Trends in 2017" delivered by Joseph Clayton, CEO of the International Food Information Council (IFIC). Clayton discussed findings from the IFIC Foundation's 2017 Food & Health Survey. Taste, price, and convenience saw declines between 2012 and 2017, but more than 60% of respondents identified healthfulness as a purchase driver; sustainability grew to almost 40%.
In addition, Clayton pointed out that confidence in the safety of the food supply is down slightly over 2016: 35% of Millennials and 24% of Boomers said they are not confident. Just over four in 10 adults changed their eating habits due to concerns about a top safety issue.
Foodborne illness, carcinogens in foods, and chemicals in food were the top consumer food safety issues. Pesticides/residues and food additives/ingredients were identified by more than 40% and more than 30% of respondents, respectively; animal antibiotics, biotechnology/GMOs, and allergens rounded out IFIC's list.
Seeking Benefits
When it comes to what consumers do want in their food, weight loss/management is now the most desired health benefit from food, followed by heart health, energy, digestive health, immunity, and muscle health, per IFIC's data. One in three consumers younger than age 50 are the most interested in weight loss.
Drinking more water or other fluids to stay hydrated was the No. 1 step consumers are taking to eat more healthfully this year. Consumers are most likely to define a healthy food as those high in healthy components or nutrients.
Consumer interest remains squarely focused on sugar as a source of calories: 38% of consumers turn to sugar to sweeten their foods/beverages, while 30% used low/no-calorie sweeteners and 32% don't use either.
Sustainability is important for about half of consumers; reducing the amount of pesticides used to produce foods, conserving the natural habitat, and conserving farmland over multiple generations are the most important aspects of sustainability to consumers, per IFIC.
Permissibility and Experimentation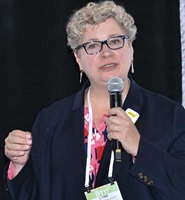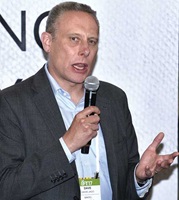 Food and beverage experts from research firm Mintel also provided insight into consumer behaviors during several presentations at the show. In a fun exchange, analysts Lynn Dornblaser and David Jago detailed how food manufacturers can help override the guilt associated with consuming more indulgent foods and treats in their "It's Not Always About Health" presentation.
"Going thin" has proven to be a big idea for classic cookies, including OREO, reinforcing the "small treat" nature of the product. Mintel reported that Chips Ahoy! Thins had a purchase intent of 56% versus 38% for all cookies; Kellogg's Keebler Cookie Thins had 49%.
The Mintel team recommended highlighting new and appealing attributes of a favorite ingredient, e.g., chocolate. Dark chocolate and premium chocolate are perceived as healthier than regular; smaller-sized packs of chocolate may help consumers limit their sugar intake. Go mini, they advised, such as in Russell Stover's new Coconut Minis. Create a healthy halo with added ingredients, e.g., fruit. Soft, fruity filling surrounded by chocolate helps consumers feel less guilty, such as in Lindt Sensation Fruit Dark Chocolate Balls Filled with Raspberry and Cranberry sold in Switzerland.
They also suggest tinkering with the pack to provide smaller sizes—think multipacks or more unusual single-serve treats, such as Duncan Hines Perfect Size for 1 S'mores Cake, which is microwavable in a cup. Mintel reported the purchase intent for mug-cake mixes at 41% across all consumers and 51% for those aged 18–34.
Manufacturers can leverage a new ingredient, e.g., sorghum, in a nutritious treat, like ANE's Pop IQ Cheddar Popped Sorghum, which offers nearly twice as much dietary fiber as regular potato chips. Companies can promote the parts of the product that are inherently good, such as seeds, granola, turmeric, and coconut.
Lastly, when it comes to permissibility in carbonated soft drinks, consumers have moved far beyond simple calorie reduction—42% are interested in healthier carbonated soft drinks; 34%, all-natural; 25%, vitamin-enhanced; 21%, natural carbonation; 20%, electrolytes/energizing attributes; 17%, relaxing benefits; 16%, probiotics/craft soda; and 15%, protein, per Mintel. Thirty-six percent drink noncarbonated beverages more often than soda.
Next Generation: Clean
Non-GM processing aids and animals fed with GMO-free feed will be part of the next generation of GMO-free products, according to Mintel analyst Stephanie Mattucci's "Clean 2.0" presentation. Whole Foods stores are already encouraging dairy suppliers to use non-GM feed. Horizon Organic's Organic Shredded Mozzarella Cheese, for example, is made with milk produced from cows not fed GM feed or given growth hormones or antibiotics.
With more than one-third of consumers now buying organic, per Packaged Facts' 2016 Natural and Organic Foods U.S. report—simply because organic is always non-GM—perhaps it is not surprising that 56% of organic foods/drinks launched in the United States from June 2016 to May 2017 also carried a GMO-free claim. One-third (34%) of consumers are buying more organic foods than last year.
In 2016, Generation Z and Baby Boomers were most likely to avoid artificial sweeteners; the Swing Generation, artificial preservatives; Millennials and the oldest counterparts, artificial flavors; and Boomers and Millennials, GM ingredients (see figure).

Between June 2016 and May 2017, 23% of new food/drinks launched in the United States with natural-related claims carried a no additives/preservatives claim; 19%, GMO-free; 15%, organic; and 9%, all-natural, per Mintel.
Mintel found that 30% of food shoppers would purchase more store-brand food/drink products if they contained ingredients that are easily recognizable, and U.S. new product launches with artificial ingredients are in decline. Between June 2016 and May 2017, only 9% of new food/beverage launches contained artificial colors; 4%, artificial non-nutritive sweeteners; and 4%, artificial flavoring substances, per Mintel.
More than one-third (36%) of U.S. consumers are interested in products free from artificial colors. This is true even in regard to magical colors, such as those used by Starbucks in the April 2017 launch of its flavor- and color-changing Unicorn Frappuccino drinks. The beverage included colors derived from fruits, vegetables, and spirulina.
Heavy metals known to sometimes contaminate foods, e.g., methylmercury, tin, cadmium, pesticides, and other soil/water contaminants, are other concerns on the horizon, per Mintel. Heavy metal pollution is a growing concern around the world. In the United States, 17% of consumers don't eat fish because they are concerned about the toxins, Mintel found.
Mintel also reported that 47% of U.S. Millennials agree the nutritional value of gluten-free products is poor compared to products that contain gluten.
Two-thirds of food shoppers say it is important to be able to see the food inside the packaging, such as through a plastic window; 25% of U.S. shoppers aged 18–34 have scanned codes on packaging with a mobile device to get information, per Mintel.
A. Elizabeth Sloan, PhD, contributing editor, is president, Sloan Trends Inc., Escondido, Calif.