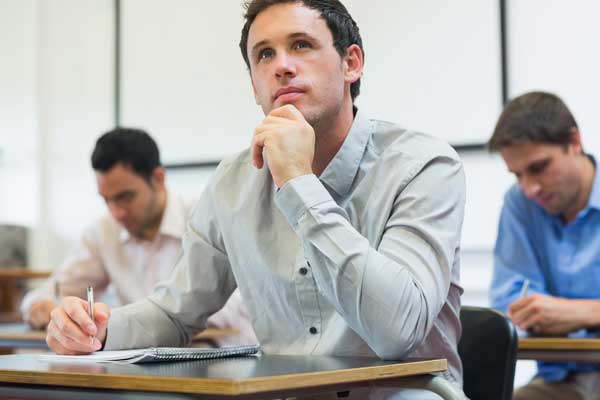 Food Safety Training
Training in food safety takes many forms. For food professionals, people working in food manufacturing or the retail food and foodservice industries, it may start with high school courses devoted to food science, but it certainly involves food science, food technology, and food engineering curricula in college. After that there are continuing education courses, conferences, seminars, webinars, and symposia on food safety offered by professional organizations, universities, and companies providing services to the food industry.
Training Alliances
The U.S. Food and Drug Administration (FDA) has issued final rules implementing the Food Safety Modernization Act (FSMA). The rules address preventive controls for human and animal food, produce safety, foreign supplier verification, third-party certification, intentional adulteration, and sanitary transportation. The FDA requires each person engaged in manufacturing, processing, packing, or storing food to receive training in the principles of food hygiene and food safety and be supervised by personnel with the education, training, and/or experience necessary to supervise the production of clean and safe food. The FSMA requires food companies to have a food safety plan created by a certified preventive controls qualified individual. The FDA also created alliances to develop training materials that help growers and companies meet the regulations. The agency said that the standardized curricula developed by the alliances and any alternate curricula developed through cooperative agreements will be the only ones it officially recognizes.
• The Food Safety Preventive Controls Alliance (FSPCA) is a public-private partnership that the FDA created in 2011 in cooperation with the Illinois Institute of Technology's Institute for Food Safety and Health (IFSH) to develop training courses on preventing contamination for both human and animal food during production. The IFSH partners with the International Food Protection Training Institute (IFPTI) and the Association for Food and Drug Officials (AFDO) for training implementation. The FSPCA developed core curricula, training, and outreach programs to help the domestic and foreign food industries meet the requirements of the FSMA final rules. The FDA recognizes the FSPCA curriculum as meeting FSMA requirements to demonstrate certain competencies of qualified individuals. The program includes standardized FSMA training courses and distance-education modules plus train-the-trainer (lead instructor) courses for those interested in helping to teach the courses.
Topics in the curriculum include food safety plans; good manufacturing practices (GMPs); food safety hazards (biological, chemical, physical, and economically motivated); developing a food safety plan; preventive controls (process, allergen, sanitation, and supplier); recall planning; verification, validation, and record-keeping procedures; and regulations. The animal food course emphasizes additional topics relevant to pet food and animal feed production.
Course participants receive a certificate of completion from the AFDO, IFSH, and IFTPI. The FSPCA began offering the courses in October 2016 and by October 2017 had granted 49,147 certificates in preventive controls for human foods and 1,333 lead instructor certificates; 4,852 certificates for preventive controls for animal foods and 202 lead instructor certificates; and 2,279 foreign supplier verification program certificates and 211 lead instructor certificates. The alliance will also grant certificates for the intentional adulteration training expected in 2018.
• The Produce Safety Alliance, a partnership created in 2010 by the FDA, the U.S. Dept. of Agriculture (USDA), and Cornell University that provides the produce industry and associated groups with training and educational opportunities related to current best practices, guidance, and regulatory requirements, offers a grower training course and a lead instructor course launched in September 2016. The grower training course consists of seven modules on produce safety; worker health, hygiene, and training; soil amendments; wildlife, domesticated animals, and land use; agricultural production water and postharvest water; postharvest handling and sanitation; and how to develop a farm food safety plan. Participants receive a certificate of completion from the AFDO and Cornell University. The lead instructor course additionally covers good agricultural practices, principles of adult education, and related topics.
As of October 2017, 8,029 growers had been trained in 304 grower training courses; 1,082 trainers and 181 lead trainers had been trained. So far, 34 grower training courses have been scheduled through March 2018.
• The Sprout Safety Alliance (SSA) was created in 2012 by the FDA in cooperation with the IFSH to help sprout producers understand and comply with FSMA rules. The SSA developed a sprouter training course, a lead instructor course, and a combination of the two. The training curriculum was finalized in August 2016 and revised in March 2017, based on the feedback received from the training courses and the FDA's guidance for sprout operations. Participants receive a certificate of completion from the AFDO, IFSH, and IFPTI.
From August 2016 through August 2017, the SSA conducted 14 sprouter training courses, two lead instructor courses, and two combination courses. Seventeen courses have been scheduled through July 2018. An online version of the sprouter training course is expected to be available by the end of 2017. Future trainings will most likely be blended courses consisting of an online course followed by an instructor-led course; three blended courses have been planned through July 2018.
• The Seafood HACCP Alliance and the AFDO developed a HACCP training program in 1996 for importers, processors, and distributors of fish and fishery products and for regulatory officials. The alliance provides training in basic HACCP programs and related sanitation control procedures as well as lead instructor courses. Scheduled courses are listed on the AFDO website. The online training course, managed by the New York Sea Grant and Cornell University, was launched in 2001 and last updated in 2017. The alliance has taught 41,550 participants in 2,674 Seafood HACCP courses since 1996.
• The International Food Protection Training Institute (IFPTI) developed the National Curriculum Standard (NCS), a food safety professional training standard that the FDA supports. The standard was designed for the Integrated Food Safety System, a partnership of federal, state, and local regulatory agencies, to ensure that consistent training approaches are conducted. The NCS identifies the knowledge, skills, abilities, and other attributes that four levels of regulatory personnel (entry, advanced, technical specialist, and leadership) must have to conduct specific job activities or tasks. The interactive site containing the curriculum standards includes key performance indicators and an assessment tool for regulators and their assessors/supervisors to identify competency gaps.
The IFPTI received a grant from the FDA, in cooperation with the USDA's National Institute of Food and Agriculture, to establish a National Coordination Center for Food Safety Training, Education, Extension, Outreach, and Technical Assistance (NCC) and four regional centers to provide training opportunities for owners and operators of farms, small food processors, and small fruit and vegetable merchant wholesalers. The NCC coordinates curriculum development and the delivery of training curricula through the four regional centers: the Southern Center for Training, Education, Extension, Outreach, and Technical Assistance to Enhance Produce Safety at the University of Florida; the Western Regional Center to Enhance Food Safety at Oregon State University; the North Central Region Center for FSMA Training, Extension, and Technical Assistance at Iowa State University; and the Northeast Center to Advance Food Safety at the University of Vermont. All U.S. land-grant universities participate in developing or delivering FSMA training through the regional centers. Additionally, a tribal center has been created at the University of Arkansas as well as one focused on local food hubs managed by the National Farmers Union.
• The International HACCP Alliance, established in 1994 at the department of animal science at Texas A&M University, has developed curricula for an introductory course for development of HACCP plans for meat and poultry establishments, an executive briefing on HACCP, a sanitation standard operating procedure course, HACCP-inspection model project training, and advanced HACCP training on verification and validation. The alliance lists a schedule of training courses, including introductory and advanced HACCP courses and train-the trainer sessions on its website.
• The Juice HACCP Alliance developed a standardized training curriculum for application of HACCP principles to juice processing. Although the alliance has been inactive for a number of years, the standardized curriculum might still be used by land-grant universities, state agencies, and others to deliver training to juice industry personnel and government regulators.
• The FDA also developed an online training course to help transporters meet the requirements of the sanitary transportation rule. The rule requires rail and motor vehicle carriers to provide food safety training to their personnel engaged in transportation operations. The agency also established an FSMA Collaborative Training Forum to provide an opportunity for dialogue among the agencies, centers, associations, and others involved in training. In addition, the FDA's Office of Training Education and Development offers training courses and webinars to state, local, tribal, or territorial government agency regulatory personnel on a wide variety of topics related to food safety, such as the FSMA rules, GMPs, HACCP, and preventive controls. The alliance courses are prerequisites to regulator-specific training.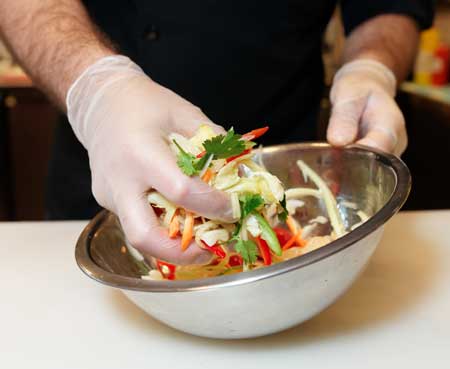 • The USDA, through its Food Safety Outreach Competitive Grants Program, provides funding for food safety training and education for small and mid-sized producers and processors. To date, more than 50 grants have been awarded. The USDA's Professional Standards Department publishes a list of food safety related courses for school foodservice personnel.
Associations
The National Restaurant Association (NRA) (restaurant.org) developed the ServSafe program, which provides online and classroom food safety training for foodservice managers. Participants earn the ServSafe food protection manager certification, which is accredited by the American National Standards Institute and the Conference for Food Protection. Level I certification provides basic safety and food handling training for entry-level food workers, and Level II certification provides in-depth training for food managers. The NRA also developed the ServSafe Allergens online course in partnership with Food Allergy Research & Education to help restaurants address food allergenicity.
The Food Marketing Institute (FMI) (fmi.org) developed the SafeMark food safety training and certification program for the food retail industry. The program includes the Online Guide to Food Safety Manager Certification Training and Online SafeMark Food Safety: Training for Food Handlers. The FMI also manages the Safe Quality Food (SQF) Institute. Courses introduce the SQF system to suppliers and prepare professionals to become licensed SQF consultants and advanced SQF practitioners. Courses include the SQF Quality Systems for Food Manufacturing, SQF Quality Systems for Manufacturing, Implementing SQF Systems, Advanced Practitioner, and SQF Lead Auditor. The Implementing SQF Systems course explains the requirements of the SQF Code, which meets the needs of suppliers in the food industry through an internationally recognized certification system, emphasizing the systematic application of HACCP for control of food quality hazards as well as food safety.
The Grocery Manufacturers Association (GMA) (gmaonline.org), through its Science and Education Foundation, offers the Better Process Control School (BPCS), established by the FDA for supervisors of commercial food canning operations. BPCS subject areas include thermal processing system operations, microbiological food safety, equipment operations, and acidification and container closure evaluation programs for low-acid and acidified canned foods. A list of universities and other organizations offering BPCS training is available on the GMA website. The GMA also offers online training courses for HACCP managers and HACCP operators.
The Institute of Food Technologists (ift.org) developed undergraduate education standards for degrees in food science and lists those university programs that offer curricula and options that meet the standards. It also published a directory of food science graduate programs at universities in the United States and Canada.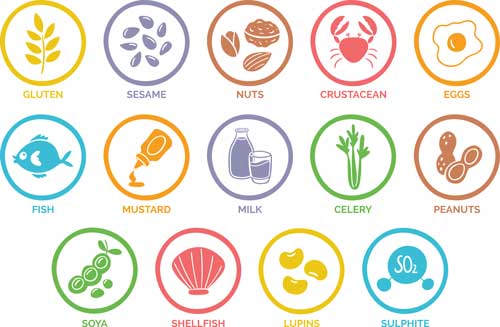 IFT offers a Certified Food Scientist credential for food science professionals. The International Food Science Certification Commission oversees the credentialing activities to ensure that they meet International Standards Organization standards. IFT also offers online courses such as Incorporating Food Safety in Product Development; Food Allergens: Regulations, Risks, and Controls; Introduction to Dairy Science; and CFS Preparatory Course. It has also presented webinars on a variety of food safety–related topics and holds an annual event in which papers and symposia on all aspects of food science and technology are presented.
Universities
Michigan State University offers online courses on the FSMA Foreign Supplier Verification Program, Preventive Controls for Human Food, and Produce Safety rules; an online master's degree in food safety; HACCP certification; and others. Internationally, it maintains the Food Safety Knowledge Network, which lists free training and education courses on food safety.
North Carolina State University offers workshops on acidified-foods manufacturing, seafood HACCP, juice HACCP, meat and poultry HACCP, and others, including the FSPCA Hazard Analysis and Risk-Based Preventive Controls course, the Foreign Supplier Verification Programs course; and HACCP Training (a HACCP Alliance–approved course).
Through its office of continuing education, Rutgers University offers food safety courses, seminars, and certification programs in topics such as food processing and food safety, better process control, HACCP plan development for food processors, practical food microbiology, and basics of food safety for food handlers.
The University of Minnesota offers food safety courses, including the TAP Series online course for food manager certification and the Food Allergen Training for Food Service Employees course as well as courses on HACCP, sanitation programs development, environmental monitoring, process validation, and others.

Neil H. Mermelstein, IFT Fellow, Editor Emeritus of Food Technology
[email protected]