Tim McGreevy of the USA Dry Pea and Lentil Council and Igor Playner of Ingredion talk pulse ingredients at IFT16.
Whether whole, pureed, as flour, or in isolated protein or starch forms, pulses can be used to help product developers achieve the flavor, texture, and nutritional needs in pretty much any application, says Hunter. Take pulse flours, for example. "In addition to enriching a product's fiber and protein content, other benefits of incorporating pea and lentil flour include a pleasant light-golden appearance, and positive blending and mixing attributes," she adds. "Precooked pulse flours supply superb stability, comparable to that of wheat flour, and there is lower risk of microbial growth."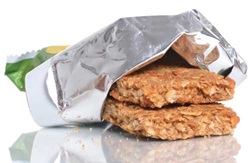 Along with pulse flours, pulse proteins are used in baked and extruded snacks, pasta, baked goods, bars, batter, and breading along with high-moisture applications like soups, sauces, and dressings, says O'Brien. Formulating with these and other pulse ingredients not only allows for products to be positioned as clean label, gluten-free, non-GM, grain-free, or having added protein or fiber, but also achieves cost savings by reducing eggs and provides functions such as emulsification, water-holding, and adhesion, he adds. In bakery products, pulse protein has excellent water-holding capacity and provides structure when replacing gluten while pulse fiber can help reduce breakage and enhance dough yield in place of gums. Pea ingredients such as starch, flour, and fiber can function in batter and breading applications, where they can meet clean label standards and provide gluten-free options. Depending on the application, certain pea ingredients will have better results in terms of batter viscosity, batter pick-up, and texture than others, according to information from the USA Dry Pea and Lentil Council. Pulse ingredients also function in meat products such as luncheon meat, sausage, burgers, and meatballs, where they form gels, emulsify, and bind water. In vegetarian and vegan meat alternative products, pulse flour or protein concentrates, protein isolates, or a blend can be used. One pulse ingredient in particular has potential to stand in for soy protein, which is the protein ingredient typically used in those products. Pea protein has been shown to have texturizing properties that are similar to soy protein and better oil and water absorption qualities, according to information from the USA Dry Pea and Lentil Council.
With an extensive range of pulse ingredients available, product developers have a lot to consider in their formulation efforts. "The choice of the type of pulse to use in a product developer's formulation really depends on preference," says O'Brien. "In our experience, we have seen label declaration, functionality, flavor profile, color, and textural benefits all factor into the decision."
Bakers, for instance, will use pulse flours because they are a natural, more economical and nutritious alternative to gums, says Hunter. Functional components derived from peas are also being explored for their potential benefits to bakery applications (and more). "Pea fiber fortifications not only enhance dough yield, they can also modify texture, create a full-bodied mouthfeel, improve uniformity and consistency, and reduce product breakage. Pea fiber's high water-binding capacity, fat absorption, and dough conditioning properties also contribute to making pea fiber perfect for many baked products, especially low-fat or color-sensitive applications. By increasing water absorption and easily substituting partial or an entire wheat flour in baked foods like cakes, cookies, and muffins, pea flour makes possible the development of products with [an] excellent source of fiber claim." There's also a proprietary process for producing insoluble pea fiber from the plant's cotyledon (the rudimentary leaf of the embryo of a seed plant) that is comprised of 70% fiber and has emulsifying and gelling properties, she says. This insoluble pea fiber can enhance the nutrition and improve crispness, loaf volume, and appearance of many types of bakery products.
A Bevy of Pulse Ingredients
Ingredient manufacturers specializing in pulses continue to develop new and novel pulse-based ingredients, all to address the formulation needs of product developers. Ingredion, along with AGT Food & Ingredients, Regina, Saskatchewan, Canada (agtfoods.com), offers HOMECRAFT pulse flours and VITESSENCE pulse protein concentrates derived from peas, lentils, faba beans, and chickpeas grown in the United States and Canada. (Ingredion is the exclusive distributor of the pulse ingredients manufactured by AGT Food & Ingredients.) "The pulse ingredients are fine-powdered materials created from the fractions of high-quality peas, lentils, faba beans, and chickpeas made without the use of processing aids or chemical compounds through a mechanical process," says O'Brien.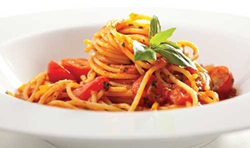 Use the novel pulse flours to add distinction to products or replace wheat flour to create gluten-free products. The companies promote the HOMECRAFT pulse flours as healthier types of flours, saying that they contain almost twice as much protein as cereal grains and high amounts of soluble and insoluble fiber and resistant starch. The VITESSENCE pulse protein concentrates contain anywhere from 55% to 60% protein and are positioned as vegetarian ingredients and replacements for allergens such as egg and dairy. They can even be used to replace whole eggs or egg whites in pasta and bakery products. "The choice of using a flour or a protein concentrate really depends on the target of the product developer," says O'Brien. "For instance, if the product developer is looking to increase protein, we might suggest a VITESSENCE pulse protein. Or, if they are looking to improve texture in their gluten-free baked good, we may suggest a HOMECRAFT pulse flour."
Another pulse protein ingredient, PurisPea pea protein isolate derived from dry, split peas, comes courtesy of Cargill, Minneapolis, Minn. (cargill.com). The ingredient delivers 80% protein and has a protein digestibility-corrected amino acid score of .82 meaning that product developers and bakers can add protein by using the ingredient without sacrificing a quality eating experience, says Bill Gilbert, certified master baker and principal food technologist at Cargill. He adds that PurisPea does not have a bitter pea flavor because it is processed using wet extraction but that it does tend to have less water-binding capacity compared to soy proteins. Formulating with the pea protein isolate will mean that product developers need to tweak their formulas. "All proteins require formula adjustments," says Gilbert. "In bakery products, we recommend replacing one-to-one with flour first before making water adjustments for rheology or viscosity. Cargill has designed many prototypes featuring PurisPea and in many cases, the solution is using a blend of proteins to deliver the desired protein claim without impacting flavor and performance."
Other forms of pulse ingredients, each with specific functions, are available from Healthy Food Ingredients. For example, the company's precooked flakes and grits go beyond just a basic raw flour and allow food manufacturers to easily incorporate pulses into products while still maintaining functionality, says Tesch. "Depending on the application, we can offer and recommend a raw, precooked, or pregelatinized flour, precooked flake, or raw or precooked grit that will incorporate well into a finished product while still maintaining the intended functionality and benefits of added protein, fiber, etc. We partner with our customers in their product development stage so we can learn how they would be incorporating/using a flour, flake, or grit in their product. For example, if the product will not be further cooked during the customer's process, we would recommend our pregel flour as an excellent fit in that scenario as the starches are fully cooked going into the product." The company's food scientists are even working on formulations to give a twist to AncientGrisps, milled and extruded crispy ancient grain inclusions, by developing a variety made from pulses, she adds.
Keeping the Beany Taste at Bay
Pulse ingredients offer plenty of beneficial functions and a slew of nutrients that help improve food and beverage products. There is one characteristic of pulse ingredients though that may cause manufacturers to shy away from considering them in their formulation efforts: the beany flavor profile that they can contribute to some finished products.
"In certain applications this flavor profile may be desired while in other applications product developers may prefer a blander flavor profile," says O'Brien. For use in those applications where a cleaner taste is required, Ingredion and AGT Foods developed a range of clean taste pulse ingredients under the VITESSENCE Pulse CT and HOMECRAFT Pulse CT brand names. "The clean taste pulse ingredients allow product developers a bland flavor profile for easier incorporation into applications in which flavor has been an issue when trying to formulate with pulse ingredients," says O'Brien. He adds that a proprietary technology used to develop the ingredients, which made their debut last year, helps to improve the flavor profile while maintaining the clean label positioning of the pulse ingredients.
Four ingredients make up the clean taste pulse ingredient line. The VITESSENCE Pulse CT pea protein concentrate and faba bean protein concentrate contain 55%–60% protein on a dry basis while the HOMECRAFT Pulse CT pea flour and lentil flour are gluten-free and contribute protein and fiber to bakery products and numerous other applications. The companies also position the ingredients as clean label and made from ingredients that are not genetically modified. Use these neutral-tasting, plant-based proteins in puddings, cheeses, yogurts, smoothies, pastas, snacks, and cereals.
ADM manufactures the VegeFull line of cooked, dehydrated bean ingredients to help product developers overcome the beany taste that's often detectable when pulse ingredients are used at higher inclusion levels, says Rueda. "These ingredients offer a superior nutritional profile—high protein and fiber in one whole-food ingredient— while being very palate neutral. They can be incorporated into virtually any food or beverage application, and we're seeing a lot of interest in bakery and snack applications as formulators look to reduce sugar and clean up their labels by using whole food ingredients." The VegeFull bean ingredients consist of pinto beans, black beans, small red beans, navy beans, and chickpeas and come in formats such as quick-prep whole, grit, meal, and powder.
Pulses truly are the plant-based ingredient to watch for the reasons outlined in this article. As Hunter fittingly states: "Thanks in part to the International Year of Pulses in 2016—which helped position pulses as a health staple for consumers—chickpeas, beans, lentils, and dry peas have earned a well-deserved reputation as superfoods consumers will continue to seek out for years to come both as a pantry staple and an ingredient in packaged foods."
Next month's Ingredients section will cover ingredients used in fruit and vegetable beverages.

www.ift.org
Members Only: Read more about pulses at ift.org. Type the keyword into the search box at the upper right side of the home page.

Karen Nachay,
Senior Associate Editor
[email protected]
References
Bouasla, A., A. Wójtowicz, M. N. Zidoune, et al. 2016. "Gluten-Free Precooked Rice-Yellow Pea Pasta: Effect of Extrusion-Cooking Conditions on Phenolic Acids Composition, Selected Properties and Microstructure." J. Food Sci. 81(5): 1070–1079.
Gugger, E. T., P. Galuska, and A. Tremaine. 2016. Legume-based dairy substitute and consumable food products incorporating same. U.S. patent 15/136,556.
Katoch, R. 2013. "Nutritional Potential of Rice Bean (Vigna Umbellata): An Underutilized Legume." J. Food Sci. 78(1): 8–16.
Kristensen, M. D., N. T. Bendsen, S. M. Christensen, A. Astrup, and A. Raben. 2016. "Meals Based on Vegetable Protein Sources (Beans and Peas) are More Satiating than Meals Based on Animal Protein Sources (Veal and Pork)—A Randomized Cross-over Meal Test Study." Food Nutr. Res. 60(1): 32634.
López-Barrios, L., J. A. Gutiérrez-Uribe, and S. O. Serna-Saldívar. 2014. "Bioactive Peptides and Hydrolysates from Pulses and Their Potential Use as Functional Ingredients." J. Food Sci. 79(3): 273–283.
Roquette. 2017. "Roquette to Build the Largest Pea Protein Processing Facility to Date for Food, Nutrition and Health Markets." Press release, Jan. 18. Roquette, Lestrem, France. roquette.com.
Shariati-Ievari, S., D. Ryland, A. Edel, T. Nicholson, M. Suh, and M. Aliani. 2016. "Sensory and Physicochemical Studies of Thermally Micronized Chickpea (Cicer arietinum) and Green Lentil (Lens culinaris) Flours as Binders in Low-Fat Beef Burgers. J. Food Sci. 81(5): 1230–1242.
Wiesinger, J. A., K. A. Cichy, P. Raymond, et al. 2016. "Demonstrating a Nutritional Advantage to the Fast-Cooking Dry Bean (Phaseolus vulgaris L.)." J. Agric. Food Chem. 64(45): 8 592–8603.