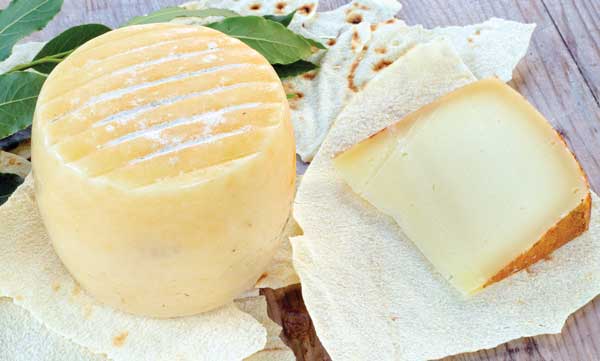 Possible benefits of sheep's milk
A paper published in Comprehensive Reviews in Food Science and Food Safety explores the physicochemical and nutritional characteristics of sheep's milk and development of sheep's milk dairy products containing prebiotics and/or probiotics.
Worldwide, cow's milk is the most commonly consumed milk, dominating the world milk production with 782 million tons in 2013. However, sheep's milk–producing farms represent a significant part of the agrarian economies in many countries, especially those bordering the Mediterranean Sea and in the Middle East.
Sheep's milk is an excellent source of nutrients and is mainly used for cheese production due to its high total solids content, contributing to a high cheese yield. However, the functional benefits of this food matrix remain unexplored by the dairy industry. More studies are needed to investigate the effects of the addition of probiotic microorganisms and, especially, prebiotic components in sheep's dairy products, such as cheese, yogurt, ice cream, and other dairy desserts.
Consumers willing to experiment
America is in the middle of an economic recovery cycle, and as a result, consumers are more willing to take chances on bold, experimental flavors and try new cuisines, according to Suzy Badaracco, president of Culinary Tides, who presented "Flavor Trends: Hybrids, Extremes, and What Tastes Good Right Now" during the recent Winter Fancy Food Show in San Francisco.
Although unease related to the recent presidential election may halt things for a while, the return of consumer confidence within the recovery means that consumers have less fear about spending money. As a result, they are more willing to go out on a limb and try new products and order unknown dishes in restaurants, says Badaracco. Spending on green, luxury, and organic products is up, and consumers are more willing to indulge in desserts and exotic wine varietals as well.
Badaracco predicts that this confidence and consumers' desire to buy according to their personal values will lead to a number of trends in 2017, including the increasing popularity of exotic fruits such as lulo, yuzu, and pichu and Scandinavian-inspired desserts. Regional cocktails and global liquors like mescal, aquavit, and Japanese whiskey will be hot, as will flavor-infused ice and added nitrogen.
Flavor preferences evolve throughout the recession and recovery process, and because the country is midrecovery, certain food types and flavors are currently prevalent. These include hybrids like the cronut (croissant and doughnut) and the Fookie—a fudge and cookie mashup featured at the show—and stuffed foods, such as pierogis and the cheeseburger-stuffed doughnut from PYT Burger in Philadelphia.
NIH revises peanut guidelines
An expert panel sponsored by the National Institute of Allergy and Infectious Diseases (NIAID), part of the National Institutes of Health, recently issued clinical guidance for health-care providers that advises early introduction of peanut-containing foods in infants, especially those already experiencing allergenic symptoms like severe eczema.
The guidelines were prompted by data from the Learning Early About Peanut Allergy (LEAP) study, a randomized clinical trial in London that included more than 600 infants; the study's lead, Gideon Lack, based the study on an observation that genetically similar children living in Israel who consumed the peanut butter–based snack Bamba experienced much lower levels of peanut allergies. Findings published in 2015 showed that early peanut introduction resulted in significantly lower risk of developing peanut allergies by age 5. These recommendations run contrary to previous advice, which asked parents to avoid bringing their child into contact with peanuts.
"We've drilled it into people that you shouldn't feed your kids peanuts early in their infancy because that might promote peanut allergy, and that seems logical, but it was never tested and never evidence based," says Steve Taylor, cofounder and codirector of the Food Allergy Research and Resource Program at the University of Nebraska–Lincoln. "It was opinion, expert opinion, but opinion nonetheless."
The new advice is backed by data, but it might be difficult to convince parents to follow it. "It's really hard when we have well-ingrained, accepted expert advice like this and you try to turn it around," says Taylor, noting that parents are influenced by factors beyond their doctors, such as social media and family members. In addition, this advice will need to trickle down and be accepted by other medical professionals in parents' lives, such as general practitioners and dietitians, for the guidance to spread.
It may also be difficult to convince parents to purchase food products containing peanuts for their children, but food companies may find opportunity by teaming up with well-respected experts for testimonials or public service announcements that do not promote a specific company's goods. "[We] need to foster that message because it encourages companies to think about new products that fill the niche," says Taylor.
--- PAGE BREAK ---
Science behind gluten-free formulating
Some consumers, whether for medical reasons such as celiac disease, sensitivity to wheat, or a lifestyle choice, are eliminating gluten from their diets. This avoidance behavior has given rise to a robust and growing gluten-free foods market. But removing gluten from foods and formulating gluten-free products with comparable eating qualities as their gluten-containing counterparts has been challenging for product developers.
To assist researchers in understanding the science and technology involved in formulating and manufacturing gluten-free products, IFT has compiled 10 research and review papers from its peer-reviewed scientific journals in a special web section called Gluten-Free Formulation, which provides the latest knowledge on creating and producing high-quality gluten-free products, such as bread, partially baked frozen bread, extruded snacks, and rice cakes.
These articles discuss novel flours and starches, pseudocereals, nutritional enhancements, additives, shelf life, processing and packaging technologies, as well as immunoreactive components in modern wheat cultivars and gluten detection for specific grains. Click here to view the articles.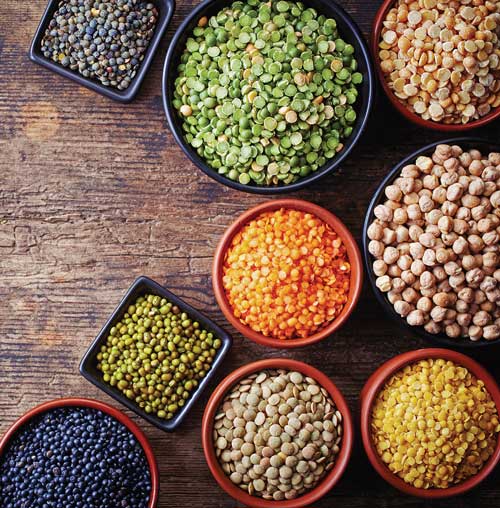 Plant-based diets proliferate
Six in 10 Americans aged 15–70 years old are cutting back on meat-based products and ingredients, while an additional 17% claim to have totally or largely eliminated them from their diets, according to HealthFocus International, which recently surveyed 1,009 respondents across the United States who avoid or have reduced their intake of meat.
According to HealthFocus, these changes have been driven by health and nutrition concerns, social concerns about animal treatment and the environment, and a sizable minority who dislike the taste and handling of meat products. The researchers see interest in health and nutrition across all demographic groups, while social concerns and aversion to meat products trend younger and more female. HealthFocus reports that vegetarian and grain-based foods are seen as healthier, more nutritious, and of better quality and worth paying a premium for.
For those who choose to follow an avoidance diet, commitment to this diet is high across all demographic groups and is comparable both when eating at home and away from home. Seventy-seven percent of these respondents see these changes as a permanent lifestyle change or hope to make it such, while 8% say it may not last and 15% say they are trying it to see how they like it.
For those who have not embraced the diet, barriers to adoption include taste, nutritional sufficiency, price, availability, and confusion about how to cook these foods.
---
News Bites
• Accardi Foods partnered with Solect Energy to install a 446-kilowatt solar array on the roof of its 75,000-square-foot warehouse and office facility in Medford, Mass.
• Applied Food Sciences opened its new innovation center in Iowa City, Iowa.
• Ardent Mills is joining Partners in Food Solutions—a U.S. nonprofit that connects corporate volunteers with small and growing food businesses in eight African countries in an effort to improve food security, nutrition, and economic development across Africa—as a corporate partner.
• The American Assoc. of Candy Technologists is accepting applications for its John Kitt Memorial Scholarship for the 2017–2018 academic year until April 4; click here for information and to apply.
• The Beach Whiskey Co. acquired American Harvest Vodka, an American-made organic vodka brand.
• Conagra Foodservice developed a new resource for operators. Culinary Trends, a bimonthly digital newsletter, focuses on a single trend making an impact in foodservice.
• The Council for Responsible Nutrition and the International Probiotics Assoc. released voluntary guidelines for labeling of probiotics in supplements, foods, and beverages.
• Dealers Ingredients launched a new website (dealersingredients.com). Its PROFI Pro and PROFI Bake complete high-protein, plant-based composite ingredients were also finalists in the Specialty Products Category at the 2016 Le Conseil de la transformation alimentaire du Québec (CTAQ) Food Innovation Awards.
• DuPont Industrial Biosciences was awarded a grant from the European Commission to demonstrate high-efficiency enzyme production to increase biogas yields as part of the DEMETER project.
• DuPont Nutrition & Health announced a substantial investment in a laboratory that serves the North American cheese industry. It will also invest $60 million expanding three cultures production sites in Europe.
• The Everstone Group invested $35 million in Mumbai-based OmniActive Health Technologies.
• J&J Snack Foods Corp. acquired the stock of Hill & Valley, a premium bakery located in Rock Island, Ill.
• Kenex Holdings, a Chicago-based investment holding company, acquired Bubbies Homemade Ice Cream & Desserts, an Aiea, Hawaii–based manufacturer of mochi ice cream.
• The government of Canada has announced a $1.1 million investment in Mazza Innovation to expand its plant extract production facility in Delta, British Columbia.
• MilliporeSigma acquired BioControl Systems, a global leader in food safety testing.
• OmniActive Health Technologies acquired an 85% stake and has entered into definitive agreements to acquire the balance stake in Bangalore-based health and nutrition active natural ingredients company Indfrag.
• Purdue Ventures, the capital access arm of the Purdue Foundry, with assistance from the Purdue College of Agriculture, Purdue Research Foundation's Office of Technology Commercialization, and the agricultural industry, granted $75,000 in funding to Phicrobe, a startup commercializing a method for the inexpensive and rapid detection of E. coli in food and food product environments, and $25,000 to Hydro Grow, a startup developing a refrigerator-sized automated device to grow vegetables in consumers' homes.
• Q Laboratories was named an AFNOR Certified Expert Laboratory, thereby qualified to perform validation studies on instruments, test kits, and materials for the food microbiology testing industry in France.
• Sanderson Farms recently opened a new $155 million processing plant and wastewater treatment facility in St. Pauls, N.C.
• Science Group announced a number of strategic developments as part of a significant program of investment in its U.S. operations in 2017, including the opening of an additional U.S. office in the Bay Area.
• Steviva Ingredients earned organic certification under the USDA National Organic Program for its Portland, Ore., SQF Level 2 manufacturing facility.
• TOP BV recently opened a new innovation center in Wageningen called TOP Food Lab.
• The Wisconsin potato industry committed $5 million to support the University of Wisconsin–Madison's potato and vegetable research program.
• The U.S. Dept. of Agriculture's National Institute of Food and Agriculture announced the availability of $858,500 in funding to strengthen K–14 education in the food, agriculture, natural resources, and human sciences. It also announced four grants totaling more than $13.6 million to combat citrus greening disease.

Melanie Zanoza Bartelme, Associate Editor
[email protected]