Recipe: Yellow Peas Hummus with Kimchi Oil
A Swedish native who was cooking before he got his driver's license, David Johansson is accustomed to introducing Americans to the cuisine of his home country. After having a chain of Swedish cafes in New York City, Chef Johansson returned to Sweden and went to work at IKEA to show the world that Swedish food is much more than the meatballs the furniture giant is known for. As product developer of IKEA food and restaurant, Johansson approaches his work using the five principles of design that have been applied in IKEA's furniture design for years: Form, function, quality, sustainability, and a low price.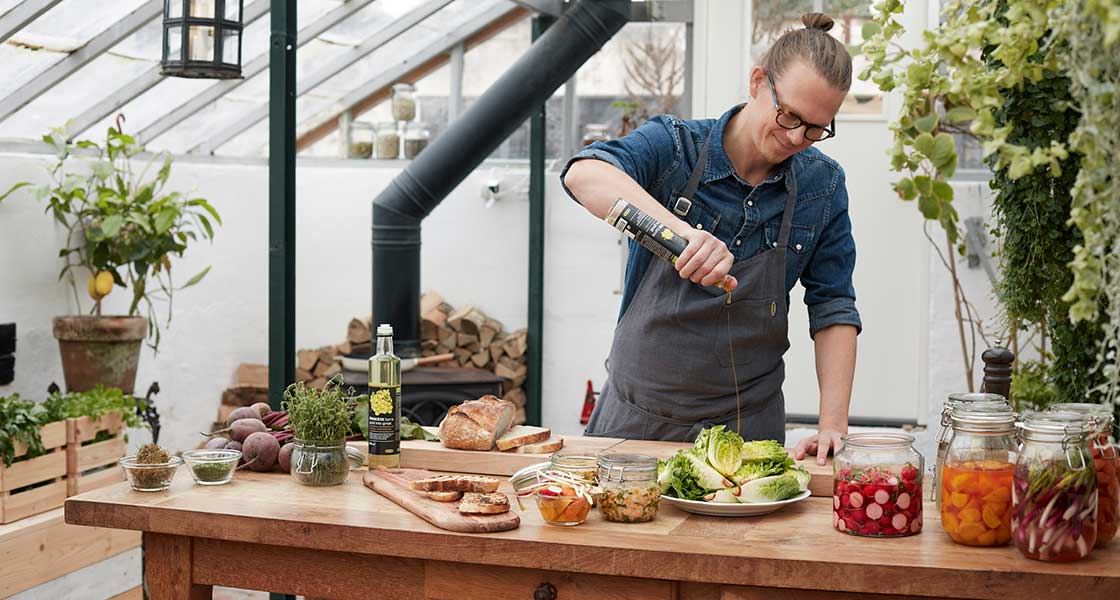 Q: You've worked as a chef at Michelin star restaurants in France, top eateries in Stockholm, and had your own chain of Swedish cafes in New York. What made you decide to move back to Sweden and work for IKEA?
David Johansson: I was working at a restaurant in Stockholm after I worked as a chef in Denmark, Norway, and France, when I was approached about an executive chef job at the Swedish Consulate General in New York. With that job, I took care of all the receptions and dinners for the foreign ministry. We handled all kinds of events, such as a launch party for a Swedish rock band on the American market, hosting fashion designers, and Nobel Prize dinners—everything from very formal dinners to really fun receptions.
I did that for two and a half years and then I met another Swedish guy in New York who asked me if I wanted to open something together with him. He had the idea of an espresso bar with some food and home-baked cookies. He wanted to bring the Swedish tradition of "fika" [coffee break] to American, so I jumped on that. We became partners, built the first place on 58th Street between 5th and 6th Avenue, and then we opened a few more places in the city.
When a business grows to that size, and you have 40 people working for you, the job becomes a lot more about making sure everything works and fixing broken dishwashers, instead of working on the concept, which is what I wanted to do. Then, we started to build a food product line together—first for our stores and then for larger stores like Whole Foods. I discovered that I really like that whole process.
I realized that I had been working for almost nine years in New York testing all the classic Swedish foods on a very international crowd. That's when an idea came to me: IKEA is doing the same thing but on a much bigger and global scale.
So, I reached out to someone I knew at IKEA and just started asking them questions. What is IKEA food? How do they work? I got in contact with a range manager at IKEA food, and we talked for a couple of months just about how IKEA works. Then, one day they offered me a job as product developer for IKEA food, based in Helsingborg. And I have been working there for 5 and a half years now for the past year and a half based in Malmö.
Q: How do you and the food team use the model of democratic design to develop new dishes or food products?
Johansson: It's a tool that we use in all our product development. So, over the past four years we have been examining a lot of our older products and kind of washing them through the democratic design review process to make sure they are still viable and find where improvements can be made.
We also utilize the democratic design tool when we develop new products. Sometimes it's easy to get stuck on details within a product, such as developing the flavors in just the right way. When you take a step back and use the democratic design model, it's a good way of getting the whole picture of what you are developing—from the sustainability aspect to maintaining the low price we want in order to make a great product that is available to everyone globally.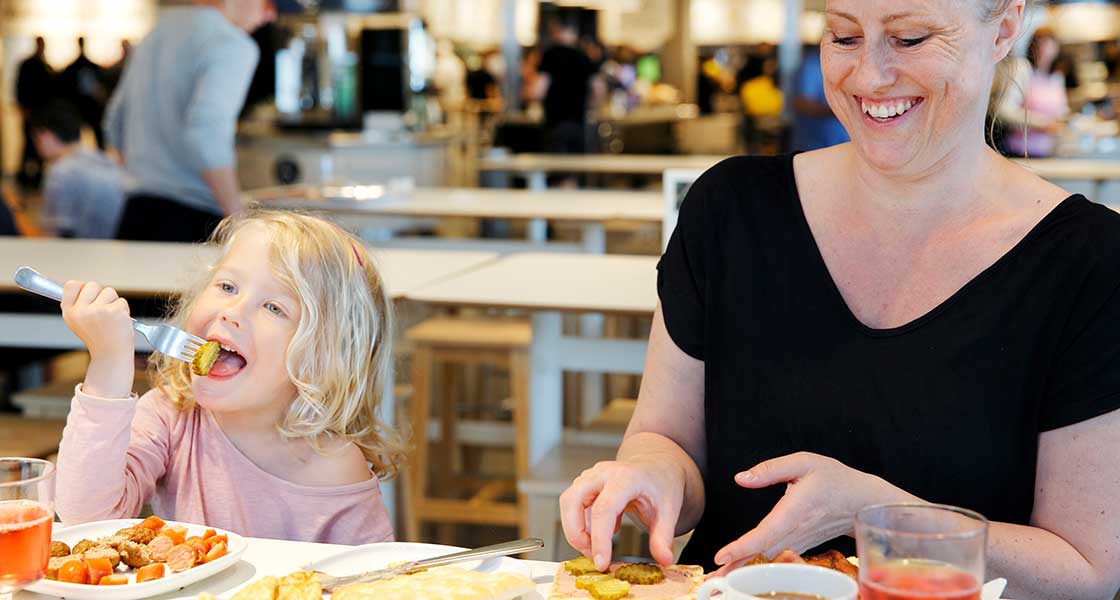 Q: How does your food team work with suppliers to develop final food products?
Johansson: Sometimes, we know from the start what we want, and we will develop it in the Food Lab and make prototypes. Then, we choose one of our suppliers that we know will do the best job on the product. From there, we work with the supplier on fine-tuning the product to produce it on a large scale.
But, with a lot of other products, we start by meeting with the supplier. So, for example, we may be working on one product and find something else interesting while visiting with our suppliers—maybe a component or a machine that's interesting. Also, we look at how they may be making one of our products and what the leftovers from that production may be. How can we work with the supplier to use the leftovers?
For example, we use a lot of salmon. We had a salmon fillet in one of the hot dishes that we often bake. To optimize the parts of the salmon that are best suited for oven baking, we were left with parts from the tail and belly. We knew that the belly meat would be good hot smoked, but that it would absorb a lot more of the smoky flavors than the tail because of the belly meat's high fat content. So, we brought in some more smokiness with a barbecue glaze that we developed. That's how we ended up creating a pulled salmon sandwich. We increased the percentage of what we could use from the salmon making it a very sustainable product.
Q: What are examples of traditional Nordic flavors? How do they resonate with different cultures across the world?
Johansson: What makes Swedish or Scandinavian cuisine unique is that our seasons are very different. We have very long and dark winters, for example. Everything grows quite well in the spring, and then we have a long but not super-hot summers. There is a lot of sun in the summer so things grow slowly. It takes half the time to develop a lot of flavors in those conditions. And in the fall we have mushrooms.
So, if we look at our culinary history and how we kept food during the long winters, we depended on lots of different preservation methods like pickling, drying, or smoking. We were fermenting.
Through those processes we have developed some unique Swedish flavors. For example, there is this very strong vinegar that we use when we pickle, and we combine it with mustard seeds and dill seeds. So, I think it's a combination of the spices and the methods that we used.
We also brought a lot of spices in from around the world that we merged into the Swedish methods. Someone brought cardamom to Sweden, for example, and we started to bake with it, making cardamom buns. But if you go somewhere else in the world, cardamom is used for something completely different. I think that you can find a very good mix of world flavors, but sometimes used in unique ways in Swedish cooking.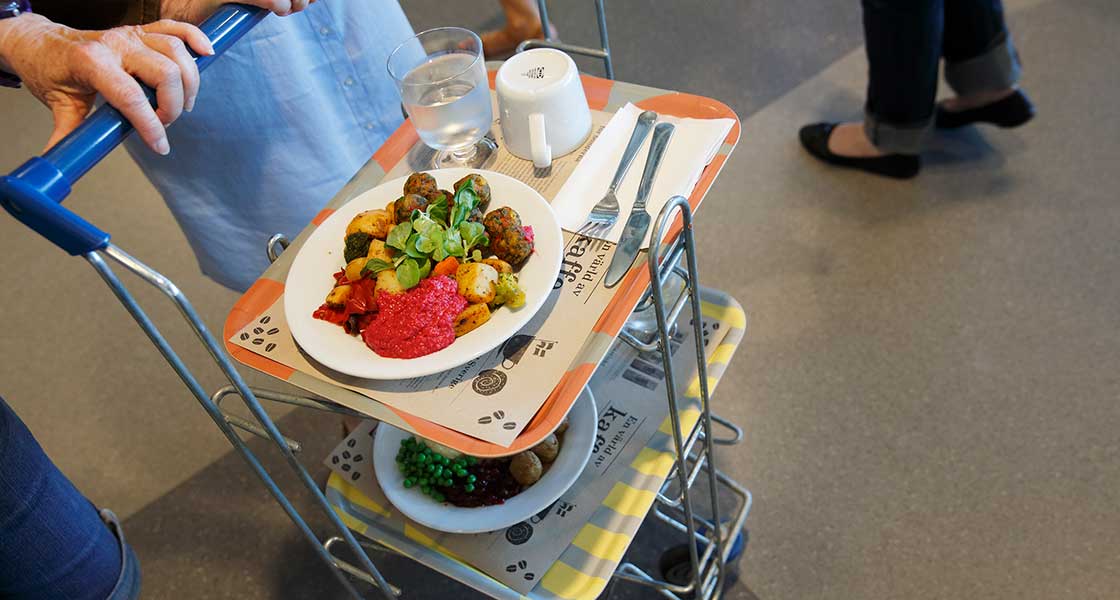 Q: Do you develop regional items/menus as well as the traditional Swedish dishes?
Johansson: For the restaurant, we have a global range that is the same in all 49 markets—the meatballs, a cured salmon dish, and some of the desserts, for example. We also have one part of the menu that is developed by local teams that use the same democratic design model that we use to develop the global dishes.
In addition to developing global dishes, we also develop components that can be used in the local markets. For example, if we look at the salmon component we have developed for the global market, it can be used also to create a local dish. That is something that we will continue as we start building the component library.
Customers are exposed to an interesting range of dishes when they walk into the restaurant—you have the Swedish classics and you have the more local dishes. For example, you have a nice pasta carbonara line when you walk into IKEA in Italy.
Q: In your 5+ years at IKEA, what is the most exciting change that's taken place?
Johansson: The restaurant has been a part of IKEA since the very beginning, but it has always been more about keeping our customers happy. The thought being that if they aren't hungry they will spend a longer time shopping in the store. So, food was more of a service function. But when we started this journey that we are on now, we began to realize that the food and restaurants could be the traffic drivers to the store. Some recent research we conducted shows that more than 20% of people are going to IKEA primarily to eat. That's a lot of people. We are creating food that is interesting and that will get people into the store. And, by the way, the store has some furniture to buy as well.
We are also working on increasing the freshness in our dishes. Having fresh herbs on a dish, for example, might seem as a small step, but it actually does a lot for the perception of the dish and the flavor. Even if it sounds like we are just taking small steps—like fresh ingredients or moving towards more plant-based dishes—those changes affect so many people. I think that's the most exciting thing we are doing. When we can start implementing a lot of the things we have been working on for many years, it will have a big effect on people's everyday lives and maybe give them a different mindset about how to eat in a healthier and more sustainable way.
This interview has been edited and condensed for clarity.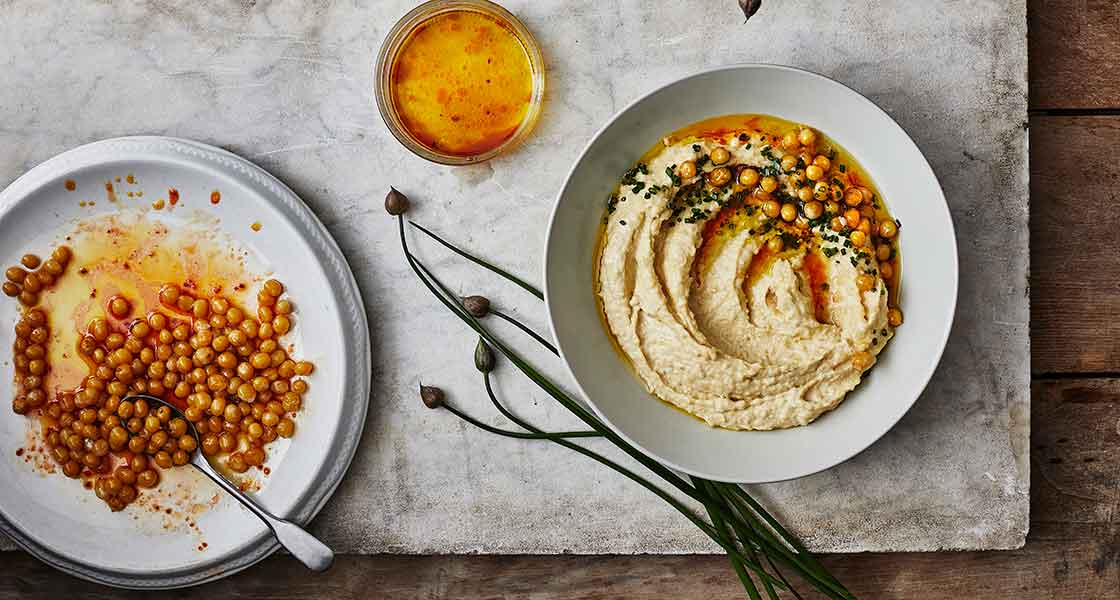 Yellow Peas Hummus with Kimchi Oil
Serves: 4–6
Kimchi Oil
Ingredients:
150 mL rapeseed oil
50 mL vinegar
½–1 tsp Gochugaro (Korean chili powder), to taste
1 small garlic clove, finely minced
1 tsp ginger, finely minced
1 tsp fish sauce
½–1 tsp of lime juice
Stir together all ingredients to kimchi oil, except rapeseed oil and lime juice.
Whisk rapeseed oil into the mixture and add lemon juice to taste.
Let it rest for at least 1 hour.
Hummus
Ingredients:
300 mL dried yellow peas
2–3 cloves garlic
3 tbsp unsalted light tahini
½ tsp ground cumin
4–5 tbsp lemon juice, to taste
2 tbsp rapeseed oil
salt, to taste
100 mL cooking water
50 mL chives, finely chopped
Place yellow peas in a bowl with 800 mL water and let it soak in the fridge for at least 10 hours.
Drain and rinse peas and place in a medium-sized sauce pan with 1,000 mL water and 1 tsp salt. Bring to a boil, then lower the temperature and let simmer for 1½–2 hours. Skim off foam from the peas that rise to the surface in the beginning.
Drain, but reserve about 100 mL of the cooking water.
Put 200 mL of the cooked peas aside. Add rest of the cooked peas together with remaining ingredients and 50 mL of the cooking water and 1 tsp salt to a high-speed food processor.
Mix for a few minutes, until smooth. Add more water or salt if desired. Add rapeseed oil and mix for 1 more minute.
Heat 1 tbsp of oil in a large frying pan. Toast the remaining peas until crisp and season with salt. Let it cool and mix with kimchi oil.
Serve kimchi oil peas on a plate and 2 tbsp over the hummus. Drizzle with some extra kimchi oil. Sprinkle with finely chopped chives.