Interest in naturalness, minimal processing, and clean labeling is no longer new in the food industry and, indeed, has been a running theme through all Innova Market Insights' trends forecasts in recent years. As long ago as 2008, "Go Natural" led Innova's annual trends listing, and since then it has been featured each year in different forms, culminating in a theme weaving throughout the entire Top Trends list for 2017, while more specifically appearing as the No. 1 trend, "Clean Supreme."
The rules have been rewritten, and clean and clear label is now targeted as the new global standard. Its mainstream status is illustrated by the fact that nearly a quarter of global food and drink launches recorded by Innova Market Insights in the 12 months to the end of April 2017 used one or more claims relating to naturalness, freedom from additives and preservatives, or organic certification. In Western Europe that figure was nearly 28%, and it was over 30% in the United States.
The organic food and drink market has been a particular beneficiary of this trend, with penetration rising steadily in recent years. Nearly 9% of global food and drink launches recorded by Innova Market Insights in the 12 months to the end of April 2017 were positioned on an organic platform, rising to nearly 11% in the United States and to over 13% in Western Europe. This trails behind the use of no additives/preservatives claims but is well ahead of the use of natural positioning, particularly in Western Europe, perhaps reflecting ongoing difficulties with definitions of naturalness for some types of products.
A Strong Organic Market
The global organic foods market is now valued at more than $80 billion a year, dominated by the United States, with about $40 billion of that, and Europe, with about $30 billion, although estimates vary markedly according to source and definition, particularly as to whether natural foods are also included. Data from the Organic Trade Assoc. in the United States show that nearly 5% of all food sold in the United States is now organic. In Europe, the largest organic food markets are in Germany, France, the United Kingdom, and Italy, although penetration is higher in some smaller countries, such as Switzerland, parts of Scandinavia, and Austria.
The most significant categories for organic launches globally are dairy, sauces and seasonings, and bakery, with 10%, 9%, and 9%, respectively, of the total recorded by Innova Market Insights in the 12 months to the end of April 2017. Baby/toddler foods, ready meals, and hot drinks are not far behind, with about 8% each. In terms of category penetration, however, it is baby/toddler foods that lead with just under 30% of launches using an organic positioning, ahead of sugar/sweeteners (21%), hot drinks (17%), and cereals (16.5%).
This disguises a more complex picture, however, with particular subcategories having relatively high organic penetration levels. In dairy, for example, the share of organic launches is slightly above average at 10.4%, but within that penetration, it varies from less than 5% in cheese to nearly 50% in spoonable nondairy yogurt.
Although there are some variations within the two leading markets—the United States and Western Europe—in terms of development, the top four categories in terms of penetration are common to both regions, albeit with different shares.
The strength of organic certification in the baby/toddler category is not really surprising given parents' desire to provide the best for their children, with naturalness, purity, and quality always high on the agenda. Penetration is particularly high in the United States, where the market is highly developed and more than half of launches used an organic positioning. Organic claims are strongly concentrated in the baby meals subcategory, particularly in fruit and vegetable products in pouches. This subcategory accounted for nearly three-quarters of organic launches in baby/toddler foods in the United States, with penetration of nearly two-thirds compared with the category average of just over 50%.
Specialist Product Launches
Looking at recent launch activity, specialist organic baby food companies and brands, such as Hain Celestial's Earth's Best and Campbell's Plum Organics, are active alongside organic variants from mainstream players, such as Hero's Beech-Nut and even some private labels, such as Walmart's Parent's Choice and Kroger's Simple Truth.
Recent efforts to add something new to a highly competitive market include Sprout Organic Foods' introduction of what it claims to be the first plant-based baby food lines in the United States with its organic plant-based-protein baby food purees and its Power Pak toddler purees in clear pouch packaging that allows the contents to be viewed as well as its Organic Curlz toddler snacks made with organic chickpeas and lentils.
In Europe, German organic baby food company HiPP has also been active in developing new areas of the market by segmenting its offerings to target a range of tastes and need states, introducing its HiPPiS range of pouched fruit products for toddlers aged one year and older. The range encompasses 100% fruit, fruit and cereal, Sport, and Smoothie Drink varieties.
Sweet Opportunities
The ongoing demand for clean labeling combined with growing concern with cutting sugar intake has also boosted the use of organic claims in the sugar and sweeteners category, with nearly 21% of launches using an organic positioning in the 12 months to the end of April 2017. This has been particularly true in the United States although, in fact, penetration falls slightly behind that of natural claims in terms of use, at 28% and 30%, respectively. The use of natural sweeteners has been an area of particular interest, with natural alternatives encompassing a wide variety of ingredients; traditional sweeteners, such as maple syrup, cane juice, molasses, agave, and monk fruit, have been more widely used and increasingly feature an organic positioning as competition increases.
These sweeteners are now being joined by newer products, such as stevia, which in some instances is now using organic claims alongside its original natural positioning. Again, this is more prevalent in the United States, where 25% of organic sugar and sweetener launches contained stevia compared with fewer than 2% in Western Europe.
Hot drinks take third place globally in terms of organic penetration, and share is particularly strong in Western Europe, at over 27%, compared with 25% in the United States and 17% globally. The major organic subcategory is tea, which accounts for more than three-quarters of organic hot drink launches, compared with 53% of category introductions overall. Just under a quarter of tea launches were organic, compared with 8% for both coffee and hot chocolate. This share rises to over 40% in both the United States and Western Europe.
Organic options also have a relatively high penetration level in iced or ready-to-drink tea, particularly in the United States, where it is generally a more popular beverage. Organic claims were used on 19% of U.S. soft drink launches overall, but this rises to 25% in juices and juice drinks and to nearly 37% in iced tea.

Adding Clean Value
Many organic products carry additional clean label claims to add value and aid differentiation in a dynamic and generally very competitive market. In the case of iced tea, organic products may also carry claims such as non-GMO and vegan-friendly, with yet more value added with the growing range of ingredient and flavor blends. There is also a focus on real brewed tea as the core ingredient, as illustrated by such recent U.S. launches as Unilever's Pure Leaf Tea House Collection Organic Black Tea With a Hint of Valencia Orange Peel and Nestlé Waters' NESTEA Slightly Sweet Organic Real Brewed Green Tea.
Kombucha is also increasingly popular, featuring in a range of organic ready-to-drink tea launches under brands such as One Breath, Simple Truth, and Nature's Promise. Meanwhile, more traditional flavors, such as lemon, peach, and honey, have been joined by more unusual blends, such as ginger-turmeric, raspberry-hibiscus, blueberry-basil, and rosemary-lemon.
Cereal Developments
The cereals category, although seeing relatively limited launch activity overall in comparison with some markets, has relatively high penetration levels for organic products, which made up 16.5% of global launches in the 12 months to the end of April 2017, rising to 24.7% in the United States and 25.9% in Western Europe.
Cereals can be divided into two main categories—breakfast cereals and cereal/energy bars—and globally the former outstrips the latter in terms of launch activity, although cereal bars are slightly ahead in terms of organic penetration. In the United States, however, the relatively large and highly developed cereal bars market accounts for the lead (nearly 57%) of total category launches in the 12 months to the end of April 2017, taking it well ahead of breakfast cereals.
Both subcategories have a fairly healthy image despite concerns over the amount for sugar in some products, and a relatively high number of health claims are used. Concerns over clean labeling have been a key focus in recent years, with nearly half of all launches in the United States using one or more claims relating to naturalness, freedom from additives and preservatives, and organic certification, rising to nearly 52% for cereal/energy bars. Organic claims play a significant role in this; they are used on just over 26% of cereal/energy bar introductions and just under 23% of breakfast cereal launches.
The cereal/energy bars subcategory encompasses a wide range of products, including granola or muesli bars and breakfast bars, as well as nutrition, energy, and performance bars. With rising levels of competition, however, many products now seek points of difference by combining features and blurring definitions. A wide range of products are now using organic claims, including both specialist and more mainstream lines, often combined with other on-trend health claims, such as GMO-free and vegan-friendly, as well as more unusual and indulgent ingredients and flavors.
A review of recent new product activity recorded by Innova Market Insights reveals launches from organic specialists such as Nature's Path Foods, which introduced its Apple Pie Crunch Chia Plus Crunchy Granola Bars, featuring claims relating to non-GM, whole grains, and omega-3, as well as being organic, with a relatively complex flavor of green apple and cinnamon pie with added crunch from chia seeds. Kellogg's Kashi whole grain nutrition range was also extended with Chewy Nut Butter Bars in Coconut Cashew Macaroon and Chocolate Trail Mix varieties, marketed as non-GM and gluten-free as well as organic.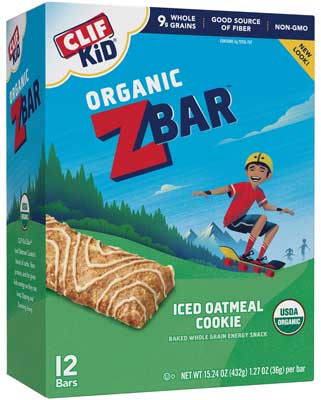 Pioneering energy bar maker CLIF extended its Kid children's range with Zbar Organic Fruit & Veggie Bars and its Zbar Iced Oatmeal Cookie, while Raw Rev launched a range of Organic Fruit, Nut & Seed Superfood Bars in a number of varieties, including Spirulina Dream and Chunky Peanut Butter Chocolate, also carrying non-GM, vegan-friendly, and gluten-free positioning, as well as an on-trend raw formulation.
In the breakfast cereals market, granola continues to be a key growth area and one that has seen ongoing activity in organic options, both from branded producers and retailers. Specialist organic brands such as Cascadian Farm and Nature's Path are being joined by healthy and clean label brands from retailers, including Aldi's SimplyNature and Target's Simply Balanced ranges, which both include cereal products.
A Diverse Dairy Market
While the dairy category leads in total numbers of organic launches globally, penetration is lower than in some categories, at 10.4%, partly reflecting the high number of launches overall and partly the diversity of the market. Western Europe, where the dairy industry and market is strong and established, has a higher penetration level than the United States, with organic launches accounting for over 18% of total dairy introductions, compared with just under 15% for the United States.
As has already been mentioned, spoonable nondairy yogurt has the highest organic penetration at nearly 50%, with the other nondairy subcategory, dairy alternative drinks, also strong at just over 40%.

There are relatively low launch numbers overall in these two subcategories, but there is a strong focus on health claims, particularly relating to clean label and free from, with many launches carrying multiple positionings of this kind. Organic claims often run alongside others, such as dairy-free, vegan, and non-GM, to broaden market appeal by offering products with multiple benefits. The subcategory still tends to be dominated by companies with plant-based dairy-free offerings where organic is an additional benefit for certain products, however. Califia Farms in the United States, for example, has organic cashew, almond, and coconut milks as part of its extensive plant-based milks range, while Alpro sells nonorganic and organic plant-based drinks and other dairy alternatives in Europe.
Organic penetration in other dairy subcategories is led by spoonable dairy yogurt, at just over 11%, ahead of cream/creamers with 10% and fats and spreads with just over 7%, although both of the latter are from relatively low bases overall.
Under Mainstream Umbrellas
There are some very strong and well-established organic brands in the U.S. dairy market running alongside newer entrants and organic options under mainstream umbrellas. There are two organic brands in the top 10 suppliers to the milk market through multiple retailers, for example. Horizon Organic (now part of Danone) was the leading brand in the private label–dominated sector overall until Dean Foods' 2015 combination of its 30-plus regional milk brands to create DairyPure, which moved straight into the leadership position, pushing Horizon into second place. Organic Valley is also in the top 10 ranking, with eighth place in both whole and reduced-fat milks.
The two brands have also been actively extending their ranges, adding value with benefits in addition to organic ingredients. These include grass-milk varieties, not only in drinking milks but also in butter, cheese, and yogurt; lactose-free lines; protein shakes; handheld milk-and-fruit pouches; and snacking cheese.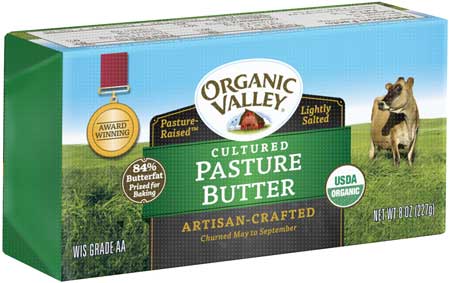 There has also been relatively strong interest in non-GM labeling in the dairy industry, where a natural image has traditionally been important and growing interest has also led to ongoing activity in milk from pasture-raised cows. There is a strong link between organic dairy lines and non-GMO certification, with many products using both types of positioning. Some leading organic dairy producers, such as Stonyfield Farm and Organic Valley, have also been at the forefront of the promotion of pasture-raised or grass-fed milk and fresh dairy products in the mainstream market. In addition to their standard ranges, both now have grass-fed options, with Stonyfield's Organic 100% Grassfed Yogurt and Organic Valley's Grassmilk whole milk and yogurt and Pasture Butter, all of which are also GMO-free.
One of the most interesting developments in the dairy industry in recent years has been the purchase of WhiteWave Foods by the world's largest yogurt company, Danone, first announced in 2016 and finalized in 2017. The deal clearly illustrates the move of natural and organic foods into the mainstream market as the dairy industry continues to consolidate.
The WhiteWave acquisition was particularly significant for the organic arena, as it left Danone with large and category-leading brands in North America and Europe in high-growth categories. One of these was premium organic dairy, but they also included non-GM, plant-based alternatives to milk and yogurt, fresh foods, and coffee creamers. The deal gave Danone Horizon Organic, although Danone also agreed to sell its pioneering organic yogurt company, Stonyfield, to allow the deal to be pushed through.
Organic options accounted for just under 7% of global milk and milk drink introductions, rising to nearly 18% in the United States, and it is here that Danone's recently acquired Horizon Organic brand has such a high profile. While overall sales of milk in the United States are in long-term decline, the organic milk sector is continuing to grow, particularly for the relatively small whole milk subcategory, which appears to be staging something of a recovery or at least strongly outperforming the subcategory of reduced-fat products.
Sophisticated Competition
While interest in clean label has kept organic claims in the spotlight in many countries, rising levels of competition mean that product offerings have become much more sophisticated, focusing more on value-added products and combining both specialist organic brands and organic variants in existing conventional ranges. Organic claims alone may not now be enough, and companies are focusing on additional benefits, including related clean label areas, such as non-GM, vegan-friendly, raw, and Paleo, as well as local ingredients and sourcing, minimal processing, and unusual and premium-style recipes and flavors, including the use of seasonal and limited editions.
The market remains highly concentrated geographically, however, with opportunities in organic options currently being most actively pursued in North America and Europe. In fact, three-quarters of all organic product launches tracked by Innova Market Insights come from either the United States or Western Europe.
It is in the other regions, particularly Asia and Latin America, where the market has yet to take off, although there are signs of rising levels of interest. It remains to be seen whether these markets present the next big opportunity or whether cultural differences may make them difficult markets to enter, resulting in the existing markets remaining the best option for development despite increasing maturity and stronger levels of competition.
Lu Ann Williams, a member of IFT, is director of innovation at Innova Market Insights ([email protected]).