No artificial colors. No antibiotics. No corn syrup. No cruelty. … For consumers shopping for breakfast items—whether in the cereal aisle, the dairy department, or the frozen food section of the store—the chorus of nos has grown ever louder. The clean label and free-from movements are having a tremendous impact on new product offerings in the breakfast realm (Innova 2017).
Between 2012 and 2016, the breakfast cereal category alone experienced an 81.2% average annual increase in ethical claims for global product launches, reports Innova Market Insights (Innova 2017). There has been a similar surge in animal welfare and health-related claims for packaged eggs, with U.S. shoppers often encountering "cage-free," "free-range," "pasture-raised," "certified organic," "vegetarian-fed," "omega-3 enriched" and a number of other options in addition to conventional eggs (AEB 2017).
Preparation speed and portability typically dictate weekday breakfast choices for busy consumers, whether they are fixing their morning meal at home or picking it up at a drive-through restaurant or convenience store. "Among consumers aged 18–34, 33% eat their weekday breakfasts en route to another location," states Chicago-based Technomic in its 2017 Breakfast Consumer Trend Report (Technomic 2017). Lighter options, from meal replacement shakes to nutrition bars and fruit, remain popular for home-prepared breakfasts eaten on the go, while hearty sandwiches and burritos—typically including eggs, cheese, and bacon, sausage or ham—are favored for "dashboard dining" meals purchased during the morning commute (Mintel 2016).
Americans' penchant for protein continues, with many consumers who seek satiety at breakfast also favoring fat over sugar. These trends have positively affected egg, meat, and milk consumption in the morning (Mintel 2016).
Families now often select whole over reduced-fat or fat-free milk for their breakfast cereal and morning beverage, notes Sara Rissi, marketing manager for Kalona Supernaturals, a Kalona, Iowa–based organic dairy brand produced by Amish and Mennonite farmers. "Our whole milk and whole milk cottage cheese, our butter, and whole-fat whipping cream are our most popular products," she says. "There is a big trend back to 'Fat is good.'"
But at the same time, more and more consumers—including vegans, flexitarians, and lactose-intolerant individuals—seek plant-based protein products, such as dairy-alternative drinks and yogurt, for breakfast. The United States was second only to Germany in the number of new product launches with vegan claims in 2016, according to Mintel's Global New Products Database. Millennials in particular are reducing their consumption of animal-based products because they believe veganism is better for the environment as well as for human health and animal welfare (Mintel 2017). Internationally, the number of dairy-alternative beverage launches increased 17.1% a year on average between 2012 and 2016, Innova reports (Innova 2017).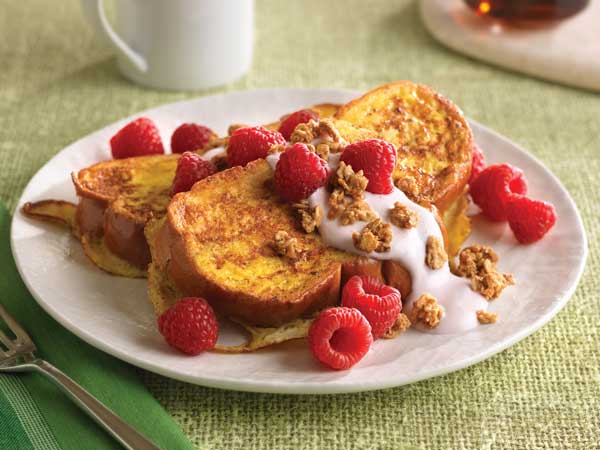 Despite prioritizing convenience, American consumers often indulge in more elaborate breakfasts on the weekend or later in the day (Mintel 2016). "Brunching," a leading trend, "is gradually expanding beyond Saturday and Sunday as daypart lines blur and all-day breakfast claims a regular spot on menus," the American Egg Board (AEB) points out on its website (AEB 2017). Eggs Benedict reigns supreme as the top restaurant brunch item in the United States, followed by French toast (Mintel 2017). Indeed, toast of all types is gaining traction, rising 74% in brunch menu incidence between 2015 and 2017, with chefs adding avocado and other unexpected toppings to differentiate theirs from the competition (Mintel 2017).
Mexican flavors and formats have long influenced the U.S. breakfast category in both the retail and foodservice sectors. But other ethnic food traditions, especially Asian, are starting to have an impact on breakfast and brunch dishes served at restaurants, states the AEB, pointing to Korean-flavored breakfast bowls and Filipino longanisa sausage and eggs as examples (AEB 2017).
Overall, the retail sector is perceived to lag behind foodservice when it comes to creative new breakfast offerings, according to Mintel Group, which conducted a survey with Lightspeed GMI showing that 55% of U.S. consumers believe that "Restaurant breakfast foods are more innovative than retail foods" (Mintel 2016).
Simplifying Cereal
In the United States, cold and hot breakfast cereals continue to lose ground to other choices and are forecast to decline 5% in dollar sales between 2016 and 2021, states London-based Euromonitor International in its 2017 Breakfast Cereals in the U.S. report (Euromonitor 2017). From mid-2016 to mid-2017, however, IRI reported a 2.5% combined increase in retail sales numbers for cold ready-to-eat cereal, an $8.6 billion segment, and hot cereal, a $1.2 billion segment (IRI 2017a).
Although the statistics vary somewhat, research studies agree that cereal sales have been stagnant for years, with Millennials leading the shift toward more portable breakfast selections and away from center store products considered overly processed. Cereal, nevertheless, is a category boasting significant household penetration (Mintel 2016) and innovation, both in format and formulation.
The Lightspeed GMI/Mintel survey of nearly 2,000 adult Internet users found that 65% of respondents had purchased cereal in a retail store in the past three months—a higher percentage than for any other breakfast category. Fruit and bread tied for second place in retail, with 55% of respondents buying those items for breakfast in the past three months, while breakfast meat came in third and yogurt in fourth place, purchased by 48% and 45% of survey participants, respectively (Mintel 2016). Indeed, U.S. consumers purchased more than 3.1 billion boxes of cereal in the year ending June 11, 2017, IRI reports (IRI 2017a).
The three largest cereal manufacturers—Battle Creek, Mich.–based Kellogg Co., Minneapolis-based General Mills, and St. Louis–headquartered Post Holdings–continue to dominate the category, with a combined 79% market share (IRI 2017a). That said, many start-up companies, some led by Millennial entrepreneurs, are striving to transform cereal with minimally processed, easy-to-prepare products that often feature unusual ingredients.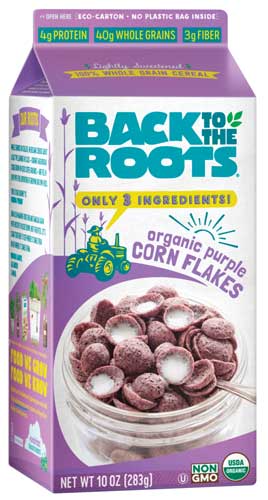 One such firm, Oakland, Calif.–based Back to the Roots, recently introduced Organic Purple Corn Flakes, made with "only three ingredients," as the box, shaped like a half-gallon milk carton, emphasizes. Unlike the major cereal manufacturers, which have been removing artificial ingredients from their formulations over the past three years, Back to the Roots is trying to reinvent cereal from the ground up, says Nikhil Arora, the company's co-founder. "Our mission is to 'undo food,'" Arora explains. "If you find good, high-quality ingredients, you don't need to use that many of them."
Back to the Roots, which also manufactures three varieties of stoneground whole wheat cereal, wanted to make stoneground corn flakes that were less processed and contained less added sugar than the other corn flakes on the market, while at the same time offering something unique in flavor and appearance (Back to the Roots 2017).
"People today like diversity in their food," Arora says. "In looking at different types of corn in the United States, we stumbled upon a beautiful purple corn from Minnesota that has a naturally sweeter flavor. Purple corn is just starting to grow commercially, and ours is one of the very first products to use it; you'll also find it in tortilla chips."
With many consumers trying to avoid gluten, ancient grains such as quinoa and sorghum have begun to replace wheat in some people's diets—a trend that is having a big effect on new cereal introductions. This past summer, Australian brand Barley+ debuted in the United States with three varieties of toasted muesli (similar to granola but less sweet). Manufactured by Freedom Foods Group in Dandenong South, Victoria, the muesli comes in three flavors: Pink Lady Apple & Macadamia, Cranberry & Nuts, and Maple & Nuts. The product, which provides 17 grams of dietary fiber and 8 grams of protein, contains more than 70% whole grain rolled barley flakes plus whole grain rolled oats, pumpkin seeds, raisins, and other natural ingredients, depending on the flavor (Freedom Foods 2017).
"We wanted to offer the unique nutritional properties of barley in a very convenient way," says nutritional physiologist and research dietitian Sonja Kukuljan, a group general manager for Freedom Foods. Barley helps promote cardiovascular health and regulate blood sugar levels and is also a prebiotic, largely escaping digestion in the small intestine to provide fuel for favorable bacteria in the colon, as Kukuljan explains.
Arrowhead Mills, a division of Lake Success, N.Y.–based Hain Celestial Group, in turn, has rolled out Organic Amaranth Flakes, named for a grain that was once a staple of Aztec culture and is reputed to have a number of health-promoting benefits. Besides amaranth, the product counts organic whole grain rolled oats, brown rice flour, and yellow corn flour among its ingredients (Arrowhead Mills 2017).
Ancient grains are also being added to the top national cereal brands. In January 2015, General Mills released Cheerios + Ancient Grains, a line extension that combines quinoa, puffed spelt, and Kamut (the U.S. trademarked name for Khorasan wheat) with the product's standard whole grain oats (Olmsted 2015). In addition, Purchase, N.Y.–based PepsiCo's Quaker Foods North America Division is mixing barley and quinoa with oats, rye, and flaxseed in its Quaker Select Starts SuperGrains Instant Hot Cereal, which launched in 2016.
Major brands and small specialty companies alike are innovating in the vegan cereal space as well with pulse-based and grain-based formulations. Love Grown Foods in Denver has introduced a new line of cane sugar–sweetened cereals for kids that includes Blueberry Vanilla Polar Puffs, which are made with navy beans, lentils, garbanzo beans, brown rice, and dried blueberries plus a few other ingredients. In the United Kingdom, where 51% of people say they welcome the rise in vegan foods (Vegan Society 2017), Kellogg Co. last month launched its W.K. Kellogg line of plant-based "no added sugar" vegan cereals that includes three granola SKUs—Apricot & Pumpkin, Coconut Cashew & Almond, and Super Grains (cranberry, sultana, and spelt)—and two organic whole grain wheat cereal products (Kellogg 2017). "We're committed to creating foods which suit changing consumer diets," said Emma Birks, Kellogg brand manager for the UK and Ireland, in a statement (Kellogg 2017).
While attempting to win over health-focused consumers, cereal companies need to be careful not to alienate their core fan base, however. After removing artificial colors and flavors from Trix in 2016, General Mills was besieged by complaints from consumers who missed the neon colors in the traditional formulation (Dewey 2017). The backlash prompted the company to reintroduce Classic Trix last fall alongside the reformulated product.
"The days of the one-size-fits-all blockbuster brand are probably over," food industry analyst David Portalatin of Port Washington, N.Y.–based NPD Group noted in a Washington Post article about the return of Classic Trix (Dewey 2017). Moreover, though 61% of consumers globally are avoiding artificial colors, the number decreases to 50% in North America (Nielsen 2017a), indicating that many people in the United States are not bothered by synthetic food coloring (Dewey 2017).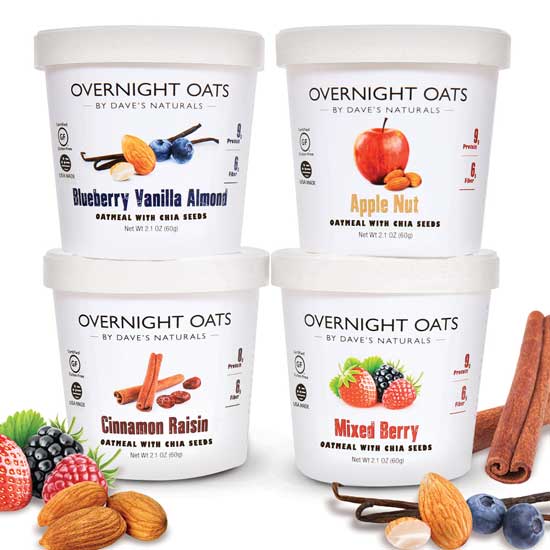 Beyond new formulations, manufacturers are devising more convenient formats for cereal products. Last year, Dave's Gourmet in San Rafael, Calif., debuted its first cereal line: Overnight Oats by Dave's Naturals, available in four flavors (all oatmeal with chia seeds): Apple Nut, Blueberry Vanilla Almond, Cinnamon Raisin, and Mixed Berry. Consumers simply need to add milk (cow's or alternative) to the single-serve containers the night before, and the product is ready to eat in the morning as cold oatmeal. Alternatively, the Overnight Oats containers can be heated for 90 seconds in a microwave. "You can make them up to five days in advance," points out Dave Hirschkop, the company's founder and CEO. Thus, consumers can prepare several days' worth of breakfast at once, he says.
Of course, cereal still requires a spoon. In contrast, cereal bars represent the ultimate in grab-and-go convenience. Accordingly, many cereal brands, from Kellogg's Special K to Freedom Foods' Barley+, also have similarly formulated breakfast bars, while some companies—such as Emery, Calif.–based Clif Bar and Vaughan, Ontario–headquartered Riverside Natural Foods—manufacture nutrition bars exclusively. In 2017, cereal and energy bar makers around the world emphasized gluten-free, high in fiber, and high in protein among other attributes (Figure 1).
Riverside's MadeGood line of granola bars is free of several common allergens, including peanuts, tree nuts, wheat, soy, dairy products, eggs, and sesame seeds. "While our main target is Millennial moms with kids between 2- and 11-years-old, most people can enjoy our products," says Janice Harada, the company's marketing manager. "The market for clean label breakfast bars and snacks is definitely growing, as moms now are more actively reading labels and searching for food that is healthy and that their kids will eat."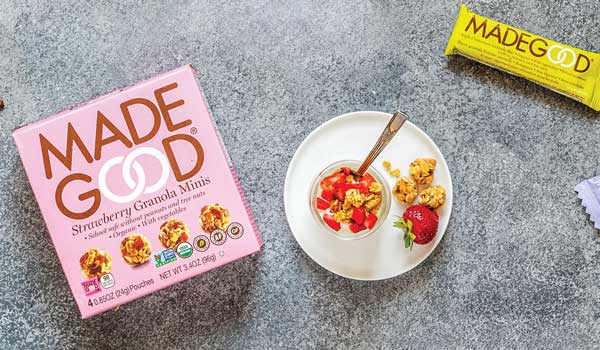 For the majority of consumers who can eat nuts, almonds are the most popular nut consumed in cereal and breakfast bars, according to research by the Almond Board of California, says Jeff Smith, director of marketing for the Blue Diamond Almonds Global Ingredients Division in Sacramento, Calif. In addition, almond butter is increasingly included as a flavor layer in bars.
"Almond butter packs the same nutritional benefits that consumers love about almonds into an ingredient that brings a more unique application to the category," Smith notes. "Often, these bars feature a second almond inclusion such as diced almonds or the classic whole natural almond."
Flexibility, Opportunity in Frozen
In the retail freezer case, breakfast items with health claims vie with high-calorie indulgent products, though even the latter frequently tout natural ingredients or "clean" ingredient decks (Finkel 2017). Overall, the $3.2 billion frozen breakfast food category has seen sluggish growth, rising just 1% in retail dollar sales between first quarter 2016 and first quarter 2017, according to IRI (IRI 2017b). But within the category, certain brands and products are performing well.
The $868.3 million frozen waffle subcategory, the biggest frozen breakfast food segment, declined 1.5% in dollar sales in that IRI reporting period. With a 71.8% dollar share, Kellogg's Eggo brand still dominates the segment but experienced a 2% sales decline. In contrast, Kashi, which is owned by Kellogg, saw its whole-grain frozen waffles—which include Gluten-Free Cinnamon, Blueberry, and 7 Grain—climb 37.2% in dollar sales (IRI 2017b), while Blaine, Wash.–based Nature's Path Foods saw a 32.2% dollar sales increase in its regular Organic waffle line and a 10.7% increase in its Chia Plus waffles (Finkel 2017). Clearly, consumers are looking for more nutrient-dense alternatives to standard frozen waffles.
Chicago-based Kitchfix, which began in 2013 as a meal delivery company, manufactures a line of frozen grain-free waffles in three flavors: Original, Banana Cinnamon, and Blueberry Maple. The company caters to people on a Paleo diet as well as those adhering to Whole30, a 30-day diet that focuses on whole foods and in which individuals eschew grains, sugar, dairy, soy, legumes, and alcohol, says Britta Katt, marketing brand manager for Kitchfix. "We want to sell functional food products with flavorful ingredients—ingredients that really pack power and nutritional benefits," she explains. "A lot of time grains are very processed. We went through the extra step of making our products as clean and pure as they could be."
Kitchfix uses coconut flour, cassava flour, flaxseed, and other ingredients in its waffles, which are not vegan. "We put a lot of cage-free egg in there to get a fluffy texture," Katt notes. Consumers aged 24 to 40, including younger moms, make up the company's core customer base, she says.
Founded two years ago by a pair of longtime friends from Antwerp, Belgium, Farmingdale, N.Y.–headquartered Belgian Boys also targets this demographic with its frozen waffles, crêpes, and mini-pancakes. Millennials are known for being food adventurers and for valuing transparency and authenticity, notes Anouck Gotlib, the company's creative director and marketing manager, who is also from Antwerp. "In Belgium and other countries in Europe, you can just hop on a train and in a short time you get to experience another culture, another cuisine," she says, noting that Belgian Boys is introducing Americans to genuine Belgian waffles and crepes and Dutch mini-pancakes.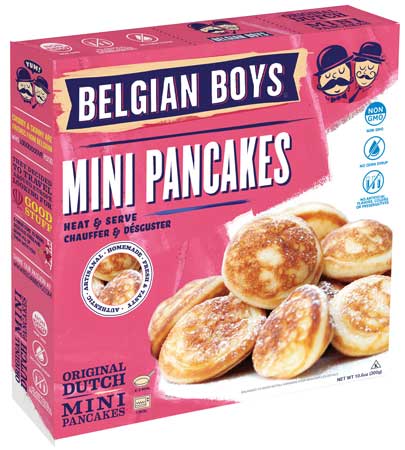 The Belgian Boys De Liege Wafel, for example, is made with 100 percent fresh dough rather than liquid batter. "For us, it was important to bring the tradition we grew up with," Gotlib explains.
The crêpes, larger and thinner than American pancakes, have a slightly sweet flavor on their own and can be eaten plain, with powdered sugar, or with a wide range of toppings or fillings. "Our crêpes are very versatile," Gotlib says. "In New York, we've seen people Ameri-canize them with lox and cream cheese."
Packaged in boldly colored blue or pink boxes that bear the logo of the entrepreneurs—a skinny man and a chubby man sporting handlebar mustaches and bowler hats—Belgian Boys' breakfast products are non-GMO and contain no corn syrup, artificial flavors, colors, or preservatives (Belgian Boys 2017). "People want to know what they are putting in their mouths and what they are giving their kids, and this is very important to us at Belgian Boys," Gotlib says.
Because they can be heated in a toaster, frozen waffles are appreciated for their convenience. But savory frozen breakfast items have been performing somewhat better overall due to consumer interest in high-protein meals and snacks. In the March 2016 to March 2017 reporting period, frozen breakfast entrées rose 1.6% in retail dollar sales, according to IRI (IRI 2017b).
A leader in this segment, Santa Rosa, Calif.–based Amy's Kitchen has introduced a couple of gluten-free vegetarian breakfast bowls made with organic ingredients: Mexican Breakfast Bake, which consists of tofu scramble, roasted potatoes, refried beans, bell peppers, and other ingredients; and Breakfast Country Bake With Meatless Sausage, which contains organic tofu, spinach, roasted potatoes, mushrooms, and more.
In spite of its emphasis on portability, the frozen breakfast handheld segment has seen sluggish growth recently, increasing just 1% from August 2016 to August 2017, per IRI, but there were some star performers (Doris 2017). For instance, Moss Landing, Calif.–based Sweet Earth Natural Foods (purchased by Nestlé last fall) saw a 55.1% jump in sales for its line of four "functional food" breakfast burritos: Get Cultured!, Get Focused!, Lighten Up!, and Protein Lover's (IRI 2017c).
"People have different need states in the morning, and they're looking at food as a functional ingredient—food as medicine and as an alternative to a supplement in the morning," Sweet Earth co-founder Kelly Swette told Food Technology last September (Doris 2017).
With its breakfast burritos, Sweet Earth is also trying to satisfy the growing consumer craving for unique, ethnic-influenced cuisine. The Get Cultured! burrito, for example, is "a Korean-inspired vegan blend" of cabbage, fermented red pepper, seasoned tofu, edamame, and ginger as well as a carrier of 1 billion probiotic cultures (Doris 2017).
Despite such innovations, breakfast items that draw on the rich diversity of foreign cuisines are underrepresented in U.S. retailers' frozen food cases, according to Mintel. This presents a significant opportunity for food manufacturers (Mintel 2016).
Eggs on the Upswing
With consumers widely recognizing that eggs are a low-calorie, high-protein food, egg consumption continues to rise, reaching an estimated 275.2 eggs per capita in 2017, the AEB reports. Precooked hard-boiled eggs in particular have experienced strong growth in the United States, increasing 23.4% in retail dollar sales in 2016 to reach $88.8 million at the end of that year, according to Scantrak (Nielsen 2017). And by October 2017, hard-boiled egg sales had already surpassed $103 million (Nielsen 2017b).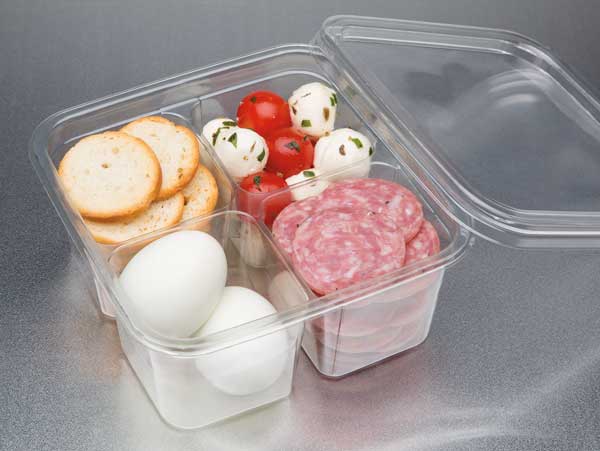 Forty-one percent of hard-boiled eggs are consumed at breakfast, while 62% of all eggs are consumed in the morning, states NPD Group in its July 2017 National Eating Trends report (NPD 2017).
"The protein trend has been driving interest in hard-boiled eggs for breakfast and snacks," says Elisa Maloberti, the AEB's director of egg product marketing. "Hard-boiled eggs are innately convenient and portable, which makes them ideal for on-the-go breakfasts and snacking. We've also observed the growth of fresh portable protein snack packs, featuring one or two hardboiled eggs, along with other protein-centric foods like cheese and nuts, in immediate-consumption locations such as coffee shops, other fast-casual restaurants, convenience stores, and [supermarket] grocerants."
Because of their flexibility, eggs remain a mainstay of hot morning meals eaten at home or in restaurants. "Eggs are very versatile and lend themselves to many different cooking methods, from the simple scrambled or fried egg to poached, baked or coddled," Maloberti says.
Given the growth of the Hispanic population in the United States, which numbered 55.3 million (17.3% of the total population) in 2014, according to the U.S. Census—with individuals of Mexican heritage accounting for 64% of this demographic—the influence of Latin American food can be felt at the American breakfast table, Maloberti emphasizes. "Americans have adopted Mexican foods in particular as their own and commonly indulge in breakfast burritos, huevos rancheros, chilaquiles, and other breakfast dishes with roots south of the border," she says.
Maloberti points out that several other traditional ethnic breakfasts featuring eggs have started to make inroads onto U.S. menus: shakshuka—a dish made of eggs poached in a sauce of tomatoes, chili peppers, and onions, often spiced with cumin, with origins in northern Africa and Israel; jian bing—a crêpe eaten in China as a breakfast street food that includes egg, pickled vegetables, and a fried cracker smothered in hoisin and chili sauce, enveloped in a wheat and mung bean flour pancake; and congee—originating in East Africa, a rice porridge often topped with a fried egg and other flavorful add-ons that is already enjoying popularity among Millennials.
Creating New Traditions
In the breakfast category, tension exists between the desire for healthful, delicious food and the need for convenience. Many consumers have an interest in preparing flavorful, home-cooked meals but lack the time to do so most mornings. Slow-cooker breakfasts have emerged as a solution to this dilemma. A recent Google search on "slow-cooker breakfast" called up more than 20 million results, with links to casserole, French toast, oatmeal, quinoa porridge, and other recipes.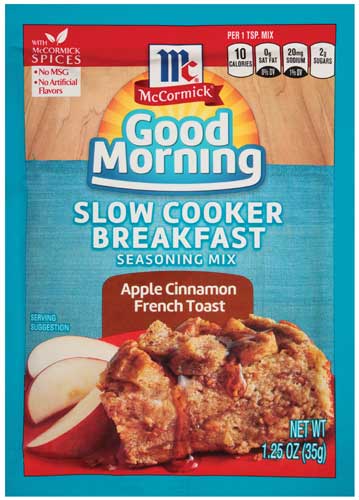 Responding to this trend, Baltimore-based McCormick & Co. recently debuted its Good Morning Slow Cooker Breakfast Seasoning Mix in four varieties: Ultimate Egg Casserole, Mexican Egg Casserole, Apple Cinnamon French Toast, and Peaches and Cream Oatmeal (McCormick 2017).
Just as many Americans eat traditional breakfast foods throughout the day, U.S. consumers increasingly are selecting foods normally consumed in later dayparts for their morning meal. "Over a quarter of consumers (and 40% of older Millennials) agree that they enjoy eating foods associated with lunch or dinner for breakfast," Technomic reports (Technomic 2017).
In the restaurant sector, "exploration of daypart mashups is leading to a plethora of afternoon and evening ingredients on breakfast menus," notes Technomic, which predicts that breakfast ramen, burgers, and pizza will soon become commonplace in foodservice (Technomic 2017). As Mintel observes in its 2016 What's for Breakfast report, the retail grocery sector needs to catch up (Mintel 2017).
Carolyn Doris is a freelance writer based in the Chicago area.