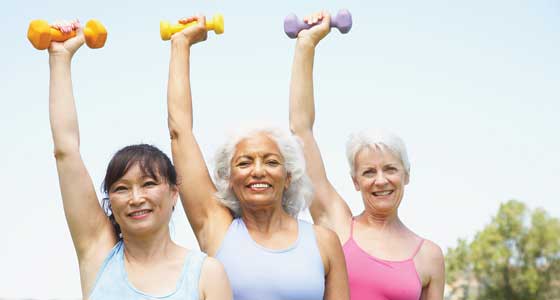 Aging is for people who don't know better," says Tony Horton, fitness and lifestyle expert. One of his popular P90X3 workout videos shows him—at 55 years old—effortlessly doing more pull-ups than I will ever do in my lifetime. And his sentiment echoes a growing trend: healthy aging.
"Quite literally, the Merck Manual identifies healthy aging as the postponement or reduction in the undesired effects of aging," says Becky Wright, marketing manager at OmniActive Health Technologies. "What does this mean? It means consumers who aspire to age healthfully are interested in maintaining physical and mental health, avoiding disorders, and remaining active and independent."
Regarded as the largest, fastest-growing, and wealthiest section of the population in most developed markets, the 50-plus crowd is healthier and wealthier compared to earlier generations of the same age, notes Wright. "According to Bloomberg.com, the Baby Boomers represent the wealthiest generation in U.S. history, as they generate 51% of all spending in the U.S." This creates great opportunity to target this demographic with healthy foods and beverages.
"One key insight we have found is that aging consumers want positive messages with their aging products," observes Niki Carnell, category strategy manager, supplements, at Glanbia Nutritionals. "Euromonitor International notes an increase globally in anti-aging condition claims overall, but products labeled as 'anti-aging' are decreasing. In line with higher consumer education, consumers aren't interested in the 'one-size-fits-all' approach to supplements."
Here is a look at some of these nutritional ingredients sought after for healthy and active aging.
Inflammation and Antioxidants
Today, there is much talk focused on inflammation and its link to many chronic diseases. "One of the common concerns regarding healthy aging is oxidative stress, and its ability to drive other 'aging' processes—inflammation, skin damage, and cognitive decline just to name a few," says Wright. "The build-up of damage from oxidative stress can lead to loss of function, which is why antioxidants are so in demand. The tipping point for inflammation is when it turns into chronic inflammation, which is what happens when the body responds to foreign substances over time."
• Curcumin. "As an anti-inflammatory agent, curcumin helps with many of the diseases or conditions which affect us as we age. Curcumin is also known to have potent antibacterial and antioxidant properties," says Eric Meppem, commercial director at Pharmako Biotechnologies. "In fact, over the past 10 years, the number of published studies on curcumin and its positive health impacts have nearly quadrupled, going from 400 published studies in 2008 to almost 1,400 published studies just last year (source PubMed)."
Pharmako Biotechnologies developed HydroCurc water-dispersible curcumin with its unique technology, LipiSperse. HydroCurc boasts higher loads of curcuminoids, lower excipients (only 10%), and increased functionality. Curcumin is very hydrophobic, limiting its functionality and diminishing its absorption by the human body, explains Meppem. The LipiSperse dispersion technology stops curcumin from agglomerating, allowing for better absorption and use in beverages or ready-to-mix powders. "A pharmacokinetic study in humans conducted at the University of Queensland proves the enhanced absorption and will be published soon in a European scientific journal," says Meppem. Gencor, the distributor of HydroCurc, and Pharmako Biotechnologies are currently running a clinical trial with the University of Queensland to show relief from delayed muscle onset soreness using HydroCurc.
Other companies have also addressed the absorption and dispersibility of curcumin. For example, OmniActive Health Technologies offers bioavailable CurcuWIN. Produced using OmniActive's proprietary UltraSOL Nutrient Delivery System, CurcuWIN contains a minimum 20% curcuminoids in the same profile as found naturally in turmeric. The delivery system is a unique technology that converts lipophilic compounds and poorly absorbed nutrients to water-dispersible ingredients for enhanced bioavailability. Recently, OmniActive was granted a U.S. patent for CurcuWIN and its sports nutrition and performance benefits. The patent covers the ingredient's composition for improving muscle performance, endurance capacity, and resistance to fatigue when administered in effective amounts in humans undergoing exercise.
Through an advanced encapsulation process, Glanbia Nutritionals developed CuroWhite. During this optimization process, the curcuminoids are encapsulated with β-cyclodextrin. "In a bioavailability study on rats, CuroWhite was shown to be absorbed at a higher rate and remained in the bloodstream for longer than standard curcumin," says Carnell.
• Resveratrol. "80% of older adults are dealing with one chronic disease. 70% are dealing with more than two," says Sally Aaron, senior vice president of health and wellness ingredients at Evolva. Resver-atrol has several benefits that it may provide because of its anti-inflammatory abilities as an antioxidant. It has been shown to penetrate cells and help rejuvenate the mitochondria, thus supporting healthier aging.
Often associated with heart health, resveratrol has shown benefits in bone, brain, and skin health as well. "We have been looking at how do we expand the body of research for resveratrol," adds Aaron. The company has partnered with the University of Newcastle, Australia, to look at its effect on cardiometabolic, brain, and bone health in a cohort of postmenopausal women. "In an earlier study, we saw indication that resveratrol can help balance bone resorption vs. bone formation processes in the body." Evolva is supporting and/or sponsoring several ongoing clinical studies with its Veri-te resveratrol. For example, Emma Wightman at Northumbria University is focusing on resveratrol's effects on microbiota, inflammation, and brain health.
Veri-te is a high-purity trans-resveratrol produced via yeast fermentation, yielding a consistently pure ingredient. This past spring, Evolva launched a cold water–dispersible form that comprises 90% resveratrol. The new form of the ingredient expands its applications in beverages and foods. Using the LipiSperse Dispersion Technology, Veri-te will disperse in seconds, making it easier to use in products like functional beverages, liquid shots, and instant powder drinks.
• Glutathione. Glutathione is produced by the body, but with age, the body's ability to produce the antioxidant declines. Setria Glutathione from Kyowa Hakko USA is a clinically studied and patented form of glutathione manufactured through a proprietary fermentation process. When taken orally, it has been shown to replenish the body's reserves, fight oxidative stress, promote immune health, detoxify, and support anti-aging.
Muscle Maintenance
When it comes to muscle and protein, the focus is not just on athletes and sports nutrition. As we age, the maintenance of existing muscle becomes important. Sarcopenia, or muscle wasting, is a growing concern globally, and it is expected to affect nearly as many consumers in the future as osteoporosis, says Carnell. She adds that this is why the protein and amino acid intake of the global aging population is being studied around the world.
Bradlee et al. (2017) found that higher intake of animal protein foods, alone or especially in combination with a physically active lifestyle, was associated with preservation of muscle mass and functional performance in older adults. Higher intake of protein-source foods (red meat, poultry, fish, dairy, soy, nuts, seeds, and legumes) was associated with a higher percent of skeletal muscle mass, particularly among women.
Glanbia offers PepForm Leucine, which triggers muscle protein synthesis, and PepForm BCAA. Carnell adds that poor amino acid solubility is a common problem in the development of amino acid–based formulations. "Certain amino acids are inherently insoluble in aqueous solution due to their hydrophobic side chains, which prevent amino acids from dissolving." PepForm binds free-form amino acids or bioactive compounds to peptides isolated from fresh sweet whey using advanced fractionation and separation technologies, making them soluble. In addition, peptides are more bioavailable than free-form amino acids, which allows them to be better utilized and absorbed by the body.
Bone and Joint Health
"The adage that "60 is the new 40" is true to some degree; however, the human body inevitably goes through changes: bones and joints become more brittle and start to lose flexibility, and tissues start to lose their elasticity, making us more prone to injury and discomfort," says Samantha Ford, business development director at AIDP.
• Collagen. A patented combination of calcium and collagen, KoAct from AIDP has been clinically shown to help improve bone mineral density, bone strength, and flexibility. "The collagen component is critical to bone structure and function because it helps keep bones flexible and absorb impact, especially during physical activity," says Ford.
Elam et al. (2015) supported the use of KoAct in reducing bone loss in osteopenic postmenopausal women. The loss of whole body bone mineral density in women taking KoAct was substantially lower than that of the control group. AIDP also offers KollaGen II-xs, a unique, specialized collagen type II designed to support joint health. Produced from avian sternum, KollaGen II-xs provides the major components of joint cartilage: 55%–70% collagen type II along with chondroitin, glucosamine, and hyaluronic acid in a ratio similar to what's naturally present in our bodies.
"Collagen supplementation should not be considered a one-size-fits-all solution. Different collagen peptides offer optimized benefits for different areas of the body," states Heather Arment, marketing coordinator, North America, for GELITA. "Research shows that GELITA Bioactive Collagen Peptides are optimized to maximize the stimulatory effects on specific cells in the body, and the level of stimulation is different for varying collagen peptide compositions."
GELITA offers a diverse portfolio of collagen peptides to support healthy aging from the inside out, says Arment. BODYBALANCE collagen peptides have been proven effective for body toning in young and middle-aged people, and for counteracting age-related muscle loss (sarcopenia) when aging. FORTIBONE has been developed to increase bone density, promote bone health, and reduce the degradation process, making bones more elastic and stable and helping to reduce bone loss and bone fragility. "The specific peptides of FORTIBONE stimulate osteoblast (collagen production) and reduce the activity of osteoclasts (collagen degradation)," adds Arment. To support joint health and mobility, FORTIGEL is an innovative ingredient for the regeneration of joint cartilage. The optimized specific collagen peptides of FORTIGEL have been proven to activate the growth of new cartilage by stimulating cells, helping to make the joints smooth and mobile. To improve mobility and reduce risk of injuries, TENDOFORTE is designed to increase health and quality of ligaments and tendons.
Rousselot's Peptan collagen peptides are type 1 collagen peptides optimized for high bioavailability and activity. Glycine, proline, and hydroxyproline represent around 50% of Peptan's total amino acid content. Dar et al. (2017) demonstrated the cartilage-regenerative and anti-inflammatory effects of Peptan using a mouse model of posttraumatic osteoarthritis. The findings confirmed that Peptan can help preserve cartilage area during osteoarthritis development, stimulate chondrocyte proliferation and proteoglycan synthesis, normalize synovial thickness, and reduce production of the inflammatory marker TNF.
• Botanicals. Glanbia's Acujoint is an advanced botanical joint health complex that has been shown to help support joint mobility and comfort. Acujoint is a complex of curcumin, boswellia, black pepper oil, and ginger extracts. Botanical molecules are encased inside a turmeric matrix, ensuring the bioactive components are well protected and bioavailable. "Acujoint has been shown to reduce the VAS pain score and the WOMAC index score measuring pain, stiffness, and physical function in patients with knee osteoarthritis as compared to glucosamine 1500 mg + chondroitin 1200 mg," adds Carnell.
• Vitamin K2. Vitamin K2 is growing in consumer awareness for its benefits to both heart health and bone health. The vitamin binds to calcium and delivers it to the bone. Glanbia offers MenaQ7, an MK-7 form of vitamin K2, which is clinically validated and patented for cardiovascular benefits.
In April of this year, AIDP announced an agreement with Kappa Bioscience for the sale of its patented vitamin K2 MK-7 ingredient, K2VITAL, into the U.S. dietary supplements market. "K2 MK-7 plays an important role in bone and heart health by activating key proteins that bind calcium to bone and directs free calcium away from the arteries to maintain healthy circulation," says Ford.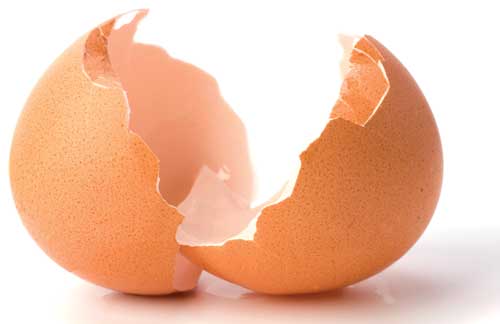 • Eggshell Membrane. TendoGuard from AIDP is a proprietary dietary supplement formula that provides a blend of 100% avian eggshell membrane and sternum cartilage to support healthy mechanical properties of connective tissue. "TendoGuard contains a perfect balance of collagen type I, type II, type V, type X, hyaluronic acid, chondroitin sulfate, and mucopolysaccharides, nutrients critical to collagen synthesis and flexible, lubricated joints and connective tissues," explains Ford.
Cognition
Brain health is important for staying mentally active as people age. The cognition market targets areas such as memory, mental focus, and recall.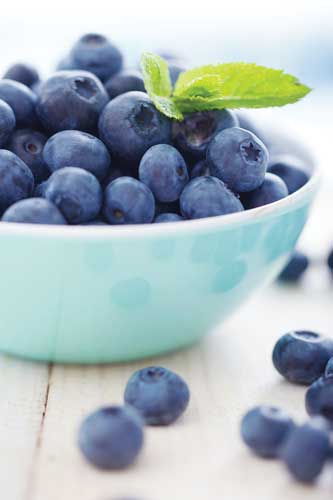 • Blueberries. Blueberries are identified with high antioxidant properties and potential to reduce the effects of age-related loss in brain function. "Studies of older laboratory animals consuming blueberry-supplemented diets have shown measurable improvements in memory, coordination, and balance. Research is also uncovering neuron regeneration in older animals fed blueberries," adds Thomas Payne, industry specialist for the U.S. Highbush Blueberry Council. Miller et al. (2018) showed that the addition of easily achievable quantities of blueberry to the diets of older adults can improve some aspects of cognition such as fewer repetition errors in the California Verbal Learning Test.
• Magnesium. A patented compound of magnesium, Magtein from AIDP offers a very distinct approach to brain health by restoring old neurons and increasing synaptic density. "Magnesium is an essential cofactor for over 300 systems that regulate biochemical reactions in the body, including brain and nervous system function," explains Ford. "Clinical research has demonstrated Magtein's effectiveness in improving markers of cognitive health and function, including working memory, short- and long-term memory, attention, and stress."
• Botanicals. Synapsa Natural Memory Support from PLT Health helps improve cognitive performance in areas such as visual processing, learning rate, working memory, information retention, and mental performance in cognitively demanding environments. It is a patented, standardized form of the herb Bacopa monnieri. Downey et al. (2013) studied two different doses (320 mg and 640 mg) of Synapsa in a study on sustained cognitive performance, examining the short-term effect of Synapsa in healthy adult subjects. The results indicated that the 320 mg dose improved performance.
Eye Health
"Another major factor in healthy aging which is a major concern is maintaining independence—and the decline of vision health can have huge implications to overall quality of life," says Wright.
• Antioxidants. OmniActive offers Lutemax 2020, a naturally derived marigold extract that provides all three macular carotenoids: lutein and enhanced levels of both zeaxanthin isomers (RR-zeaxanthin and RS (meso)-zeaxanthin) at the same 5:1 ratio as found in nature. "The newest 'thing' in the eye health category is visual support against high screen time and digital device use," says Wright. "The B.L.U.E. (Blue Light User Exposure) study showed that Lutemax 2020 supplementation had beneficial effects on eye health and performance, sleep quality, and eye strain and fatigue."
• Omega-3 Fatty Acids. Wu et al. (2017) showed that higher intakes of eicosapentaenoic acid and docosahexaenoic acid may prevent or delay the occurrence of visually significant intermediate age-related macular degeneration. The researchers followed 75,889 women from the Nurses' Health Study and 38,961 men from the Health Professionals Follow-Up Study who were at least 50 years old.
Next month's Nutraceuticals section will present information about some of the ingredients and foods that may provide heart health benefits.

Linda Milo Ohr,
Contributing Editor
Denver, Colo.
[email protected]