Science + food will add up to an annual event sure to be even greater than the sum of its many parts at IFT18 to be held in Chicago from Sunday, July 15, through Wednesday, July 18, in Chicago's McCormick Place. And there are certainly many parts to IFT's annual event, where more than 20,000 science of food professionals from around the world will gather to experience featured programming, scientific sessions, and the annual food expo showcasing 1,000-plus food industry exhibitors.
"We've grown!" says Kelly M. Fox, IFT senior vice president, meetings, learning, and business development. "The IFT Annual Event and Food Expo has expanded into a second hall. With more exhibitors than ever, this expansion will provide additional opportunities to learn about new products and trends."

IFTNEXT—Even Bigger and Bolder Than Before
Last year brought the debut of a new suite of programs championing big, bold ideas and approaches—all under the banner of IFTNEXT. This year's IFTNEXT programming will deliver even more of that with opportunities to experience thought-provoking presentations, discussions, and demonstrations.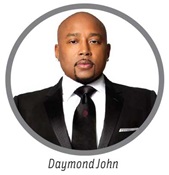 "IFTNEXT content is once again forward thinking and creative," says Fox, who invites attendees to "come see how the artificial nose 'smells' food products and the many uses for this technology. You also won't want to miss the Food Disruption Challenge Pitch Event. Shark Tank's Daymond John will be hosting the finalists as they pitch their innovative start-ups for a $25,000 cash prize and a $5,000 people's choice award. The finalists have gone through several rounds of evaluation since January and are receiving mentoring and coaching from industry professionals for the six weeks leading up to IFT18." The $25,000 prize winner selected by the judges will be named IFT's Future Food Disruptor of the YearTM.
The pitch event will take place from 8 a.m. to 10 a.m. Tuesday, July 17, in the S100 ballroom of McCormick Place. Here's a quick look at the companies that have made it to the final round of the competition whose representatives will be on stage making their pitches in Chicago.
C-Fu Foods, Toronto, Canada, is working to develop the next generation of insect-based, value-added food ingredients that solve some of the technical challenges that currently limit the use of insect ingredients in food formulation.
Inductive Intelligence, Ada, Mich., has developed technology that safely and conveniently heats foods and drinks in disposable packaging, employing a device that may also be used to charge a mobile phone.
Nebullam, Ames, Iowa, combines the advanced plant-growing technology of high-pressure aeroponics with artificial intelligence to reduce labor and increase yields.
Renewal Mill, Oakland, Calif., is a consumer packaged goods and ingredient company that creates high-value, superfood ingredients and foods from unused starch and by-products of legumes, vegetables, and fruits.
Re-Nuble, New York, N.Y., uses an inexpensive, patent-pending process to transform food waste into chemical-free, organic nutrients for both soil-based and hydroponic cultivation.
Rise Products, Brooklyn, N.Y., converts organic by-products into healthful, sustainable food products, starting by turning spent barley from brewers into flour.
Judges for the pitch event are Jennifer Bentz, senior vice president of R&D, innovation, and insights for Tyson Foods; Jeff Grogg, founder and managing director of JPG Resources; J. Skyler Fernandes, managing director of investments, Cleveland Avenue; Lenny Lebovich, founder and CEO of PRE Brands; John Ruff, IFT past president and former senior vice president of global quality, scientific affairs, and nutrition for Kraft Foods; and Natalie Shmulik, CEO of The Hatchery.
The Annex by Ardent Mills and Naturex are Trailblazer sponsors and the United Sorghum Checkoff Program is an Inventor sponsor for the Food Disruption Challenge.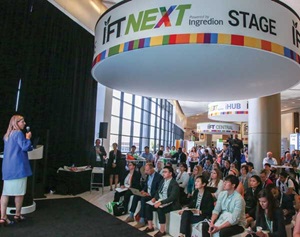 On the IFTNEXT Stage
What's new and what's next in the science of food and food technology? A series of 16 dynamic sessions presented on the IFTNEXT stage in the North Hall will explore topics ranging from drones to data science, blockchain to personalized nutrition and much, much more. There are three different formats for these IFTNEXT sessions. Perspectives sessions will be 60 minutes in length and will explore varied perspectives related to one overarching concept; speakers will present for 45 minutes with 15 minutes allocated for questions and answers. Thirty-minute Explore sessions will focus on a provocative idea, discovery, or solution with a dynamic presentation style that includes video, imagery, or demonstrations to help engage the audience. The Quickfire format will feature three 15-minute back-to-back presentations linked to one theme culminating in a question-and-answer period or other interactive activity.
View the detailed schedule of IFTNEXT stage programming.

IFTNEXT is made possible through the generous support of Ingredion, IFT's Platinum Innovation Sponsor.
Featured Sessions
In addition to Tuesday's Food Disruption Challenge featured session, two other major featured sessions are slated for IFT18—both on Monday, July 16.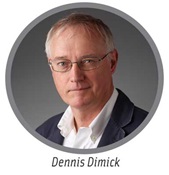 The first one, titled "The Human Age: Confronting the Innovation Conundrum," will get underway at 9 a.m. Monday, July 16, with a presentation by photojournalist Dennis Dimick, executive editor of National Geographic magazine. Dimick, who has guided many major projects over the course of a 35-year career at the magazine, will share some of his photographs of the environment—photographs that explore the impact of human ingenuity and Earth's ability to sustain it. In addition to his role with National Geographic, Dimick is cofounder of an educational collaborative called Eyes on Earth.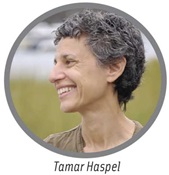 Also on the agenda for the first full day of the annual event is a panel discussion moderated by award-winning Washington Post columnist Tamar Haspel. This featured session, titled "The Clash Between Consumer Demands and Responsible Food," will begin at 2 p.m. on Monday, July 16. The panelists will engage in a dialogue that explores some of the challenges presented to food companies when the well-intentioned demands of consumers lead to unintended consequences like increased food waste and fossil fuel usage or food safety threats.
A Time for Tributes
Some of IFT's most accomplished and dedicated members will be in the spotlight on Sunday, July 15, at the Awards Celebration from 6 p.m. to 7 p.m. in the S100 Ballroom of McCormick Place. Sixteen Achievement Awards will be presented, including IFT's highest honor, the Nicolas Appert Award. Achievement Awards recognize individuals and teams for remarkable contributions in research, applications, and service in food science and technology.
In addition, 10 new IFT Fellows will be celebrated at a special ticketed Fellows Recognition Forum that will take place prior to the Awards Celebration. The Fellows designation acknowledges outstanding contributions to the food science and technology field.
Get to know IFT's Achievement Award winners in an article on page 46, and learn about the members of the 2018 class of IFT Fellows in an article on page 50.
A Welcome Reception open to all annual event attendees will immediately follow the Awards Celebration in the S100 Ballroom, providing an ideal opportunity for socializing and celebrating the achievements of the evening's honorees.
A Matter of Scientific and Applied Insight
Scientific and applied sessions at the annual event are the cornerstone of IFT's educational offerings. More than 100 sessions and 800-plus technical research (poster) presentations will be on the agenda for IFT18.
A stringent peer-review process ensures that session content is relevant and high in quality. Sessions are categorized within a framework of a dozen topical tracks, making it easy for attendees to identify the content that will be of the greatest value to them.
"I'm really excited about the scientific program for IFT18, since there were so many interesting proposals from all over the world," says Brendan Niemira, research leader for the U.S. Department of Agriculture's Agricultural Research Service Eastern Regional Research Center, who chaired the Annual Meeting Scientific Program Advisory Panel (AMSPAP).
"Subject matter experts in each track reviewed and scored every submission for quality and clarity, scientific merit, and for potential interest and value to IFT18 attendees," Niemira continues. "Then the members of AMSPAP worked with IFT staff to select the cream of the crop, work out a balanced schedule, and fine-tune the content to highlight the most relevant and impactful science. As the chair of AMSPAP, it was an honor and a pleasure to work with such a knowledgeable, dedicated, and forward-looking team of staff and volunteers."
Among the highlights of this year's scientific program will be a deep dive (eight hours of programming) into the topic of alternative proteins. Over the course of the day on Tuesday, July 17, eight 60-minute sessions in room S403AB will address various aspects of the topic.
Learning sciences researcher James Pellegrino of the University of Illinois at Chicago (UIC) will present the Fennema Lecture & Workshop on Monday, July 16, as part of the Teaching & Learning track at IFT18. Pellegrino is a distinguished professor of liberal arts and sciences, psychology, and education and co-director of the Learning Research Institute at UIC. He will deliver the Fennema Lecture titled "Measuring What Matters: The Science of Assessment Meets the Assessment of Food Science" from 10:30 a.m. to 11:15 a.m. on Monday in Room S501ABCD of McCormick Place.
That afternoon, from 3:30 p.m. to 5 p.m., also in in Room S501ABCD, Pellegrino will present the Fennema Workshop, taking ideas from the earlier lecture and applying them to the assessment of key knowledge and skills in food science. Over the course of his distinguished career, Pellegrino has led large-scale research and development projects for educational organizations.
Printed poster and digital ePoster presentations, which will feature students, academics, and industry professionals sharing their research findings, will take place in Room S406 during the course of the annual event.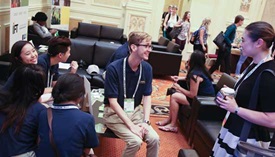 Lots for Students to Do at IFT18
Learning, networking, and socializing will all be on the agenda for students at IFT18. Final rounds of several student competitions will take place in Chicago, with the winners recognized at the IFT Student Association (IFTSA) Closing Ceremony on the evening of Tuesday, July 17. Here's a preview of some of the main attractions specifically for students.
• Student Lounge. For IFTSA members looking for a place to mingle, relax, and get their hands on some OFG (official food geek) swag, the student lounge, which is sponsored by PepsiCo, will be the place to go. Located in room S503 of McCormick Place, the student lounge will be open from 3 p.m. to 6 p.m. on Sunday, July 15; 8 a.m. to 6 p.m. on Monday, July 16; 8 a.m. to 5 p.m. on Tuesday, July 17; and 8 a.m. to 4 p.m. on Wednesday, July 18.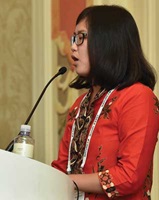 • Global Challenge. Held for the first time last year after IFTSA was awarded an Innovation Grant from the American Society of Association Executives, the Global Challenge will make a second appearance at IFT18. Twenty student participants will work together to develop a solution for a global food issue using resources available at the annual event. Eight participants were selected by IFT global partner organizations (Canadian Institute of Food Science & Technology, Chinese Institute of Food Science and Technology, the UK's Institute of Food Science & Technology, and South African Association of Food Science and Technology); the others were chosen through an application process for IFTSA members.
• Developing Solutions for Developing Countries Competition. The specific theme for this competition, now in its 10th year, changes annually. This year, competition participants have been asked to develop a product for people living in regions of southern and eastern Africa, where two consecutive years of drought have resulted in rising food prices and increased food insecurity and malnutrition. Finalists include two teams from Bogor Agricultural University, and one team from each of the following schools: the University of Guelph, McGill University, Universitas Surabaya, and Washington State University.
• Smart Snacks for Kids Product Development Competition. This brand-new competition, which challenges student teams to develop a fun and nutritious food or beverage targeted to kids and/or teens, has six finalists. They include Utah State University, Tel Hai College, University of Guelph, Purdue University, University of Massachusetts Amherst, and California State University at Northridge.
• IFTSA & MARS Product Development Competition. This high-profile competition, which is marking its 28th year, invites student teams to come up with the idea for a new food or beverage product and take it from concept stage to the point where it is market ready. The 2018 finalists are the University of Wisconsin–Madison, Michigan State University, Cornell University, The Ohio State University, the University of Illinois at Urbana-Champaign, and McGill University. The competition is sponsored by Mars/Wrigley.
• Undergraduate Research Competition. Six finalists will present their research both orally and via poster at IFT18, with the top three finalists earning cash prizes.
• Thesis Video Competition. For this competition, graduate students are invited to submit a fun, creative video highlighting their original research projects. The creator of the winning video will earn a trip to the Campden BRI food research organization in the United Kingdom. The competition is sponsored by Campden BRI.
• College Bowl Competition. Eight finalist teams from around the country will compete for bragging rights and cash prizes in this fiercely competitive test of food science knowledge and IFT- and food-related trivia. The final rounds will take place during the IFTSA Closing Ceremony on Tuesday, July 17. Regional finalists include Cornell University, Oregon State University, North Carolina State University, Purdue University, California Polytechnic State University San Luis Obispo, Texas A&M University, the University of Wisconsin, and the University of Georgia.
• Excellence in Leadership Award. One undergraduate and one graduate student will be recognized for outstanding service to their student chapters when these awards are presented at the Awards Celebration on Sunday, July 15. Each of the winners will receive $1,000 in addition to the award.
• IFTSA Closing Ceremony. The final rounds of the College Bowl Competition will take place, winners of student competitions will be announced, and members of IFTSA leadership will be introduced during the closing ceremony from 7 p.m. to 9 p.m. on Tuesday, July 17, in the S100 Ballroom of McCormick Place.
• IFTSA Networking Party. Students aged 21 and over are invited to attend this event from 10 p.m. to 11:55 p.m. on Tuesday, July 17, at Fado Irish Pub at 100 West Grand Ave. in the River North neighborhood of Chicago.
• First-Timers Session for Students. Annual event newbies looking for tips for successfully navigating IFT18 will want to add this session to their agendas. It will take place from 3 p.m. to 4 p.m. on Sunday, July 15, in Room S504ABC of McCormick Place.
• IFTSA and Feeding Tomorrow Student Celebration. All student attendees are invited to celebrate the IFTSA competition finalists and Feeding Tomorrow scholarship recipients on Tuesday, July 17, from 5:30 p.m. to 7:30 p.m. in the S100 Ballroom of McCormick Place. Students will have the opportunity to network, view competition finalists' projects, and socialize with some of the best and brightest student members of IFT.
More Matters of Interest at IFT18
• Short Courses. IFT's roster of 12 short courses held just prior to the start of the annual event includes two that are bannered IFTNEXT. One is a half-day course titled Design Thinking for the Creative Food Scientist: A Hands-On Innovation Workshop, which will be held on-site at The Hatchery, a Chicago-based food business incubator. The other is a two-day course called Launching a Food and Beverage Business held at the Hilton Chicago on Saturday and Sunday, July 14–15, and conducted in collaboration with The Hatchery.
Two new additions to the short course lineup—Improvise This: The Power of Collaboration and Seeing the Opportunity in Change—will focus on applying the principles of improvisation to the workplace.
Check out the full list of short courses at iftevent.org/sessions short-courses.
• New Professionals Mixer & Ignite Presentations. The IFT New Professionals workgroup will welcome IFT18 attendees who have been in their careers 10 years or less at this event from 6:30 p.m. to 8 p.m. in Salon A5 at the Hilton Chicago on Monday, July 16. In addition to the networking and socializing that will take place, a group of professionals will share their passions related to the science of food.
• Division Networking Reception. All are welcome to this reception, held from 4:45 p.m. to 6:15 p.m. on Tuesday, July 17, in room S105 of McCormick Place. Light refreshments will be offered and an open bar will be featured. This annual reception provides a great opportunity to get to know IFT's 24 divisions and their leaders.
• Career Center Live. It's all about making professional connections at the Career Center Live events held from Monday, July 16, through Wednesday, July 18, in the South Hall on the main expo floor. Career Center Live will get underway with the always popular open networking event taking place from noon to 5 p.m. on Monday. Last year the event drew more than 600 job seekers. Prescheduled interviews will be held on Tuesday and Wednesday. Ingredion, DuPont, Kerry, Leprino Foods, and Impossible Foods are among the employers that will be represented at Career Center Live.
• Celebrating CFS. This year IFT will celebrate the fifth anniversary of the launch of the Certified Food Scientist (CFS) program as well as the milestone of 2,000 certified since launch. All current and renewing Certified Food Scientists are invited to attend the joint Emerging Leaders Network and CFS Fifth Anniversary Session on Monday, July 16, at 4:30 p.m. in room S102ABC of McCormick Place. A ticket is required for admission to the event.
In addition, the CFS Lounge (room S104 of McCormick Place) will be open during normal show hours for all current Certified Food Scientists as well as those looking to learn more about the program.
• Division Innovation Lab. The kickoff for the Innovation Lab will take place on Sunday, July 15. The focus of the lab will be on bringing division leaders together to enable them to strategize about generating content related to a series of high-priority topics ranging from technology transfer to the circular economy.
• Section Leadership Forum. IFT section leaders will participate in the Section Leadership Forum from 8 a.m. to 2 p.m. on Sunday, July 15. The event is designed to provide section leaders with a variety of opportunities to learn, build skills, and interact with other section leaders as well as members of IFT's leadership team.
Looking Ahead
New Orleans will be the destination for IFT19. Mark your calendars now for Sunday, June 2, through Wednesday, June 5, 2019, at the New Orleans Morial Convention Center.
---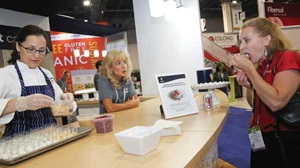 Get Ready for an Expanded Expo Experience
One exhibit hall isn't enough to contain all the IFT18 Food Expo excitement, which includes exhibitor booths, cooking demonstrations, educational programming, and more. So this year's event will occupy two exhibit areas—both the North and South Halls of McCormick Place. The expansion ensures that there is ample space for exhibitors while also providing a home for newer features like the IFTNEXT Start-Up Alley along with longtime favorites like Innova Market Insights' Taste the Trend Pavilion and Mintel's Intelligence Zone.
The food expo is the industry's largest collection of food ingredient, equipment, and services suppliers under one roof. With more than 1,000 companies on hand this summer, the food expo will be the go-to destination for sampling the latest food and beverage prototypes and learning about myriad new products and services related to the science of food and its application. Here's a sneak peek at some of what's ahead at IFT18.
• A Showcase for Start-Ups. Small companies with big potential will be in the spotlight in the IFT18 Start-Up Alley exhibit space in the North Hall. Start-Up Alley exhibitors represent a variety of product categories, including robotics and artificial intelligence, innovative functional ingredients, agricultural technology, and food and water security. Participating companies have all been in business for no more than five years, have sales volume of less than $5 million, and come from countries as diverse as Israel, France, Canada, Philippines, and the United States.
• On Trend Powered by Innova Market Insights. Innovative products and technologies related to four major trends will be highlighted at the On Trend display in the North Hall. This year's themes are "Mega Drivers," "Colorful Choices," "A Snacking Evolution," and "Healthy People & Planet."
• Innova Pavilion. Engaging displays that highlight overarching industry trends and information-packed daily presentations by Innova Market Insights experts will be available at Innova's Taste the Trend Pavilion in the South Hall. This year's presentations will address consumer trends, product development, packaging, and flavor drivers. When IFT18 concludes, presentation information will be available on a dedicated website. The focus of Taste the Trend displays will include innovative packaging ideas and plant-based products, among others.
• Mintel Intelligence Zone. View some of the world's most successful and innovative products, attend small group presentations, and ask questions to help inform future business strategies at the Mintel Intelligence Zone in the South Hall. Mintel's IFT18 presentation topics will include innovating for the iGeneration, navigating between trends and fads, the next generation of diet trends, and the future of alternative proteins.
• IFT Central Booth. Always a popular destination at the annual event, the IFT Central Booth in the North Hall will offer a full schedule of professional development presentations designed for science of food professionals at all stages of their careers. Topics will range from strategies for career advancement and salary negotiation to volunteer opportunities. And, of course, IFT staff members will be on hand to answer questions about IFT programs, services, and resources.
• Cooking Up Science Ingredient Showcase. These fun, live cooking demonstrations in the North Hall will showcase the ingredients of exhibitors, including the American Egg Board, the Almond Board, and Pure Circle.
• New Exhibitor Pavilion. This special exhibit area in the North Hall offers attendees an easy option for checking out the newest products and technologies.
• More Pavilions. Three other specialty pavilions will be highlighted: one showcasing organic products (North Hall); one highlighting food safety and quality technologies, processes, and services (South Hall); and the China pavilion (South Hall), which will bring together a collection of vendors from China.
• Presentation Theater. Representatives of Qualisoy and the USA Dried Pea and Lentil Council will be among those sharing insights in the intimate setting of the presentation theater in the North Hall.
• Covance Food Solutions Martini Bar Reception. After what is sure to be a busy first day at the food expo, IFT18 attendees are invited to stop by the Covance booth (S749) for cocktails and snacks on Monday, July 16, between 5 p.m. and 6:30 p.m.
IFT18 Food Expo hours are from 10 a.m. to 5 p.m. on Monday, July 16, and Tuesday, July 17, and 10 a.m. to 4 p.m. on Wednesday, July 18.
---
Register for IFT18
Learn more about IFT18 and get registered at iftevent.org. Questions? Email [email protected].
---
Organics Buyer's Breakfast
"We are happy to bring the Organics Buyer's Breakfast to our Chicago event," says Kelly M. Fox, IFT senior vice president, meetings, learning, and business development. "If you are an organics product buyer, make sure you indicate that during the registration process and you'll receive an exclusive invitation. If you are a seller, there are still opportunities to purchase a tabletop for the breakfast or a booth in the organics pavilion." Contact [email protected] for more information.
---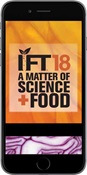 Staying in the Know at IFT18
With so many options for learning, socializing, and exchanging ideas at IFT18, staying up to speed on the agenda is essential, and IFT has a couple of tools to help with that.
For the most up-to-date schedule of annual event activities, programs, and exhibitor information, download the IFT18 app. Search for IFT18 in the App Store (iOS) or Google Play Store to download the free app.
In addition, the digital show daily, IFT18 News, which is part of the iftevent.org website, will deliver on-site coverage of events and programs as well as articles previewing IFT18 highlights by members of the Food Technology editorial team. Photos and videos will help keep it engaging.
---
Introducing the 2018 ELN Award Recipients
Meet IFT's 2018 Emerging Leaders Network (ELN) Award recipients—five young professionals who demonstrate high potential for success in leadership roles and a strong commitment to the profession. This year's roster of ELN honorees, who will be recognized at the IFT18 Awards Ceremony on Sunday, July 15, includes the following high achievers: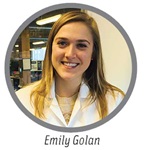 Emily Golan, a chemical engineering graduate of Vanderbilt University, leads the product development team at the Chicago Bar Company (RXBAR), where she merges her passion for health and nutrition with food product development. Prior to joining the company, she worked as a product developer for Kraft Heinz.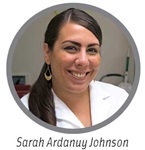 Sarah Ardanuy Johnson is an assistant professor and director of the Functional Foods & Human Health Laboratory in the Department of Food Science and Human Nutrition at Colorado State University, where her research explores the efficacy of dietary interventions in improving cardiovascular and metabolic health in high-risk populations and examines the relationship between dietary interventions and food systems as they relate to human health and sustainability. She is currently chair of the Evidence-Based Practice Committee and a member of the Council on Research with the Academy of Nutrition and Dietetics.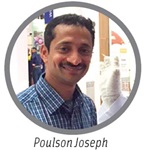 Poulson Joseph is the principal scientist and team lead/protein at Kalsec, Kalamazoo, Mich., and chair of the IFT Muscle Foods Division. At Kalsec, he leads the protein team with a research emphasis on natural antioxidants and works closely with the food and pet food industries, offering technical and analytical support.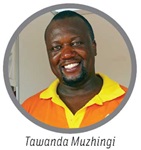 Tawanda Muzhingi is a food scientist based at the International Potato Center regional office in Nairobi, Kenya. He leads the Food and Nutritional Evaluation Research Laboratory at the Biosciences for East and Central Africa International Livestock Research Institute in Nairobi and is active in a number of scientific organizations.
Megan Torline is a research and development food scientist at spice and seasoning blend company BlendTech in Wichita, Kan., where she works to develop customized seasoning blends. She serves as secretary of the IFT Oklahoma Section.
Golan, Johnson, Joseph, Muzhingi, and Torline will participate in the two-and-a-half-day IFT Emerging Leaders Network program that takes place Friday, July 13, through Sunday, July 15, just prior to the start of the annual event. The intensive leadership seminar is designed to provide new professionals in the science of food with the kind of critical leadership skills they need to help them communicate the value of the profession.
---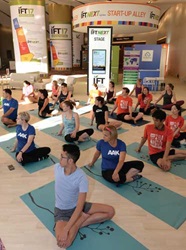 Fitness and Fundraising at IFT18
Fundraising and athletic activities will fit together nicely in the IFT18 Fun Run + Fitness virtual event, which supports the student scholarship programs of Feeding Tomorrow, IFT's foundation.
Introduced last year, this program allows fitness lovers to sign up online and record their physical activities (running, walking, yoga, biking, swimming, etc.) between June 1 and July 31. The registration fee is $30.
At IFT18, registrants may participate in a 5K run/walk and/or yoga starting at 6:30 a.m. on Monday, July 16, followed by an after party starting at 7 a.m. outside S100 at McCormick Place. Runners will meet outside the main entrance of the McCormick Place South building.
Sponsors of the Fun Run + Fitness virtual event include the Coca-Cola Co., AAK, Ingredion, PepsiCo, and TastePoint by IFF.
Sign up to participate at https://www.iftevent.org/schedule-events/foundation.
Mary Ellen Kuhn is executive editor of Food Technology
magazine ([email protected]).