Recipe: Pan-Seared Halibut with Tomato Basil Couscous
After high school, Jessica Gavin attended California Polytechnic State University in San Luis Obispo to study food science. While working as a research scientist for a global nutrition company—where she still works—Gavin enrolled in culinary school and learned how to combine her food science knowledge with her passion for cooking. With her eyes opened to the world of culinary science, Gavin launched her eponymous food blog in 2012 to share her knowledge with others. She hopes to impart more of that knowledge with a larger audience when she launches her cookbook Easy Culinary Science for Better Cooking this month.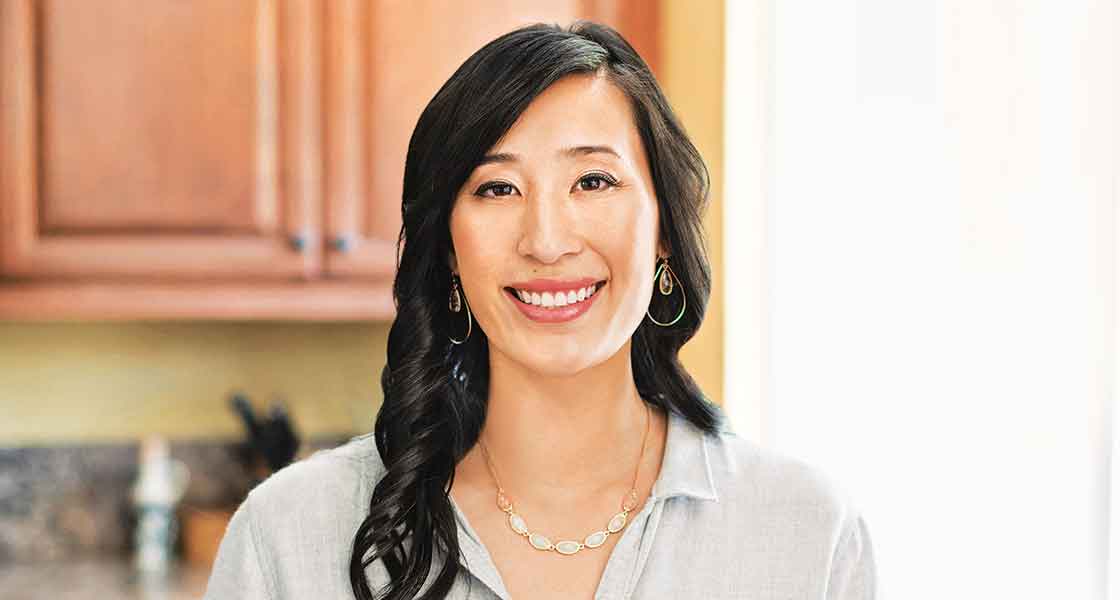 Q: It sounds like you initially wanted to go straight to culinary school after high school. What led you to pursue food science instead?
Jessica Gavin: Food has always been my passion. I've had a lot of opportunities to surround myself with incredible chefs and see how they put their creativity and skills into their dishes and their products. But I realized that there were some fundamental questions that I had about cooking and baking, and I thought that perhaps I needed to take a deeper dive to understand how science could make me a better cook.
I pursued a degree in food science to uncover why and how ingredients interacted together so I could ultimately elevate my cooking and be able to troubleshoot in the kitchen. Going to culinary school had always been my dream, and I knew I was just putting it on hold for a little while.
Q: You went on to get your master's degree as well, right? When did you get your culinary degree?
Gavin: Yes, my master's is in dairy science. I work in dairy products technology. I remember when I was looking for a job after finishing my master's, I asked if they [the employer] would be supportive of me attending culinary school while I was working there. The company was extremely supportive. They felt that me pursuing a culinary degree would be very relevant for the products that we design because as a global company, it's important to understand the different taste preferences of each country. So, I got the job at Nutrilite, where I still work, and started culinary school within the year.
It took a little longer for me to finish culinary school because I was working full time and had to take night classes. Right after I graduated from culinary school, my husband and I had a conversation about whether I wanted to pursue working in a kitchen as a chef or if I still loved what I was doing at Nutrilite. I realized working as a chef means a lot of long hours and late nights. At the time, my husband had this web development side job and he encouraged me to start a food blog. I wasn't interested in doing a food blog, but it turned out to be the perfect place to combine my culinary creativity and my food science education.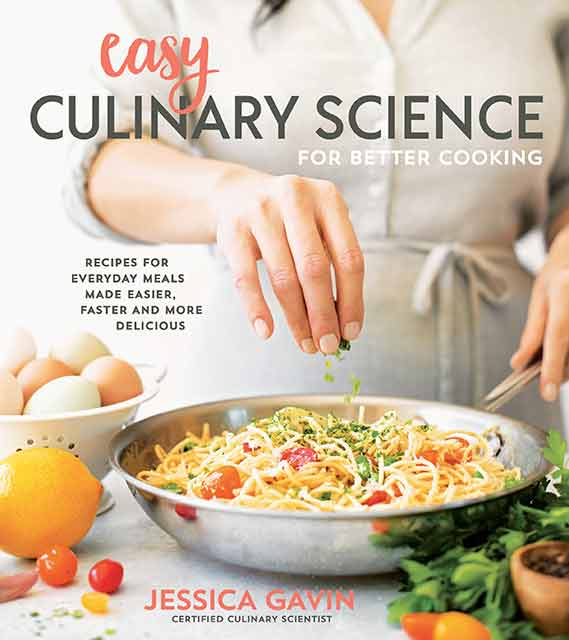 At first, the blog was more of a personal project for me—a creative outlet. As I began to gain more followers and people who were really interested in the culinary science aspect, I realized I wasn't doing it for me anymore; I was doing this for my readers to help them grow confidence in the kitchen through science. That's when the blog became even more satisfying for me.
Q: How did the idea to create a cookbook come about? Did your blog influence how you approached the content of your book?
Gavin: The industry has changed so much in terms of how cookbooks are done. I never thought I could ever have a cookbook unless I was cooking in a professional kitchen. But through my blog and essentially becoming a social media influencer, my publisher approached me because they were hungry for a food science-heavy cookbook.
My brand is all about helping home cooks build confidence in the kitchen through science, one recipe at a time. So, I decided to base the book on the most essential methods that I felt everyone should learn, so that the readers would have these building blocks to use and really elevate their cooking. It is all about understanding dry heat cooking, moist cooking, slow cooking, yeast leavening—all the basics—and then within each chapter there is a practical application of how to use the science for that method of cooking. That's how I broke down the book instead of just talking about breakfast, lunch, and dinner. It's more based on, "hey, did you know that sautéing, deep frying, and pan frying is all a dry heat cooking method?" And then showing the result—the textures and flavors—that will develop if they know how to use the specific cooking method.
It's almost like it is a mini culinary school course but in book form. I really want the readers to get excited about science and to feel empowered by what they learn from the book. They can go through the book page by page, or if they have a question about what temperature to cook something to, they can use it as a quick reference. It's all there. I really feel like it's putting culinary and food science into one place.
I want to help readers realize how important science is with cooking. They go hand in hand. When you step in the kitchen, you are doing science. It's getting them to put their lab coat on instead of their chef coat when they step into the kitchen, and just having a different mindset.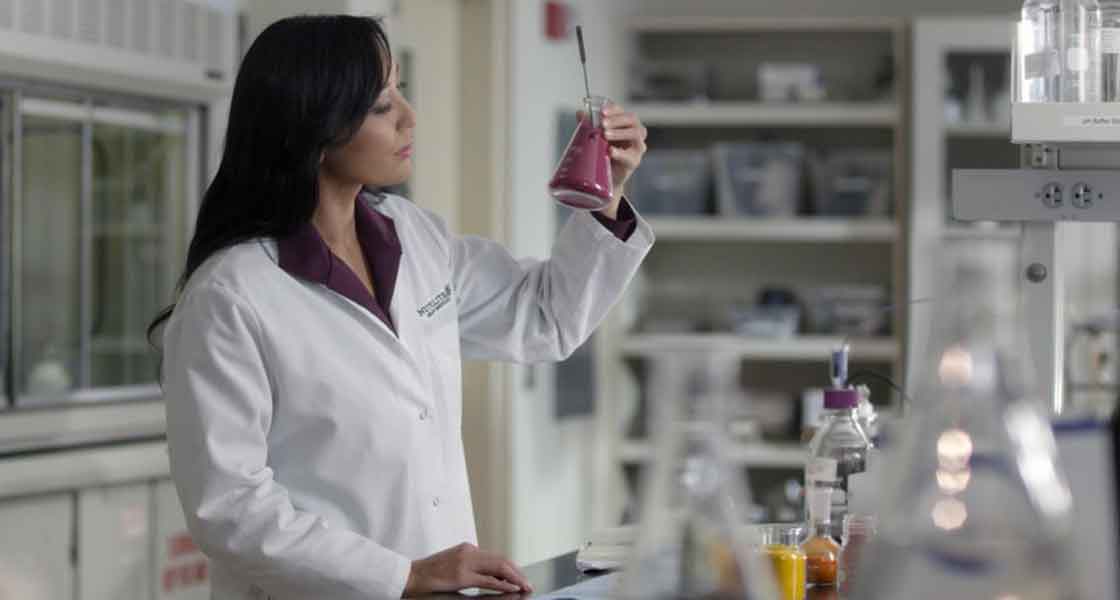 Q: Did your day job as a research scientist at Nutrilite inform your cookbook in any specific way? Or vice versa?

Gavin: After a decade of training as a research scientist, I feel like I use the same approach I use for developing a new nutritional formula at work as I do for my cookbook and blog. When I step into my kitchen, it becomes my lab. I try to target what flavor and texture qualities I want for a given recipe then match it with a cooking method and ingredients and then test the hypothesis. I write down my materials, methods, and observations, so that if the recipe worked, I've made sure that I can repeat it so that my readers can have that same result in the kitchen.
Q: What number one cooking technique that someone who is new to the kitchen should know?
Gavin: The Maillard reaction. If you're really trying to develop new flavors, textures, and color—the three things that really make someone's mouth water—I think that's the big understanding that drives your cooking because there are different ways the Maillard reaction works, but understanding how to properly develop the reaction—I think it's really important.
If you're going to develop a golden brown crispy crust on a piece of fish or on a rib-eye steak, it's helpful to know how to incorporate the right level of heat and the right amount of fat that goes into the pan. Having the knowledge of how the Maillard reaction works is a really good skill to learn.
Knowing, for example, that if you add honey or something to your marinade or sauce it's going to give you a quicker reaction for browning than just developing it based on heat. Knowing when to back off or when to take it off the heat—there are a lot of layers to the Maillard reaction. The main obstacle is that people don't want to fail. They don't want to make bad food in the kitchen, but you kind of have to. You have to practice. Cooking is an engagement of all your senses and your knowledge. You have to start to use your intuition, and the only way to do that is by being in the kitchen, cooking often, making mistakes, and asking the questions. Like, "Why did this not turn out?" or "Why did it work? I want to keep on making it work because I love the result."
It's just one of those things where if you cooked a recipe perfect the first time, that might have been really good direction-following and luck, but it's that replication and that understanding of why it worked. "I know why I'm performing this, and it totally makes sense, and my confidence in this recipe has skyrocketed, and I want to keep on doing it."
This interview has been edited and condensed for clarity.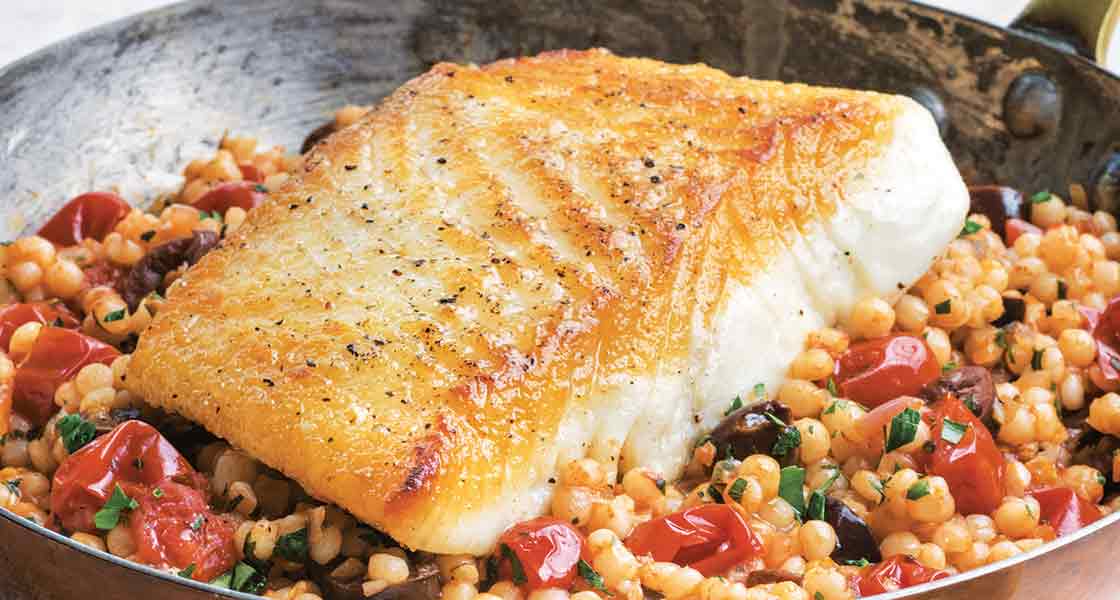 Pan-Seared Halibut with Tomato Basil Couscous
Serves 2
Ingredients:
2 (8-oz [227-g]) halibut fillets, about 2 inches (5 cm) thick
½ cup (80 g) pearl Israeli couscous
¾ cup (180 ml) water
¼ tsp kosher salt, plus more for seasoning
black pepper, for seasoning
¼ cup (60 ml) grapeseed oil or vegetable oil
2 cups (298 g) baby tomatoes, cut in half
¼ cup (50 g) pitted kalamata olives, sliced
¼ cup (36 g) minced shallots
1 garlic clove, minced
1 tbsp (15 ml) red wine vinegar
2 tbsp (30 ml) olive oil
1 tbsp (4 g) minced parsley
1 tbsp (2 g) thinly sliced basil
2 lemon wedges
Method:
Remove the fish from the refrigerator and transfer to paper towel-lined plate. Let stand for 15 minutes at room temperature.
Before frying, make sure the surface of the fish is very dry. Use paper towels to wick up any additional moisture, so that immediate browning can occur. Cooking a wet piece of fish will cause excess oil splattering and steam from the pan, which delays browning and can be dangerous.
Prepare the couscous by adding the water in a medium saucepan fitted with a lid, and bring to a boil. Add the couscous, cover, and turn down to simmer. Cook until the couscous is tender, about 10 minutes. Set aside.
Season both sides of the fish with salt and pepper. Heat the grapeseed oil in a large 12-inch (30-cm) sauté pan over high heat, until the oil starts to shimmer and is very hot. Carefully add each fillet into the pan presentation side down, pressing down on the fish for a few seconds with a spatula to create direct contact with the oil.
Reduce the heat to medium-high and cook until the fish is golden brown, about 5 minutes; do not move the fish. Carefully flip the fish and reduce the heat to medium, and cook until the internal temperature reaches 135°F–140°F (57°c–60°c), about 4 to 6 minutes. During this time, you can tilt the pan and baste the sides of the fish with the hot oil to help with cooking. Turn off the heat and transfer the fish to a paper towel-lined plate to remove some of the excess cooking oil. Drain the oil from the pan and return to the stove.
In a medium-size bowl, combine the tomatoes, olives, shallots, garlic, red wine vinegar, and ¼ teaspoon of salt. Heat the pan over medium heat and add the olive oil. When the oil is hot, add the tomato mixture. Cook until the tomatoes are softened and a light sauce forms, about 6 minutes. Add the couscous, parsley, and basil to the pan, and mix to combine. Season with salt and pepper as desired.
Divide the tomato basil couscous in two bowls and top with the halibut. Serve with lemon wedges.