Healthy snacks continue to soar in demand. Consumers want snacks that replace meals, provide additional health benefits, satisfy cravings, and taste good. According to Technomic's 2018 Snacking Occasion Consumer Trend Report, not only are views on snacking broadening, but consumers are also more likely now than in 2016 to replace one or two meals per day with snacks (Technomic 2018). According to the research, 80% of consumers say they snack at least once a day, and consumers who replace meals with snacks are most likely to replace lunch.
Demand for label-friendly ingredients is also driving innovation in the heathy snack space, says Pam Stauffer, global marketing programs manager at Cargill. "Consumers want to recognize the ingredients in their snacks, know where those ingredients come from, and understand how they are made," she adds. "Beyond the clean label trend, consumers continue to express interest in snack options with a nutritional edge. This is reflected in the number of snacks with added fiber or protein, interest in 'baked not fried' extruded products, and the growing demand for reduced-sugar snacks."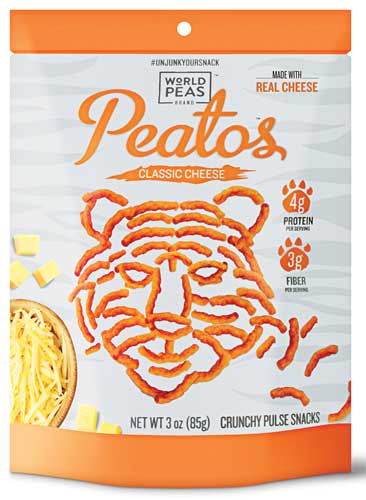 At this year's Natural Products Expo West, healthy snacking trends like lower sugar, higher protein, whole grains, and plant-based were prevalent. One example was the introduction of World Peas Peatos from Snack it Forward. The new product is a crunchy puffed snack with 4 g of plant-based protein and 3 g of fiber/serving, putting a new twist on an American classic. Made with nutrient-dense pulses (peas, lentils, and beans), the snack is made using a proprietary technology centered around extruding high-protein raw materials.
Other novel snack products showcased at the event included cakes, popcorn, and jerky, all promoting their protein content. Wilde's Thin + Crispy Chicken Chips are a grain-free snack providing 7 g protein/serving with protein from 100% natural chicken combined with tapioca flour from cassava root. Think Kids protein bars from thinkThin have 7 g of protein, 3 g of fiber, and 4 g of sugar. Vegan Rob's offered Sorghum Puffs & Rice Chips, Turmeric Chips with algae protein, and Probiotic Dragon Puffs. Quinoa crisps were featured in Unreal Dark Chocolate Crispy Quinoa Gems. Adding to the plant-based offerings were Greenwave Foods' Crunch-a-mame, organic edamame puffs with 6–7 g of protein/serving and From the Ground Up cauliflower crackers and pretzels.
Here is a look at some ingredients that are used to formulate chips, crackers, bars, and more into today's healthy snack options.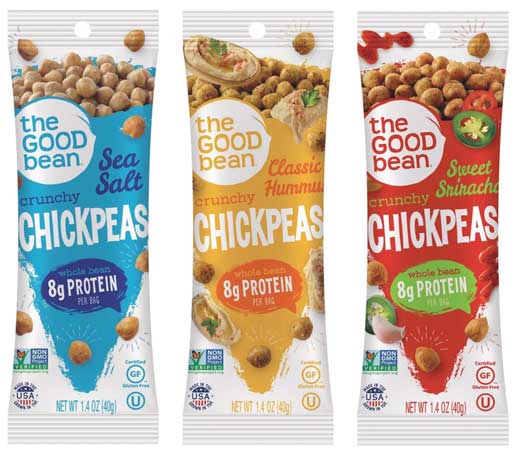 Plant Proteins
There is no denying the emergence of plant proteins formulated into almost every type of food and beverage. Snacks are no exception. The Good Bean, for example, makes roasted chickpea and crispy fava bean snacks. The company recently introduced Sweet Sriracha Chickpeas and Habanero Citrus Favas + Peas. The snacks are gluten-free, nut-free, high protein, high fiber, and low fat. The chickpea snacks provide 6 g of protein and 5 g of fiber/serving. The roasted favas and green peas provide 7 g of protein and 3 g of fiber/serving.
"Consumers are paying more attention to the source of protein, with growing demand for plant-sourced proteins like pea protein," says Matthew Jacobs, global product line leader—plant proteins at Cargill. "Pea protein appeals to so many of today's consumer desires. You name it—non-GMO, organic, sustainable, vegan, allergen-friendly, label-friendly. They're also versatile and functional, and that combination of attributes is why we see pea proteins in everything from nutrition bars to snack chips."
Cargill recently signed a joint venture agreement with PURIS, the largest North American producer of pea protein, to accelerate pea protein production for North American and global markets. PURIS pea protein is sourced from proprietary non-GM yellow pea seed varieties specially selected to minimize the off-flavors normally attributed to pulses. In addition, it's processed without chemicals to bring out the best flavor possible.
At Natural Products Expo West, Ingredion showcased its pulse protein concentrate, VITESSENCE Pulse, in a gluten-free cranberry bite. The company also introduced its new pea protein isolate, VITESSENCE Pea, a highly concentrated pulse protein that can enable "excellent source of protein" front-of-package claims. It contains at least 80% protein and was featured in a chocolate almond protein bite.
Soy protein is also used in snacks. Along with its heart health benefits, soy protein has been shown to help promote satiety. Companies like DuPont Nutrition & Health offer soy protein in various forms to make them applicable for snack foods. Last year, the company expanded its soy protein nugget product range with SUPRO 90 protein nuggets. Three new 90% protein nuggets were added to the portfolio, each featuring a unique shape, size, and texture: SUPRO NUGGETS 580 (firmer texture, oval-shaped nugget), SUPRO NUGGETS 583 (unstructured shape for visual appeal), and SUPRO NUGGETS 585 (larger round-shaped nugget).
Dairy Proteins
Even though plant-based proteins seem to be in the spotlight, dairy proteins, particularly whey proteins, are still popular in snack bars. High in branched chain amino acids, whey protein has been shown to be beneficial in building lean muscle, enhancing recovery after exercise, and weight management.
At the Natural Products Show, Milk Specialties sampled Almond Mango Coconut bars made with BARsoft. Each bar contained 15 g of protein/60 g serving. BARsoft is a highly functional protein designed to provide a soft texture, optimal sensory experience, and extended shelf life in high protein bars. Made with high quality milk and whey protein, it provides the nutritional benefits of complete milk proteins while reducing moisture migration for a softer bar.
Dietary Fiber and Whole Grains
"Fiber, in particular, is gaining more traction as consumers are becoming more aware of its value in terms of gut health, satiety, and sustained energy," says Don Trouba, senior director of Go-To-Market for The Annex by Ardent Mills. "There is scientific evidence and FDA-approved health claims linking diets rich in fiber-containing grain products and the reduction in chronic diseases such as heart disease and cancer. Approved claims like this can be used on snack packaging to help consumers understand fiber benefit."
In addition, according to the International Food Information Council's 2016 Food and Health Survey, 60% of Americans are trying to consume more fiber. "Snacks can serve as a simple way for consumers to get that fiber. Fiber can also help snack makers deliver on other consumer demands, including sugar reduction," says Taylor Halstead, product manager for specialty carbohydrates at Cargill.
Naturally sourced fibers from the chicory plant such as Cargill's Oliggo-Fiber can deliver functionality in a wide array of snacks while at the same time provide digestive health benefits and support brand ambitions such as vegan, Non-GMO Project Verified, and reduced sugar. Studies have shown that 5 g of chicory root fiber/day not only adds fiber to the diet but can also help feed probiotic bacteria in the gut. "Known as the 'invisible fiber,' chicory root fiber can be used by snack makers without affecting the taste or texture of the final product. It's also highly functional, providing sweetness, bulking and binding, in addition to nutrition," says Halstead. "Chicory root fiber also fits with today's clean label trends. Our proprietary consumer research shows that chicory root fiber is perceived as a healthful ingredient that positively impacts consumers' willingness to purchase."
Using whole grains in snacks like bars and chips is another way to add fiber and overall wellness. At Natural Products Expo West, KIND introduced KIND Kids, a chewy granola bar that provides a half serving of 100% whole grains from oats, sorghum, and quinoa, and has 25% less sugar than the leading granola bar for children. The company also introduced a new flavor to its KIND Healthy Grains Clusters, almond butter whole grain. The clusters are made with 100% whole grains, including KIND's five super grain blend of oats, millet, buckwheat, amaranth, and quinoa.
"Varied grains bring an array of flavors, textures, and colors to the snack category," says Trouba. "Consumers also have a range of preferences and dietary concerns when it comes to healthful snacking. Nutrient density, satiety, high protein, and high fiber are big priorities right now. Ardent Mills and The Annex by Ardent Mills strive to provide grain food options that address all these consumer demands with a portfolio that includes gluten-free grains, high-fiber grains, ancient and heirloom grains, and organic options."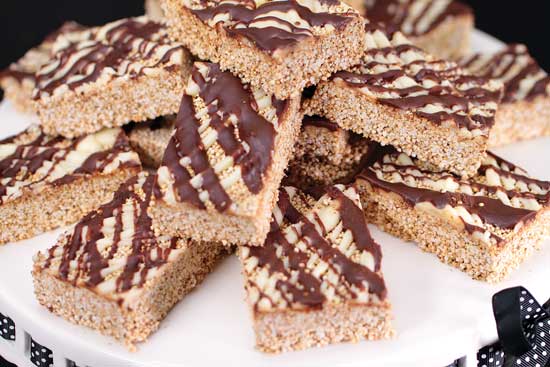 Ardent Mills introduced The Annex by Ardent Mills, a new team committed to exploring what is next in whole grains, pulses, mixes, custom multigrain blends, and finished breads. At Natural Products Expo West, the company showcased a Multi-Crisp Bar. "This bar uses simple, healthful, hearty ingredients that everyone can identify, like crisped grains, butter, and honey. The ingredients work together for natural sweetness; the grains bring a lot of texture like chewiness and some pops of crispness," says Trouba. Ingredients in the bar included the company's Blackjack Barley Flakes and Great Plains Quinoa Crisps. The barley flakes added texture and made the bar a dense, filling snack for sustained energy. In addition, barley's beta-glucan content shows promise in prebiotic applications. The quinoa crisps provided the ancient grain appeal and story, while giving consumers a North American option for this grain.
Almonds
Almonds continue to be a top nut as an ingredient as well as stand-alone snack. One ounce, or 23 almonds, is the ideal daily portion recommended by the Dietary Guidelines for Americans. In addition to almonds' heart-healthy profile, research has shown they have weight management benefits as well.
Hull et al. (2015) indicated that almonds might be a healthy snack option because their acute satiating effects are likely to result in no net increase in energy consumed over a day. The effects of two different portions of almonds (1 and 1.5 ounces) as a mid-morning snack on satiety and energy intake were compared to having no snack as a control. The study participants were 32 healthy, normal weight adult women with an average age of 48.4 years. Intake at lunch and dinner significantly decreased in a dose-dependent manner in response to the almond snacks. Subjective appetite ratings in the interval between the mid-morning snack and lunch were consistent with dose-dependent enhanced satiety following the almond snacks.
Probiotics
"Preferences for healthy and nutrition-focused snacks is driving innovation in the marketplace, with more manufacturers turning to research-backed functional ingredients such as probiotics, to create a product that fits with a consumer's on-the-go, self-care approach to their health and wellness," observes Michael Bush, executive director at Kerry for Wellmune and GanedenBC30.
GanedenBC30 is a shelf-stable probiotic strain (Bacillus coagulans GBI-30, 6086) backed by 25 published studies in peer-reviewed journals. It provides digestive and immune support benefits, but recent research demonstrated that GanedenBC30 provided added benefits when combined with other functional ingredients such as plant proteins or HMB (beta-hydroxy-beta-methylbutyrate), which is used to enhance muscle recovery (Ganeden 2017). When HMB was combined with Ganeden, muscle integrity was better maintained. In a separate study, it was also shown to increase plant protein digestion, with samples used from pea, soy, and rice sources.
"The biggest challenge when formulating with probiotics has always been survivability. Most probiotic strains are too fragile to survive manufacturing processes and cannot be used in many products. However, GanedenBC30 cells have the ability to naturally form a protective spore, allowing the strain to survive in food and beverage processes such as powder blending, HTST pasteurization, HPP pasteurization, boiling, freezing, extruding, etc.," says Bush.
At Natural Products Expo West, the probiotic's versatility was demonstrated in several novel healthy snacks on market shelves: Purely Elizabeth Chocolate Sea Salt Probiotic Granola, Great Value Trail Mix Simply Active, and Little Duck Organics Pomegranate, Blueberry & Acai Tiny Gummies.
Next month's Nutraceuticals section will provide a preview of some of the ingredient suppliers exhibiting at IFT18 in Chicago (expo dates: July 16–18).
---
www.ift.org
Members Only: Read more about ingredients used to formulate better-for-you snack foods at ift.org. Type the keywords into the search box at the upper right side of the home page.

Linda Milo Ohr,
Contributing Editor
Denver, Colo.
[email protected]