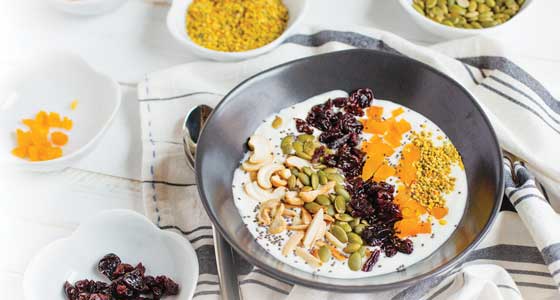 According to a social media analysis by New Nutrition Business, social media activity around avocados, almonds, and quinoa outpaces that of activated charcoal, collagen, or pea protein, suggesting that consumers are more interested in foods that are easy to understand and naturally healthy (New Nutrition Business 2018). New Nutrition Business analyzed social media mentions of 20 selected health food ingredients on Instagram between 2017 and 2018. Topping the list, with more than 100,000 mentions per month each were avocado, almonds, blueberries, quinoa, kale, matcha, and chia. This study supports the growing trend for clean, familiar, healthy, and simple ingredient statements. Whole ingredients such as fruits, nuts, seeds, and whole grains answer this demand.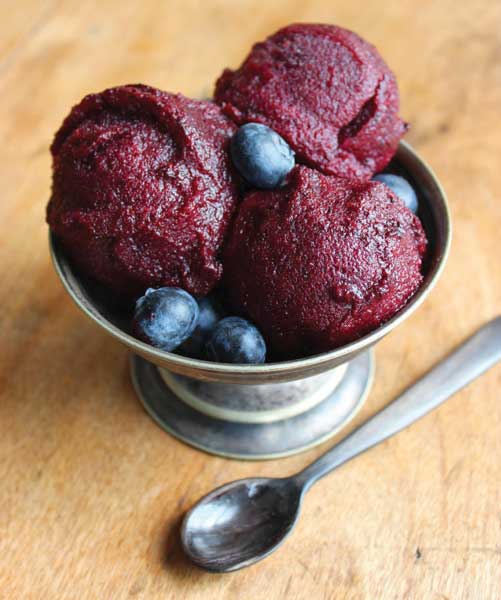 Functional Fruits
Blueberries. Blueberries are sought after due to their high antioxidant properties and benefits in cognition, immune health, and overall health. Huang et al. (2018) recently showed that blueberry anthocyanins could inhibit the induction and progression of age-related macular degeneration through antioxidant mechanisms. The results found that blueberry anthocyanin extract reduced H2O2-induced oxidative stress in human retinal pigment epithelial cells.
McNamara et al. (2018) looked at long-term supplementation in older adults with cognitive complaints. For 24 weeks, elderly men and women received daily fish oil or blueberry supplements or both. The subjects who took either the fish oil or blueberry supplements reported fewer cognitive symptoms. Those who took the blueberry supplement also showed improved memory discrimination, indicating that supplementation improved cognition.
Cranberries. Maki et al. (2016) demonstrated that consumption of 8 ounces of cranberry juice reduced the recurrence of symptomatic urinary tract infections in women. In the randomized, double-blind, placebo-controlled, multicenter clinical trial, women with a history of a recent urinary tract infection were assigned to consume one 240-mL serving of cranberry beverage or a placebo beverage every day for 24 weeks.
Capitalizing on the healthiness of cranberries, Ocean Spray launched a soft chew cranberry supplement this past September. Its Cranberry +health Cranberry Supplements are positioned as a convenient, great-tasting daily supplement, formulated to help maintain a healthy urinary tract. They are made from real fruit and contain the same amounts of cranberry polyphenols as the juice drink formula in that clinical study.
Aronia Berries. Aronia berries are rich in flavonoids and are gaining traction in the functional ingredient space, especially for their cardiovascular benefits. Artemis International offers BerryDark Aronia extracts, powders, and concentrates. BerryDark Aronia is currently used in Weider's new Artery Health supplement, formulated to support healthy heart function by keeping arteries flexible through proper calcium transportation and increased blood flow.
Elderberries. Artemis International also supplies elderberries, which are high in anthocyanins and have been shown to promote immune health by enhancing cytokine levels and boosting antioxidant levels and by virus suppression. Tiralongo et al. (2016) showed that an elderberry extract had beneficial effects in reducing the duration and severity of the common cold in air travelers.
Tart Cherries. Tart cherries have received much attention for their anti-inflammatory, sleep, joint health, gout, and athletic recovery benefits. Mayta-Apaza et al. (2018) found that the unique polyphenol mixture in tart cherries may help positively shape the gut microbiome, which could play a role in enhancing gut health. Chai et al. (2018) showed that tart cherry juice can lower the levels of systolic blood pressure and low-density lipoprotein cholesterol (LDL). In this randomized-controlled clinical trial, 17 men and 20 women between the ages of 65–80 years were randomly assigned to consume 480 mL of tart cherry juice or a control drink daily for 12 weeks. At the end of the study, the subjects who consumed the tart cherry beverage had lower levels of LDL cholesterol and total cholesterol.
Concord Grapes. Concord grape juice delivers polyphenols. According to Welch's Global Ingredients, the results of a study showed that Concord grape juice had a polyphenolic concentration of 2.6 mg GAE/mL. Lamport et al. (2016) showed that the daily consumption of Concord grape juice was associated with improvements in certain aspects of memory and driving safety. The 12-week study included 25 healthy mothers (aged 40–50) of preteen children who were employed for 30 or more hours/week. They consumed 12 ounces of either Concord grape juice (containing 777 mg total polyphenols) or a placebo daily. The results showed that there were significant improvements in immediate spatial memory and driving performance in the women who had consumed the Concord grape juice.
Nutritional Nuts
Almonds. Almonds contain 6 g of protein and 4 g of fiber/oz. They are also a source of monounsaturated fats and important vitamins and minerals such as vitamin E, magnesium, and potassium, making them a satisfying snack choice. Colin and Drewnowski (2017) showed that replacing between-meal snacks with tree nuts or almonds led to more nutrient-rich diets that were lower in empty calories and sodium and had more favorable fatty acid profiles. The researchers used data of more than 17,000 children and adults from the nationally representative 2009–2012 National Health and Examination Survey (NHANES). They applied food pattern modeling to assess the hypothetical impact of replacing all snack foods, excluding beverages.
Pistachios. Pistachios contain protein, heart-healthy fats, fiber, and phytonutrients. At last year's Academy of Nutrition and Dietetics' Food & Nutrition Conference & Expo, research from the Sixth People's Hospital, Shanghai Jiao Tong University in Shanghai, China, was presented showing that eating pistachios may help manage blood sugar levels in pregnant women with impaired glucose intolerance during gestation (GIGT) or gestational diabetes mellitus (GDM) (American Pistachio Growers 2017). Women with GDM or GIGT ate either 42 g of pistachios or 100 g of whole wheat bread after an overnight fast on two occasions separated by 7 days. Both groups of pregnant women had a significantly lower rise in blood sugar at every time point measured after consuming pistachios compared to after consuming the whole wheat bread. In addition, blood insulin levels did not change during the 2 hours after eating the pistachios in both groups of pregnant women.
Walnuts. Walnuts are significantly high in alpha-linolenic acid (ALA). A one-ounce serving of walnuts provides 2.5 g of ALA. In an updated systematic review and meta-analysis of controlled trials evaluating the effects of walnut consumption on blood lipids and other cardiovascular risk factors, Guasch-Ferré et al. (2017) found that incorporating walnuts into the diet improved blood lipid profile without adversely affecting body weight or blood pressure. Twenty-six clinical trials with a total of 1,059 subjects were included. In an epidemiological study, Arab et al. (2018) suggested that those who consumed walnuts may have about half the risk of developing type 2 diabetes compared to adults who do not eat nuts. The average intake among walnut consumers was approximately 1.5 tbsp/day. Doubling walnut consumption (eating 3 tbsp/day) was associated with a 47% lower prevalence of type 2 diabetes.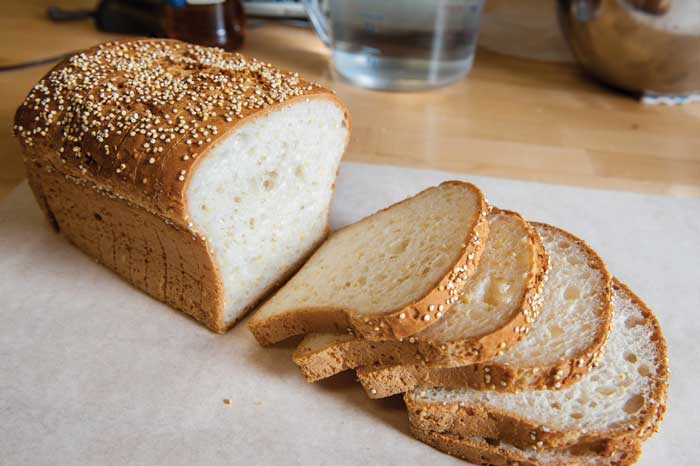 Whole Grains and Seeds
At the 2017 Whole Grain Summit, data from the Institute for Health Metrics and Evaluation showed that replacing refined grains with whole grains globally could reduce the burden of chronic disease more than any other change, including better-known approaches such as reducing sodium, eliminating trans fats, and cutting sugar-sweetened beverages.
Whole Grain Flours/Meals. Whole grain flours and whole grain meals are ideal ingredients to add to foods and beverages to add whole grain nutrition. Cargill offers MaizeWise whole grain corn ingredients, including whole grain corn meal, whole grain corn flour, and whole grain masa flour. These can be used as a direct replacement for existing ingredients while meeting the FDA-approved whole grain claim.
Ardent Mills offers UltraGrain whole wheat flour, which offers whole grain nutrition with the taste, texture, and appearance of white flour. In addition, The Annex by Ardent Mills specializes in Ancient and Heirloom Grains, including quinoa, amaranth, buckwheat, teff, and millet. Ingredient forms include flours, whole seeds, custom multigrain blends, and crisps.
Two additions to Glanbia Nutritionals super finely milled BevGrad line are BevGrad Oats GF and BevGrad Quinoa. These plant-based whole grains are said to disperse evenly in ready-to-mix drinks. BevGrad Oats GF and BevGrad Quinoa are made from the whole grain, and the nutrients and fiber are intact.
Arcadia Biosciences offers its GoodWheat portfolio of branded wheat flour ingredients, which includes Resistant Starch GoodWheat and Reduced Gluten GoodWheat. In October, the company announced that it was granted a patent for extended shelf-life wheat, the newest trait in its non-genetically modified GoodWheat portfolio.
Quinoa. Quinoa contains all the essential amino acids in a healthy balance. It is an important source of minerals and vitamins and contains compounds like polyphenols, phytosterols, and flavonoids. It also provides omega-6 fatty acids and vitamin E (Abugoch 2009).
Sorghum. Referred to as an ancient grain, sorghum contains about 75% complex carbohydrates, is a good-to-excellent source of iron and zinc, and is rich in B complex vitamins, according to Sorghum Checkoff. Additionally, sorghum is a good-to-excellent source of phytochemicals such as phenolic acids, anthocyanins, phytosterols, and policosanols. Sorghum is also meeting gluten-free needs for those with celiac disease or a gluten intolerance.
Flaxseeds. Edel et al. (2015) showed that milled flaxseed lowered total and LDL cholesterol in subjects with peripheral artery disease (PAD) and that it has additional LDL-cholesterol-lowering capabilities when used in conjunction with cholesterol-lowering medications. The diets of the study subjects were supplemented for 12 months with foods that contained either 30 g of milled flaxseed or 30 g of whole wheat. The results showed that consuming the flaxseed resulted in a 15% reduction in circulating LDL cholesterol and lower levels of total cholesterol.
Hemp. Hemp seeds are rich in protein, fiber, and healthful fatty acids, including omega-3s and omega-6s. They also provide all nine essential amino acids and are especially rich in arginine.
Sesame Seeds. Sesame seeds are a source of copper, manganese, magnesium, calcium, phosphorus, iron, zinc, molybdenum, and selenium. In September, Absolutely Gluten Free launched TahiniBAR, a grab-and-go sesame seed snack. The energy bars are made from all-natural roasted sesame seeds.
Next month's Nutraceuticals section will showcase information about ingredients that may promote digestive health.

Linda Milo Ohr,
Contributing Editor
Denver, Colo.
[email protected]
References
Abugoch, J. L. E. 2009. "Quinoa (Chenopodium quinoa Willd.): Composition, Chemistry, Nutritional, and Functional Properties." Adv. Food Nutr. Res. 58: 1–31.
American Pistachio Growers. 2017. "Pistachios Helped Moms-to-Be with Gestational Diabetes Control Their Blood Sugar." Press Release, Oct. 24. American Pistachio Growers, Fresno, Calif. americanpistachios.org.
Arab L., S. K. Dhaliwal, C. J. Martin, A. D. Larios, N. J. Jackson, and D. Elashoff. 2018. "Association Between Walnut Consumption and Diabetes Risk in NHANES" Diabetes Metab. Res. Rev. 34: e3031.
Chai, S. C., K. Davis, R. S. Wright, M. F. Kuczmarskia, and Z. Zhang. 2018. "Impact of Tart Cherry Juice on Systolic Blood Pressure and Low-density Lipoprotein Cholesterol in Older Adults: A Randomized Controlled Trial." Food Funct. 9: 3185.
Colin, D. and A. Drewnowski. 2017. "Replacing American Snacks with Tree Nuts Increases Consumption of Key Nutrients Among US Children and Adults: Results of an NHANES Modeling Study." Nutr. J. 16: 17.
Edel, A. L., L. D. Rodriguez, T. G. Maddaford, et al. 2015. "Dietary Flaxseed Independently Lowers Circulating Cholesterol and Lowers it Beyond the Effects of Cholesterol-lowering Medications Alone in Patients with Peripheral Artery Disease." J. Nutr. 145(4): 749–757.
Guasch-Ferré, M., J. Li, F. B. Hu, J. Salas-Salvado, and D. K. Tobias. 2018. "Effects of Walnut Consumption on Blood Lipids and other Cardiovascular Risk Factors: An Updated Meta-analysis and Systematic Review of Controlled Trials." Am. J. Clin. Nutr. 108(1): 174–187.
Huang, W. Y., H. Wu, D. J. Li, et al. 2018. "Protective Effects of Blueberry Anthocyanins Against H2O2-induced Oxidative Injuries in Human Retinal Pigment Epithelial Cells." J. Agric. Food Chem. 66(7): 1638–1648.
Lamport, D., C. Lawton, N. Merat, et al. 2016. "Concord Grape Juice, Cognitive Function and Driving Performance: A 12 Week, Placebo-controlled, Randomised, Crossover Trial in Mothers of Pre-teen Children." Amer. J. Clin. Nutr. 103(3): 775–783.
Maki, K. C., K. L. Kaspar, C. Khoo, L. H. Derrig, A. L. Schild, and K. Gupta. 2016. "Consumption of a Cranberry Juice Beverage Lowered the Number of Clinical Urinary Tract Infection Episodes in Women with a Recent History of Urinary Tract Infection." Am. J. Clin. Nutr. 103(6): 1434–1442.
Mayta-Apaza, A. C., E. Pottgen, J. De Bodt, et. al. (2018). "Impact of Tart Cherries Polyphenols on the Human Gut Microbiota and Phenolic Metabolites in vitro and in vivo." J. Nutr. Biochem. 59: 160–172.
McNamara, R. K., W. Kalt, M. D. Shidler, et al. 2018. "Cognitive Response to Fish Oil, Blueberry, and Combined Supplementation in Older Adults with Subjective Cognitive Impairment." Neurobiol. Aging. 64: 147–156.
New Nutrition Business. 2018. "Simple, Naturally Healthy Ingredients the Biggest Winners on Social Media." Press release, Oct. 15. New Nutrition Business, London, United Kingdom. new-nutrition.com.
Tiralongo, E., S. S. Wee, and R. A. Lea. 2016. "Elderberry Supplementation Reduces Cold Duration and Symptoms in Air-Travelers: A Randomized, Double-Blind Placebo-Controlled Clinical Trial." Nutrients. 8(4): 182.