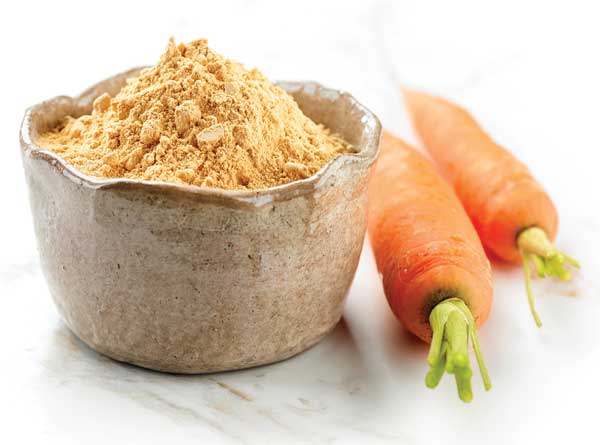 Functional carrot powder provides nutrient boost
Transforming vegetables into functional ingredients for incorporation in food formulations could increase consumers' consumption of bioactive compounds. However, heat treating vegetables during drying to obtain powders induces a significant loss of the compounds. A solution was detailed in a recent Journal of Food Science study, which showed that a functional carrot powder could be obtained by applying wounding stress to carrots prior to dehydration.
In the study, researchers shredded carrots and stored them for 48 hours at 15°C prior to dehydration (60°C) and milling. The resulting carrot powder exhibited higher fiber (30.1%) and chlorogenic acid (798.4%) content as compared with a control carrot powder. It also showed higher water (19%) and oil (3.9%) absorption capacity as compared with the control carrot powder.
When added to sausage formulations at 4%, the functional carrot powder did not affect purge loss and resulted in sausages with 270% and 377% more total phenolics and chlorogenic acid content, respectively, as compared with the control carrot powder sausages. The functional carrot powder formulation also presented adequate sensory acceptability, and its carotenoid and phenolic content remained stable during storage.
The researchers concluded that the functional carrot powder could be used as an ingredient in sausage formulation to increase the content of nutraceuticals without affecting shelf life.
FDA videos promote retail food safety
In an effort to educate retail and food-service employees on the possible dire consequences of poor food safety practices, the U.S. Food and Drug Administration has released two video testimonials of people who were severely affected by foodborne illness. In one of the videos, a woman ate restaurant food contaminated with Salmonella. In the other, a man contracted norovirus after consuming a restaurant meal prepared by an ill employee.
The videos support the FDA's Retail Food Safety Initiative, which seeks to strengthen the retail and foodservice industry's active managerial control of foodborne illness risk factors. The videos were designed to enhance food safety training efforts at the retail level by helping food employees understand the important role they play in protecting public health. In addition to the video testimonials, FDA has produced numerous food safety posters and storyboards in nine different languages.
The agency encourages industry operators, food safety educators/trainers, and federal, state, local, tribal, and territorial regulatory officials to take full advantage of the materials, which are available free of charge at www.fda.gov/foodemployeetraining.
Food inclusion market to reach $15.8 billion
The market for food inclusions, currently estimated at $10.7 billion, is projected to grow at a CAGR of 8%, reaching $15.8 billion by 2023, according to research by MarketsandMarkets.
Inclusions improve the aesthetics and organoleptic and sensory properties of food products, resulting in enhanced appeal. Owing to the growing demand, various types of inclusions have been introduced that cater to consumer demands in terms of flavor, texture, and allergen and health concerns.
In 2018, the chocolate segment is estimated to account for the largest share, by type. Chocolate is among the most popular flavors among consumers, and the use of chocolate inclusions adds gloss and enhances the taste of products in food applications such as confectionery, ice cream, bakery, dairy, beverages, frozen desserts, and cereals.
Cereal products, snacks, and bars are estimated to account for the applications in which food inclusions are most widely used. The consumption of inclusions in this application is largely attributed to their multiple benefits, such as the addition of required flavors, enhancement of color and visibility, and provision of required textures.
The Asia Pacific region is projected to be the fastest-growing market for food inclusions over the next five years due to overall economic growth driven by diversity in income levels, technology, and demand from end consumers. The main countries contributing significantly toward the growth of the market in this region are China, Japan, Australia, and New Zealand.
Calorie counts on menus sway diners
A randomized study conducted by Cornell University researchers found that diners at restaurants whose menus listed calories ordered meals with 3% fewer calories—about 45 fewer calories—than those whose menus did not list calorie information.
The study provided a snapshot of the ordering habits in two full-service, sit-down restaurants, both of which were located on a university campus. Dining parties were randomly given a menu with or without calorie-count labels. About 43% of the study participants were men and the average age was 34. Appetizers contained 200–910 calories, entrées contained 580–1,840 calories, and desserts contained 420–1,150 calories. Drinks ranged from 100 to 370 calories.
Beyond the 3% calorie drop linked to the labeling, the researchers found that consumer support for labeling went up by almost 10% among patrons who were given labeled menus. Restaurant revenue did not seem to be affected by the type of menu offered.
Interestingly, the reduction was mainly attributed to the appetizer and entrée portions of the meals, not the desserts. "Before we started, I expected that people would reduce calories in desserts, but they didn't," said study co-author John Cawley, professor of policy analysis and management in the College of Human Ecology. He hypothesized that people may have already known that desserts are high in calories but may have been surprised by the number of calories in appetizers and entrées.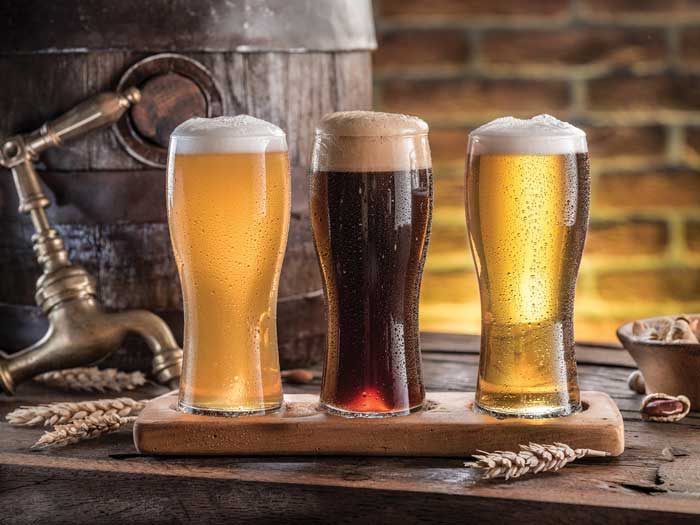 Europe leads in craft beer innovation
Craft beer has shot to global prominence in the span of just a few years, with North America leading the way in 2013 with 52% of all craft beer retail launches compared with just 29% for Europe. Since then, the story has flipped, and Europe is now moving into a global leadership role in innovation, according to research from Mintel.
In 2017, 54% of launches originated in Europe, with just 19% in North America. Europe's new craft beer product launches have more than doubled in the past five years, experiencing growth of 178%. While the United States is still the single most innovative market globally, with 17% of all global craft beer launches in 2017, six of the top 10 most innovative markets are in Europe.
Explains Jonny Forsyth, associate director, Mintel Food & Drink, "Over the last few years, interest in craft beer has migrated from the United States into the UK and now into continental Europe. Our research suggests that Europeans are embracing craft beer because they are looking for new, more exciting offerings compared to their usual beer options, especially in markets such as Germany, where brewers and beer styles have remained unchanged for centuries."
Europeans are also willing to spend more on craft beer. Around half of beer consumers in Italy (52%), France (51%), Germany (46%), and the UK (45%) agree that craft beer "is worth the extra money." However, Mintel research reveals that European consumers do not care too much about the difference between a "true craft" beer (i.e., small, independent) or a "craft-like" brand owned by big global brewers.
"The term 'craft' lacks a formal definition, which has enabled larger beer companies to capitalize on the craft boom, either by launching their own craft-style products or acquiring craft breweries, challenging what 'craft' really means for this industry," says Forsyth. "This practice of big brewers swallowing up profitable, smaller craft operators shows no signs of slowing down. An industry-wide definition could be both helpful to smaller manufacturers and welcomed by European consumers, as many beer drinkers want greater clarity and assistance in navigating the category."
---
News Bites
•
Barry Callebaut
completed several expansion investments in its North American facilities located in St. Hyacinthe, Quebec; Chatham, Ontario; and St. Albans, Vermont. The investments amount to nearly $30 million.
• At the Economic Club's Food Security Summit in Minneapolis, Cargill announced a $550,000 commitment to support the World Food Program's Innovation Accelerator. The Accelerator identifies, nurtures, and scales solutions to address global hunger.
• Cargill and Agriness, a technology leader in Latin America swine production, announced a strategic partnership that will bring emerging digital technologies to customers around the world to improve animal production and farm profitability.
• Coca-Cola has acquired kombucha maker Organic & Raw Trading, which makes the MOJO brand of naturally fermented, live culture, organic kombucha drinks.
• Coleman Natural Foods has earned certification for the proper treatment of its animals from American Humane, the country's first national humane organization and the largest certifier of animal welfare in the world.
• Eggland's Best and the U.S. Department of Agriculture commemorated the 30 billionth USDA-certified Eggland's Best egg during a private event in Washington D.C.
• The Hershey Company and B&G Foods have entered into a definitive agreement for Hershey to acquire Pirate Brands, including the Pirate's Booty, Smart Puffs, and Original Tings brands.
• Inspire Brands, parent company of Arby's, will acquire the drive-in hamburger chain Sonic for $2.3 billion.
• JMH Premium celebrated the grand opening of its new Culinary Design Studio, which features a 2,200-square-foot development kitchen and pilot plant.
• Kellogg has been named to the Dow Jones Sustainability World and North American indices of companies recognized for their sustainable business practices.
• Kraft Heinz Canada completed its acquisition of the assets of Ethical Bean Coffee, a Vancouver-based roaster of 100% Fairtrade certified organic coffee.
• Land O'Lakes SUSTAIN plans to roll out the Truterra Insights Engine, an interactive on-farm digital platform that will help advance farmers' stewardship goals and return on investment and aid food companies in measuring sustainability progress.
• Parabel USA, producer of plant protein ingredients, has finalized a distribution agreement with Stauber USA, a subsidiary of Hawkins, for the commercialization of LENTEIN plant protein in the U.S. market.
• The Puratos Group recently opened a state-of-the-art, 23,700-square-foot headquarters and innovation center in Pennsauken, N.J.

Margaret Malochleb,
Associate Editor
[email protected]