This month's column will explain the importance of cloud computing and the internet of things (IoT) and the role they play in food processing. I wish to thank my co-author, Dan Voit, CEO of Blentech Corp., for contributing to this column.
Cloud computing in its broadest sense is the use of server systems, distributed across the Internet, to collect, process, and analyze data from multiple devices. It is a broad definition, standing in contrast to the simple local computer systems on which we previously relied. The infrastructure consists of many regionally hosted server systems often known by brands such as Amazon Web Services and Microsoft Azure. These systems form the backbone that makes possible the Industrial Internet of Things (IIoT), known in Europe as Industrie 4.0. IIoT, in basic terms, is the connection of any computerized device to the Internet for exchange of information or control.
It is through IoT technologies that quantum leaps in computing, automation, and analytical potential are possible. This column will describe the basic elements of an IoT/cloud computing system and provide a few examples of commercial applications.
Increasingly, the food business is powered by data; this includes regulatory compliance, managing productivity improvements, maintaining quality, and even aggregating market data. At home, IoT products are now commonplace. An example is the Fitbit, an evolved pedometer that combines step count with GPS data from a nearby phone, providing meaningful information, including resting heart rate, running speed, and sleep quality. This IoT product presents this information in a form that provides the basis for quantifying change. IoT products are also becoming commonplace in food manufacturing, where they add real value.
It was reported in 2015 that the Internet had "run out of IP addresses" as the IPv4 assignment protocol assigned its last address. A more expansive IPv6 protocol was already deployed, but the event demonstrated that we are exponentially increasing connected devices. It's likely that, in the future, everything electronically controlled will in some way be connected. This fundamentally changes what information can be obtained and how it can be consumed or leveraged. It is a true digital renaissance, and it has already impacted the food industry.
A cloud computing/IoT system typically involves the following basic elements: local input via sensors and/or human input; local devices to aggregate, store, and transmit data; connections to move data; common language or data exchange protocols; and central servers to receive, process, and evaluate data.
On the plant floor, possibilities for information gathering are nearly limitless. In the form of sensors, modern technology offers the ability to measure things like position, temperature, location, flow rate, pH, conductivity, and more. What is lacking in sensors can be augmented with human input. This means that anything that can be sensed can be used as a trigger or a check in process. The key conclusion is that information can be easily collected between any device and simple triggers designed in response to nearly any combination of inputs. This means that any action requiring an input can be at least in part automated or coordinated via IoT technology.
The transcendent benefit of IoT technology is the ability to distribute capital cost and operational costs of the central servers among many groups in order to increase affordability. In most cases, systems are largely activated with Software-as-a-Service (SaaS), Platform-as-a-Service (PaaS), and Infrastructure-as-a-Service (IaaS) models, which means small and medium-size businesses have access to the powerful computing control previously reserved only for the largest businesses. Large businesses now have access to new or additional information across geographies to benchmark, evaluate, and/or confirm performance. With so many possibilities of virtual triggers and checks, applications are abundant. Today, a few applications are proven to have practical application in food processing.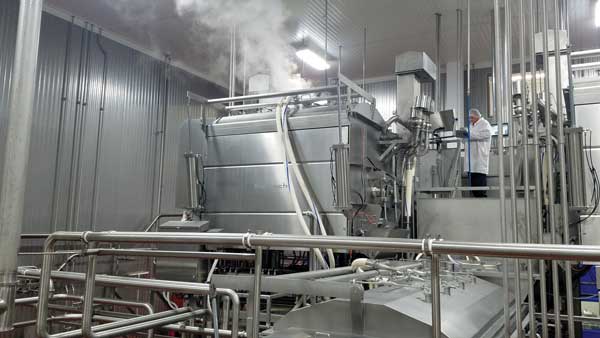 Daily Reporting and Operational Dashboard
Applications of periodic, automatic reporting have become common in the consumer goods market with products such as Nest. Similarly, industrial applications are now beginning to emerge. Blentech Corp. is using its CookerCloud technology to monitor the daily operational performance of its batch recipe equipment. This application is an ideal example of preparing information for easy interpretation and application. Not unlike a runner tracking "splits," the batch reports break down the recipe steps, providing detailed performance for each batch and each step. The system also provides a cloud-based portal for viewing the performance of any previous batch on file as well as real-time operational data.
Frank Østervemb of Espersen A/S explains its value in this way: "Upon completion of each batch, we receive a report from the CookerCloud. Our production team uses that data to ensure quality is good and to fine-tune the next production batch. It allows us to precisely define our ongoing production."
The system provides the power to create recipes on a website interface and push them to one or multiple processors as well as real time notification to supervisors if any batch process deviates from the designed conditions. The daily monitoring of the performance of the equipment also enables the manufacturer to continuously monitor maintenance data such as operating hours or total cycles.
Enhancing Plant-Wide Productivity
Cloud-based systems can also be used to gather a combination of performance data from a processing line with the inputs from sensors, local computer controllers, and operators to easily track and optimize Overall Equipment Efficiency. An innovative example is the system by RedZone, which uses a tablet-based approach to collect and display performance data in real time for operators and leaders. Using this data, the company's team of continuous improvement coaches helps processors interpret and manage optimization initiatives. Their technology is a prime example of how IoT technology does not replace human value but augments it. Of particular importance is the fact that the systems are designed for easy use by operators and visualization clearly presents the data set in an actionable manner. Clear presentation of the data enables a mindset shift toward structured problem solving of processing challenges.

Enabling Data Collection Between Devices
Proprietary communication protocols between industrial devices have, for years, limited communication potential. However, the adoption of technologies such as Message Queuing Telemetry Transport has enabled technologies such as Inductive Automation's Ignition to easily collect data from a myriad of equipment. The Ignition system enables companies to connect computer control systems by various suppliers on individual machines or devices into a common system. The Ignition system can be hosted locally or remotely and enables sophisticated reporting, visualization, and many other features that offer profound benefits to processors.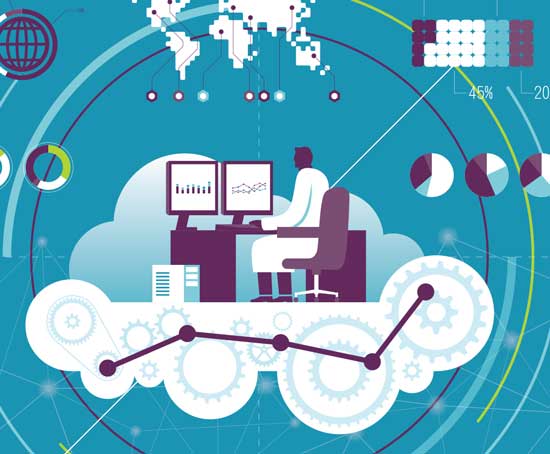 "Cloud computing will have a positive impact on the food industry with the introduction of IoT companies that have an increased focus on turning data into information and insight," says Travis Cox, co-director of sales engineering at Inductive Automation. "With the increased demands on food safety and compliance, cloud computing can help drive this in real time by providing accurate information and dashboards." Examples of the use of Ignition in the food business are far-reaching and have resulted in improvements in quality, food safety, productivity, and performance.
Enabling Information Collection Within Networks
Rockwell Automation has also proven its success in collecting and analyzing data from many industrial devices using proprietary structures. Products like the company's FactoryTalk systems readily exchange information on the plant floor and allow the collection and analysis of this information both on locally hosted servers as well as viewing and analysis on cloud-based servers. These proprietary structures offer the advantage of stability and security.
FSMA Compliance/Traceability
With the new regulatory focus on preventing food safety problems, several companies are offering IoT temperature and position monitoring to track shipments, ensuring that storage temperatures are maintained in real time, also tracking the position and time in transit for every load. They provide alerts in real time if a temperature condition is exceeded. There are numerous additional applications in use and under development that enhance Food Safety Modernization Act compliance via IoT.
Artificial Intelligence
Many food businesses collect more information than is usable. Technologies like artificial intelligence (AI) can enable us to compare data sets and identify trends not seen by a single data set or operator. Although currently there are few examples of AI applications in food processing, these will become more common. For the near term, a more typical approach is for the IoT vendor to put the data in context in the form of structured reports to make it easy for the end user to understand.
Arlen Nipper, co-inventor of Message Queuing Telemetry Transport, says, "Analyzing and changing data to useful information will be the foundation in the industry for the whole food chain from the field where the crop grows, to the facilities for storage, [to] the requirements for shipping, to the markets where it is consumed."
IoT/cloud computing technologies help food processors collect and use information better. These technologies increase transparency and trust in the food system and enhance collaboration among teams, across broad geographies, and between suppliers and customers to solve complex problems. Most importantly, they enable small and medium-size companies to monitor and manage change, growth, improvement, and compliance faster and cheaper than before. In turn, adoption of cloud computing/IoT strategies offers the potential to reduce labor costs, improve final product quality, and strengthen regulatory compliance. For all these reasons, continued growth and development of cloud computing and IoT technologies is anticipated in the future.

Tara McHugh, PhD, Contributing Editor
Research Leader, USDA Agricultural Research Service, Albany, Calif.
[email protected]
Dan Voit is CEO of Blentech Corp.([email protected]).