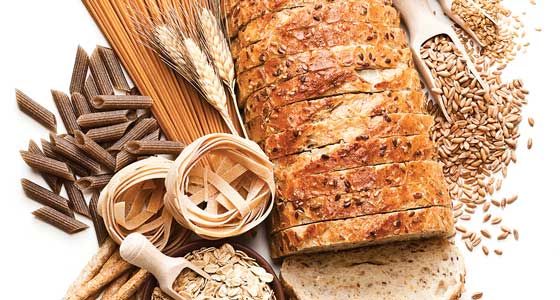 The goodness of grains cannot be underestimated. "Whole grains are extremely beneficial to our health," says Ali Webster, associate director of nutrition communications at the International Food Information Council Foundation. "Eating a few servings of whole grains every day is associated with lower risk of heart disease, obesity, type 2 diabetes, and some types of cancer (primarily colorectal cancer). These are critical health concerns for millions—even billions—of people and finding ways to boost whole grain intake through new product formulations could have a considerable impact on public health."
It's not just the fiber, vitamins, antioxidants, and other nutrients in grains, particularly grains in their whole form, that has led more product developers to formulate with grains. Each grain variety has a unique color, flavor, and texture, and grain ingredients offer important functionalities to product formulations. Grains are also attractive to consumers seeking more plant-based food options in grocery stores and restaurants. For chefs who are "flipping the plate" to make the non-meat offerings the center of the plate rather than the meat, grains are often paired with vegetables and other plant-based ingredients, says Julie Miller Jones, professor emerita of foods and nutrition at St. Catherine University and a member of the Scientific Advisory Board for the Grain Foods Foundation. Some other suggestions she offers up are switching out pasta for grains in soups and blending cooked grains into smoothies for a creamy, less sweet drink.
No matter how chefs and product developers use grains in menu offerings and products, the most important thing to remember is that we should eat a variety of grains, says Jones. That means including a mix of whole grains and enriched grains in the diet, eating different types of grains (oats, corn, buckwheat, quinoa, millet, teff, and more), and eating different styles of a grain (for example, rolled oats and steel cut oats have certain health benefits specific to each, says Jones).
While rice, wheat, barley, corn, and oat have remained the top five grain ingredients used in global new product launches tracked with grains for the period of 2014–2018, grains in the so-called ancient grain category are posting strong growth, according to Innova Market Insights. The three fastest-growing that are used in new product launches are chia seeds, quinoa, and spelt.
Product developers are taking notice of the popularity of grains by releasing an ever-increasing number of new products formulated with grains; the indexed number of global launches of food and beverage products with grains has a 7% average annual growth rate in the period from 2014 to 2018, according to Innova Market Insights. The company's data show that the top market category for new global product launches with grains in 2018 was bakery (31%) followed by ready meals and side dishes (16%), snacks (10%), cereals (8%), and confectionery (6%). There are opportunities in other product categories like sports nutrition, foods for babies and toddlers, dairy, and meat, fish, and eggs, which Innova notes are some of the fastest-growing market categories of global food and beverage launches tracked with grains (the snack category is also in this group). To attract consumers to grain-containing products, manufacturers are using claims such as no additives/preservatives, gluten-free, organic, vegetarian, and kosher, which are the top five claims made in 2018 on global new product launches of food and beverage products that contain grains, according to Innova.
IQF Grains and More for On-Trend Products
The rich nutrient profile of many grains is attractive to health-conscious consumers. "Consumers are driven by a need to 'own their own health,' and seek highly individualized nutrition plans to achieve their own personal definitions of optimum health," says Don Trouba, senior director of go-to-market at The Annex by Ardent Mills. This is why manufacturers are producing more choices that meet individual needs, such as higher protein, more fiber, gluten-free, increased energy, or feeling full, he adds. "At the same time, consumers continue to be more adventurous, and that might mean they are seeking out new ingredients they've never tried, or they are curious about terms like nutraceuticals and the microbiome, which Merriam-Webster defines as 'the collective genomes of microorganisms inhabiting a particular environment, and especially the human body and the gut.' In our category, this means consumers are interested in trying different grains and flours to see what might be easier for them to digest or that have other benefits that appeal to them."
There's something else about grains in addition to their health halo and wholesomeness that makes them appealing. "Another consumer trend is the way people are hungry for the who, what, where—the stories of the why behind the foods they eat," says Trouba. "This will continue to influence consumer patterns, and ancient grains and heirloom wheats have great stories to tell. Stories of growers, unique varietals, thoughtful harvesting, and flavorful preparation techniques lend richness, quality, and sense of craft to everyday staples."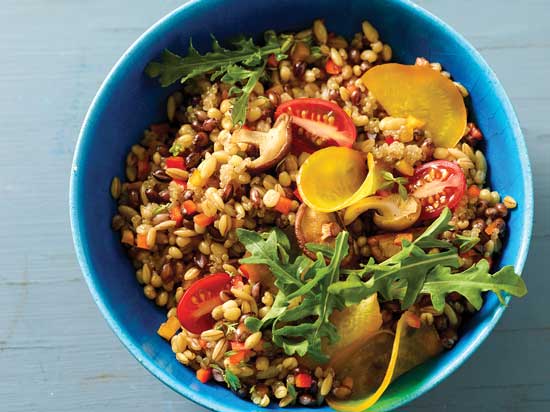 Ardent Mills produces whole grains, crisped grains, and individually quick frozen (IQF) grains, and the culinary team has developed an extensive array of on-trend product concepts to spark creative foodservice offerings and consumer food product development. One of the product concepts that was developed for foodservice professionals and served at last year's National Restaurant Association convention is a "caviar" made with IQF grains. "IQF grains have a nice chewy texture, which makes them work in unexpected places," says Jason Gronlund, chef and technical sales manager of foodservice at The Annex by Ardent Mills. "Our Boulder County Caviar uses ancient and heirloom grains inspired by the classic bean-based Cowboy Caviar." Some of the IQF grains that Gronlund used were Nature's Color IQF Pure-Purple Barley, White Sonora Wheat Berries, Spelt, and Sustagrain Barley. "IQF grains are easy to incorporate in menu development and eliminate any guesswork in cooking to optimal doneness," says Gronlund.
The culinary team used IQF grains to bring new textural and flavor experiences to gremolata, which traditionally has garlic, lemon, and parsley flavors and is served as a garnish on osso bucco alla Milanese. The team's twist on the classic garnish contrasted the bright herb and citrus flavors with Nature's Color IQF Pure-Purple Barley, Spelt, and White Sonora Wheat Berries. Their grain-based version works as a topping for crackers and bread and pairs well with other dips like hummus.
Chickpeas form the base for traditional falafel, but Joel Thompson, Ardent Mills' corporate R&D chef, and his team showed the functional versatility of grains in a Great Grains Falafel product concept. It was formulated with Great Plains Quinoa, Red Quinoa, Nature's Color IQF Pure-Purple Barley, White Sonora Wheat Berries, Spelt, and Sustagrain Barley along with coriander, toasted cumin, mustard seed, curry, and lemon. The grains not only gave the falafel a flavor twist, they also contributed to overall texture improvements. "The grains create a crisp exterior and moist center for fried snacks," says Thompson.
At the conference of the International Foodservice Editorial Council (IFEC) last October, Gronlund created pozole de trigo, a traditional dish from the Sonora region of Mexico. Pozole usually includes hominy corn, but in rural Sonora, the local version features regional Sonora wheat. The pozole de trigo that Gronlund made showcased Ardent Mills' White Sonora Wheat, which was a staple wheat in the United States during the 1700s and 1800s, and today is enjoying a rediscovery, according to the company.
Gronlund also showed how Sustagrain, Ardent Mills' proprietary and identity-preserved high-fiber barley, can give a nutritional boost to a smoothie. The Pumpkin Pie Smoothie he served at the IFEC event combined the barley and Ardent Mills' quinoa and spelt with pumpkin pie puree, pumpkin pie spices, agave, and skyr, a cultured high-protein yogurt popular in Iceland. It was high in both soluble and insoluble fiber and protein.
Like foodservice professionals, food manufacturers can create many different creative packaged food products with grains. At last year's IFT18 food expo, Thompson and his culinary team formulated quinoa falafel made with IQF Great Plains Quinoa and IQF Red Quinoa and served with tzatziki sauce, and chilaquiles made with White Sonora Flour, IQF Red Quinoa, and IQF Great Plains Quinoa topped with sour cream and green onions. They also invited attendees to build their own bowl with IQF grains and a variety of toppings. Bowls are a popular concept, with frozen food manufacturers offering versions positioned as delicious, convenient meals. The IQF grains from Ardent Mills are an ideal base for meat or plant-based protein, fruits and vegetables, and flavorful sauces in bowl products.
The complete line of IQF grains from Ardent Mills features Sustagrain Barley, Ardent Mills Great Plains Quinoa, White Sonora Wheat, Red Quinoa, Farro (Spelt), True Blue Barley, Pure-Purple Barley, and Blackjack Barley. Use the fully cooked, ready-to-eat IQF grains in frozen meals, side dishes, soups, and bakery.
Purple Power
There's no question that grains pack a nutritional punch and provide important functions that help to improve food and beverage products. But they also give manufacturers ingredient options to develop products that meet a certain demand of today's consumers. "We have noticed product developers responding to consumer demand for clean label (encompassing non-GMO, no artificial colors or flavors, no preservatives or additives), wholesomeness, and diet-specific products such as gluten-free, plant-protein specific, and high protein," says Jennifer Tesch, chief marketing officer at Healthy Food Ingredients. "As product developers are looking to incorporate increased functionality in products while responding to consumer demand for less or minimally processed and clean label, they are seeking new ways to utilize functional ingredients."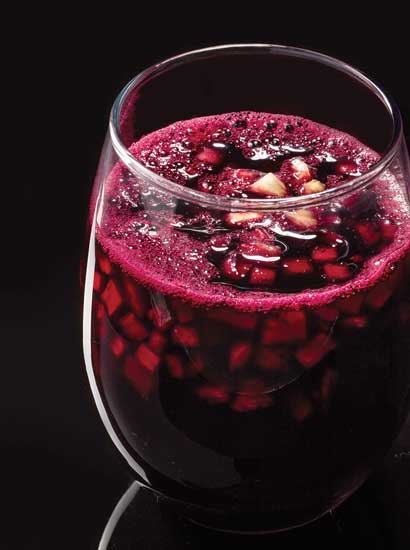 One of the grains that fits this bill, says Tesch, is Suntava Purple Corn. This functional ingredient provides a high level of antioxidants and is minimally processed with a clean label. Its natural purple color gives foods visual appeal without adding synthetic colors or dyes, she adds. "Since Suntava Purple Corn is offered in whole, raw kernel form and further processed into a flour, meal, grit, or flake, it is a versatile ingredient that is easily incorporated into a variety of foods and beverages while still retaining significant levels of anthocyanins." Use the various formats of the ingredient to formulate baked goods, beverages, extruded puffed and popped snacks, chips, tortillas, and cereals.
Ancient Grain Is Still Relevant Today
Corn is truly an ancient grain. Genetic testing shows that domestication of the plant probably occurred 9,000 years ago, according to the Whole Grains Council. Corn is a widely used grain in many cuisines, particularly those from Central America and South America, and in food products, especially cereals and extruded snack foods. Some of its functional and nutritional qualities are quite attractive to product developers. "In an environment where the emphasis is on simple, wholesome ingredients, whole grain corn bran and flour are ingredients embraced by even the most label-conscious consumer," says Keith Smith, regional technical service lead at Cargill.
Corn is gluten-free, is a familiar ingredient (it appears on ingredient statements as corn bran or corn flour), and is not considered a major allergen, says Smith. "Our dry corn ingredients also appeal to consumers trying to avoid chemically processed ingredients. We use a chemical-free process, relying instead on mechanical means to fractionize (grind) and separate kernels into their three component parts: germ, starch, and fiber (bran). In a further nod to today's clean label trends, we even offer non-GMO dry corn ingredients."
In addition to its use in cereals and extruded snacks, corn ingredients function in other applications. "For example, in baked goods, corn bran can help with sugar reduction, while corn flour is well-suited for gluten-free products," says Smith. Corn's flavor is a standout in gluten-free products, he adds. "Many of the wheat flour alternatives used in gluten-free applications are expensive and typically have bland and bitter flavors. For indulgent, gluten-free sweet products like streusel-style muffins, the taste advantages inherent with corn flour make it a clear winner over other alternatives. As an added benefit, corn flour has a lower cost-in-use than other alternatives commonly used in gluten-free products."
Corn bran shows promise in reduced-sugar snack bars. "Using our finely ground corn bran in combination with a few other ingredients, we've replaced as much as 25% of the sugar in a nutrition bar," says Smith. "The resulting reduced-sugar bar also qualifies as an excellent source of fiber, yet still meets customers' expectations for taste and texture. Here too, corn fibers offer an economical advantage over more expensive soluble fibers."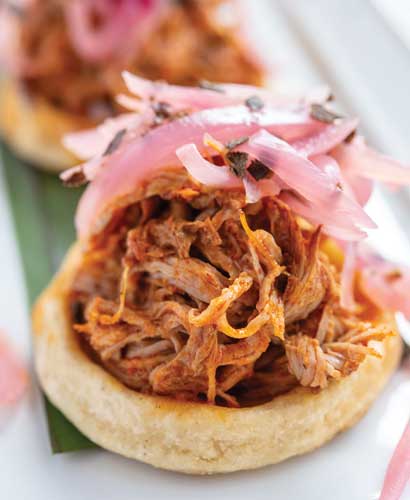 Flavor is a key quality of food, and consumers today want authentic taste experiences. Masa flour can deliver these flavor experiences that consumers crave, says Smith. "Whether formulating tasty gluten-free treats or adding a nutritional boost to baked goods, dry corn ingredients can serve as the foundation for breads, crackers, cookies, muffins, and more. Some of the most innovative bakers are tapping into the unique qualities of corn masa flour to create baked goods with a Southwestern flair." He adds that experts at Cargill have helped bakers use masa flour to formulate Southwestern-style crackers, frozen sandwiches encased in a masa flour-based pastry, and more. "Given the long-standing popularity of Southwestern cuisine, we expect to see continued innovation with masa flour, extending well beyond its traditional applications in taco shells and tostadas."
Cargill heat treats its whole grain corn ingredients to ensure a longer shelf life and reduce the risk of off-flavors, Smith explains. The heat-treating process also allows for more water retention in certain applications where binding or texture is important, he adds.
In addition to its functional benefits, whole grain corn provides various nutrients. Whole grain corn flour contains 8 g of fiber in 100 g of flour and is considered a source of intact and intrinsic dietary fiber, says Smith. "Beyond fiber, Cargill's MaizeWise whole grain corn products can be used to achieve the FDA-approved whole grain claim," says Smith. "According to Mintel, 57% of consumers are interested in whole grains when purchasing foods they consider to be healthy. That finding is backed up by results from the 2016 International Food Information Council Food and Health survey, which found 76% of respondents rate whole grains as 'healthy' compared to only 33% for enriched grains."
Grains That May Improve Bakery Items
Grains have various functional benefits, and researchers are exploring ones that offer product developers solutions to issues in baking applications.
Formulating gluten-free baked goods poses challenges. Replacing traditional wheat flour with certain starches and gluten-free flours can produce products with sub-par texture and nutritional quality. Some product developers are experimenting with flours made from nutrient-dense grains. In a study published in Journal of Food Science, Miranda-Villa et al. (2019) found that formulating gluten-free baked goods with whole or malted quinoa flours improved the nutritional and technological characteristics.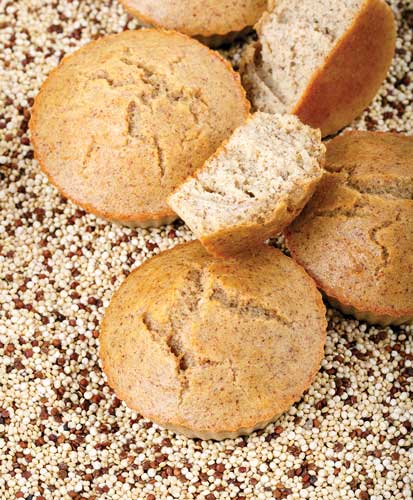 The researchers developed several formulations of a gluten-free quick bread formula: 100% rice flour, 70% rice flour/30% whole quinoa flour, 70% rice flour/30% 24-hour malted quinoa flour, and 70% rice flour/30% 72-hour malted quinoa flour. They analyzed the size, specific volume, crumb structure, and texture profile of gluten-free muffins. For the most part, the various quinoa flours had beneficial effects on several of the characteristics, with the 24-hour malted quinoa flour boasting the most. Gluten-free products made with quinoa flours can give people with celiac disease more options that meet their dietary needs. They can "also increase the added value of quinoa grains, which motivates its production and industrialization," write the researchers.
Pita and tortillas are popular bread products and are most commonly made from traditional wheat flour. Different types of wheat flour and flours made from other grains can serve as ingredients that enhance the nutritional content of pita and tortillas. Germinated, or sprouted, wheat flour, for instance, has higher bioavailability and bioaccessibility of nutrients. The process of germination can also cause various antioxidants to form. Zhu et al. (2017) published a study in Journal of Food Science in which they found that tortillas made with 15% extruded germinated wheat flour and 85% whole wheat flour had a significant increase of the antioxidant gamma-aminobutyric acid compared to tortillas made with 100% wheat flour. Another study published in Journal of Food Science showed how barley could be used to boost the nutrient profile of pita. Do et al. (2016) replaced 50% of standard baker's flour with malt flour, whole grain flour, or pearled grain flour from covered or hull-less barley that had high antioxidant and vitamin E levels. The results showed that pita formulated with these barley-based flours had higher levels of antioxidants and vitamin E than pita made with a commercial baker's flour. The researchers also ran some consumer sensory tests to evaluate the texture and taste and found that the pita made with the barley flours had similar physical and sensory properties to the control pita.
Next month's Ingredients section will discuss fermented foods.
---
Ingredient Roundup
For additional grain ingredients to use in bakery, snacks, frozen entrées, beverages, and more applications, consider the following options.
• ADM supplies an extensive range of flours and specialty milled grains to the industry. From a vast offering of traditional and whole wheat flours, plus specialty flours like corn, barley, semolina, rye, and bulgur, the portfolio has expanded with an assortment of heritage and specialty grains such as sorghum, quinoa, millet, amaranth, hemp, teff, and buckwheat in several formats including flours, flakes, puffs, and crisps. The company also offers gluten-free, organic, and sustainably sourced grains and flours, plus mixes, blends, and custom solutions.
• Axiom Foods uses whole grain brown rice as a source for brown rice protein concentrates and isolates. Its Oryzatein brown rice protein contains the essential amino acids and can be used to replace soy protein and whey protein. The protein is extracted from the layers of the brown rice, including the bran, germ, and endosperm.
• BeneGrain Sprouted Whole Wheat Flour from Bay State Milling is produced through a controlled germination process of hard red wheat varieties that are suited for sprouting. The process helps to make more nutrients bioavailable and digestible. The company also promotes the functional benefits of BeneGrain Sprouted Whole Wheat Flour, such as producing a better loaf volume than unsprouted whole wheat flour, reducing the need for added enzymatic dough conditioners, and improving softness.
• Corn, wheat, and rice are important crops to the agribusiness activities of Bunge. Its grain milling business produces milled corn, wheat, and rice ingredients that are used in bakery products, beer, snack foods, and many other food products. Bunge also produces and sells its own flour and bakery mix brands in several markets, including the United States, Mexico, and Brazil.
• Grain Millers, which began as a small oat milling company in Oregon, now is one of the largest processors of oats and a processor of various other grain ingredients with an international presence. The company take grains such as oats, barley, corn, wheat, and rye and produces grain ingredients in whole, cut, flour, and bran forms. It also offers oat fiber, oat hydrocolloid fiber, colloidal oat flour, low-viscosity whole oat flour, and CereSweet oat sweetener.
• Market research shows that foods and ingredients that have a story to tell resonate with consumers. The heirloom grain Kernza is one such ingredient. It is derived from intermediate wheatgrass, a grass species related to wheat, according to the Land Institute. The variety developed is a perennial grain with long, drought-resistant roots that are said to help build soil health. Kernza is available in small niche markets. "We have partnered with a customer on a project in which HFI [Healthy Food Ingredients] has become the first North American commercial processor of Kernza," says Jennifer Tesch, chief marketing officer at Healthy Food Ingredients. "This partnership has allowed our customer to 'tell their story' and why they are passionate about Kernza and its regenerative properties. HFI creates meaningful solutions with our customers, which really brings our mission to life: connecting farmers to the foods that nourish and sustain our lives."
• Italgrani produces custom semolina, durum, and other organic milled ingredients to its customers' specifications for use in pasta products. With its mill and grain elevator located next to each other, Italgrani can blend grain as needed to ensure consistent end ingredients for customers.
• For an extensive range of rice, corn, and grains, turn to Woodland Foods. Different rice varieties and rice blends are offered. Grain ingredients include those that are popular in North America and in regions around the world. Some of the grains that Woodland Foods offers are wheat, rye, barley, kasha, Job's tears, kaniwa, and fonio.
---
Oat Component Acts as Texturizer
Shelf-stable, high-protein dairy beverages offer nutritional support to athletes and people who follow exercise routines, but they can be prone to quality issues such as poor suspension stability, off-flavors, and unappealing mouthfeel. A component of oat has the potential to improve the overall sensory qualities of these beverages and provide the added benefit of meeting the FDA-approved health claim for the reduction of cardiovascular disease risk.
Oat beta-glucan is a source of soluble dietary fiber from oats. It affects viscosity and functions as a thickening agent in beverages. Vasquez-Orejarena et al. (2018) showed that oat beta-glucan improved the texture, thickness, and overall sensory acceptability of shelf-stable, high-protein dairy beverages made with oat flour and milk protein isolate. The researchers were able to develop a formulation that included an amount of oat beta-glucan that was slightly more than the 0.75 g/per serving amount that meets the health claim. The results of the study, which was published in Journal of Food Science, show the potential of oat beta-glucan as a texturizer and stabilizer in a particular type of popular protein beverage.
---
Barley Polysaccharide Offers Functional Benefits
A newly discovered complex carbohydrate in barley may one day provide functional benefits in food products (Little et al. 2019). The new polysaccharide—the first of its kind to be discovered in more than 30 years—is a mix of glucose, commonly found in cellulose, and xylose, which is found in dietary fiber. The relative proportions of each give the polysaccharide the potential ability to function as a structural component of the cell wall or as a viscous gel. The researchers also discovered the genes involved in the biosynthesis of the new polysaccharide. They hope to use what they learned to find ways to increase the polysaccharide in crops and to investigate its possible uses in food and other industrial applications.

Karen Nachay,
Senior Associate Editor


[email protected]