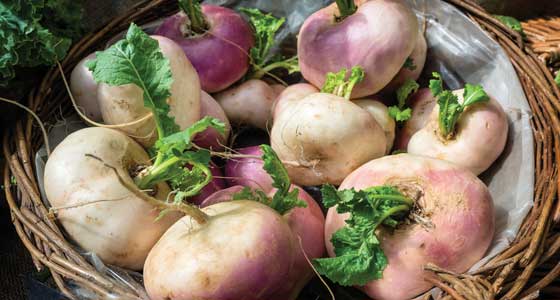 The phytochemical benefits of turnips
One of the world's oldest cultivated vegetables is Brassica rapa L., commonly known as the turnip. Besides being an important vegetable and source of oil, the turnip is also used as a traditional medicine to treat headaches, chest complaints, rheumatisms, and rabies.
A review article published in the Journal of Food Science examined the phytochemical compounds and health benefits of turnips and found that glucosinolates and isothiocyanates (mainly 2-phenylethyl, 4-pentenyl, and 3-butenyl derivatives) are the main constituents of the turnip showing diverse bioactivities, especially as protection against cancers. In addition, flavonoids, phenolics, indoles, and volatiles are concomitant.
Pharmacological investigation has revealed the turnip's antitumor, antihypertensive, antidiabetic, antioxidant, anti-inflammatory, hepatoprotective, and nephroprotective effects. The anticancer property was found to be the most promising biological activity of the turnip, with 2-phenylethyl isothiocyanate, phenylpropionitrile, brassica phenanthrene A, 6-paradol, and trans-6-shogaol as the major active constituents. Flavonoids and phenolics with high free radical scavenging activity should be corresponding to the antioxidant effects. Arvelexin, an indole derivative in turnip, was reported with various effects involving anti-inflammatory, antihypertensive, and hypolipidemic potency.
Although many studies have examined the chemical constituents or the biological activities of the turnip, only a few cases disclosed the active ingredients responsible for diverse bioactivities. The review summarizes the research progress on the chemistry and health benefits of turnips over the past 20 years to provide a reference for further investigation.
Can label literacy lead to healthier food choices?
Almost all Americans (95%) report that they always or sometimes look for healthy options when food shopping, according to a recent survey conducted by the International Food Information Council (IFIC) Foundation and the American Heart Association. However, a gap exists between consumers' desire to find information about healthy foods and their ability to do so.
Consumers say they are more likely to consult food labels for healthfulness when buying a product for the first time, but only 28% say it is easy to find healthy foods, while 11% say it is difficult, and the remainder report it is only moderately easy.
"We know consumers are making efforts to eat healthier," says Joseph Clayton, CEO of the IFIC Foundation. "But our research indicates that their ability to locate the information they find most helpful can be a barrier to making healthier choices."
The Nutrition Facts panel was the top source (69%) for information, followed by the ingredients list (67%), according to the survey. Consumers also indicated they pay attention to health-related iconography on food labels but say additional information could prove even more helpful. Nearly half (48%) say they frequently check front-of-package icons like Facts Up Front and the American Heart Association's Heart-Check mark.
Consumers say a universal "healthy" symbol on a food package could go a long way toward encouraging better dietary choices: 54% say such a symbol would be very helpful and 45% say it would make them more likely to purchase a given product, especially those who do not traditionally shop for healthy foods.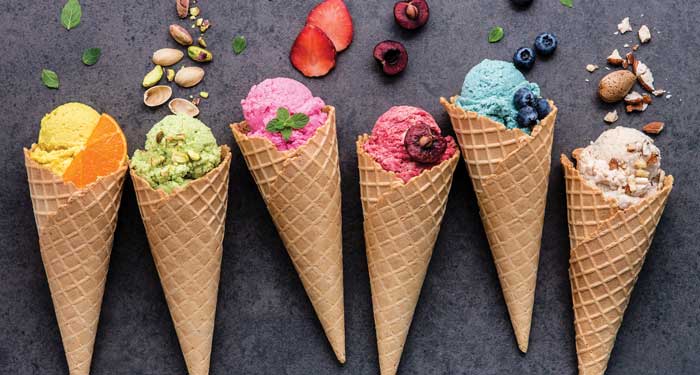 Ice cream market to grow at 5.4% CAGR
The global ice cream market garnered sales of $70.8 billion in 2017 and is estimated to reach $97.3 billion by 2023, growing at a compound annual growth rate (CAGR) of 5.4%, according to a report from Allied Market Research.
Among the factors driving the market are a high demand for ultra-premium ice cream products, a surge in the number of online food delivery platforms, and an increasing preference for lactose-free ice cream. However, consumers' desire to curb sugar consumption and the increased incidence of lactose intolerance worldwide are expected to hinder growth. Conversely, expansion of retail channels such as hypermarkets, supermarkets, convenience stores, and grocery stores—coupled with expansion of the cold storage industry—can provide lucrative opportunities.
Among sales types, the take-home segment held the largest market share in 2017, accounting for almost three-fifths of the total revenue. However, the artisanal segment is projected to register the fastest CAGR (5.7%) from 2017 to 2023 due to the rise in demand for handmade ice creams and a surge in the number of artisanal franchisees, especially in the emerging economies.
Europe contributed more than one-third of the total market share in 2017 and is projected to retain its lion's share through 2023. However, the Asia-Pacific region is projected to register the highest CAGR (6.5%) from 2017 to 2023.
One meal = two rewards
Although it's widely known that a good meal can stimulate the release of the feel-good hormone dopamine, a study published in Cell Metabolism by researchers from the Max Planck Institute for Metabolism Research in Germany indicates that dopamine release in the brain occurs at two different times: when food is first ingested and when it reaches the stomach.
The researchers developed a positron emission tomography (PET) technique that enabled them to find the two peaks of dopamine release and identify the specific brain regions associated with the releases. Explains senior author Marc Tittgemeyer, "While the first release occurred in brain regions associated with reward and sensory perception, the post-ingestive release involved additional regions related to higher cognitive functions."
In the study, 12 healthy volunteers received either a palatable milkshake or a tasteless solution while PET data were recorded. Interestingly, the subjects' craving or desire for the milkshake was proportionally linked to the amount of dopamine released in particular brain areas at the first tasting. But the higher the craving, the less post-ingestive dopamine was released.
"On one hand, dopamine release mirrors our subjective desire to consume a food item. On the other hand, our desire seems to suppress gut-induced dopamine release," says co-first author Heiko Backes.
Suppression of gut-induced release could potentially cause overeating of highly desired food items. "We continue to eat until sufficient dopamine was released," Backes says, but adds that this hypothesis remains to be tested in further studies.
Four trends shaping the restaurant industry
In the year ahead, the foodservice landscape will be driven by increased awareness around social and environmental responsibility and innovation in technology-enabled customer service, according to Mintel, which identified the following four trends that will impact the U.S. restaurant industry in 2019:
1. You Are Where You Eat: Where consumers choose to eat has become a reflection of who they are. With more restaurants extending their reach beyond the dining table, diners are supporting restaurants with cultures and values that align with their own.
2. Serving the Earth: While consumers seek guidance on ways to be more environmentally responsible, operators realize the role they can play by being partners and educators in environmental and social responsibilities.
3. Restaurants for Good: Rising labor costs and declining unemployment are creating challenges to hire and retain top talent. Restaurants are not only focusing on the well-being of their employees to reduce attrition, they are also focusing on their customers by giving back to their communities.
4. Tech in Balance: With technology driving the changing face of foodservice, restaurants must strike the right balance among operational efficiency, a desire for human interaction, and excellent service.
---
News Bites
• Amano Enzyme recently opened an office in the Bangkok Metropolitan Region, the Kingdom of Thailand.
• American Pasteurization Co. has acquired FreshCo Foods, a Milwaukee-based, end-to-end co-manufacturer of premium and specialty food products.
• Archer Daniels Midland has reached an agreement to acquire Florida Chemical Co., a division of Flotek Industries specializing in citrus-based flavors and fragrances.
• Benson Hill Biosystems, a crop improvement company, and Anheuser-Busch InBev announced a global partnership to develop improved barley varieties using Benson Hill's computational platform, Breed.
• Campden BRI, the world's largest independent membership-based food and drink research organization, recently celebrated its 100-year anniversary.
• Cargill and Axéréal have announced their intention to enter into an agreement under which Cargill will sell its malt business to Axéréal's malt subsidiary, Boortmalt.
• Conagra Brands has entered into a definitive agreement with Richardson International to divest the Wesson oil brand.
• DuPont Industrial Biosciences has broken ground on a new multidisciplinary site at the Leiden Bio Science Park in Oegstgeest, the Netherlands.
• Food Safety Net Services has opened an analytical laboratory for the food and consumables industry in Greeley, Colo.
• General Mills has been recognized as a global leader in corporate sustainability by environmental impact nonprofit CDP (formerly the Carbon Disclosure Project), achieving a place on the CDP "A List" for both climate change and water security.
• Gold Coast Ingredients opened a second facility in Santa Fe Springs, Calif., designed for new research, development, and innovation.
• Manitoba Harvest's line of hemp seeds, oil, and protein powder has received Food and Drug Administration (FDA) clearance as Generally Recognized as Safe (GRAS).
• McCormick & Company has been named the 13th most sustainable corporation and No. 1 in the food products industry on the 2019 Global 100 Sustainability Index.
• Nestlé inaugurated a new Bonjorno coffee factory in Egypt. In addition, the company has announced an investment of $154 million in a new coffee factory in Veracruz, Mexico.
• Peet's Coffee has acquired a majority stake in Revive Kombucha, a craft brewery based in Petaluma, Calif.
• Sodexo
, a food services and facilities management company, was named national Endorser of the Year by the U.S. Environ-mental Protection Agency (EPA) for its ongoing commitment to food waste prevention.

Margaret Malochleb,
Associate Editor
[email protected]