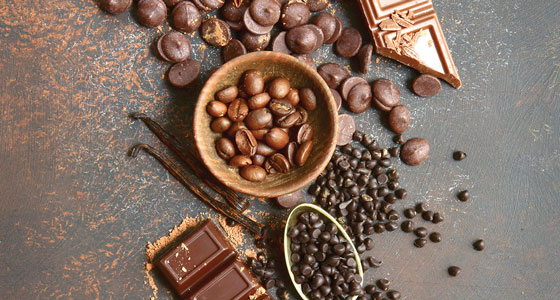 The Aztecs drank xocoatl, a bitter concoction made from cocoa beans, which they also used as a form of payment. Spanish explorers who encountered the Native Americans drinking the beverage in the early 16th century took the concept back with them to Europe, and soon after a variation of the cocoa drink was all the rage across parts of Europe. (The addition of sugar and milk no doubt helped boost the popularity.) In the 1800s, processing methods were subsequently developed that brought about different types of cocoa ingredients and forms that eventually led to the creation of products such as chocolate bars to satisfy the appetites of chocolate enthusiasts around the world. And our love of chocolate is still going strong today. Chocolate confectionery remains the leading confectionery type, with 58% of new confectionery products launched around the globe being chocolate and 42% being sugar confectionery in 2018, according to information provided by Innova Market Insights.
So, what's driving the popularity and sales of chocolate? Experts weigh in on the market trends and the innovative ingredients that product developers are using to formulate trend-forward and delicious chocolate products and products made with chocolate components.
Strong Chocolate Market Growth
Several trends are vying for attention in the chocolate confectionery category, including no animal product/vegan chocolate, single origin/dark/fine/premium chocolate, and chocolate with innovative flavors and ingredients, says Marcia Mogelonsky, food and drink global analyst for Mintel, who provides insights into consumer data from a 2018 market research report titled Chocolate Confectionery—U.S.
To produce vegan chocolate products, manufacturers are experimenting with various dairy substitutes to replicate the texture and mouthfeel of milk chocolate, explains Mogelonsky. Oat milk is a popular choice and she mentions that several smaller companies have recently launched oat milk chocolate bars like Goodio ChocOat Wild Blueberry Oat Milk Chocolate, for example.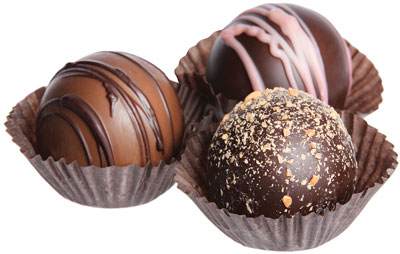 Mogelonsky notes that there is a lot of development activity in single origin and other "fine" chocolate, primarily among smaller brands like Dagoba Organic Chocolate 74% Cacao Rich Dark Chocolate and Hexx Tanzania Pure Origin Dark Chocolate. One thing that is driving the popularity of dark and premium chocolate is that they both are seen as "being better"; 74% of chocolate eaters agree that dark chocolate is healthier than milk chocolate and 76% agree that it is worth paying slightly more for premium quality chocolate, says Mogelonsky.
As far as flavors and ingredients are concerned, Mogelonsky says that experimentation with flavors and flavor combinations continues with such pairings as sweet and salty, hot and spicy, and botanicals and fruits. A couple of product examples she suggests are Theo Grapefruit Ginger 55% Dark Chocolate and Boulder Chocolate Strawberry Basil 58% Dark Chocolate & Fruit. Chocolate eaters are slightly more interested in these "unique sweet" flavors than in savory-flavored products (31% versus 29%), leaving room for innovation, she adds.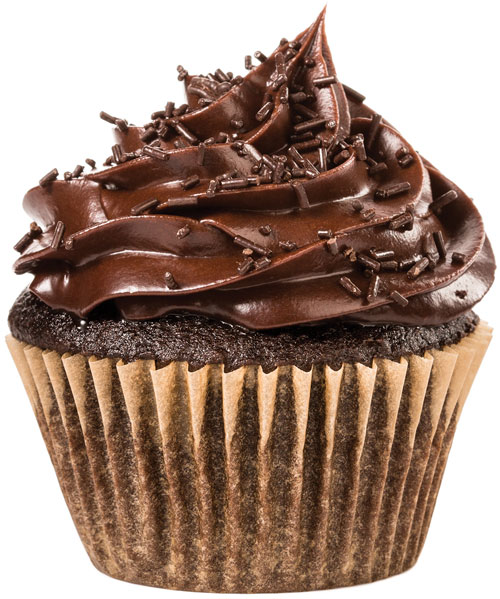 "What is interesting to note about these trends is that while chocolate eaters may try some of the innovative new products, such products must deliver on taste in order for them to be accepted. It is interesting that U.S. chocolate eaters tend to be a conservative bunch. Mintel data show that less than a third of chocolate eaters (31%) consider 'an interesting flavor' to be a driver behind purchase, almost half (47%) buy a product that they've purchased before, and 56% usually buy the same type of chocolate as they always have."
Even though chocolate eaters tend toward more traditional fare, there are some who crave new taste experiences. Novelty and variety influence consumption, with 35% of consumers in Mexico, 30% in China, and 28% in the UK having increased their consumption of chocolate because "there is more variety and novelty available," according to Innova Market Insights' 2018 Innova Trends Survey. For the more adventurous, there's spicy chocolate, such as products made with sriracha or different types of chile pepper products. Plant ingredients like rice, vegetables, and fruit are also adding variety to the chocolate confectionery category, according to Innova Market Insights. The company notes a Latvian product that combines rice balls in milk chocolate (Laima Mad Milk Chocolate Risu Bumbas Piena Sokolade) and a Belgian product that combines milk chocolate with yuzu and seaweed (Delicata Melk Yuzu Zeewier).
A Potential Fourth Chocolate
One of the newest innovations to hit the market is ruby chocolate. KITKAT in January 2018 was the first brand to launch a product that featured ruby chocolate (KITKAT Chocolatory Sublime Ruby) in Japan and South Korea, after more than 10 years in development. Since that time a number of new products made with ruby by both consumer and artisanal brands debuted in more than 40 countries around the world, says T.J. Mulvihill, vice president of marketing for Barry Callebaut. Ruby made its official debut in the United States earlier this year.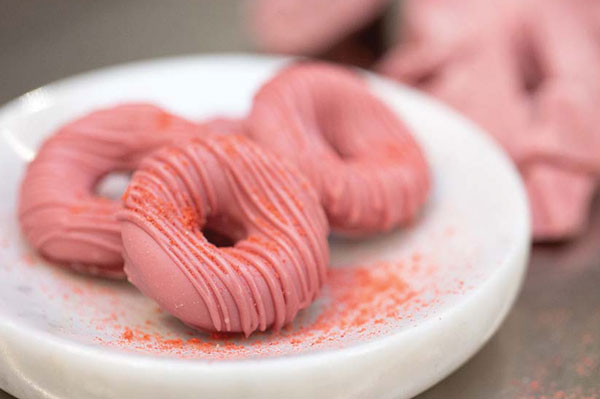 Ruby, with its soft, muted pink hue and delicate berry, floral, and subtle sour flavors and aromas, came to the marketplace through extensive research led by Barry Callebaut. No colors or flavors are used; rather, Mulvihill explains, a special processing method helps to bring out the flavors and color that are naturally present in select cocoa beans. The special type of cocoa bean is grown in Brazil, Ecuador, and Ivory Coast.
The confection is also a unique offering among white, milk, and dark chocolates. Barry Callebaut is working closely with the U.S. Food and Drug Administration to establish ruby's standard of identity as the fourth type of chocolate, joining dark, milk, and white, says Mulvihill, adding that news about ruby's standard of identity could come in the near future. Until then, it is referred to as ruby couverture on packaging in the United States, he added. (Some companies in the United States also refer to it as ruby cacao.)
Since ruby has a balance of sweetness, slight tartness, and berry flavor, it pairs well with a range of other foods and flavors, everything from berries, stone fruits, and nuts to warm spices, strong-flavored cheeses, and oil and vinegar. For Mulvihill, it gets no better than to pair ruby with caramel.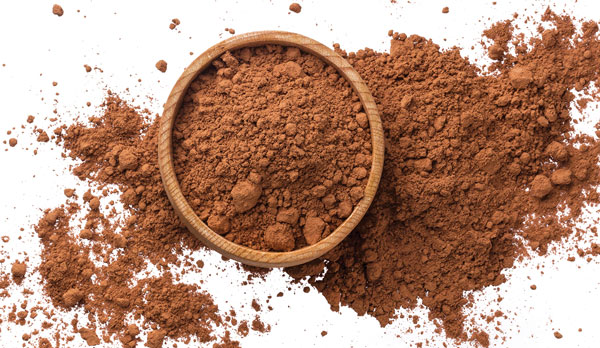 Cocoa Powder Innovation
Olam Cocoa specializes in cocoa powders, producing a comprehensive range of cocoa powders to meet the specific needs of product developers.
Looking for a clean label cocoa powder alternative to alkalized cocoa powder? Try deZaan TrueDark (N11D) cocoa powder, a non-alkalized dark cocoa powder that can fully replace the alkalized or "Dutched" cocoa powders that are usually used in ice creams, bakery, and biscuits, says Wouter Stomph, North American head of cocoa ingredient development and innovation at Olam Cocoa. "When it comes to trends, clean labeling is one that has dominated across the entire food industry. This is driven by market demand for products with easier-to-read ingredients lists. Consumers who enjoy chocolate and chocolate products are no exception, and they are becoming increasingly more conscious of what actually goes into their favorite treats."
The deZaan TrueDark (N11D) cocoa powder provides the same dark color and rich flavor intensity as alkalized cocoa powder. The ingredient is labeled as "cocoa" instead of "cocoa processed with alkali" or "cocoa processed with acidity regulator."
Moving beyond clean label, Olam Cocoa also produces additional cocoa powders that can be used in products that address other consumer concerns and formulation trends. Take the health-conscious consumers who are monitoring their sodium intake. Olam Cocoa used proprietary processing methods to create D11BK, a nib alkalized black cocoa powder without any added sodium. "During the typical alkalization process, an acidity regulator such as sodium is added to the mixture," explains Stomph. "D11BK replaces this sodium with potassium, which is ideal for manufacturers who want to produce a final product with lower sodium levels in the recipe, without compromising on powerful, full-bodied cocoa flavor."
For low-fat products, there's deZaan low-fat D00ZR cocoa powder. With this ingredient, Olam Cocoa has developed a cocoa powder with only 0.5% fat content that allows chocolate and confectionery manufacturers to formulate cocoa-flavored products that are low-fat and have a rich, creamy chocolate taste and texture, says Stomph.
The company's processing techniques are proprietary, which allows Olam to produce many cocoa powders that are optimized for use in very specific recipes and applications, says Stomph. "For example, there is a common misconception that cocoa and fermented dairy do not mix well together. Many manufacturers believe that the bitterness associated with cocoa and the sour notes of fermented dairy result in a poor flavor profile that requires extra sugar to mask the taste. However, when the right ingredients are combined in the correct proportions, manufacturers can create a range of delicious chocolate, fermented dairy products."
One such cocoa powder for use in formulating fermented chocolate dairy products is deZaan Fresco F11FR (Fresco Cacao), a non-bitter, mild cocoa powder with an enhanced and fruity bouquet, says Stomph. "When using Fresco Cacao, manufacturers also have the flexibility to reduce sugar content in their products as it does not have the overwhelmingly bitter taste created by most cocoa powders when combined with fermented dairy. In fact, the natural acidity of fresh, fruit-flavored food products are both subtly enhanced and finely balanced with the flavors of the cocoa." Some of these fermented dairy products include Greek yogurt, yogurt beverages, frozen yogurt, yogurt-based fruit smoothies, fresh cheese, and soy milk.
Flavors and Extracts
Chocolate and cocoa ingredients are indulgent ingredients that offer various beneficial functions to manufacturers; however, there are some things that can affect their usefulness. Heat and processing can be the enemy of flavor and aroma compounds in chocolate, and cocoa—being a commodity—is subject to fluctuations in both price and supply and demand, for example. Using chocolate extracts and flavors offer solutions to some of these formulation and processing issues.
Prova and Virginia Dare are two companies that specialize in chocolate extracts and flavors. There are cocoa extracts and chocolate flavors created specifically for use in extreme processing conditions such as tempering, baking, and beverage pasteurization, explains Philip Caputo, marketing and consumer insights manager at Virginia Dare. "Pure cocoa and chocolate present formulation challenges in product development, such as spoilage, oxidation, separation, ingredient reactions, and allergens. Cocoa extracts and chocolate flavors are versatile as liquid or dry, water- or oil-soluble in foods or beverages—all of which can overcome most application-specific limitations." Caputo adds that the ingredients can provide cost-saving opportunities and offer non-nutritive, functional benefits in taste profile, taste stability, and application versatility.
Flavor enhancement is a key function of chocolate extracts and flavors. Prova often receives inquiries from customers who are using cocoa powders in bars, beverages, and baked goods but are still missing authentic cocoa flavor, says Brian Wilson, application lab manager at Prova. "We tell them that a small dose of our cocoa extract will deliver that 'kick' they're looking for."
Chocolate extracts and flavors enrich the chocolate taste in formulations that have chocolate as their base and add the complex flavors of chocolate to nonchocolate applications. Virginia Dare's lineup features standard cocoa extracts and chocolate flavors (i.e., nibs, powder, milk, dark, liquor, fudge, Belgian), taste profile keys to add complexity (i.e., bitter, floral, woody, roasted), chocolate dessert profiles (i.e., brownie, cupcake, red velvet, s'more, donut), and flavor pairings or top notes (from browned butter and maple to mint and lavender to cinnamon and pecan), says Caputo. Prova's Procao Cocoa Extracts come in cocoa, chocolate, and dark chocolate flavor profiles and its Procao Chocolate Flavors are available in many flavor profiles, including dark chocolate, chocolate malt, chocolate fruity, and bitter chocolate. Most of Prova's chocolate flavors contain some cocoa extract for genuine chocolate profiles and masking off-notes, according to company information. Wilson adds that cocoa extracts can be used to reduce the dry matter in a product formula while adding chocolate flavor and can possibly increase shelf life by reducing the amount of cocoa powder needed. See the sidebar 'Chocolate Product Concepts' for product concepts that feature some of Prova's cocoa extracts and chocolate flavors.
Functional Fats for Chocolate Products
A big problem that chocolate and compound developers face is fat bloom, the recrystallization of fat on the surface of the confection that can result in loss of sheen, white spots, or an overall white haze on the product, says Zachary Freed, customer innovation applications specialist at AAK.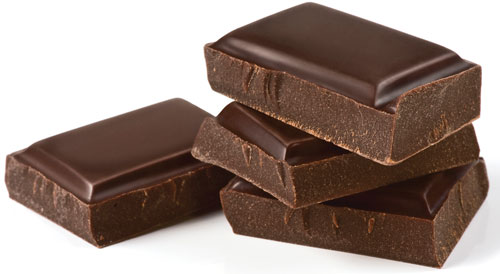 The causes of fat bloom can be grouped into poor processing, storage temperature extremes, and/or oil migration. "Processing issues are related to improper tempering and cooling, which can cause the fat to melt and recrystallize into undesirable crystalline forms," says Freed. "Solving these issues can sometimes involve investments to upgrade current equipment or purchase new equipment but may just require more detailed attention to the process itself. Extreme fluctuations in storage temperature can also cause oil migration–related bloom, most commonly high temperatures but occasionally even low-temperature cycling."
AAK developed a number of ingredients to help combat fat bloom. These ingredients were created for specific applications and processing methods. For example, barrier fats and bloom-retarding filling fats work together to reduce the speed at which oil migrates in filled confections like pralines, or enrobed confections like chocolate-coated turtles, says Freed. "The bloom-retarding filling fats add molecular hindrance to the fat matrix of the filling, which reduces migration of the incompatible fats. The barrier fats, on the other hand, create a physical layer which works to stop the fats from moving between the inside and outside of the confection. These barrier fats need to be added by a spray system and can work for filled or enrobed applications."
Freed also offers up information about AAK's ingredient for confectionery compounds. For these, AAK offers Illexao HS, a shea-based cocoa butter improver that can be added to chocolate to help inhibit fat bloom. If a food manufacturer's brand needs to retain the standard of identity of chocolate, there's Cobao Pure, a recently launched cocoa butter that can improve chocolate's shelf life with no change to the original sensory attributes and no change to the ingredient statement, says Freed.
The main difference between chocolate and compound coatings is the fat. Chocolate must contain cocoa butter and compound coatings can contain alternate vegetable fats. Cocoa butter equivalents and cocoa butter substitutes replace cocoa butter, but the choice depends on the formulation, target price, and market placement, says Freed.
Cocoa butter equivalents are based on shea kernel oil or sunflower oil. "The use of these fats in compound coatings provides 100% compatibility with cocoa butter, can be used to replace any amount of added cocoa butter, and mimic texture and quality perfectly," says Freed. Cocoa butter equivalents are polymorphic and require tempering like cocoa butter does. There are special fat blends of cocoa butter equivalents called cocoa butter improvers; these provide bloom mitigation, tolerance to milk fat, and heat stability, explains Freed. They are used in formulas that contain cocoa liquor (cocoa solids), are considered premium compound coating fats, and have a higher price point (but still lower than cocoa butter), says Freed.
Cocoa butter substitutes are based on palm kernel oil. Through fat modification techniques such as blending, fractionating, hydrogenating, and interesterifying, it's possible to produce fats that melt similarly to cocoa butter but at a much lower cost, says Freed. The modifications can also be used to create custom melt profiles that fit with the manufacturer's unique processing, packaging, and distribution needs and that help develop the appearance, flavor release, and mouthfeel in the end product, says Freed. Cocoa butter substitutes do not require tempering like cocoa butter and cocoa butter equivalents, but they do have a compatibility issue with cocoa butter that limits how much cocoa butter can be added to the formula, says Freed. "Compounds using cocoa butter substitutes are generally higher in sugar than pure chocolate and compounds which use cocoa butter equivalents, as there is a need to replace the missing cocoa ingredients. This makes them less expensive, but also sweeter, and high levels of sugar are not on-trend in today's market."
AAK's Illexao is a range of cocoa butter equivalents and cocoa butter improvers while Cebes and Silko are lines of cocoa butter substitutes.