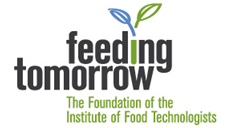 The IFT Student Association (IFTSA) is committed to engaging student members from around the world to utilize their scientific skills to serve a bigger cause. The IFTSA Developing Solutions for Developing Countries (DSDC) product development competition promotes the application of food science and technology and the development of new products and processes that are targeted at improving the quality of life for people in developing countries.
The Developing Solutions for Developing Countries competition is sponsored by Feeding Tomorrow, the Foundation of IFT.
2019–2020 Competition Winner Presentation
2019–2020 Winners
First Place: Team PATH, Montana State University
Second Place: Planting for the Future, University of Minnesota
Third Place: Stewpidgood Kilishi, McGill University (Canada)
2019–2020 Finalists
Magtummy, Bogor Agricultural University (Indonesia)
Mango Maafe, Cornell University
Pitamin A, Taylor's University Malaysia
Awards
Each of the finalist teams will receive a certificate and a reimbursement for travel to the IFT Annual Event & Food Expo of up to $1,500. Winners will be announced at the IFTSA Closing Ceremony. Prize amounts are as follows.
First Place: $3,000
Second Place: $1,500
Third Place: $500
The IFT Student Association will present the first-place team with a personalized plaque after the IFT annual event. The winning team will be highlighted in the post-event issue of Food Technology magazine.

Eligibility
Teams for this competition should have at least one Institute of Food Technologists student member at the time of submission. All team members must be students enrolled in the fall semester of the competition year. There may be only 5 submissions from each institution. Complete eligibility details will be included in the competition guidelines document, which will be available later this year.
Theme (2020–2021)
In East Africa, one of the mostly widely eaten staple foods is 'Ugali' which is a thick porridge prepared by cooking a mixture of 70% extracted Maize/Corn flour and water. With the current COVID-19 pandemic and for long term nutrition goals, there is a need to shift from 70% extracted Maize flour (the maize is dehulled and degermed) to 100% whole grain Maize meal for consumers in East Africa so that the 'Ugali' prepared from this maize meal is more nutritious than the traditional type. Describe what changes need to be made in the milling process including various solutions to address expected increase in nutrition and rancidity and associated reduction in shelf life of the 100% whole grain Maize meal.

2020–2021 Competition Submission and Deadlines
The submission window for this competition is now closed.
Download competition guidelines (PDF)

Sample Verification Letter
Competition Chair
Niamh Schumacher, University of Tennessee