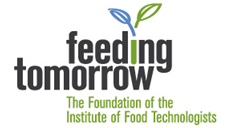 The IFT Student Association (IFTSA) is committed to engaging student members from around the world to utilize their scientific skills to serve a bigger cause. The IFTSA Developing Solutions for Developing Countries (DSDC) product development competition promotes the application of food science and technology and the development of new products and processes that are targeted at improving the quality of life for people in developing countries.
The Developing Solutions for Developing Countries competition is sponsored by Feeding Tomorrow, the Foundation of IFT.
Awards
Each of the finalist teams will receive a certificate and a reimbursement for travel to the IFT Annual Event & Food Expo of up to $1,500. Winners will be announced at the IFTSA Closing Ceremony. Prize amounts are as follows.
First Place: $3,000
Second Place: $1,500
Third Place: $500
The IFT Student Association will present the first-place team with a personalized plaque after the IFT annual event. The winning team will be highlighted in the post-event issue of Food Technology magazine.

Eligibility
Teams for this competition should have at least one Institute of Food Technologists student member at the time of submission. All team members must be students enrolled in the fall semester of the competition year. There may be only 5 submissions from each institution. Complete eligibility details will be included in the competition guidelines document, which will be available later this year.
Theme (2021–2022)
Create a shelf-stable yogurt beverage without a kill step in production that contains live and active cultures.

2021–2022 Competition Submission and Deadlines
The submission window for this competition is now closed.
Click here for DSDC Rules & Regulations
Sample Verification Letter
Competition Chair
Edwin Allan, Montana State University