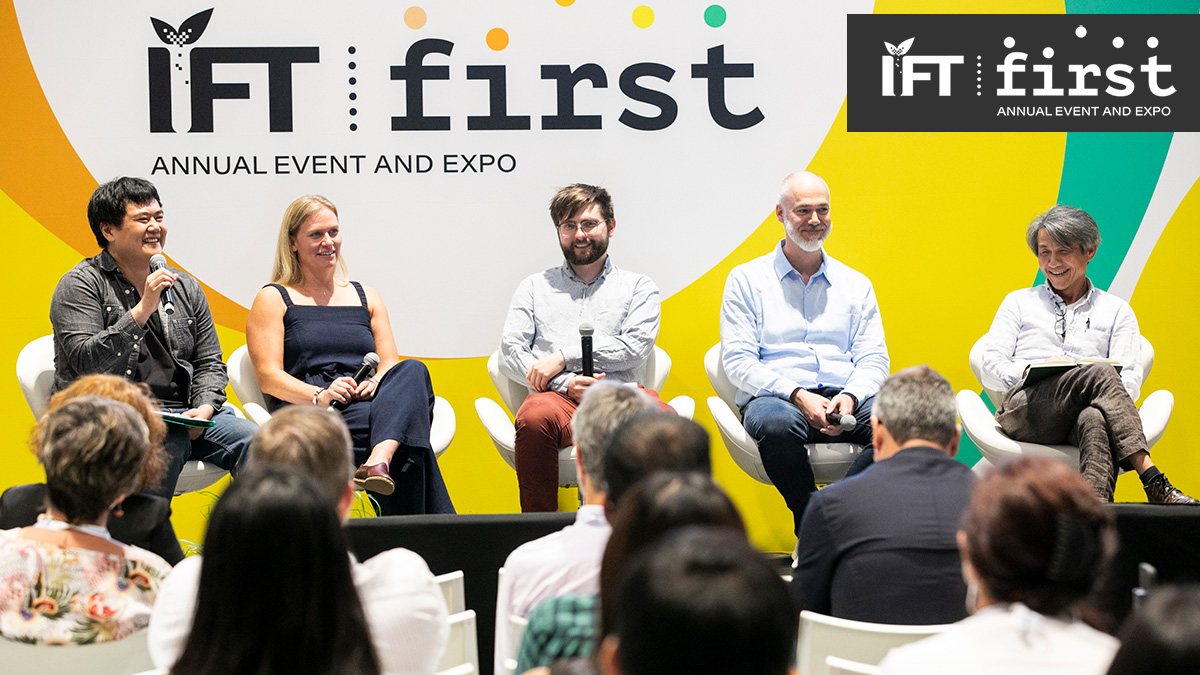 There's a growing market for innovative new food products, but getting from an idea to an in-demand product on grocery shelves is a long and often difficult process. In Monday afternoon's Business FIRST session, "Innovators on the Edge: Pushing the Boundaries of Science to Feed a Hungry Planet," four food science entrepreneurs shared their experiences in building products and businesses from their passion, creativity, and discoveries.
Building a food science-based business is, for most entrepreneurs, not a one-person job. Panelists agreed that whether you have a co-founder or a team of trusted individuals, successful food science entrepreneurs understand and utilize the complementary skills of others.
Joshua Nixon, co-founder and CTO at Prime Roots, discussed how he and his co-founder have skill sets that complement each other. While they both participate in building the business, they can each focus on the areas that are their strengths.
"Find someone who loves to do the things you don't love to do," said Minh Tsai, founder and CEO at Hodo Foods. "But really, you need a whole team rather than just a co-founder."
Thomas Jonas, co-founder and CEO at Nature's Fynd, agreed. "It's not just about founders," he said. "It's about everyone showing up every day and doing their job, and people understanding where they can make a difference in the company."
In addition to building the right team, successful food science businesses also need to have the right funding in place. For some, like Kirsten Sutaria, co-founder and head of curious creation at Doozy Pots, that means figuring out how to bootstrap the business on your own.
"Bootstrapping can be stressful, but it teaches you to be really lean and really thoughtful about what you're doing," said Sutaria.
When one supplier's prices go up unexpectedly, that may mean figuring out how to pivot and make a course correction. "You really have to lean on your network of suppliers and manufacturers, cultivate relationships, and make the right decisions to make it all work financially," said Sutaria.
For other food science startups, figuring out funding means wooing investors. Jonas at Nature's Fynd said he carried a bag of the company's product around Silicon Valley for meeting after meeting with venture capitalists.
"You really get a sense pretty quickly whether someone is interested in investing in your company," said Jonas. "If you're having to convince them too hard, you probably shouldn't. You want people who share your excitement about what you're doing." Nature's Fynd has raised about $500 million so far.
Successful fundraising as well as product sales depend on a startup's ability to build and communicate a compelling story. For some, it's about telling the story of their products' unique ingredients and the benefits they bring. For example, Prime Roots has focused on telling the story of its key ingredient, koji, which has been used in the kitchens of top chefs around the world and is vital to the brand's animal-free meat products.
For Doozy Pots, the story is about being the first product to use a blend of hemp and oats, "which makes us different but also requires a lot of education for the buyer and the retailer," said Sutaria.