Snaxpo® 2002, the Snack Food Association's annual event showcasing a wide range of innovations from the global snack food industry, was held on February 16–19 in Chicago. The 65th Annual Exhibition & Conference was appropriately themed, "Our World of Snacks."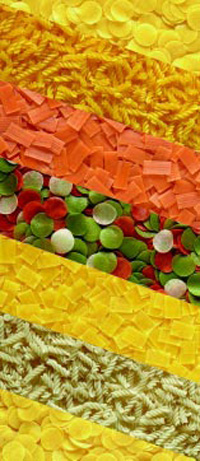 In the snacking areas of this event, waiters in tuxedos were opening up individually sized bags of Frito-Lay corn chips and adding sour cream, salsa, cheese, and other ingredients of your choice into the bag. Then the bag with a spoon was served, along with a drink, to an attendee. 
I thought what a great idea! I mean not the part about the waiter. I really don't expect waiters in tuxedos to come to my home and serve me snacks every day. Despite the increasing emphasis on convenience, that would probably be too much to ask. Rather, I'm referring to the simple concept of adding your own ingredients to a bag of chips. You could probably take this concept even farther and add other components such as ground beef, strips of chicken, tuna, or anything else that you prefer and have a complete meal. And no washing of dishes either. 
What the waiter was doing was a good example of thinking "outside of the box." It showed a willingness to experiment, to try new ideas. This is basically what product innovators do. And, if they approach it correctly, they have a whole world of ideas from different countries and cultures to take advantage of. 
And when you take into consideration such factors as flavor, texture, novel shapes, and colors, along with potential health attributes, the possibilities for product innovation in the area of snacks is almost endless. 
For example, Kraft's Jell-O® brand recently came out with a new product, Magical Jell-O that adds a variety of innovations to a very traditional product. 
First, from a colors standpoint, the gelatin product is clear, which unlike the wide range of other colored products, makes it novel. 
Second, inside the gelatin are different colored shapes, star and moon mixins. These mix-ins consist of sugar, rice flour, partially hydrogenated vegetable oil (soybean and cottonseed oil), corn starch, cellulose gum, carrageenan, confectioner's glaze, and Yellow 5 and Blue 1 Lakes. 
Third, since the product does not have a color to match its flavor, the flavored varieties such as grape and strawberry add to the "magical quality." 
Fourth, although gelatin products are perceived more as desserts, this product designed for children or novelty seekers would be perfect for snacking occasions as well. You might even be able to add some fruit to it to make it more nutritious or a little whip cream for more indulgence. Or you can cut the gelatin into decorative shapes with cookie cutters for an eye-catching snack. For an added treat, add sugar or colored sugar to the pieces. 
For those who consider French fries a snack, there's a perfect example coming out that features novel flavors, colors, and textures. H.J. Heinz, which recently came out with colored ketchups, is debuting chocolate French fries, a new line of frozen potato products called Funky Fries. The product, which reportedly will reach the supermarkets in May 2002, includes Cocoa Crispers, cocoa-flavored fries. Other varieties in the line include sky blue, sour cream and chives flavored, or sprinkled with cinnamon and sugar. 
--- PAGE BREAK ---
And although in some cases, we may be moving in "funky" directions, from a product innovation standpoint, we've only reached the tip of the iceberg. That, of course, makes it all very exciting. 
Now, I know that some people will say that I'm being a little naive about the way the world works, that major snack manufacturers don't want to take wild chances or stray too far from the security of the mainstream. But with every new development, no matter how small—it may only be promotional, it may occur around the holidays or some other special event and then disappear until the next special occasion, it may be put out by a small private label, it may have come out in only one pocket of the world, whatever that development is—there's that chance that it can catch fire and eventually find its way to the mainstream. After all, from a global standpoint, there are many, many possible tributaries that can help feed this mainstream. And, of course, with each success (as well as a few failures), product innovation moves forward. 
With all this in mind, I thought it would be interesting to focus this ingredients section, as much as possible, on snack food concepts and the role that different ingredients play. Some of the snack foods we'll be referring to are already in the marketplace. Some are prototypes. And some may just be suggestions by me as an avid snack eater. 
So let's go back to the old blackboard to try out different ideas and the potential value that ingredients can have to make these products not only a reality but a reoccurring success. As usual, any suggestions that you may have, please send them to me and we'll be glad to print them in future issues of Food Technology.
Here are 10 possibilities:
Concept ideas combining dairy and seasonings. Five new concept ideas using dairy ingredients and flavors were highlighted at Snaxpo 2002 by Kraft Food Ingredients, 8000 Horizon Center Blvd., Memphis, TN 38111 (phone 901-381-6500; fax 901-381-6524). 
Helping to address challenges that snack manufacturers face in today's marketplace, the featured products included a novel fusion flavor offering a cooling and heating sensation, a new economical cheese powder alternative, and three seasonings that can be combined with a cheese base to provide something new, but at the same time reportedly do not stray too far from the mainstream. 
To learn more about these five concept ideas, Food Technology interviewed Tom Rieman, Business Manager, Kraft Food Ingredients. 
• Fire and Ice. This fusion flavor was developed to give snackers a sweet alternative in a market dominated by salty or savory flavors. Highlighted in cheese balls, the product consists of a cream cheese that has been sweetened and has a raspberry note. In addition, the snack also has some heat which comes at the end, but is subtle and not overpowering. 
The cream cheese and the inclusion of dextrin provides a cooling effect, while capsicum adds the heat. (Hence the name Fire and Ice.) The concept, aimed at both children and adults, can also take advantage of a more pronounced creamy note, stronger fruit flavors, and more vibrant colors. 
--- PAGE BREAK ---
The subtle flavor is said to play off the idea of fruit and cream applications such as orange and cream or strawberry and cream flavored LifeSavers or NutriGrain bars. Also, its cooling and heating effect is reminiscent of a popular Southern holiday trend where a brick of cream cheese is topped with pepper jelly, and then spread on crackers. 
• Velveeta Seasoning. A familiar-type of flavor, especially for those consumers having grown up with it, Velveeta has a buttery, milky, creamy flavor. A seasoning based on this flavor, Velveeta Seasoning, was developed as an economical product for use in cheese-reduced snacks. 
One way to reduce the cost of a cheese powder is to take cheese out. However, when a manufacturer does that, flavor tends to be lost. And, of course, the more cheese that is taken out, the more flavor that is lost. Consequently, flavor technology was used by Kraft to create a product that is suitable in the making of a low-cost cheese powder and at the same time a product that can pump up the flavor of the powder. 
The flavor, available in a liquid, oil-soluble version or as a water-soluble powder, was demonstrated in a cheese-ball application which was reported not to have any cheese at all. Dairy components, which provided the milky notes, were co-dried with the new seasoning, everything was mixed together, and then spray-dried to create a homogeneous product. 
It is important to note that the highlighted application was designed as an exercise to see how well the seasoning would work. In more likely scenarios, the flavor can be used in cost-reducing products that contain some cheese, and that the seasoning can be used to heighten the flavor of the product. 
In addition to economic considerations, the flavor may find popularity in such snacks as crunchy cheese doodles where a more milky, buttery American flavor profile is preferred to a sharp aged Cheddar. 
• Scalloped Potatoes. This potato chip seasoning was created based on the familiar flavor of scalloped potatoes. Five years ago, this might have been accomplished by combining a Parmesan cheese powder and an onion power and sprinkling it on a potato chip. But today, the emphasis in on creating flavors that are more authentic, more accurate in capturing the flavor notes of a particular food. 
Consequently, incorporated into the seasoning were some of the flavors that develop through the cooking process. (Food Technology has written on several occasions about Kraft's Savory Flavor Group which features flavors of cooking such as grilled, roasted, sauteed, etc.) 
"For example, a Roast Garlic Flavor and a Sauteed Onion Flavor might be used to create a more authentic, more complex flavor profile," said Rieman. "Such a flavor profile changes the character of the product and how it tastes compared to what may have been done five years ago." 
Rieman also noted that this seasoning (and other such cheese seasonings) may lead to greater opportunities in the potato chip area. In the past, cheese seasonings on potato chips have not had as much success in this particular segment. 
--- PAGE BREAK ---
• Pepperoni Cheese Pizza. This seasoning, highlighted on tortilla chips, was created to show the versatility of taking a cheese base and how that profile can be changed by adding different topnotes to it. 
In this case, a kosher, vegetarian pepperoni flavor was added at a low level to a cheese powder. The resulting pepperoni profile with a cheesy background note was said to taste similar to a pepperoni pizza. Italian spices could also be added to it to improve on the effect. 
• Cheddar BBQ. The previous seasoning was a demonstration of how variety can be added to a product line by simply changing some topnotes. This seasoning, also highlighted on tortilla chips, reinforces that idea by using the same cheese base as the Pepperoni Cheese Pizza Flavor, only adding a different topnote. 
To create Cheddar BBQ, Kraft added its Bull's Eye BBQ Sauce which gave the seasoning its smoky, tomato, and barbecue note. Rieman likened the flavor to an Americanized version of the nacho where three ingredients dominate: cheese, tomato, and spices. However, instead of Mexican spices, we have a BBQ flavor, and the cheese is Cheddar. 
This seasoning would be a good example of a product that is different and yet familiar enough so that it would be accepted by the consumer. 
Rieman noted that these five flavor concepts can be used in any snack application, but the base that is used does change how the flavor profile comes across. Consequently, it is necessary to change ratios, modify usage levels, and take into consideration other such factors. 
Will such concepts be realized in the U.S. marketplace? According to Rieman, smaller snack manufacturers tend to take larger risks. However, when something is new, it creates excitement, whether it's at a local level, or a holiday time, or during a specific, limited promotion. If one of these new flavors takes off and has great repeat sales, then there's a chance that it can become a mainstay flavor. 
Furthermore, other countries may have an influence on the U.S. market. For example, Europe is big on flavored chips, such as prawns or savory, meaty flavors; and so there is a lot more variety in the European snack market. "But taste buds are universal," said Rieman, "and with the global economy, over time these new flavors after some subtle changes may migrate to the U.S."
Special and custom-designed shapes. It's interesting that when it comes to novel or varied shapes, products such as crackers, cereals, and confections have explored this approach for a long time. Remember Animal Crackers, Goldfish, and Chex Mixes? 
Manufacturers of these products have been successful in marketing these products as snacks, frequently taking advantage of such trends as holiday spirit, novelty, convenience, and even health. There may be a new old competitor emerging, however, as increasingly, manufacturers of potato chips, pretzels, and other more traditional snacks are taking advantage of unique shapes to sell their product. 
And that means suppliers should be ready to provide new ideas and developments. 
A wide assortment of potato- and cereal-based pellets for the purpose of manufacturing original and exclusive snacks are available from Mafin S.p.A, Strada Degli Alberi, 7-35015 Galliera Veneta (Padova), Italy (phone 39–49-9470700; fax 39-49-9470718; www.mafin.it.) 
--- PAGE BREAK ---
During Snaxpo 2002, Food Technology had the opportunity to learn more about this company and its interesting outlook regarding the development of new snacks using novel shapes. The company is said to be the number one pellets manufacturer in Italy and number three in Europe by volume; 85% of their product is exported and an assortment of 50 items are currently delivered to 38 countries; and more than 350 pellets have been industrialized since the startup of its operations. 
Several of the pellets are manufactured using patented processes. Frequently adopting a "1 pellet for 1 customer" strategy, the company encourages its customers to reinforce their market position through a clear brand strategy. Examples of shapes, many of them in the increasingly popular 3-D versions, demonstrated at the show included hearts, mini-burgers, chicken legs, round grids, bacon strips, stars, rings, rippled curls, screws, sunflowers, shells, sticks, bears, turtles, masks, and many others. 
Several other companies making use of pellet technology were also exhibiting at Snaxpo 2002. 
Unified Products, 20001 S. Western Ave., Torrance, CA 90501-1306 (phone 310-381-0500; fax 310-381-0549) is said to be one of North America's largest producers of snack foods based on pellet technology. The company—the U.S. arm of Japan's leading snack and confectionery wholesaler, San-Esu—manufactures pellets from soy, rice, wheat, potato, and corn flours, which can be baked or fried, flavored and shaped virtually any way retailers want them. A wide range of shapes can be created, such as spirals, rectangles, tubes, triangles, squares, rings, spirals, rounds, strips, micro sizes, and custom shapes. Interestingly, the company has shifted its strategy from consumer-oriented products for the mass market to private label brands since early 2001 and continues into 2002. This was done to take advantage of demand by retailers for more new, unique products in the snack category, as well as other food categories. 
Leng-D'or Snack Foods, Industria, 21-08755 Castellbisbal (Barcelona) Spain (phone 34-93-772-46-80; fax 34-93-772-14-50; www.lengdor.com), has two state-of-the-art factories producing potato, corn, and wheat-based pellets, made to meet customer requirements. The company can produce numerous shapes and sizes, high- and low-density products, salt content adaptations, and pellets for frying and hot air and microwave popping. Shapes include 3D animals, potato or corn rings, hearts, potato stars, ghosts and bats, ribbed flutes, corn cones, carrot sticks, shapes with printed characters on them (I thought this one was especially neat!), twists, and many others. 
Pasta Foods Limited, Pasteur Rd., Great Yarmouth, Norfolk NR31 0DW United Kingdom (phone 44(0) 1 493 656071; fax 44(0) 1 493 653346; www.pasta.co.uk), is a maker of snack pellets that offer a suitable combination of texture, shape, and quality and are sold to worldwide markets. The company tailors products to individual customer's needs and delivers them consistently. At Snaxpo 2002, the company introduced a new range of Pasta Rapido no-cook pasta for hot and cold applications. 
I mention these companies here primarily because of two reasons:
First, it made me realize the vast opportunities that still remain for the snack industry when creating new products based on unique shapes or combination of shapes. 
--- PAGE BREAK ---
For example, holiday snacks can be created by adding a red colorant to a heart shape for Valentine's Day, a green color to a shamrock shape for St. Patrick's, or an orange color to a pumpkin shape for Halloween. Or for Halloween, which just happens to be my favorite holiday, you can have a red, devil-shaped snack that is flavored with jalapeno or cinnamon. 
Or you can take a "bacon strip" snack, add red, white, and blue colors to the stripes and create a patriotic snack to capitalize on the mood that the country is currently in. 
Or you can take a star shape, package it with some salsa, and have a "Lone Star Snack" which Texans might find appealing. 
Or you can create a fish and chips meal by having shapes of fish and French fries in one bag. The same concept can be followed for hamburgers and chips and chicken and chips. With these shapes, you can have the chips made of potatoes and the other shape made of some other grain. Or you can even experiment with multigrains such as rice and wheat. For children, you can create fun shapes such as turtles or koala bears. 
As you can see, the possibilities are nearly endless, and companies such as Mafin or the others mentioned here, can help work with the customer to realize these concepts. 
Secondly, this may be a good time to try some of these ideas because the snack industry recently has been coming out with products that have a variety of novel shapes and sizes.
Doritos Mini 3D's (Nacho Cheesier and Zesty Ranch), Ruffles 3D's BBQ Blast or Maxiumum Cheddar, Cheetos Asteroids (Original, Flamin' Hot), and Fritos Hoops-Honey BBQ are some of the products recently launched by Frito-Lay, Inc., Plano, Tex. 
And one can expect to find that there will be others appearing on the horizon. Whether we'll see a spicy devil or broken hearts (snacks for divorced couples) remains another question. If we do though, I hope this article gets royalties. It would be nice to find oneself in the chips.
Winning concepts from snack competition. Winning snack concepts were presented at Snaxpo 2002 by McCormick Flavor Div., McCormick & Co., Inc., 226 Schilling Circle, Hunt Valley, MD 21031 (phone 410-527-8054; www.mccormickflavor.com) from its sixth annual Snaxpo Product Development Competition. McCormick's seven product development laboratories in North America competed to produce the winning snack ideas. 
"Our World of Snacks" was the theme for this year's competition. Twenty-two entries were received in three categories: tortilla chips, cheese puffs, and snack mixes. Consumer-preferred product development methods were employed in the creation of these snacks, and the scoring of results was based on several parameters, including the use of Cheez-All™, McCormick's line of cheese flavor systems; the cost in use of the finished seasonings; and the consumer panel sensory score. 
The overall winner this year was Three Cheese Caesar Snack Mix from the company's Seasoning Product Development Laboratory in Salinas, Calif. The winning entry was described as a snack mix of cereal, crackers, and pretzels seasoned with a peppery Parmesan, Cheddar, and Blue Cheese Blend, enhanced with Worcestershire and olive oil. 
--- PAGE BREAK ---
Other category winners included Cheesy Pizza Puffs (corn curls seasoned with oregano, basil, and garlic that reportedly provide the taste of Chicago-style pizza) and Fiesta Nacho Tortillas (corn tortilla chips that are said to provide the popular taste of nacho cheese). 
In addition to these winning concepts, McCormick provided further analysis of its sponsored study, Crave It! The study revealed that product descriptors or physical features are the main drivers of craving rather than emotional or product benefit/consumer value features. For the category of chips, descriptors such as "all the flavors you want," "roasted garlic & herbs," "sharp Cheddar and spicy jalapenos," "sweet and sour smoky BBQ," and "sour cream, onion, and chive" all improve craveability for the general chip craver. 
One way to gauge craveability might be to take a look at which foods respondents chose to participate in evaluation for craveability. This method indicates that women prefer to evaluate chocolate candy, cheesecake, French fries, tortilla chips, and cinnamon rolls for craveability. Men prefer to talk about craving steak, hamburger, ribs, pizza, nuts, coffee, and peanut butter. These results may indicate that men crave the savory protein sources more while women crave the sweet, calorie-rich products. 
In my opinion, the above results suggest a couple of things. First, if men do prefer savory protein sources, there may be a real market for developing flavors such as hamburger or steak for potato chips and other such snacks. 
Second, while I acknowledge and respect the male's right to munch on potato chips in front of the television (I am one of that population), it seems that many of the foods that females crave, such as chocolate candy and tortilla chips, are much more suitable for snacking than, let's say, steak. If that's the case, there are a lot of marketing opportunities for developing snacks for ladies, and promoting these snacks for special occasions such as holidays or "break" foods. 
One possible snack area where women can be targeted is meat snacks, which has always been dominated by male consumers. The use of certain ingredients might make such a snack more desirable to women. I will discuss these kinds of developments a little later in this article. 
I would be interested in hearing what other readers think about the implications of this study. 
The study was conducted by Moskowitz Jacobs Inc. and The Understanding & Insight Group and completed in September 2001. Moskowitz Jacobs, Inc., is a market research company specializing in early stage development of concepts, products, and packages. The Understanding & Insight Group, Inc., is a business, strategy, and product development firm that provides understanding of products, services, and consumers.
Masa flour developments. Annual sales of tortilla chips are reportedly growing at a rate of 2.5 times faster than potato chips. Many of these tortilla chip snackers are also indulging in salsa and other dips. This preference for spicier dips probably, in turn, helps feed the craving for tortilla chips. 
A triangular-shaped tortilla chip called Torengos™ was introduced in December 2001 by The Procter & Gamble Co., P.O. Box 599, Cincinnati, OH 45202 (phone 800-599-3658; www.torengos.com). The new product resembles Pringles, also manufactured by P&G, in that it is uniformly shaped and stacked in a resealable canister to protect against breakage. After that passing similarity, however, there are several important differences. 
--- PAGE BREAK ---
Made from white corn, this product is triangular in shape (the canister is also triangular) and the chip is curved like a bowl or scoop. This unique shape can help maximize use with dips such as cheese, bean, or creamy versions, or use as a suitable "boat" for bacon, lettuce, and tomato; corn and green chile salsa; chicken or beef; and seafoods such as tuna and shrimp. The fact that it is unflavored also works well with these different accompaniments. 
According to the ingredients label, the snack consists of masa flour, vegetable oil (containing one or more the following: cottonseed, sunflower, or partially hydrogenated soybean oils), modified food starch and corn flour, and 2% or less of salt, lecithin, corn protein, and sugar. 
A primary ingredient in tortilla chips is masa flour, and, not surprisingly, as interest in tortilla chips increases, there is more work being done on developing improved masa flours, taking into consideration overall quality; flavor, texture, and aroma; safety; and consumer trends. One can expect to find more innovative products made with masa flour reaching the marketplace, and improvements in masa flour having a positive impact on the quality of the finished product. 
For example, Azteca Milling, 1159 Cottonwood Lane, Suite 100, Irvine, TX 75038 (phone 800-364-0040; fax 972-232-5370; www.aztecamilling.com), a supplier of corn masa flours to the tortilla and extruded snack industries, has been working on developing flours that offer improvements in color brightness, flours that result in finished products having a higher resistance to breakage, and flours that provide a wider operational flexibility, ensuring a better finished product. 
A full line of identity-preserved masa flours delivering high quality and consistent performance are available from Illinois Cereal Mills, a subsidiary of Cargill, Inc., P.O. Box 5625, Minneapolis, MN 55440 (phone 952-742-6000; fax 952-742-7393; www.cargillfoods.com). The flours are marketed under the InnovaSure™ brand, the name given to ICM's identity-preserved corn products and the system for producing such products. The brand is said to combine a rigorous selection of corn hybrids, close relationships with seed suppliers, a network of contract farmers, extensive product testing, and documented traceability. 
Made from conventionally bred, food-grade, hard-starch hybrids for consistent quality and performance, the masa flours are formulated to deliver such desirable features as tender bite, natural flavor, and bright, rich color. A wide selection of products and granulations for use in chips, taco shells, tortillas, and other innovative snacks are offered. 
Also produced from the identity-preserved corn system are Masa-thentic™ Flavor Enhancers which can help deliver corn masa taste and appearance to a variety of food systems. In corn applications, the ingredient can be added to a formula at minor levels to add an authentic appearance and masa flavor to the finished product. 
Although the flavor enhancers were originally developed for corn-based products, they may be used in other cereal-based products, such as wheat and rice, and can help mask off flavors and odors or produce the desired corn masa appearance and flavor. Applications for these ingredients include snack foods, taco shells, flour tortilla formulas, batter and breading systems, pizza crusts, fillings for Mexican foods, and flavor systems. Most applications use the ingredient at minor levels.
--- PAGE BREAK ---
Ingredients for meat snacks. Meat snacks, which include beef jerky, sticks, dried turkey, pickled sausage, and other items, have seen significant growth over recent years. Trends such as convenience and emphasis on mini-meals, have probably helped fuel this growth, as well as more aggressive promotion. Also, going back to the Crave It! study, men prefer savory protein sources, and in lieu of beef-flavored chips, what better way to find those sources than in beef jerky and other such products. 
However, I mention meat snacks here because I think that category can also fit in well as concept foods. Let's use our imagination for a second. 
First, while it's true that consumption of such products is dominated by males, that product could easily be geared toward female tastes. For example, formulations which change the texture of beef jerky from tough to tender may be created. Or formulations which reduce the strong smell can be developed. Perhaps jerky made of salmon or turkey may find more appeal from women. One exhibitor at Snaxpo, Mirab USA, Bloomfield Hills, Mich., reportedly offers Soft & Tender Beef Jerky, made using a special process that results in an especially tender, flavorful, and pleasant to chew end product. 
Second, innovation and novelty are often at the heart of concept foods. Perhaps the shape of meat snacks can be changed. Instead of strips or sticks, we can see pretzel shapes, or chip shapes, or a wide range of other customized products. Someday, we may even see a meat snack in the shape of a buffalo. Colors, too, may play a role. 
Third, a wide range of flavors are finding their way in meat snacks such as sweet smoked or peppered. This, of course, may only be the beginning, as flavor prototypes that apply to potato chips or pretzels may also be used in meat products. Or at least modification of these flavors. You may also find ways to use fillings or toppings that reflect different cultures. 
Fourth, meat snacks are obviously a good source of protein and an attractive food for those consumers who are protein-conscious. Furthermore, a snack that is 97% fat free may also fit in well with nutritional trends. The emphasis on health may also be promoted more if some of these snacks are made of ingredients such as turkey or salmon, which may be viewed as having health benefits. 
Fifth, meat snacks are frequently taken on camping trips and other ventures into the great outdoors. But they can also be promoted as an urban snack—something to take with you on a walk through a city park or while you're bicycling. Or you might eat it as an afternoon snack in the office. 
Sixth, meat snacks may also be used as an ingredient in the formulation of other foods such as salads, where it might replace bacon bits, or in cheese dips and other dairy-based products, or it might be used be used on crackers. 
The March 2002 Ingredients section discussed a wide variety of innovations for meat and poultry ingredients. Some of these developments can apply to meat snacks and a quick review of that article may complement this one.
Wide range of flavors and seasonings. According to surveys completed by Flavortrak, leading flavors requested by consumers in 2001 included Buffalo, Barbecue, Ranch, Parmesan, Southwestern, Cheddar, and Honey. Furthermore, flavors on the rise include Hot & Spicy, Asian, Buffalo, Curry, and Authentic Mexican. 
--- PAGE BREAK ---
These flavors and their combinations with one another can be found on the shelves of the store. Their use is also changing the way we think about traditional snacks. 
Take, the pretzel, for example. Past ways of eating a pretzel might have been adding a little mustard to it or using it with a dip. Now, we see a whole wide range of coatings added to it. Pretzels coated with chocolate or vanilla have become popular, falling somewhere between a snack and a confection. Recently, J&J Snack Foods Corp., 6000 Central Highway, Pennsauken, N.J. 08109 (phone 856-665-9533; fax 856-665-6718; [email protected]) have added a new innovation. Hand-twisted gourmet soft pretzels with fillings and toppings have been introduced in four flavors: Twisted Pizza, Cinnamon Apple Harvest, Hollerin' Jalapeno, and Sweet Dream Cream Cheese. 
Popcorn is another snack that has seen a wide range of innovative flavors. Recently, Jolly Time Pop Corn, Sioux City, Iowa, introduced a microwave popcorn that is said to have a sweet, salty taste characteristic of "kettle corn"—popcorn lightly coated in a sugary/salty syrup. Called KettleMania Outrageously Fun Kettle Corn, the product is promoted as part confection, part snack. According to the manufacturer, more than a year was spent with flavoring specialists in developing a glaze that balances the sweet and salty sensation, and yet keeps the popcorn crisp at the same time. The delicate flavoring, which contains sugar, surrounds the popcorn in flavor while retaining its crispy, crunchy texture. "Popcorn prepared in the kettle pops so quickly, it stays crispy and crunchy be-cheeseneath the sugar coating. We worked long and hard to find a way to maintain the popcorn's texture, and KettleMania does just that," said a company representative. 
In the supermarkets today we're also seeing fruit flavors such as lime penetrating the potato chip and tortilla chip segments, as well as combinations such as chili-lime being used on corn chips. Deli-style dill flavor is also emerging in some private labels. We're also seeing some Asian flavors, such as Thai, being used to flavor potato chips. 
A wide range of flavors and seasonings were demonstrated in novel snack concepts highlighted at Snaxpo 2002. 
Here are some examples:
• Five flavor/seasoning concepts were highlighted by Kerry Group, 100 E. Grand Ave., Beloit, WI 53511-6109 (phone 608-363-1200; fax 608-363-1670; www.kerryingredients.com). Atlantic Crab tortilla chips featured a seasonings blend that captured the taste of a New England crab cake. Cheeseburger potato chips, a profile with a strong children's appeal, has distinct meat and cheese notes. Homerun Hot Dog potato chips, another profile with strong children's appeal, features a traditional hot dog flavor. Swiss Cheese Ready-to-Use Dipping Sauce has an authentic grilled cheese flavor, demonstrating the company's wet sauce capabilities. Grilled Cheese Ready-to-Use Dipping Sauce, served on breadsticks, tastes like a grilled cheese sandwich and illustrates wet sauce capabilities.
• Snack application concepts demonstrating innovative flavors and seasoning blends were showcased by Wild Flavors, 1261 Pacific Ave., Erlanger, KY 41018 (phone 859-342-3600; fax 859-342-3610; www.wildflavors.com). Nutritionally enhanced glazed popcorn—which delivers vitamins A, C, E, and ginseng, and is suitable as an alternative to candy—is profiled in such flavors as apple, cinnamon streusel, and vitamin. Convenient, handheld bars are made with trail treats—pretzels, peanuts, and cereals. The sweet and salty, shelf-stable snack uses a number of indulgent flavor varieties such as Creamy Marshmallow Butter Type and English Toffee Type. Other applications shown included potato chips flavored with German Potato Salad Seasoning, tortilla chips flavored with Zesty Roasted Tomato, rice cakes seasoned with Lemon Vanilla; and Chocolate Orange Banana Chips.
--- PAGE BREAK ---
• Three delicious ways to snack" were presented by Heller Seasonings & Ingredients, 150 S. Wacker Dr., Suite 3200, Chicago, IL 60606 (phone 800-323-2736; www.hellerseasonings.com). Buffalo Ranch Tortilla Chip is a combination of a cool ranch flavor with the fire of a bold buffalo wing on a tortilla chip. Vesuvio Potato Chip, which contains hints of olive oil, garlic, lemon, and oregano, is a lightly seasoned chip that captures the classic recipes of Vesuvio potatoes served in contemporary Italian restaurants. Chicago Style Pizza Flavored Dip containing such sweet and bold ingredients as tomato, onion, pepper, and cheese was accompanied with a salted tortilla chip.
• Four snack concepts featuring novel flavors and seasonings were highlighted by Baltimore Spice, Inc., 9740 Reisterstown Rd., Owings Mills, Md. 21117 (phone 800-365-3229; fax 410-363-6619; www.baltimorespice.com). American Burger Deluxe (sugar, onion powder, monosodium glutamate, tomato powder autolyzed yeast extract, hydrolyzed whey protein, beef extract, beef tallow, and other ingredients) provides a burger and chip taste. Island Oriental (salt, soy sauce, sugar, pineapple solids, garlic powder, Worcestershire sauce, onion powder, and other ingredients) is said to be a tropical snack mix out of the ordinary. Italian Mangia! Mangia! (salt, whey, buttermilk, cream, garlic powder, onion powder, tomato powder, and other ingredients) is a Parmesan/herb bagel chip that reportedly captures the taste of Italy. Ole! Creamy Salsa (salt, whey protein, tomato powder, onion powder, sour cream, garlic powder, dehydrated bell pepper, vinegar, and other ingredients) combines cream, salsa, and tortilla chips.
• Flavor profiles that appeal to regional tastes as well as those with broad national appeal have been developed by McClancy Seasoning Co., One Spice Rd., Fort Mill, SC 29715 (phone 800-843-1968 or 803-548-2366; fax 803-548-2379; www.mcclancy.com). Examples of such profiles highlighted at the show included Whiskey Sour Seasoning, Cheesy Jalapeno, Salt & Pepper, Sauce Mild BBQ, and other seasonings.
• Topical popcorn seasonings in new and exciting flavors were presented by Foran Spice Co., Inc., 7616 S. Sixth Ave., Oak Creek, WI 53154 (phone 414-764-1220; fax 414-764-8803). Philly Cheesesteak and Black Bean Chili were two of the highlighted flavors, duplicating the taste of the named foods. According to the manufacturer, the seasonings may also be applied to other snacks as well. 
• A variety of snack seasonings were described in 1-p data sheets by Elite Spice, Inc., 7151 Montevideo Rd., Jessup, MD 20794 (phone 410-796-1900; fax 410-379-6933). Among the seasonings highlighted were Blue Ranch Seasoning, a dark blue free-flowing powder with parsley granules that has a creamy, slightly acidic, onion and garlic background; Red Flamin' Hot, a red free-flowing powder which has a hot, creamy, onion and garlic background; White Cheddar Seasoning, an off-white free-flowing powder that has creamy, dairy notes and is slightly acidic; and Gimme S'More, a dark-chocolate-brown free-flowing powder that has a sweet, rich chocolate flavor. Ingredients in these products are provided in the data sheets. The company will custom manufacture products to meet special requirements. 
• Snack applications demonstrating seasonings were highlighted by Chr. Hansen, Inc., 9015 W. Maple St., Milwaukee, WI 53214 (phone 800-558-0802; fax 414-607-5959; www.chr-hansen.com). Products included mixed nuts featuring Sun-dried Tomato Pesto Seasoning, potato chips seasoned with Onion Dill Garlic Ranch Seasoning, and tortilla chips with Salsa and Cream Cheese Seasoning. Also meat snacks such as beef sticks, spicy beef sticks, and Hunter Sausage Sticks highlighting meat starter culture (Bactoferm™ CSB) were shown. 
• Innovative seasonings from Mane, Inc., 999 Tech Dr., Cincinnati, OH 45150 (phone 513-248-9876; fax 513-248-8808; www.mane.com) included Raspberry Vinaigrette, Garlic and Herb, Cheese and Sauteed Onion, and Chili Lime Seasoning. 
Use of colors. This article has discussed how shapes and flavors can have an impact in the area of snacks. Colors are also playing an increasingly important role. For example, recently a cheese flavored snack, Frito-Lay's Cheetos® Mystery Colorz made its debut in the marketplace. The crispy cheese puffs, formed in the shapes of x's and o's, change color in the mouth and dye the tongue colors such as green and blue. 
In Europe, United Kingdom-based Pasta Foods recently introduced Kolor Krunchies, innovative snack pellets in natural colors such as green, red yellow, and orange. According to the manufacturer, the snack is designed to change the way kids look at fun snacks. Furthermore, its wholesome ingredients will appeal to parents as well. 
--- PAGE BREAK ---
In addition to the novelty or fun aspect, use of color can help the snack manufacturer give its products an added identity in the marketplace. As discussed earlier in this article, colors can help create snacks for the holidays or help create a patriotic red, white, and blue snack. The use of different spice mixes can provide color and flavor in the development of novel snacks.
Not surprisingly, color manufacturers are developing ways to adhere colors, spices, and other ingredients to food applications. For example, a dry film-forming system designed to adhere flavors, seasonings, colors, vitamins, and other typically dry-charged ingredients to snacks and other foods is available from Colorcon, a manufacturer of colorants such as FD&C lakes, dyes, and natural versions. Called Opadry Type F, the system adheres these ingredients without the use of oils. At Snaxpo, a highlighted application using this system was Beef and Cheddar Flavored Pretzels. Colorcon also provides a new product line of natural colorants, such as annattos and carmines, which can provide snacks with vivid and pastel shades. For more information, write to Colorcon, 415 Moyer Blvd., West Point, PA 19486 (phone 215-699-7733; fax 215-661-2626; www.colorcon.com).
Going nutty over snacks. Nuts, such as seasoned almonds or cashews, are increasingly being used as condiments in pasta dishes or salads. Not surprisingly, because of their taste, texture, and health benefits, nuts are finding their way in concept snack foods, as well, such as "trail mix" bars or uniquely flavored nut mixes. 
According to the Walnut Marketing Board, P.O. Box 281525, San Francisco, CA 94128-1525 (phone 800-982-8345; fax 650-340-8568; www.walnut.org,) walnuts may be seasoned, spiced, or honey coated. They also combine well with fruits, vegetables, cheese, and yogurts, making them suitable for healthy snack applications. Their delicate, slightly astringent flavor can also help enhance other flavors. They are also available in a wide range of shapes and forms, another important attribute in the development of concept snack foods. 
Nuts may also be used in the formulation of healthy nutritional bars. For example, peanuts and peanut meal are increasingly being used to provide healthful protein and oil. 
Several exhibitors at Snaxpo highlighted the use of nuts. Here are a few:
Grupo Martin, Mexico City, Mexico, manufactures blanched, unblanched, and processed peanuts in an assortment of flavors and styles. Examples include Japanese, lemon & chili, Cheddar, cream, and spices. 
Golden West Nuts, Inc., Ripon, Calif., is a grower, processor, and shipper of California almonds. The company offers natural and blanched varieties of whole, sliced, and diced almonds. 
QA Products, Inc.,Elk Grove Village, Ill., supplies a wide range of ingredients for snack applications, including crunch toppings which are based on nuts, coconuts, and cereals, as well as nut pastes and butters.
Functionality benefits of ingredients in snack manufacture. The functionality benefits of various ingredients, including emulsifiers, oils, starches, and texturizers can play an important part in the creating of new concept snack foods, the overall theme of this article. Let's look at some of these ingredients.
• A stabilized rice bran extract is said to provide a variety of benefits in the manufacture of snack and pellet products made from corn, wheat, oats, rice, and potatoes. Called Nu-Rice®, it is produced by Ribus, Inc., 20 S. Central Ave., Ste. 106, St. Louis, MO 63105 (phone 314-727-4287; fax 314-727-1199; www.ribus.com). 
According to the manufacturer, the dry, powdered ingredient may be used as an alternative to traditional emulsifiers, and can improve the production process of corn curls, potato sticks, tortilla chips, corn chips, potato rings, and snack pellets. The ingredient's inherent oil and pentosans create an enhanced lubrication, improving extrusion throughput. Its use can reduce stickiness, provide expansion control, and enhance texture, cell structure, and flavor of the final product. Improved shape definition is an additional benefit. 
--- PAGE BREAK ---
When used at increased rates, the ingredient has no negative effect on bulk density. Average usage levels are between 0.25 and 0.5%, and it can be added to the grains or mixed with other ingredients in powdered form. 
A snacks manufacturer recently tested the ingredient's effects on the manufacturing process of fried and direct expanded corn snacks. The addition of the ingredient reportedly resulted in a 13.65% lower bulk density and a 5.14% reduction in oil absorption. In addition, the final products showed a more uniform cell structure and smoother surface. 
Another important area that the ingredient can have a positive impact on is oil migration, which can result in the finished product having an undesirable appearance. Although nuts have healthy attributes, the oil in them can create certain functional problems when they are used in snacks. As the use rates of these ingredients increase, the issue of controlling oil migration within or on the surface of the bar becomes extremely important. The rice-derived ingredient is said to be successful in controlling oil migration in such applications as peanuts in enrobed chocolate products. When added to the formulation at about 0.25%, oils are held in place with no surface migration seen after as long as eight months. Similar improvements with essential flavor oils, such as mint or spearmint, are also seen. 
• The latest information on sunflower oil (NuSun) and how it meets the needs of snack manufacturers was presented at Snaxpo 2002 by The National SunFlower Association, 4023 State St., Bismarck, ND 58501 (phone 701-328-5105; fax 701-328-5101; www.sunflowernsa.com). 
The natural mid-range sunflower oil is said to have excellent frying functionality and does not need hydrogenation. The oil is predominantly monunsaturated with a low saturated fat level. It offers a clean, light taste and extended shelf life characteristics. Vitamin E in the form of alpha-tocopherol occurs naturally in sunflower oil. Among the leading oils, sunflower oil is said to have the highest content of alpha-tocopherol. 
• Selecting an Optimum Starch for Snack Development is the title of a 4-p brochure available from National Starch & Chemical Co., 10 Finderne Ave., Bridgewater, NJ 08807-0500 (phone 800-797-4992; fax 609-409-5699; www.foodstarch.com). 
The literature is designed to help producers of snacks (baked, fried, extruded, or pellet)with selecting the best starch for their needs. Specialty starches in snack foods can help improve texture, provide greater expansion, enhance crispness, improve adhesion of flavors and food bits, reduce breakage, and provide processing aid and dough enhancement. 
• Modified potato starch may be used in the formulation of crackers and wafers to make them more crisp. Called PenCling™ 580, the ingredient is available from Penford Food Ingredients, 11011 E. Peakview Ave., Englewood, CO 80111-6800 (phone 303-649-1900; fax 303-649-1700; www.penx.com). 
Because of its water-holding capacity and binding capability, the ingredient is said to provide stable moisture control at the same time it contributes to crispness. Also, it will not mask subtle flavors in crackers and wafers, and is kosher certified. 
• Researchers at the University of Minnesota are looking at ways cheese powders lose flavor and potential solutions to the problem. Cheese powder (sweet whey powder, soybean oil, maltodextrin, Cheddar cheese solids, salt, calcium caseinate, Cheddar-type enzyme modified cheese, disodium phosphate, and butter) was studied from the point of its manufacture through aging and storage to determine when during this time period or process it loses its flavor. Several areas were identified when cheese powder lost flavor. 
One area the researchers noted flavor loss was when they baked crackers with prepared cheese powder. Major losses of key Cheddar aroma compounds (87% of both diacetyl and dimethyl disulfide) occurred during the baking process. This points out the obvious need to protect the cheese powder during baking to achieve acceptable flavor quality. 
--- PAGE BREAK ---
The traditional composition for making cheese powder only includes about 5% enzyme modified cheese, which contributes to the overall flavor desired in the end product. The researchers suggested increasing the amount of enzyme modified cheese and adding a good carrier, such as corn syrup solids. Reportedly, this will provide good retention of flavor during the drying process and help lock it in during storage. 
According to the head researcher, Gary Reineccius, "What is the gold standard? What moves an ingredient from a commodity level into a premium product that delivers what the consumer wants? I believe that it is possible for cheese-flavored powders to make crackers, breads, and snacks of all types more flavorful and more desirable." 
For more information, write to Dairy Management, Inc., 10255 W. Higgins Rd., Suite 900, Rosemont, IL 60018-5616 (phone 847-803-2000; fax 847-803-2077; www.dairyinfo.com). 
I remember when I was a kid and I wanted a snack, my mother gave me an apple. You couldn't get more nutritious than that. 
Of course, snacks are such a broad category that they can include fruits, yogurt, cookies, and anything else in the eye of the beholder. However, this article has been talking largely about snacks such as potato chips, tortilla chips, pretzels, popcorn, and other such items. Not too surprisingly, ingredients that have health attributes have been making their way into these products as well. Some of these applications have been successful (for example, olestra) and others haven't. 
Continuing the theme of this article, concept foods, let's think for a moment about some ingredients that not only have healthy attributes but also have potential for use in creating novel or unique snacks. 
Some of these ingredients we've already discussed in this article. Nuts would be a good example. Sunflower oil would be another. 
As already noted, fruits, too, can offer nutritional value. Products such as raisin bread are suitable as snacks. More information about the health and functionality benefits of raisins can be obtained from California Raisin Marketing Board, 3445 N. First St., Ste. 101, Fresno, CA 93726 (phone 559-248-0287; fax 559-224-7016; www.raisins.org). 
And, of course, soy-based ingredients quickly come to mind. Soybeans, which are high in protein, isoflavones, and dietary fiber, make for a very healthy snack. Soybeans from Van Drunen Farms, P.O. Box 9, Momence, IL 60954 (phone 815-472-3100; fax 815-472-3850; www.vandrunenfarms.com), are freshly roasted to provide a tasty, crunchy snack that can be eaten as is, used as an ingredient in snack mixes, or flavored with seasonings for a special treat. Unified Products, Inc., offers a new line of crackers and snacks made from soy flour and soy protein isolate. The soy snacks contain enough soy protein to qualify for the health claim as specified by the Food and Drug Administration. 
Healthy oils can play a major role in the development of future snacks:
Medium-chain triglycerides (MCTs), available from Stepan Co., 100 W. Hunter Ave., Maywood, NJ 07607 (phone 201-712-7642; fax 201-712-7648; www.stepan.com), is said to create a fast, readily absorbed, low-calorie fat source with applications in snack products targeted to health-conscious consumers. Unlike long-chain triglycerides (LCTs), which must travel through the lymphatic system for distribution to body tissues, MCTs travel directly to the liver and are said to be metabolized in 1/8 the time of LCTs. As a result, MCTs are preferentially burned for energy, and therefore not accumulated in the body as fat. Although MCTS are considered to be a saturated fat, they produce little effect on cholesterol levels under normal circumstances. In addition, they do not suppress the immune system. Marketed under the name Neobee ®, the line of MCTs offered by the company is tasteless, odorless, and colorless. 
--- PAGE BREAK ---
A novel healthy oil naturally derived from vegetables is available from Archer Daniels Midland, 4666 Faries Pkwy., Decatur, IL 62526 (phone 217-424-5200; www.admworld.com), as the result of a joint venture withe the Kao Corp. of Japan. The active component of the product is diacylglycerol (DAG), which has been shown in Japan to assist in lowering body fat amount. DAG oil is produced from vegetable oil by a process that substantially increases the DAG content of the oil. According to the manufacturer, DAG oil is metabolized differently by the body than other types of oil. Instead of being stored as body fat, the diacylglycerols are immediately burned as energy. The oil may also increase overall metabolism, helping to reduce the amount of fat already stored in the body. Because of its health benefits, the product would make for a very suitable oil in the manufacture of healthy snacks. 
Corn and potato are dominant grains in the manufacture of snacks. But in the future, we may see more use of such grains as rice or wheat, or even multigrains that combine the health benefits that different grains offer. For example, Unified Products, Inc., offers such interesting snacks as Crunch Master® Twirls, a snack made from enriched wheat and rice and flavored with Cinnamon Sugar; Zesty Barbecue, and Robust Ranch; Wacky Snacks®, a potato and rice snack in the form of potato rinds and in Hot & Spicy and Barbecue flavors; Crunch Master Rice Crackers in Cheese, Onion & Garlic, Barbecue, and Sesame flavors; and Rice Crunchies, oven-baked rice chips which have 70–80% less fat than potato chips. 
A sweet prebiotic fiber, distributed by Triarco Industries, Inc., 400 Hamburg Turnpike, Wayne, NJ 07470 (phone 800-879-3745; www.triarco.com), offers a variety of health and functional benefits in nutritional bars, cookies, and other such products. The ingredient, manufactured by Roxlor International, is considered GRAS via self-affirmation. Marketed under the name Beflora and Beflora Plus, the ingredient consists of oligofructose, fructose, and sprouted bean extract. Acesulfame K is introduced into the product through the physical absorption of it by the sprouted mung bean plant. The active principle of the ingredient is a nondigestible short-chain polymer that is a nutrient or prebiotic to the benefical bacteria (particularly bifidobacteria and lactobacilli) located in the large intestine. This bacteria growth helps maintain and stabilize the intestinal flora. A healthy intestinal environment, in turn, provides many benefits, including nutritional support of the digestive tract and transit time to support regularity.
The concept of health is very broad (probably as broad as the concept of snack foods) and can be promoted in a number of ways. For example, we're seeing today dips accompanying the snacks in the package, and the smaller portion size could be more suitable for a weight-conscious individual or as a light meal solution. 
Also, a broad range of exciting flavors might attract a health-conscious consumer to try something a little different such as a nutritious rice chip. 
One thing seems to be clear, though: product innovation and the providing of healthy or low-fat alternatives often go hand in hand. Never forget that factors such as taste, texture, color, and shape balanced with an emphasis on health can frequently mean success. 
And with that idea, this may be a good place to stop and munch on all these concepts for a little while. 
Next month's Ingredients section will preview ingredient developments that will be highlighted at the 2002 IFT Annual Meeting, to be held June 15–19, in Anaheim, Calif.
by DONALD E. PSZCZOLA
Associate Editor
[email protected]
www.dominospecialtyingredients.com