More than 500 food safety and quality assurance personnel attended Institute of Food Technologist's second International Food Safety & Quality Conference and Expo held in Atlanta, Ga., February 20-22. IFT presents this conference to focus exclusively on food safety issues such as emerging food pathogens, genetically modified foods, HACCP, quality systems, and the regulatory issues surrounding food production. More than 60 exhibiting companies offered products and services ranging from microbiological test kits and supplies, electronic pasteurization systems, packaging technologies, food safety consulting services, and software.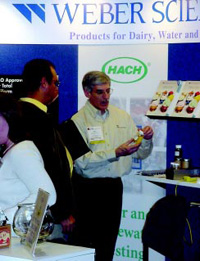 Conference
The conference brought together experts from industry, academia, and government to address the complex food safety challenges facing the industry. The Technical Program Advisory Committee of IFT's Food Safety and Quality Conference designed the conference and expo to focus on critical food safety issues. 
The conference was opened by Charles Manley, Past President of IFT, who introduced the two keynote speakers. James Hughes, Centers for Disease Control and Prevention, spoke on "Emerging Foodborne Disease: A CDC Perspective." Jerry Gillespie, Joint Institute of Food Safety Research, spoke on "International Science-Based Coalitions: How Will They Succeed in Enhancing Safety, Quality, and Security of Food." These two speakers gave an overview of the major themes of the conference. 
Despite significant success at improving the safety of the nation's food supply, current science on which safety is based does not sufficiently protect us from emerging pathogens inherent to a complex food supply. The evolving characteristics of food, technology, pathogens, and consumers make it unlikely that the marketplace will be entirely free of dangerous organisms at all times for all consumers. That is among the conclusions presented in IFT's new expert report, "Emerging Microbiological Food Safety Issues: Implications for Control in the 21st Century," which released at the conference, in conjunction with first session. The session was chaired by Morris Potter, Lead Scientist for Epidemiology, Center for Food Safety and Applied Nutrition, Food and Drug Administration. Some of the other speakers at this session were also involved in producing the report. 
The report, which draws upon experts specializing in foodborne pathogens and microbial evolution, foodborne illness, food production and processing, testing methods, and regulatory measures, reveals that diligent adherence to current methods that create and monitor the food supply cannot eliminate the risk of foodborne illness. It also offers recommendations for providing the greatest possible reduction in food safety risks. 
The report addresses procedures from farm to table to significantly reduce illness due to mishandling, processes to recognize and respond to outbreaks and to reduce their scope, poor habits that make consumers more susceptible to foodborne illness, education and training recommendations necessary for reducing pathogenic influence at every step––from production to consumption––and recommendations to enhance monitoring, data generation, and risk assessment. The report also specifies the current state and future potential of rapidly evolving illness-causing pathogens and other key issues. 
--- PAGE BREAK ---
To gain the greatest measure of food safety, the report stresses the necessity of implementing flexible food safety measures to utilize as quickly as possible the latest scientific information as it evolves. It further urges manufacturers, regulatory and public health agencies, and allied organizations to develop partnerships to improve risk assessment and food safety management. 
The expert report Emerging Microbiological Food Safety Issues is accessible via IFT's Web site at www.ift.org/govtrelations/microfs/. 
Donn R. Ward, Dept. of Food Safety, North Carolina State University, chaired a session entitled, "Beyond HACCP: The Eight Principles." The sessions looked at how HACCP has evolved from a voluntary science-based system to a mandatory method for ensuring product safety. The impact of this evolution was looked at from the perspective of both industry and regulatory environments. 
Daniel Fung, Dept. of Animal Sciences and Industry, Kansas State University, headed a session on GMO and rapid microbial detection methods. The session reviewed developments of rapid one-shift testing of pathogens (one-shift are those tests that can be completed in 6 to 8 hr), rapid allergen testing, constant time tracking of temperature of food products for safety, concepts of GMO testing, and practical applications of immunological and genetic testing methods for GMO in food commodities. 
John Surak, Clemson University, was the chair of a session that addressed how to develop quality systems. The various speakers in the session highlighted successful management systems that have enabled food processors to address complex markets while maintaining the safety and quality of their products. 
Aaron Brody, Packaging Consultant, moderated a session entitled, "Application of Ionizing Radiation to Extend Shelf Life for Case-Ready Meat Products." Speakers discussed how low-dose irradiation is receiving approval for additional foods and packaging materials. Areas reviewed included electron processing of case-ready ground beef, packaging considerations for irradiated foods, and the effect of ionizing radiation on case-ready meats. 
Frank Busta, Dept. of Food Science and Nutrition, University of Minnesota, chaired a session on the microbiological safety of fresh and fresh-cut produce. The session looked at the control of relevant pathogens on fruits and vegetables, influence of packaging and packaging atmospheres on pathogen growth, and the future research needs to ensure the safety of these commodities. The presentations were based on state-of-the-science information requested from IFT by the Food and Drug Administration to enable the agency to make well-informed food safety regulatory and policy decisions. 
Colin Denis, Campden & Chorley-wood Food Research Association, chaired a session on "Microbiological Safety and Quality Retention in Chilled Home Meal Replacement Foods." The session discussed how freshly prepared and chilled complete ready-to-eat meals undergo a variety of reactions which harm product quality and safety. Various means are being used to retain quality and ensure safety. Predictive modeling is being applied to chilled foods to obviate anaerobic pathogen growth in reduced-oxygen packages. The session had several speakers from Europe, where chilled foods are popular, to give an account of their experiences with these foods. 
James Grony, International Fresh-cut Produce Association, moderated a group of speakers who discussed "Delivering Safe Produce." The speakers identified how purchasing specifications, with and without scientific backing, are playing an increasing role in some areas of the produce business. Speakers also discussed the current industry practices for delivering safe produce. 
--- PAGE BREAK ---
Charles Manley, Takasago International Corp., chaired a session that updated current topical issues. Recent developments in areas of major importance to food safety and quality were reviewed. The following topics were presented: HACCP regulations for juice products, allergens in foods, and food security. 
Catherine Woteki, Joint Institute of Food Safety Research, chaired the final session entitled, "Toward a Single Food Safety Agency." The session discussed the debate on whether the federal government should bring all responsibilities for food safety matters under a single agency. The speakers explored what societal benefits the reorganization would provide, what principles should guide the reorganization, and what should be the scope of the reorganization. One speaker related experience in Canada, which has recently reorganized its government agencies into one food safety group. 
Expo
The exhibit hall was open from 4:30 to 7:30 p.m. on Wednesday, Feb. 20 and 8:30 a.m. to 3:00 p.m. on Thursday, Feb. 21. The following are short descriptions of some of the products and services that were exhibited:
AAC Consulting Group, Inc., Rockville, Md. (phone 301-838-3120), provides FDA regulatory consulting and auditing services to the food industry. Their services include GAP/GMP and HACCP audits, label reviews, safety evaluations, and training.
AK Steel, Middleton, Ohio (phone 513-727-5907) presented information on their new antimicrobial-coated steel available in both carbon and stainless steel. The steels coated with the Ag-ION™ antimicrobial compound suppress the growth of bacteria, molds, fungi and other microbes. These steels are said to be ideal for consumer and industrial applications in appliance, construction, food processing, and food equipment. The products are offered as coated stainless and carbon steel products up to 60 in wide in gauges from 0.018 to 0.060 in. Products are also available up to 48 in wide in gauges from 0.060 to 0.075 in. The antimicrobial coating is an epoxy film coating to which, depending upon the application, color tints may be added.
Applied Biosystems, Foster City, Calif. (phone 650-554-2480) was exhibiting the latest addition to their PCR-based systems for food safety testing. The Taqman® GMO Detection and Quantitation System uses the fluorogenic 5-prime nuclease method of multiplex detection and quantitation of GMOs in foods. The system includes sample preparation, automated PCR amplification, and signal detection, data analysis, and testing software.
bioMerieux, Inc., Hazelwood, Mo. (phone 800-634-7656), provides fully-automated and manual test systems for the QA/QC microbiology laboratory. bioMerieux featured a new 24 hr. automated immuno-concentration test for Salmonella and selective isolation of E. coli O157.
Biotest Diagnostics Corp., Denville, N.J. (phone 973-625-1300), offered a line of environmental monitoring products. Their Zygiene 100 Rapid Hygiene System is said to detect the ATP bioluminescence signature of somatic and bacterial cells in less than one min.
CitroBio, Inc., Sarasota, Fla. (phone 941-359-1647) offer a variety of antimicrobial solutions for use on food contact surfaces.
Colorcon, No-Tox Products Division, West Point, Pa. (phone 215-699-7733), presented their new No-Tox® AM product line. These inks and coatings use the AgIon™ antimicrobial technology. AgIon Technologies is a Boston-based biotechnology company engaged in antimicrobial research and development. Its flagship product is an antimicrobial compound that can be used in a wide range of materials, including plastics, metals and fibers used in the manufacture of biomedical, industrial, commercial, and consumer goods. The antimicrobial delivery system provides for continual slow release of silver, an antimicrobial compound, providing packaging longevity and integrity. On June 9, 2000, FDA listed the AgION compound for use in all food-contact polymers.The coatings are based on silver ions contained in a zeolite. This is an inorganic material that is incorporated into the coating. The silver ions are released in the presence of surface moisture. Less than 0.001% of the silver is in the coating itself. These coatings can be applied by direct or offset gravure to a variety of substrates. These include paper, foil, nylon as well as corona-treated films such as PE, OPP or PET. Coated films and other substrates can be coated as well. The antimicrobial performance of the coatings has reduced a broad spectrum of bacteria and molds below detectable limits in laboratory settings.
--- PAGE BREAK ---
Copan Diagnostics, Inc., Corona, Calif. (phone 800-216-4016), provides collection and transport swabs for industrial microbiology. They featured their new line of hygiene monitoring swab rinse kits.
Decagon Devices, Inc., Pullman, Wash. (phone 509-332-2756), was featuring their Pawkit Portable Water Activity System. The self-contained battery-operated instrument is just 4 in long and weighs 4 oz (115 g), with an accuracy of ±0.02 aw
Diffchamb, Inc., Chicago, Ill. (phone 312-781-6251) develops rapid and time-saving methods in food analysis. They offer rapid screening kits for a variety of food pathogens.
EnviroLogix, Inc., Portland, Maine (phone 207-797-0300) offers rapid test kits to detect genetically enhanced traits in seeds, plants, and grains. Their Quickstix lateral flow strips may be used to provide a 5-min yes or no result. Kits are available for genetically modified corn, cotton, soybeans, and other crops. The company's assays for this rapidly emerging field focus on detection and quantification of Cry1Ab and Cry1Ac, two proteins specifically expressed in Bt corn and cotton crops and a growing number of additional plant species. Additional test kits for other Bt varieties include Cry2A, Cry1C, and Cry9C, the protein expressed in StarLink corn. The company also offers several other test kits. The Potato Glycoalkaloid assay is designed to quantify glycoalkaloids in extracts of potato tissue, including processed potato products such as French fries, chips and skins, as well as raw potato flesh, tubers, and leaves. Glycoalkaloids are naturally occurring toxins which can increase beyond safe levels in the course of cross-breeding. They can affect potato quality and taste and are generally considered unsafe for humans at levels above 20 mg per 100 g of fresh potato. The assay is calibrated with alpha-solanine, but results are interpreted as "total potato glycoalkaloids" and have shown excellent correlation with the sum of alpha-solanine and alpha-chaconine (as measured by HPLC). The reference and data are available upon request.
GSC Mobile Systems, East Lansing, Mich. (phone 517-337-8960) offered a software product that helps solve compliance issues. The software allows the user to specify standards, collect performance data, analyze results, and coordinate corrective action plans to improve the overall quality of the business process. 
Hanna Instruments, Woonsocket, R.I., (phone 401-765-7500) offers quality control and food safety testing products for temperature, pH, and total dissolved solids.
HunterLab, Reston, Va. (phone 703-471-6870), exhibited both portable and benchtop color measurement systems for the food industry. The systems may be used for measuring raw materials through finished product, including liquids such as sauces and juices to solids such as spices and meats.
International BioProducts, Bothell, Wash. (phone 800-729-7611) offers advanced pathogen testing, comprehensive lien of HACCP sampling solutions, and other microbiology products for the industrial laboratory. The company featured a new line of environmental sampling products designed for surface sampling of hard to reach places. The SpongeSicle™ is a sterile, hydrated cellulose sponge attached to a 7.5-in plastic handle.
IQ Scientific Instruments, Inc., San Diego, Calif. (phone 858-673-1851) offers pH systems with stainless steel probes. Their feature product was the IQ400 pH system. This system is both pH meter and handheld computer. The meter accepts both glass and non-glass electrodes. The meter is easy to use and features touch screens, pop-up windows and on-screen help tips and trouble-shooting guides for each function. The "eDoodle", a virtual sticky note, allows the user to save handwritten notes and sketches with pH readings. The user can run all Palm OS applications, such as advanced scientific calculators and spreadsheets. The system also allows the user to download saved records to a computer. Features include hi/low pH level alerts, recalibration alarms, automatic buffer recognition, save/recall of up to 9,999 records, automatic buffer recognition, and user selectable buffer.
--- PAGE BREAK ---
Medallion Laboratories, Minneapolis, Minn. (phone 800-245-5615), provides analytical testing services to the food industry. Areas of expertise include nutritional labeling, microbiology, and pesticide residue testing.
Oxoid, Inc., Ogdensburg, N.Y. (phone 800-567-8378), offers diagnostic products for microbiology. Products include culture media, toxin detection kits, rapid tests, and identification kits for pathogens.
R-Tech Laboratories, St. Paul, Minn. (phone 651-481-2270), provides analytical, sensory, pilot plant, and nutrition labeling services. The analytical laboratory is ISO 9002 registered, and the testing facility provides routine assays. Sensory services and consumer research provides specific information to predict a product's acceptability.
Safeline, Inc., Tampa, Fla. (phone 813-889-9500), featured metal detectors designed for detecting small particles of all types of metal contamination, including ferrous, non-ferrous, and stainless steel, in the meat processing industry. Metal detectors, conveyors, and auto-reject systems are used for packaged and unwrapped bilk product. The company's latest offering is said to combine high-resolution soft X-ray inspection technology with image processing software.
SureBeam Corp., Glendale Heights, Ill. (phone 888-750-9301), offers proprietary electronic pasteurization services and systems. The technology uses ordinary electricity to eliminate harmful foodborne pathogens. This fast, simple and consistent method uses electricity to generate a beam of accelerated electrons or x-rays approaching the speed of light. This high-speed beam is scanned across a food product, and in just seconds it breaks the DNA chains of harmful bacteria that can cause foodborne illnesses.
Warren Analytical Laboratory, Greeley, Colo. (phone 970-351-6344), provides testing services for the food industry and is USDA accredited to perform food chemistry and pesticide analyses. The laboratory has acquired PCR-based genetic screening systems for detection of Listeria, Salmonella, and E. coli O157:H7.
Weber Scientific, Hamilton, N.J. (phone 609–584-7677), offers products for dairy, food, and water testing. The company featured products for water and wastewater testing including tests for BOD and COD, chlorine, coliform bacteria, and pH. The DR890 colorimeter performs 90 different testing parameters.
by James Giese,
Internet Editor